13 B2B Marketing Books To Add To Your Reading List
Ever felt like you're playing catch-up in the bustling world of business-to-business marketing? You're not alone.
While there's a deluge of resources catering to the B2C marketer, those in the B2B realm often find themselves in a scavenger hunt, adapting consumer-focused content to fit their unique needs. It's like trying to fit a square peg into a round hole – it just doesn't quite work.
But fear not, fellow B2B marketers! The tide is turning, and a wave of insightful authors is rising to the occasion. They've penned game-changing B2B marketing books, tailored just for us, filled with wisdom, strategies, and the secrets to thrive in our profession.
Ready to dive in? Let's explore the best B2B marketing books that will not only fuel your growth but revolutionize the way you approach your craft.
Why Read B2B Marketing Books?
Benefits of Reading:
In my journey as a B2B marketer, I've discovered that books tailored to our field are more than just a good read; they're an investment in personal and professional growth. Here's why:
Gaining Insights: They offer deep insights into the complex world of B2B marketing, insights that I've found invaluable in shaping strategies and understanding industry trends.
Learning from the Best: These books are penned by seasoned experts who've been in the trenches, and their wisdom can guide us through our unique challenges.
Networking Opportunities: Believe it or not, I've connected with fellow marketers and even some authors through the shared interest in these books. It's a community waiting to be explored!
Now, you might wonder, "Why can't I just adapt B2C strategies?" I've been there, and here's what I've learned:
Complex Sales Cycles: B2B marketing often involves longer and more intricate sales cycles. It's a dance that requires finesse, understanding, and patience.
Relationship Building: Unlike B2C, where transactions are often one-and-done, B2B is about nurturing long-term relationships. It's a partnership, not just a purchase.
Tailored Communication: The messaging in B2B needs to resonate with a different audience. It's about solving problems, adding value, and speaking the language of business.
In my experience, B2B marketing books are not just an optional reading list; they're a roadmap to success in a field that demands specialized knowledge and skills. They've shaped my thinking, guided my actions, and connected me with a like-minded community. If you're in the B2B space, these books are your allies, mentors, and friends, all wrapped in a cover.
Hone Your Craft With These B2B Marketing Books
Here are some of the best B2B marketing books available:
1. Mean People Suck: How Empathy Leads to Bigger Profits and a Better Life by Michael Brenner
"Mean People Suck" by Michael Brenner is a compelling read that delves into the power of empathy in the workplace. Here are the key takeaways:
Empathy Drives Success: The book argues that empathy isn't just a soft skill; it's a driving force behind business success. By understanding and caring for employees, customers, and shareholders, companies can create a more positive and profitable environment.
Mean People Are a Symptom, Not the Problem: Brenner explains that mean behavior often stems from systemic issues within an organization. Addressing the root causes rather than blaming individuals leads to a more harmonious workplace.
The Importance of Culture: Creating a culture that values empathy, kindness, and collaboration fosters a more engaged and productive workforce. It's not just about policies; it's about living those values every day.
Empathy in Leadership: Leaders who show empathy build trust and loyalty with their teams. This book provides practical advice on how to lead with empathy, from active listening to showing genuine interest in team members' well-being.
Customer-Centric Approach: Understanding and meeting the needs of customers is central to business success. Brenner emphasizes the importance of empathy in understanding customer needs and creating products and services that genuinely serve them.
Personal Growth and Happiness: The principles in "Mean People Suck" aren't just for the workplace. Applying empathy and kindness in personal relationships leads to a more fulfilling and happy life.
Actionable Strategies: The book is filled with real-world examples, case studies, and actionable strategies to implement empathy in various aspects of business, from leadership to customer service.
The Bottom Line Impact: Brenner makes a strong case that empathy isn't just a moral imperative; it has a direct impact on the bottom line. Companies that prioritize empathy see higher engagement, retention, customer satisfaction, and ultimately, profits.
"Mean People Suck" is a call to action for businesses and individuals to embrace empathy as a core value. It's a roadmap for creating a more compassionate and successful workplace and life. Whether you're a leader, a team member, or simply someone looking to understand the power of empathy, this book offers valuable insights and practical tools to make a positive change.
For a free PDF of the visual guide to Mean People Suck, feel free to contact Michael here.
2. Renegade Marketing: 12 Steps to Building Unbeatable B2B Brands by Drew Neisser
If the insight of a single marketing expert can completely transform the way you view your profession, what impact do you think the insight of over 400 would have? Drew Neisser interviewed that many top marketers for Renegade Marketing. And B2B professionals at all stages of their career will have something to learn from what he found.
Nessier formulated what he called the CATS characteristics — courageous, artful, thoughtful, and scientific. He found these were the cornerstones of all great marketers. His book helps everyone who reads it leverage their CATS qualities to experience marketing success. Here are some of the top takeaways:
Have the Courage to Be Different: Successful marketing requires a simple and distinct pitch that sets you apart from the competition.
Artful Communication: Your company's mission statement should be simple, and your branding should stand out.
Invest in Employees and Customers: Engaged employees and satisfied customers should be the priority. Cultivate customer champions through thoughtful service.
Embrace Scientific Methods: Measure achievements scientifically to align with leadership and show how marketing interventions are solving challenges.
Declutter Your Work Life: Inspired by Mari Kondo, streamline your work life to leave more time for big-picture thinking.
3. Top of Mind: Use Content to Unleash Your Influence and Engage Those Who Matter to You by John Hall
When people think of leaders in your industry, there are probably a few names that pop up no matter who you ask. Why is that? What makes those people so universally acknowledged? That's the question John Hall asks in Top of Mind. He finds that it's essential to deploy the right content in the right places at the right times. His insights can be immediately put into practice by B2B marketers. You can leverage your existing marketing skills toward achieving levels of reach you never thought possible.
Here are the top takeaways:
Content as a Trust Builder: John Hall emphasizes the role of consistent and valuable content in building trust with your audience. It's not just about selling but about providing value that resonates with the readers.
Thought Leadership: The book guides readers on how to become thought leaders in their industry by sharing insights, experiences, and expertise through content.
Personalized Engagement: Understanding your audience and creating personalized content that speaks to their needs and interests is key to engagement.
Long-term Strategy: Content marketing is not a one-time effort; it requires a long-term strategy and consistent effort to keep your brand top of mind for your audience.
Collaboration and Influence: Collaborating with other influencers and leveraging different content platforms can amplify your reach and influence.
Measuring Success: The book also touches on how to measure the success of your content marketing efforts, focusing on engagement and influence rather than just clicks and views.
"Top of Mind" is a practical guide for anyone looking to leverage content to build influence and engage with their audience in a meaningful way. It's about creating a connection that keeps your brand at the forefront of people's minds.
4. Product-Led SEO: The Why Behind Building Your Organic Growth Strategy by Eli Schwartz
Marketers who have dabbled in SEO know that it often feels more like witchcraft than science. Eli Schwartz is here to demystify it all for you. Product-Led SEO isn't just a how-to guide that tells you what to do without giving you an explanation. Instead, it's a deep-dive into the fundamentals and logic of SEO. B2B marketers can't afford to ignore SEO, and Schwartz's book is the best introduction out there. You don't have to feel as though you're stumbling through the dark. Here are some of the top takeaways:
Blend of Creativity and Logic: SEO is not just about driving traffic; it's about understanding the user's needs and creating a strategy that caters to them. The book emphasizes a blend of creativity and logic, rather than just following standard practices.
Product-Led Approach: The author introduces the concept of "product-led SEO," which is about creating or foreseeing a need for a service and then providing it, supported by tactics and strategy. It's brand-led and focuses on general SEO, review, and future predictions.
Avoiding Common Mistakes: The book highlights where most SEO strategies go wrong and encourages readers to develop their own best practices. It's not about following a set of guidelines but understanding the underlying principles of SEO.
Applicability to Various Roles: Whether you're a marketing manager, executive, or seasoned SEO pro, this book offers insights that can be applied to various roles and industries. It's not just for SEO experts but for anyone looking to understand and optimize their online visibility.
Criticism and Controversy: Some readers felt that the book didn't delve deep enough into the concept of product-led SEO and that it was more of a broad handbook on all things SEO. Others appreciated the strategic approach and found value in the insights provided.
"Product-Led SEO" by Eli Schwartz offers a fresh perspective on search engine optimization. Rather than providing a step-by-step guide, it encourages readers to think critically and creatively about their SEO strategies. By understanding the underlying principles and focusing on the user's needs, readers can develop a more effective and personalized approach to SEO. Whether you're new to SEO or a seasoned pro, this book offers valuable insights that can help you stand out from the competition and take your business to the next level.
5. Talk Triggers: The Complete Guide to Creating Customers With Word of Mouth by Jay Baer and Daniel Lemin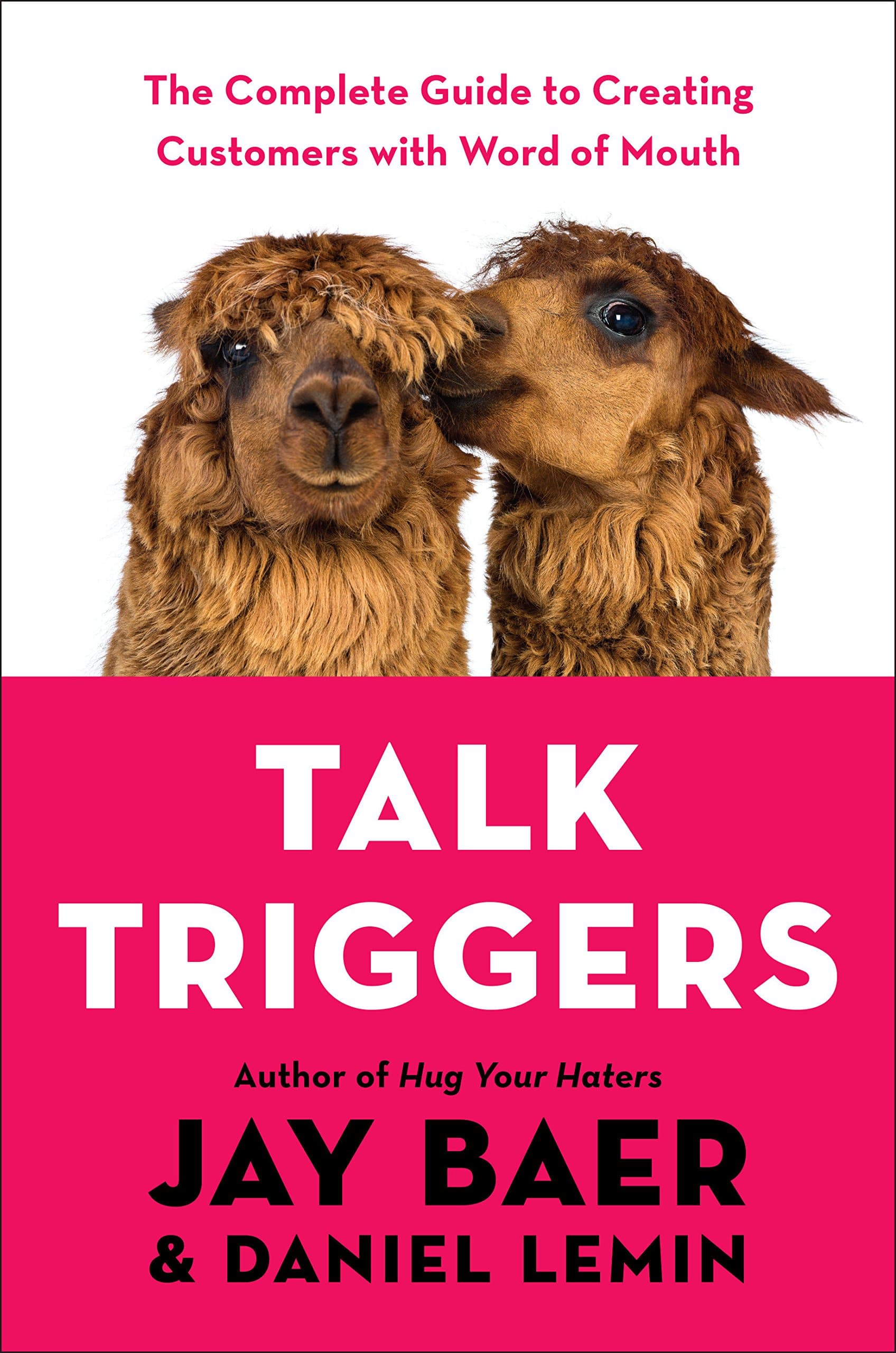 The best marketer isn't really a marketer at all: it's the customer. A satisfied customer will sing your praises to other customers likely to engage with your products. If they have a good experience, they create even more satisfied customers and so on. How can marketers maximize this effect? Talk Triggers gives a multitude of examples and case studies to try and answer this question. Authors Jay Bear and Daniel Lemin also provide a framework for trying to formulate your own methods. The more customers who do your marketing for you, the easier your job becomes in the long run.
Here are the key concepts:
Talk Triggers: These are unique, customer-driven stories that make your brand stand out. They're not just a marketing gimmick; they're a core part of your product or service that gets people talking.
The Four Requirements of a Talk Trigger: The authors outline four criteria that a talk trigger must meet: It must be remarkable, relevant, reasonable, and repeatable.
The Five Types of Talk Triggers: Different triggers work for different businesses. The authors categorize them into five types: empathy, usefulness, responsiveness, attitude, and generosity.
Creating Your Talk Trigger: The book provides a step-by-step guide to identifying what makes your business unique and how to turn that into a talk trigger. This includes understanding your customers, competitors, and what makes you stand out.
Measuring Success: It's not enough to create a talk trigger; you must also measure its success. The authors provide tools and techniques for tracking how well your talk trigger is working.
Real-World Examples: Throughout the book, the authors share real-world examples of companies that have successfully used talk triggers, providing inspiration and practical insights.
6. The Challenger Customers: Selling to The Hidden Influencer Who Can Multiply Your Results by Brent Adamson, Matthew Dixon, Pat Spenner, and Nick Toman
Trying to market a product to an entire business poses a number of challenges. One of the biggest is often trying to drum up a consensus within the business itself. You may have successfully sold to a certain project manager only for another to step in and disagree. The Challenger Customer was written to help you identify exactly who you need to direct your efforts toward. Hint: It's the person who's able to build the consensus necessary to buy your product. If you can convince them — which the book also provides guidance for — you'll be able to convince the entire business.
7. The Launch Book: Motivational Stories to Launch Your Idea, Business, or Next Career by Sanyin Siang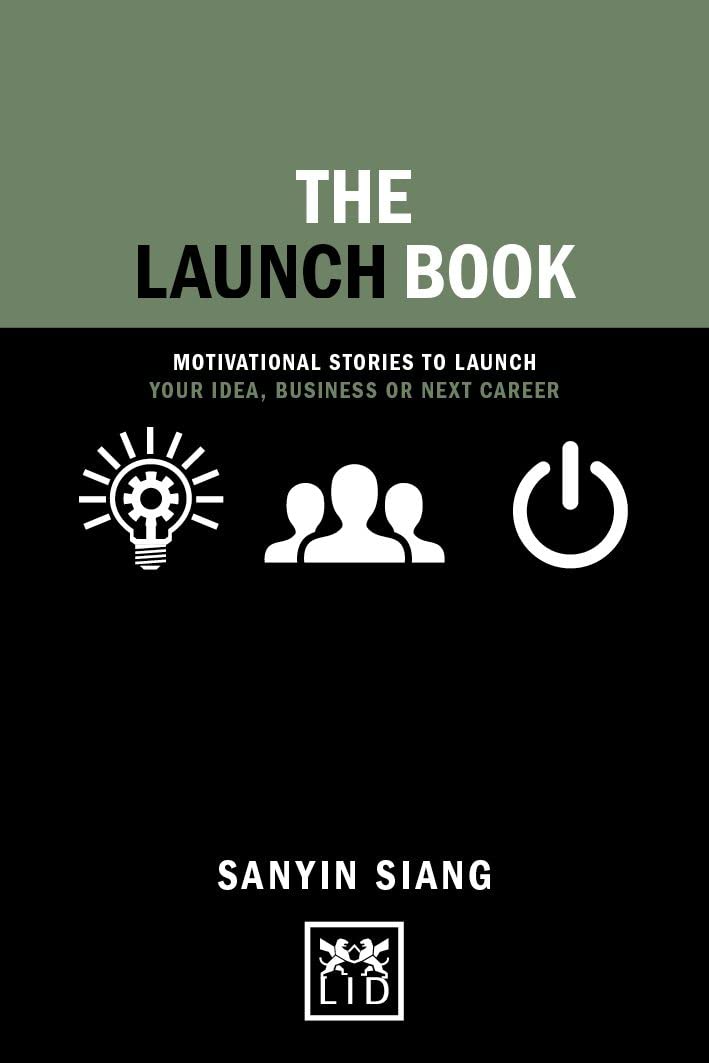 Sometimes all you need to succeed is to know that others have done the same before you. Sanyin Siang has collected success stories from across the business world in hopes of inspiring others. The Launch Book is a great B2B marketing book for those looking for expertise and guidance. Even better, it's in a format easy for quick, on-the-go reading.
8. The Ultimate Marketing Engine: 5 Steps to Ridiculously Consistent Growth by John Jantsch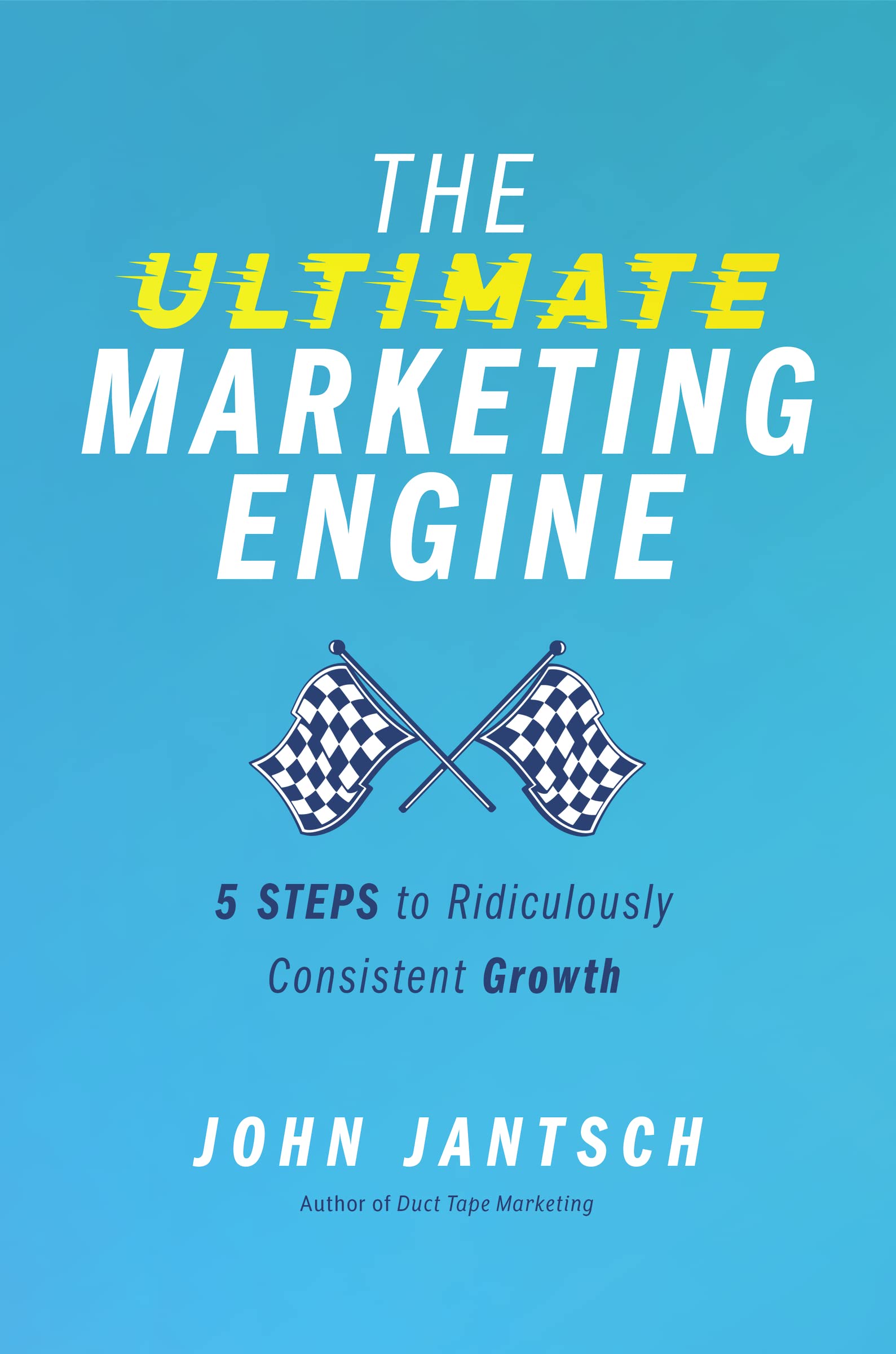 Titles that assist business owners of all sizes in realizing growth through effective marketing practices are especially noteworthy. More often than not, "the little guy" gets ignored as authors assume readers work with six-figure marketing budgets. John Jantsch gets this. He opted to name his approach The Duct Tape Marketing System in this B2B marketing book. The title itself mirrors his dedication to maintaining ideas that are both approachable and relatable. In The Ultimate Marketing Engine, Jantsch encourages marketers to focus less on ROI and turn their attention to the customers. By working to bring about the growth of the customer, you facilitate the growth of your businesses. Relating to customers as human beings fuels a consistently healthier bottom line.
9. Law Firm SEO: Exposing the Google Algorithm to Help You Get More Cases by Jason Hennessey
It takes more than just talent to drive clients to your law firm. You also need to stand out in Google search. Jason Hennessy gives law firm marketers the competitive edge they need to stand out in today's crowded market. In Law Firm SEO, Hennessey shows readers how he used practical tools and techniques to reverse engineer Google's algorithm and achieve SEO success. This book proves that you don't have to be an SEO expert to utilize this essential marketing tool.
10. Creating Superfans: How To Turn Your Customers Into Lifelong Advocates by Brittany Hodak
What's the best marketing tool in the world? A raving customer. In her book Creating Superfans, customer experience speaker Brittany Hodak teaches readers how to turn customers into loyal, enthusiastic advocates. This is the rare business book that's actually fun to read, thanks to anecdotes Hodak shares from her collaborations with superstar artists and brands like Taylor Swift, Motley Crue, Walmart, and Disney. She drives home the point that every employee is in the experience department. Then she gives them the tools they need to turn CX into a superpower.
11. Beyond High Performance: What Great Coaches Know About How the Best Get Better by Jason Jaggard
Sustained success isn't solely dependent on innate talent or abundant resources. Rather, it's about embracing a mindset that sees challenges as opportunities and utilizes failures as stepping stones toward improvement. In Beyond High Performance, Jason Jaggard reveals how the best consistently excel without burning out. With his real-world coaching experiences and coaching tools from Novus Global and the Meta Performance Institute, this book provides a fresh perspective on leadership and organizational growth. Marketers who adopt the insights, tools, and culture-shaping principles shared in this book, can push their boundaries. They'll thrive in the face of challenges, and consistently evolve to meet the ever-changing demands of the industry.
12. The Hawke Method: The Three Principles of Marketing That Made Over 3,000 Brands Soar by Erik Huberman
I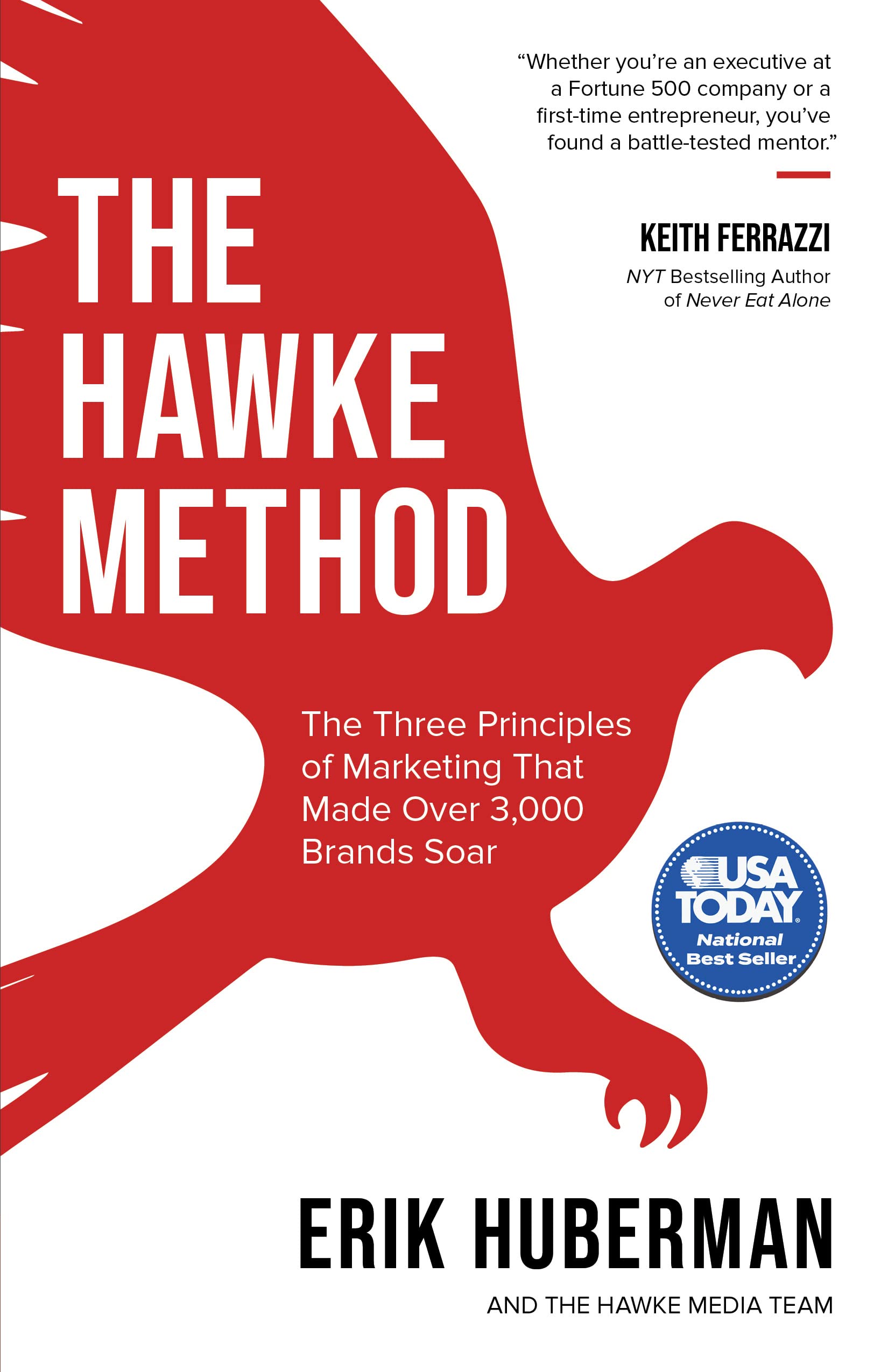 n the realm of B2B marketing, success often comes down to having a well-defined strategy. Amidst the myriad resources available, one book stands out as a comprehensive guide to achieving marketing excellence: The Hawke Method. This book encapsulates the distilled wisdom of a marketing savant who has propelled over 3,000 brands to soaring success through a proven framework. Drawing from his extensive experience, Huberman identifies three core principles that underpin every thriving marketing strategy — awareness, nurturing, and trust. Readers who learn to seamlessly integrate these three principles, will have a powerful and effective approach to B2B marketing.
13. Giftology: The Art and Science of Using Gifts to Cut Through the Noise, Increase Referrals, and Strengthen Retention by John Ruhlin
G
IFTOLOGY is a book about the art and science of giving gifts. It argues that thoughtful and personalized gifts can be used to build relationships, increase referrals, and strengthen retention. The book is based on the author John Ruhlin's own experiences as a successful businessman and gift giver.
The "Relationship Economy" is a powerful force that can be used to your advantage. When you give thoughtful and generous gifts, you create goodwill and reciprocity. This can lead to new opportunities, increased sales, and special access (John uses the metaphor, 'cutting the line and walking right into VIP room.'). The book also discusses the importance of strategic gifting, how to avoid giving bad gifts, and how to create a "gifting culture" in your organization. Overall, GIFTOLOGY is a practical and insightful book that can help you become a better gift giver. Whether you are looking to create a moat around your professional relationships or simply make someone's day, this book will challenge your thinking around gift giving.
Here are 5 key takeaways from the book:
The best gifts are thoughtful and personalized. They should be something that the recipient will appreciate and use.
Gifts should be given with the intention of making the recipient feel special. They should not be given with the expectation of anything in return.
Gifts should be given at the right time. Avoid giving gifts during holidays or other times when people are expecting them.
Gifts should be given in a way that is memorable. The way you give a gift can be just as important as the gift itself.
Gifts should be given with a spirit of generosity. Don't expect anything in return for your gifts.
Dive In To Our Favorite B2B Marketing Books
So, there you have it, my fellow B2B marketers. We've journeyed through the labyrinth of B2B marketing books, uncovering treasures that can transform our craft. These aren't just books; they're mentors, guides, and companions on a path that's uniquely ours.
I've found solace in their pages, wisdom in their words, and connections in their community. They've been my north star in navigating the intricate world of B2B marketing, where relationships reign supreme, and strategies must be tailored with precision.
But don't just take my word for it. Dive into these books, explore their insights, and let them shape your B2B marketing journey as they have mine. Embrace the specialized knowledge, the unique challenges, and the rewarding successes that come with our field.
And hey, if you've got a list of favorite B2B marketing books that have been your beacon, share them in the comments. Let's keep learning, growing, and evolving together in this incredible world of B2B marketing. After all, we're in this together, and the best is yet to come.
Get a Free Consultation
for Content Marketing