Live streaming app Periscope is one of the latest social platforms to enter the scene. It's also (if you ask me) one of the most exciting.
The concept of live streaming isn't exactly unique. Periscope is up against competition from similar applications like Meerkat and more recently, Facebook Live.
However, what I – and I think a lot of marketers – feel gives Periscope the edge is its integration with Twitter.
Twitter purchased Periscope in February of last year (interestingly, before the platform had even launched – clearly they knew they were onto something good).
For many months, Periscope's integration with Twitter looked something like this: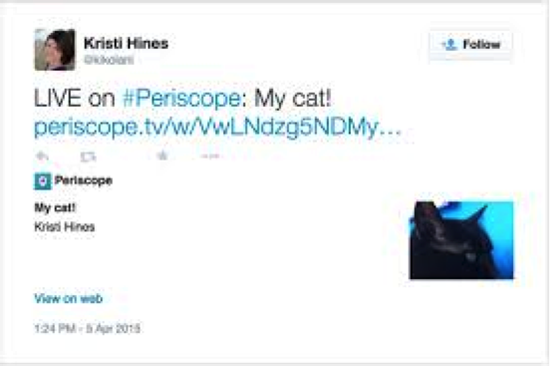 But in January of this year, the Twitter/Periscope partnership made a game-changing modification. They introduced autoplay Periscope broadcasts to Twitter.
What this means is that Twitter users no longer need to open a separate app in order to view a Periscope stream (as they would have done in the example above). Instead, when you're scrolling through Twitter and come across a Periscope video, it will automatically begin playing from within your timeline.
That's huge for brands that are using or plan to use Periscope in their marketing. It gives them the tools to reach their entire Twitter audience with their broadcasts, instead of just those who are Periscope users.
My personal experience with Periscope helped to further cement the idea that this is a tool with some serious ammo for driving engagement.
I used it for just 30 days (give or take).
This didn't give me much time to build up a native audience. As a result, I was only getting around 50 to 60 views per video.
That doesn't sound great, but as it turns out, it didn't really matter.
The engagement I was getting was through the roof.
Somewhere between 20 and 30 people engaged with me on Twitter, asked me questions, or connected with me over email as a result of my videos.
I was also surprised to see that around 30% of my viewers tuned into 3 or more broadcasts.
What I wasn't surprised to learn is that out of video sharing platforms Meerkat, Vine, and Periscope, brands are flocking to Periscope most of all: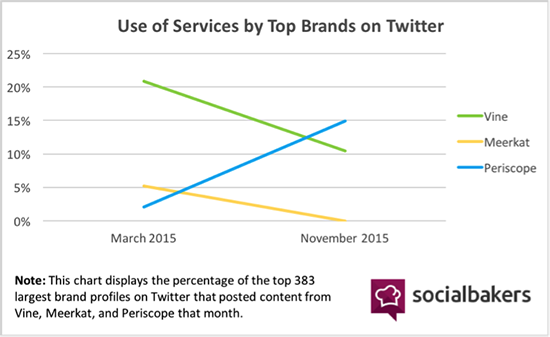 I don't doubt this is, for the most part, because of how effective it is at driving engagement.
Many of the world's biggest brands are harnessing the engagement-generating power of Periscope. Let's hone in on 10 of them, and take a look at what you can learn from their efforts so far.
1. Spotify
Spotify played a significant role in revolutionizing the way we consume music, so it makes sense that the brand would jump on the opportunity to utilize a social platform as innovative as Periscope.
Spotify also holds the keys to something a lot of consumers have a passionate interest in: music. More importantly, in this case, it holds the keys to the artists behind it. Naturally, Spotify exploits this to its advantage.
Spotify was, in fact, one of the first brands to sign up to the platform. It created an account on launch day and its first broadcast (a behind-the-scenes video with Irish folk singer Conor O'Brien) followed just a few hours later.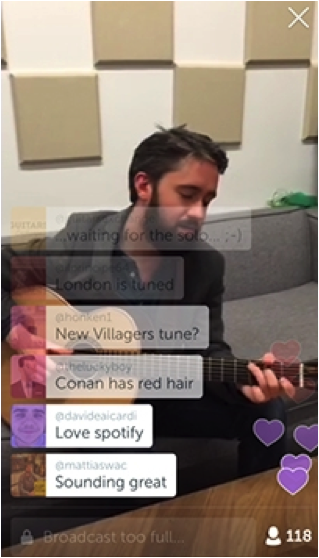 382 Periscope users tuned into the live stream, which managed to rack up 1,534 hearts (similar to a "like" on Facebook on Twitter).
In the "replay" period that followed (which lasts for 24 hours) the video was watched around 200 more times. Not bad for a brand's first experiment with Periscope.
Since then, Spotify has made its mark on the Periscope community by showing live music as it was meant to be seen – live. It also features interviews and behind-the-scenes footage with popular artists.
Key takeaway: Identify what unique material your brand has access to, and exploit this to your advantage in your broadcasts.
2. Mountain Dew
Mountain Dew was another early adopter of the Periscope platform. Its first broadcast, titled "Stop By to Say What's Up," lasted just 3 short minutes.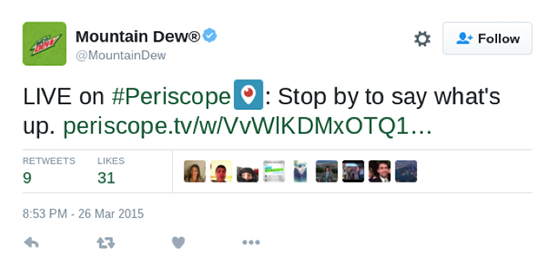 It revolved around a girl spelling out the word "Swag" on a chalkboard while surrounded by Mountain Dew merchandise (or if you're younger and hipper than me, "Mountain Dew swag").
The premise behind the video was simple: fans were asked to tune into the video, ask, "What's up?" and interact with the brand. As a thank you to its most active viewers, Mountain Dew would shower them with branded merchandise.
Speaking to Social Times, Christine Ngo, Digital Brand Manager at Mountain Dew, described the brand as a "digital innovator" that "tries to stay nimble as new platforms become available."
This is no exaggeration – Mountain Dew is well known for possessing an adventurous streak when it comes to social activities. Some of its more notable contributions to the internet include a "virtual reality experience" that enabled people to "skateboard" through Las Vegas with Paul Rodriguez and Sean Malto, and a real-time, interactive Snapchat "story" that ended in a Super-Bowl pre-game party.
"We're always testing and learning from new platforms and are really eager to jump on whatever platform our audience is going to be on. So it's very in-strategy for us to jump on Periscope immediately.

There's no true rehearsal, it's truly live engagement. It's a great way to communicate with fans but not quite as immersive as seeing each other in person. We're really interested in seeing how the space grows in the future." – Christine Ngo, Mountain Dew
Key takeaway: It's easier for a brand, big or small, to gain traction on a social platform if they jump in early. Okay, so audience numbers will probably be limited at this point, but so will your competition.
It might be risky to invest resources into a new and unstable platform, but the potential payoff is huge.
3. T-Mobile
T-Mobile makes for an interesting case study, namely because it's using Periscope very differently than the brands I've spoken about so far.
Spotify and Mountain Dew are having a lot of fun with the tool. Okay, so I don't doubt that there's a detailed business plan and marketing strategy at work in the background, but the content they share does a damn good job of hiding it.
T-Mobile seems to have very different plans for Periscope. The company is using it to build one-on-one relationships between its customers and its CEO, John Legere.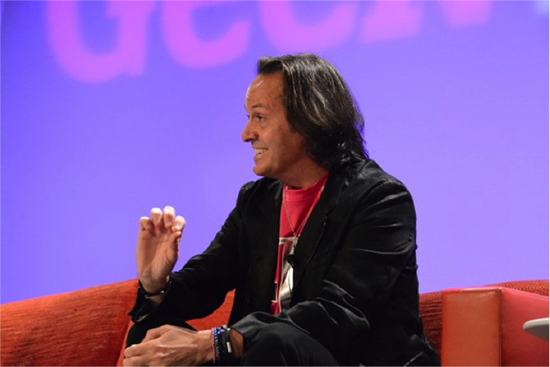 This is a strategy that has followed through from Twitter. Specifically, the brand has been asking customers to follow John Legere's personal account (for which Legere assures us he writes all his own tweets).
"I take every Tweet that comes in and I read it. I wake up in bed, and I do Twitter for an hour and a half just to catch up." – John Legere, speaking to GeekWire
The decision to have the CEO of one of the world's biggest brands front its social media efforts is a courageous one, to say the least, especially when the CEO in question is so openly "bold and vivacious."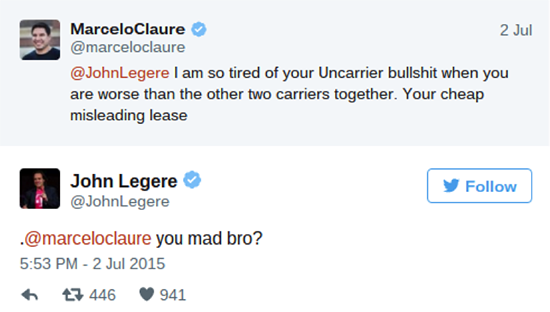 Still, we have to ask the question: if he didn't have such a big personality, would anyone really pay him attention? Would a shy and reserved Legere have managed to rack up more than 2 million followers on Twitter?
I highly doubt it.
Audiences have latched onto Legere because of his brutal honesty. It makes him seem transparent, and that's a hugely beneficial trait to have in business today.
This candid, honest, if somewhat harsh personality translates naturally to Periscope – a tool that enables Legere to speak face-to-face with customers instead of "hiding" behind tweets. Consequently, this is exactly what he does.
Legere regularly hosts Periscopes to update and engage with followers. He even hosted a broadcast called "5 Ways T-Mobile CEO @JohnLegere's Use Of Periscope Is Changing The Game and Why Other Leaders Need To Take Notice."
This is evidence that Legere finds Periscope so effective as a means of reaching customers that he believes and actually wants to encourage other brands to follow his lead.
Key takeaway: You don't have to use social platforms in the same way as your competitors in order to be successful. In fact, it usually pays dividends to find and communicate in your own, unique voice – even if it is a little "different" than what consumers might generally expect to hear.
4. Target
Target – a discount retailer – probably doesn't seem like the sort of brand that would embrace developments in social media. Sure, they're going to be on Facebook and Twitter (because let's face it – who isn't these days?).
But would you be surprised to learn that Target has also made a name for itself on Periscope offering content like this?
(A live music video with Gwen Stefani)
And this?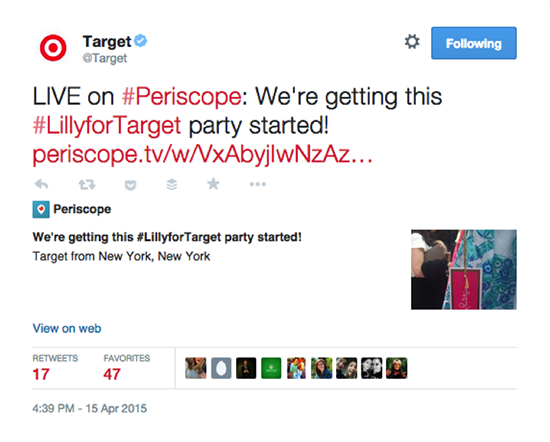 (A live, behind-the-scenes launch of a new clothing line)
Speaking to Digiday, Target's Jessica Carlson explained the brand's attitude toward social media:
"Target's always looking for new ways to connect with our guests. Through social media and, most recently, through Periscope, we've been able to give guests a peek behind the curtains of our design partnerships." – Jessica Carlson, Spokesperson for Target
Like many brands, what I think Target finds alluring about Periscope is how the site provides such a unique way to connect with customers. They're not simply speaking to customers. They're not just sharing photos or videos. They're letting customers into the Target world without editing or filters. It's such a personal and raw way to communicate with people, and I think (and I assume that all the brands on this list would agree) that's really exciting.
Key takeaway: Don't shy away from new, untested platforms or hide behind screens or editing tools – we want to see the real, unedited you.
5. General Electric
General Electric is no stranger to awesome content. The company worked with DJ Matthew Dear to make music with machines and hooked up with Jeff Goldblum to create this wonderfully-weird ad for their "Link" smart bulbs.
General Electric broke the barrier for awesome, however, in July of last year when it launched #Droneweek: a week of live Periscope videos, broadcast directly from onboard a drone.
Throughout the series, viewers were treated to a live drone's-eye-view of machinery including wind turbines, jet engines, and locomotives.
This was accompanied by content hosted through a second Periscope account, @GEDronePilot, which featured interviews and commentary from some of General Electric's scientists and technologists.
Together, the series aimed to provide a detailed insight into the role General Electric plays in its industries, in a unique format that enabled fans to respond in real time.
As well as reaching out to its existing fan base and hoping to bring new fans on board, General Electric hoped the broadcasts would serve to attract new talent to the company, too.
"When you give people a peek behind the curtain, they fall in love with the company. We're treating it as a weeklong show where we stitch together a narrative to demonstrate the scale, size, and impact of our machines. To provide breakthrough innovations, we need to recruit the same people that a Facebook, Google and Microsoft will go after. We want to inspire them to participate in things that actually matter." – Sam Olstein, GE's director of innovation, speaking to Digiday
Key takeaway: Creating a series of broadcasts (or for that matter, a series of any form of content) can help to drive engagement by encouraging your audience to keep coming back for more.
6. MTV
Back in the '80s and '90s, MTV was IT. The '80s saw the channel practically invent the "music video," and in the '90s, MTV began adding hit shows like The Real World and Beavis and Butthead into the mix, too.
Basically, if you grew up in the U.S. during the '80s and '90s, chances are, you watched MTV.
A lot.
Unfortunately for the channel, things have changed. As time went on, the network came up against increasing competition from an ever-expanding array of cable TV channels.
But that's nothing compared to what it's up against today…
The internet.
MTV's target market is watching less TV than ever. Instead, they're streaming shows and consuming content via user-generated media channels like YouTube, and of course, Periscope.
This makes MTV an especially interesting addition to this list. Unlike most of the brands I've talked about so far, MTV practically needs to be on Periscope.
20 years ago it was easy for MTV to be innovative. But today? I'd like to say innovation in broadcasting is more difficult, but instinct tells me that would be a grave understatement.
Still, it's doing a damn good job of trying.
MTV's Persicope broadcasts have so far included live streams from the VMAs: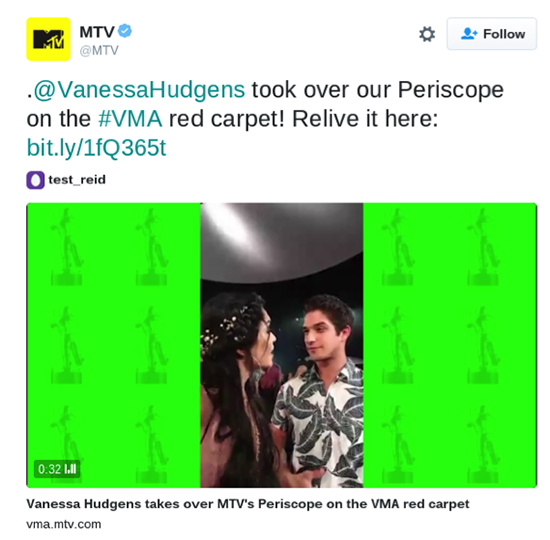 And the EMAs (Europe Music Awards):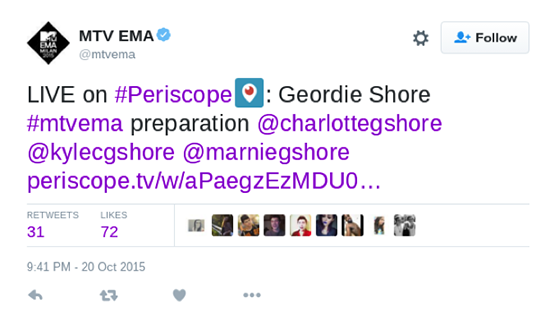 …Alongside behind-the-scenes celebrity footage with the stars of MTV shows: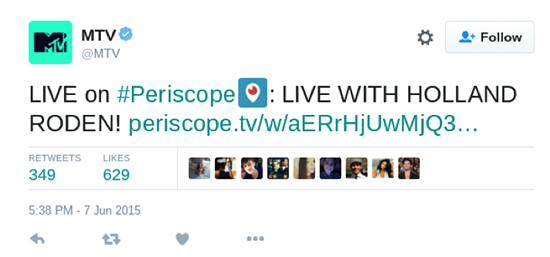 It will be interesting to see how else MTV capitalizes on Periscope. I think if utilized correctly, it has the potential to play a significant role in the brand's future.
Key takeaway: Social sites can provide platforms to make your mark online even when the rest of the internet feels like your enemy.
7. Adidas
Adidas was the first major sports company to jump on board the Periscope bandwagon. Its first broadcast was especially interesting: it lasted just 20 seconds, and covered some unusual subject matter.
It showed Madrid footballer James Rodriguez signing a contract extension with the brand.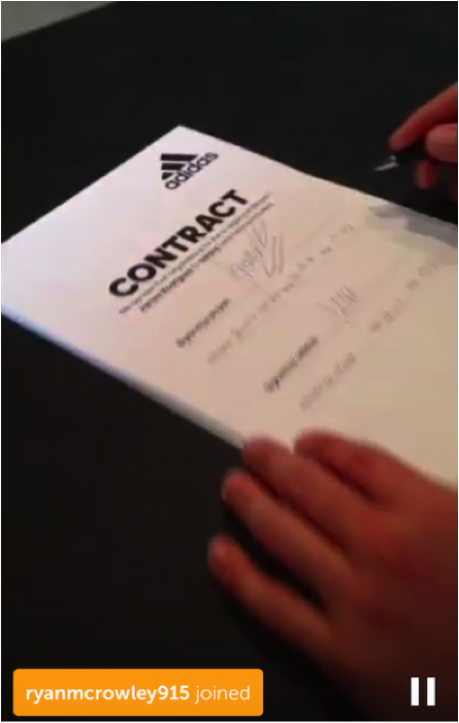 This seems, to me, to be something quite special. I usually think of a contract signing as a very private event. Being offered the privilege to view this – live – is pretty awesome, and is naturally going to make consumers feel a closer affinity to the brand.
And Adidas hasn't stopped there.
More recently, Adidas allowed fans to view footballer Lionel Messi, "the greatest player in the history of the game", in training. This was followed by a live broadcast of the star's reaction when he received his Messi15 boots for the very first time.
The brand has even been broadcasting from Indonesian shores to live-stream an event designed to find Indonesia's most talented football player.
Key takeaway: Make your customers feel extra special by offering them insights into seemingly private events (within reason, of course).
8. Red Bull
As a leader and innovator in content marketing, it seemed natural that Red Bull would be quick to gravitate towards Periscope.
The tool fits right into the Red Bull content game plan: its content is designed to inspire fans to live life to the fullest, to live for each and every moment.
What better way could there be to spread that message – that excitement – than a live video?
So far, Red Bull's broadcasts have included live footage from events like the "ultra-exclusive weekend long party", the Red Bull Guest House.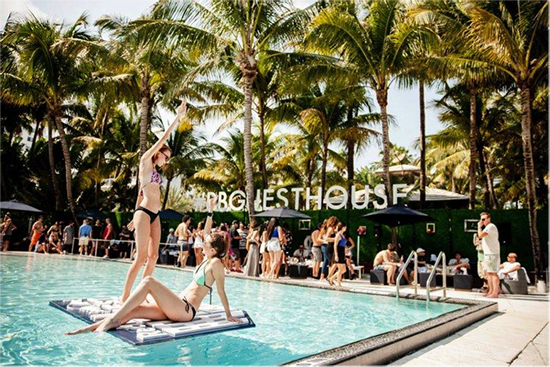 And Red Bull Baylines, the "world's most innovative slacklining competition."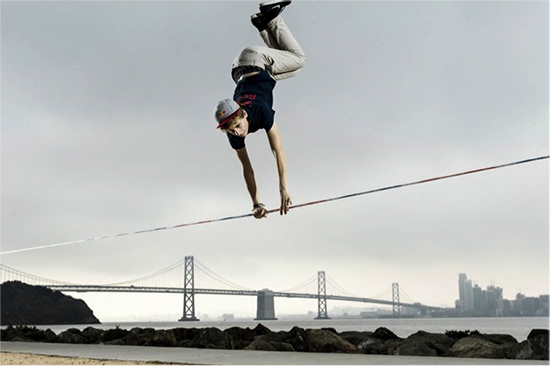 It's no secret that Red Bull creates awesome content, but Periscope adds a whole other dimension of excitement to its execution.
Key takeaway: Periscope works so well for Red Bull because the platform complements the Red Bull brand, and lends itself to the style and tone of its content. For best results, don't be a sheep and use the same tools as everyone else, no questions asked. Instead, find the platform that best reflects your brand and the type of content you usually create.
9. Doritos
In April of last year, Doritos became the first brand to run a contest through Periscope.
The roulette-style game spanned a number of channels including Twitter, Vine, and of course, Periscope. It was, as the name suggests, designed to promote Doritos' newest product, Doritos Roulette: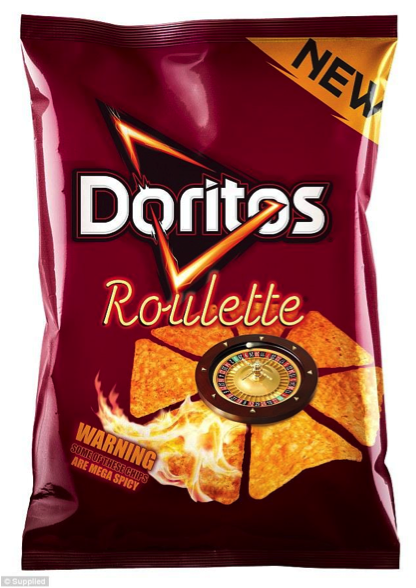 To take part in the game via Twitter, users had to tag three friends in a tweet using the hashtag #DoritosRoulette. The winners of the contest were announced on Vine.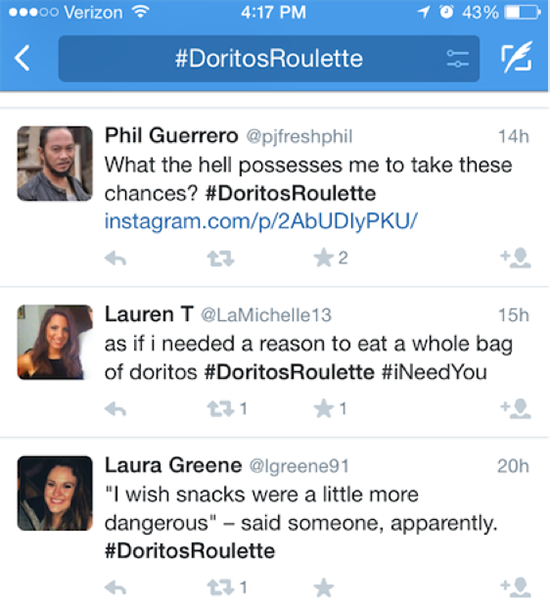 Periscope, on the other hand, played host to a live game show (naturally). To compete, fans simply needed to tune into the broadcast. When the game began, the host would spin a Roulette wheel and the winners were decided based on where the wheel landed.
Spreading the game across multiple channels encouraged fans to interact with the brand in a variety of ways.
This was a clever move on the part of Doritos. It enabled the company to harness and maximize the potential of each channel's audience.
Those who had so far only engaged with the brand on Twitter were encouraged to follow them on Periscope and Vine, and vice versa.
Not to do things by halves, the Roulette/Periscope campaign didn't end there. The whole event was wrapped up with a 12-hour (yes, a 12 hour) stream of things being destroyed by cannons.
Because, why not?
Key takeaway: Live competitions (aka game shows) are a foolproof way to drive engagement, and Periscope is the ideal platform for hosting one of your own.
10. Ralph Lauren
A number of fashion brands have tested the Periscope waters (Marc Jacobs broadcast a live post-show Q&A, and DKNY treated viewers to a tour of their design studio's closet) but as of yet, no fashion house has put on a show quite as elaborate as that seen by U.S. label Ralph Lauren.
In September of last year, Ralph Lauren used Periscope to live stream their 2015 New York Fashion week show.
But that wasn't all.
At the same time, the show was broadcast across the pond in London's Piccadilly Circus (which is best described as London's Times Square).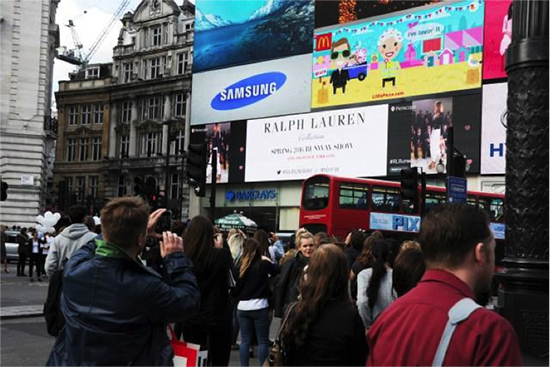 Publicity around the stunt was secured thanks to a social strategy that revolved around drip-feeding teasers to its audience in the weeks before the event.
In the final few days in the run up to the show, ads began to appear on screens in Piccadilly Circus, while Twitter was used to host a countdown.
Exploiting Periscope to this extent comes as no real surprise from a brand that designed a smartshirt (it connects to your iPhone), and whose previous stunts have included interactive shop displays and a holographic, 4-D fashion show.
The brand is widely regarded as a "digital innovator," and the decision to use Periscope to bring New York Fashion Week to UK shores was in no way an exception to this.
Key takeaway: Leverage Periscope further by integrating other platforms into your broadcasts.
Have you use Periscope yet? Tell me how it went – what did you broadcast? Did you get more (or less) engagement than you expected? Comments are below:
The post How 10 Innovative Companies are Using Periscope to Drive Engagement appeared first on Sujan Patel.