As 2016 comes to an end, it's important as business owners that we spend time reflecting on the lessons we learned over the past 12 months, and thinking about what we can do next year to connect with more people, sell more products, and scale our businesses. If you're like most retailers, one particular area you should be focusing on is how to better reach and sell to the millennial audience.
According to data compiled by the U.S. Census Bureau, "millennials, or America's youth born between 1982 and 2000, now number 83.1 million and represent more than one quarter of the nation's population."
This is a generation that has been shaped and very much influenced by technology and connectedness. They haven't had to learn how to interact with businesses and brands online—they've grown up doing it. As a result, they have very high expectations when it comes to working with online retailers.
Consider the following statistics shared in a blog post about ecommerce trends from BigCommerce:
67% of Millennials and 56% of Gen Xers prefer to shop online rather than in-store.

48% of millennials have shopped on marketplaces, 76% at large retailer sites, 46% on webstores or independent boutiques, and 29% at category-specific online stores.

Millennials and Gen Xers spend nearly 50% as much time shopping online each week (six hours) than their older counterparts (four hours).
If you want to successfully sell to and build relationships with this audience, you have to understand what they care about, what they're motivated by, and what they expect from the brands they choose to do business with.
This guide will help you formulate a plan for 2017.
Tip #1: Tell stories that aren't about you.
In the past, investing in storytelling for business meant little more than collecting rich testimonials and compelling case studies from happy customers, but those aren't the types of stories that motivate millennials to buy. Millennials don't hunger for sales pitches. They want to hear and see authentic, interesting stories that help them better understand why they should interact with your business. These stories aren't about you—they're about your customers and the community you're trying to support through your business and products.
A great example of this is the short documentary series from YETI, a company that sells high-quality coolers, tumblers, and other related accessories. In one video, they follow wildlife photographer Wyman Meinzer. The video doesn't feature YETI products at all. Instead, it's simply a well-produced story aimed at connecting with an audience that would find value in a high-quality, rugged, life-lasting $200+ cooler.
Tip #2: Build a photography studio.
Millennials need high-quality visuals in order to make purchasing decisions online. They want to be able to look at products from every angle. As an online retailer, it's your job to present prospective customers with images that make them feel as though they were holding your products in their hands and inspecting them in person. To make it happen, you need to invest in professional photography equipment.
You could hire a professional to help you, but if you're regularly releasing new products and creating new product pages in your store, you'll save money in the long-run if you learn and invest in the trade yourself. Building a photography studio might sound a bit daunting and expensive, but it doesn't have to be. It can be as simple as creating a space in a closet, open office, basement, or guest room. You can start small and invest in more software and equipment as you go.
Tip #3: Sell using GIFs.
As you might have gathered from the tips in this blog post so far, visuals are hugely important selling tools when interacting with the millennial audience. In addition to video stories and rich photography, Gifs are another type of visual that you should be incorporating into your ecommerce marketing strategy. Gifs are simple, animated files that can be incorporated into emails, Facebook posts, product pages, landing pages, and more.
Gifs mostly used by millennials as funny memes and pop culture references, but more and more savvy businesses are starting to recognize their value and use them to present products in a format that is both familiar and entertaining to millennials. To create GIFs that feature your ecommerce products, use a simple tool like makeagif.com or imgflip.com.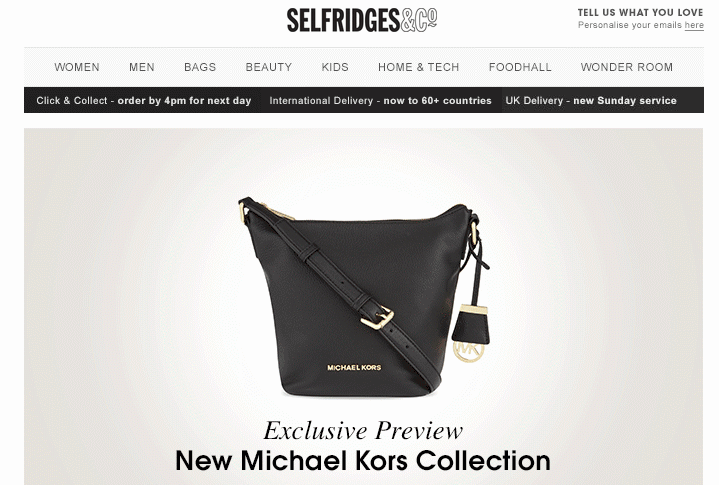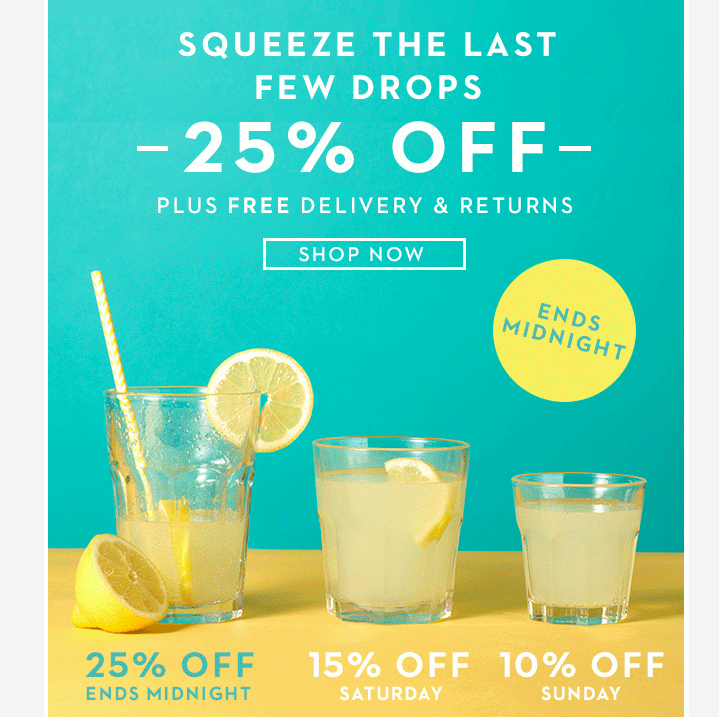 Tip #4: Incentivize word-of-mouth.
Word-of-mouth recommendations are big drivers for millennials and online shoppers in general. It's been reported by Nielsen that 84% of consumers always or sometimes take action based on personal recommendations. So the question is, how do we as ecommerce owners drive more word-of-mouth recommendations about our products? The answer is by setting up attractive referral programs for loyal customers.
The strategy behind a referral program is simple: offer exciting incentives and rewards to customers in exchange for telling their friends, family, and coworkers about your business and products. Here's a great example from Referral Candy that illustrates just how simple it can be: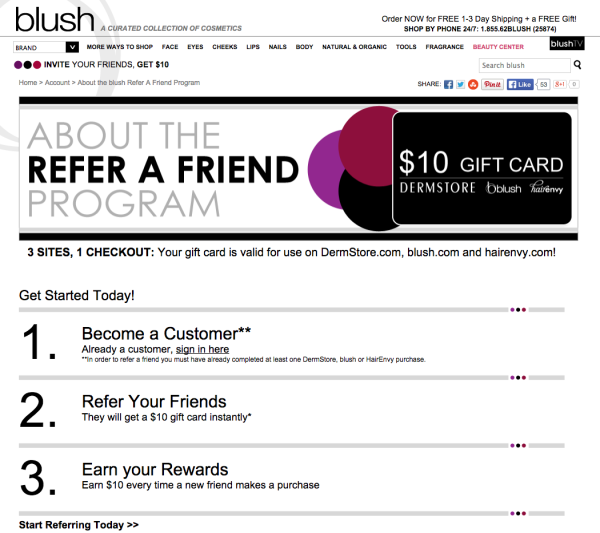 Tip #5: Let your customers do the selling for you.
In addition to driving your customers to tell their friends about your products, you can also encourage them to show people what it's like to use your products. Thanks to the popularity of social media sites like Facebook, Twitter, Instagram, and Snapchat, online retailers are able to connect with existing and prospective customers in a way that they never have been able to before. The smartest retailers have figured out how to leverage these networks to boost sales, and here's their secret: they don't blast their Facebook pages and Instagram accounts with special offers and unique promo codes. Instead, they feature content from their happiest and most loyal customers.
To sell more inventory to millennials in 2017, let your customers do the selling for you. How? It's simple. Encourage them to share photos of themselves interacting or wearing your products on their social media pages. Ask them to tag your business when they share their photos, then interact with them in real-time to show prospective customers how invested you are in the success and happiness of your customers. Incorporate the photos on your product pages and throughout your website.
Tip #6: Try livestreaming.
Livestreaming is another trend that's slated to continue growing in popularity in 2017 and among the millennial audience. To sell more products next year, try connecting to prospective customers through a livestream event on Facebook. For example, you could create a livestream event to:
announce new products
give followers a behind-the-scenes look at your operation
release special promo codes for attendees
Unbox your products
Talk to happy customers about why they love your products
Give away products to engaging attendees
Tip #7: Support a cause.
Millennials are also incredibly motivated to do business with organizations that support causes and charities. As a result, social entrepreneurship has exploded in popularity over the past decade. It's not enough to simply make good products and create a positive experience for customers anymore. Today, millennials want to know they're doing business with companies that care about the world and are willing to use their influence and success to help others.
Supporting a cause is a big deal, so spend time thinking about which organization or cause means the most to you and to your customers. Start small by offering to donate a percentage of proceeds on a particular day to a nonprofit organization and see how your audience responds. If they are enthusiastic about it, consider incorporating a more permanent program into your business.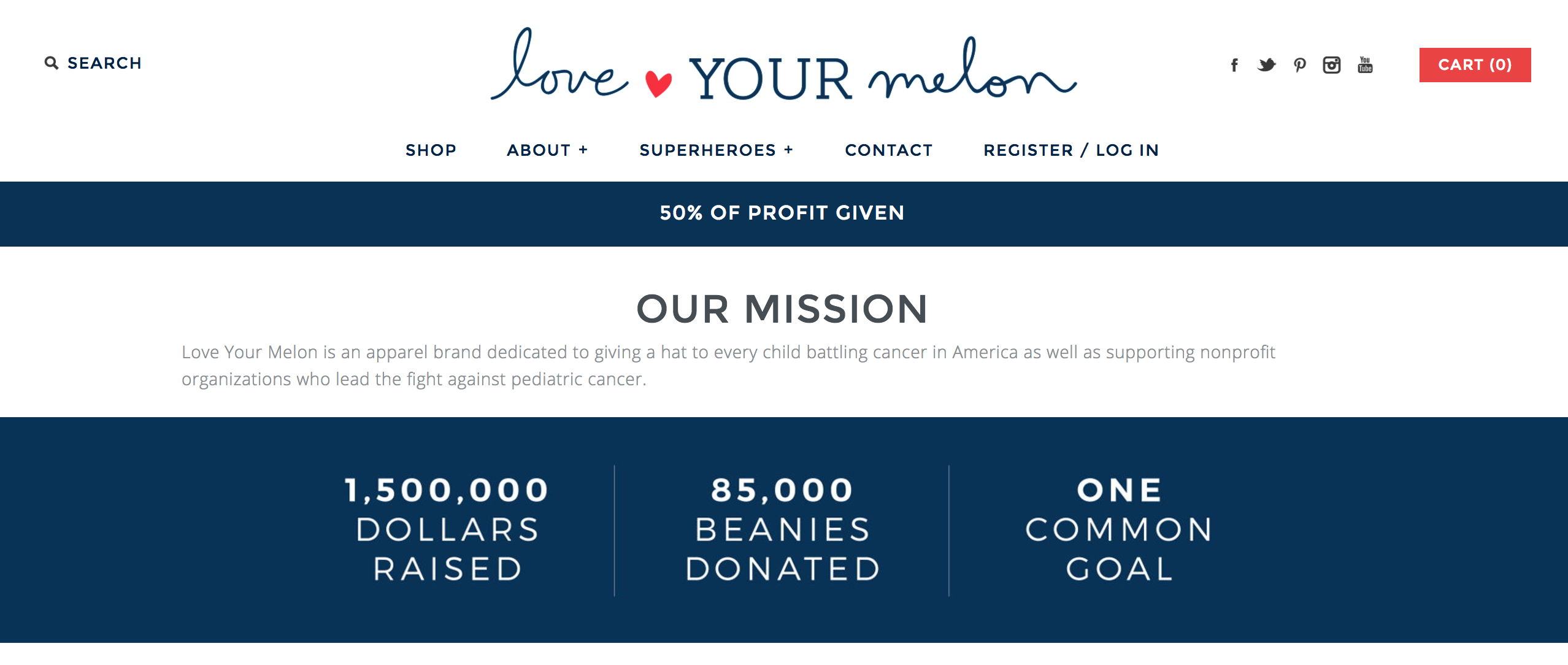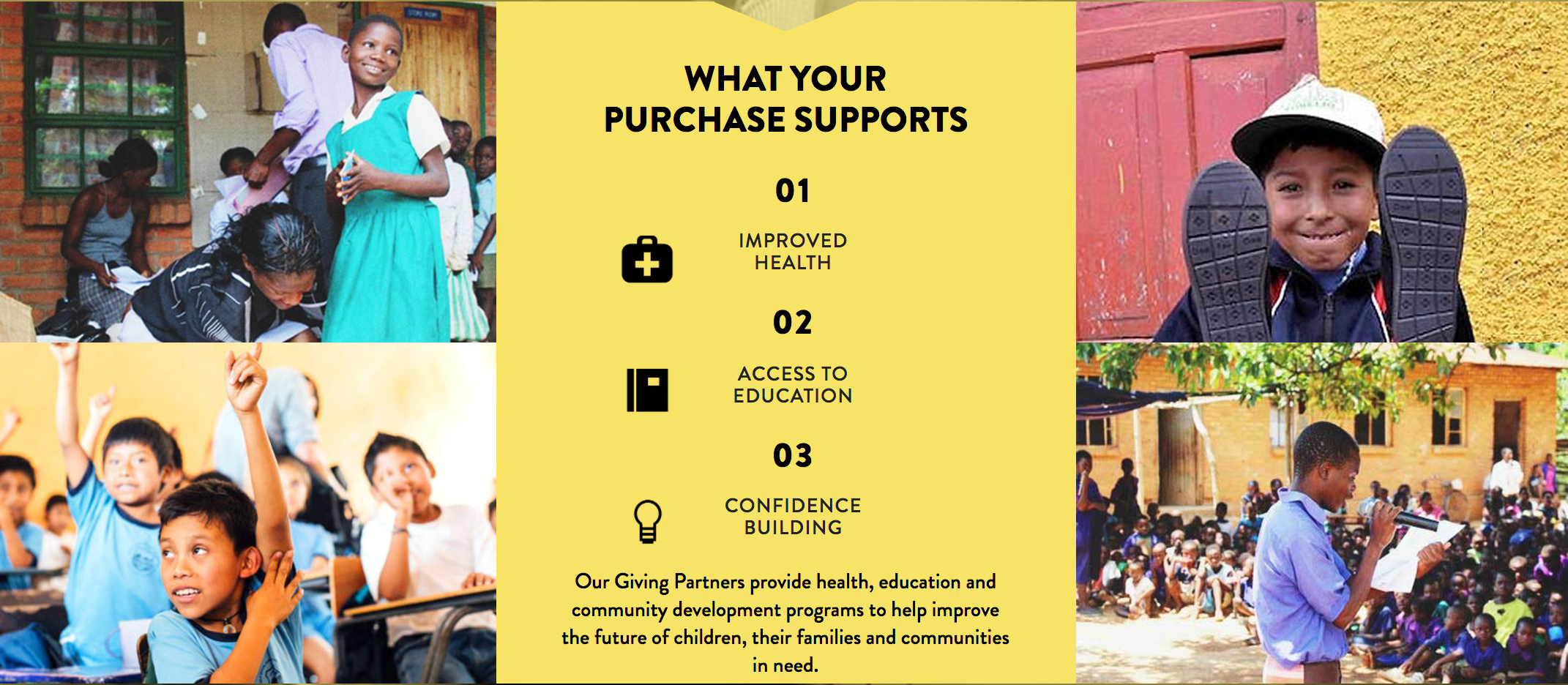 TOMS Shoes
Tip #8: Go multichannel.
Millennials want options when they go to buy products online. They're not always going directly to an ecommerce store to make purchasing decisions. Oftentimes, they're going where they feel most comfortable. For some, that might mean buying all products through Amazon. For others, it might mean eBay. To sell more products to millennials, you need to offer your products on a variety of marketplaces. You need to go where your customers are, rather than the other way around.
The problem for most online retailers is that going multichannel can be a big time investment.
Tip #9: Create a 'try before you buy' option.
Millennials also want access to products before they make the decision to buy them. As a result, more companies are introducing attractive programs that allow purchasers to try products before they actually pay for them. The most famous example is perhaps the Warby Parker Home Try-On program. Here's how it works: the consumer picks 5 frames from their website, Warby Parker mails them to the consumer for free, the consumer then has 5 days to try them and decide which one they like best. Once the consumer has decided, they purchase a fresh pair online and ship the 5 samples back to Warby Parker with a return label provided by them. As you can see, it's an enticing program, and one worth testing at your own business if possible in 2017.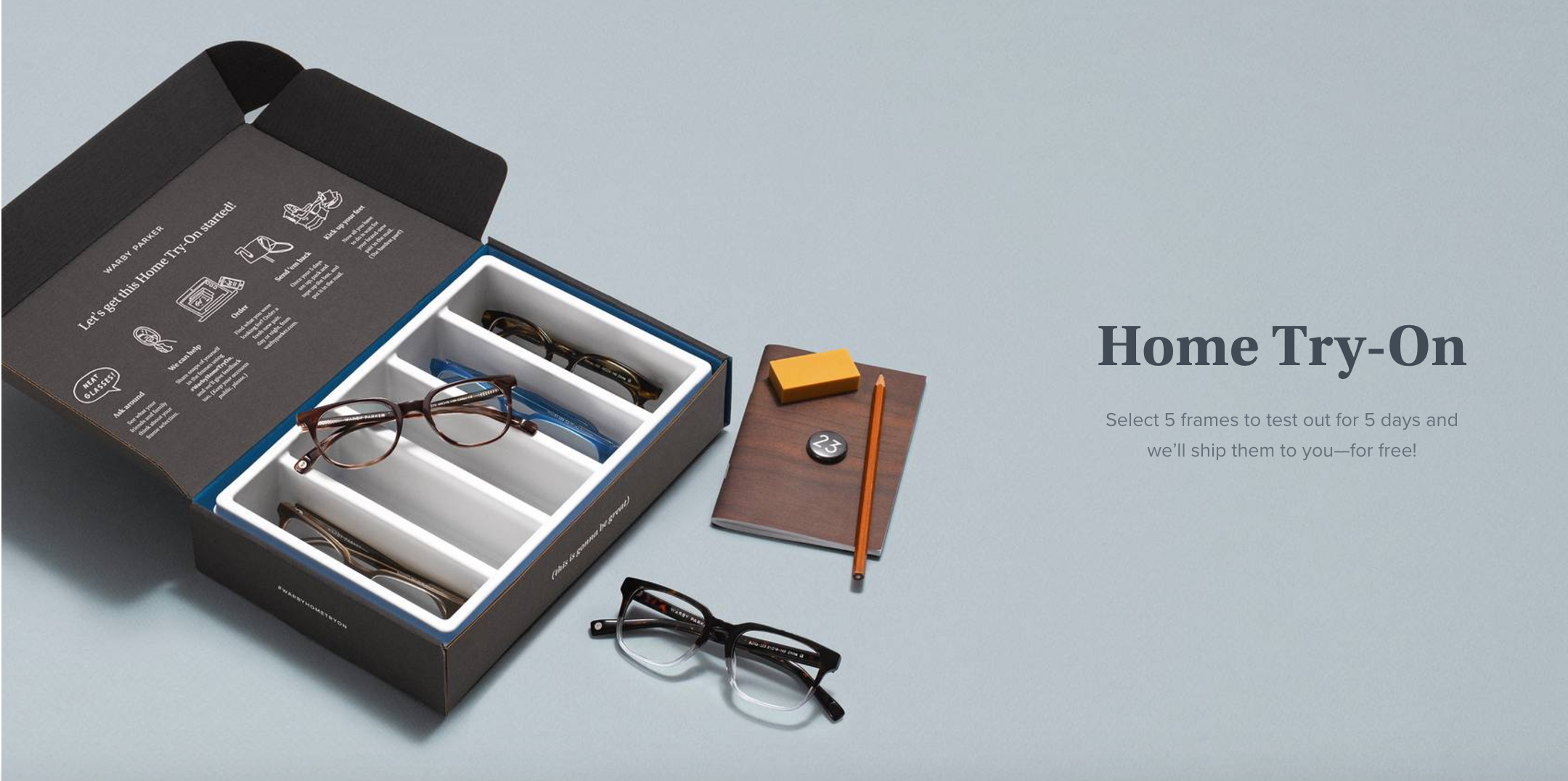 Like many of these tips, you can start small by creating a beta program that's only available to your most loyal customers in order to gauge interest and fine-tune the logistics of the program. If it works, you can scale it and offer it publicly to anyone who lands on your website.
Tip #10: Spend extra on packaging
Presentation is everything to millennials. If you want to make an impact, you can't just send products out in 'plain jane' packaging. They expect more. To create an unforgettable unboxing experience for your customers (one that they will undoubtedly want and need to share with their friends on social media), you should spend extra on packaging that reflects your brand and makes your customers excited to receive and open the products you sent to them.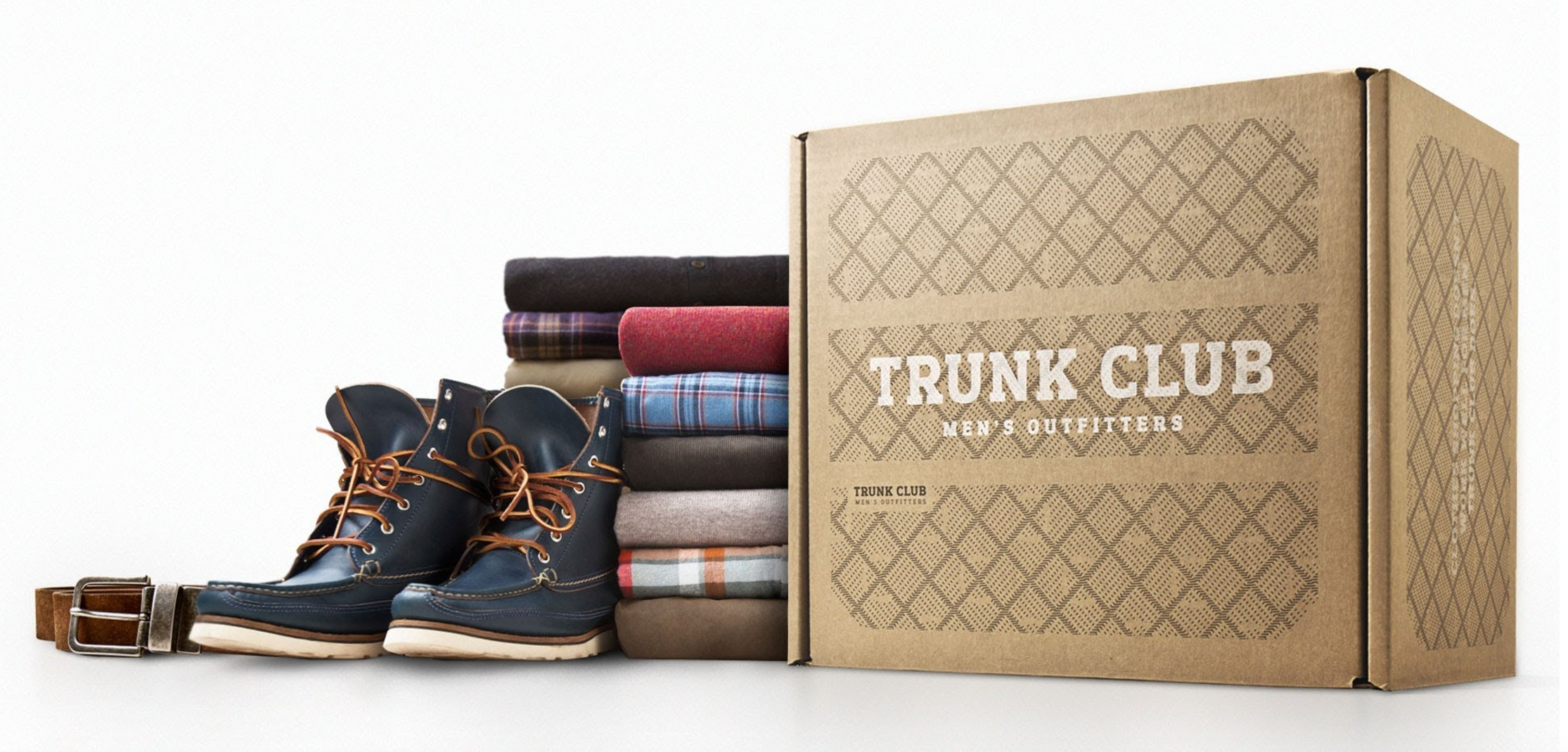 Tip #11: make shopping easy and simple.
If you want to prevent prospective millennial customers from leaving seconds after landing on your website, you have to invest resources into making sure you have fast load times and an easy-to-use navigational experience. It's also important that you make the checkout experience simple and as quick as possible. Try to limit the amount of screens and steps your visitors have to make in order to purchase products from you. The best and most successful ecommerce websites are fast, simple, uncluttered, and accessible across any device—web, phone, or tablet.
Tip #12: Invest in personalization.
Personalization is going to be a big trend for every audience in ecommerce,  but it's going to be especially important for millennials. Remember: millennials don't just want to buy products from you—they want to develop a relationship with your brand. Personalization can help you come across as more human and authentic when visitors land on your website or open an email.
Here are a few examples: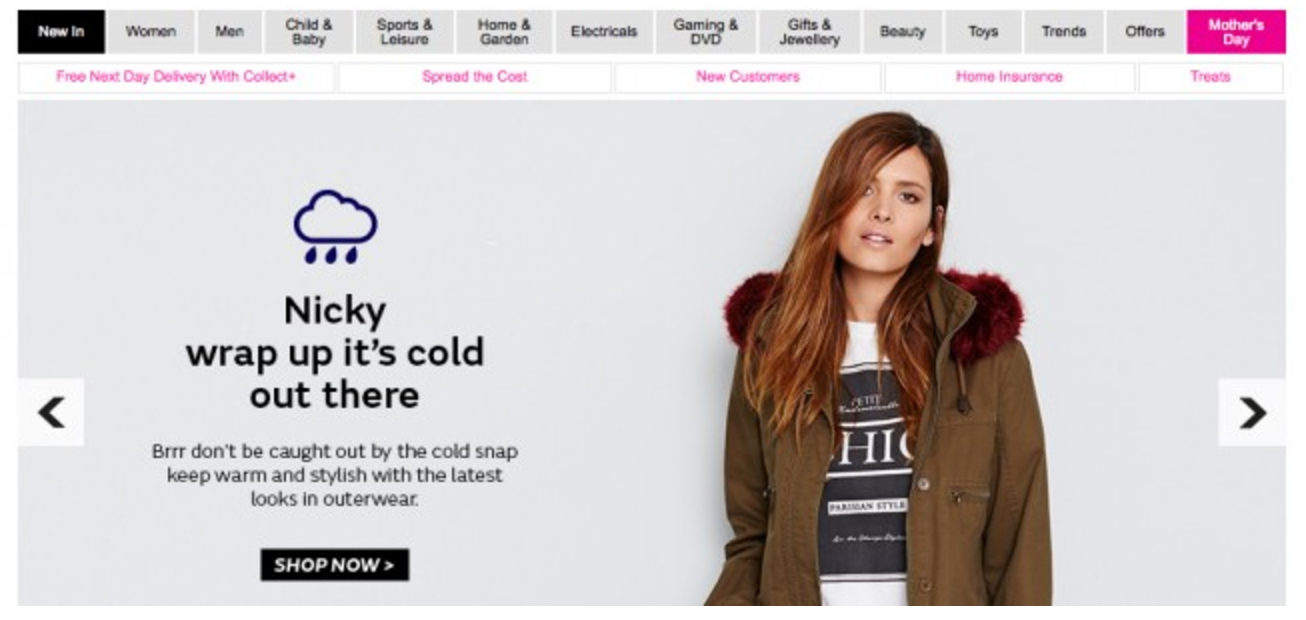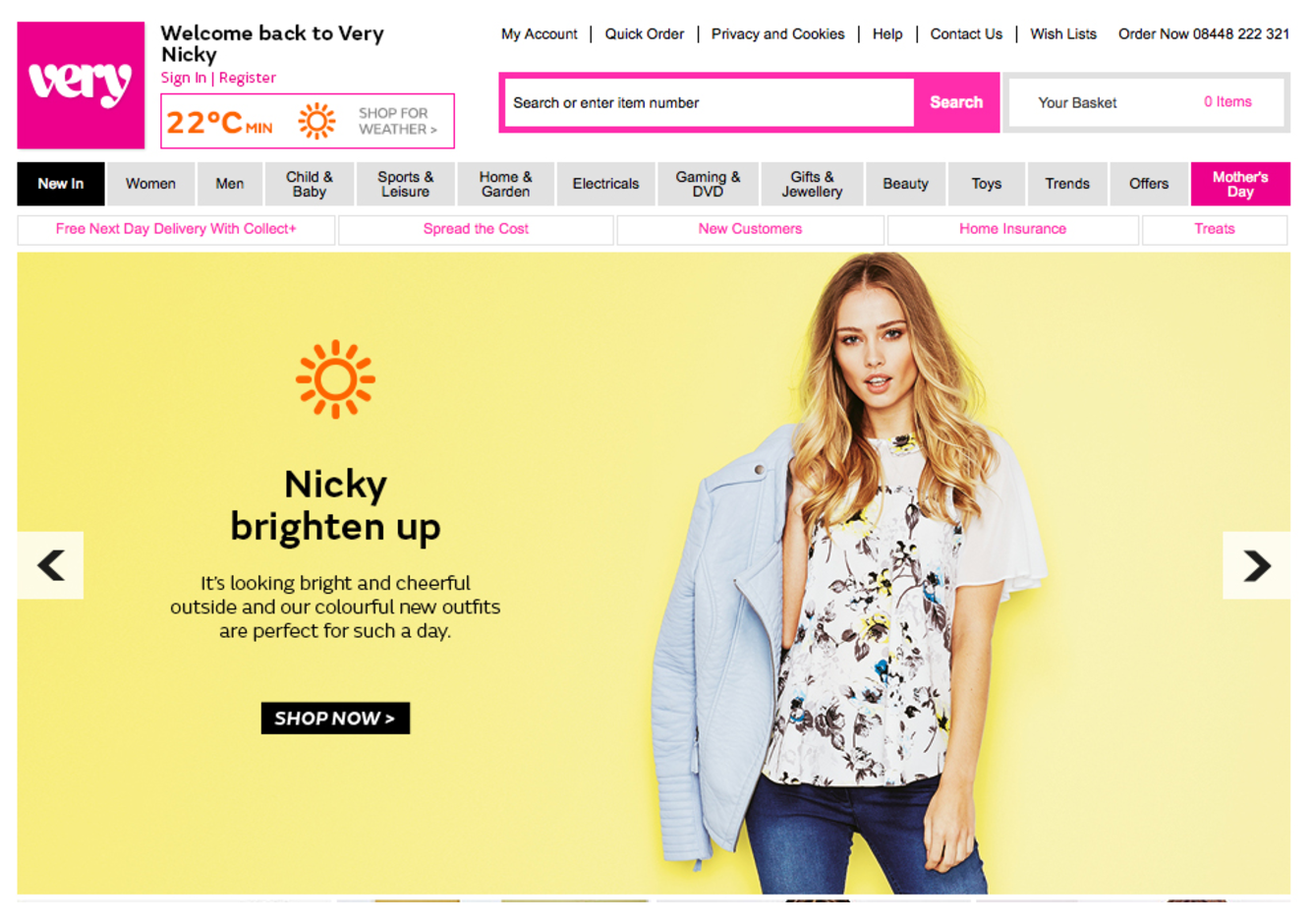 Source: Foundr Magazine

Source: HubSpot
Tip #13: Create a movement.
There's a common theme that keeps showing up in this post that you might have caught onto by now, and that is that millennials expect more from the brands and companies they buy from and interact with. The brands that gain the most exposure on social media and the ones that grow the fastest are those that create a movement around their company and products. There are two great and well-known examples of this that might come to mind for you:
1. Red Bull – this energy drink company has become famous for promoting adventure. The company often partners with extreme sport athletes to document and share impressive examples of what you can do when you just let go and live.
2. GoPro
– this camera company has built a similar movement around its products. GoPro also partners with extreme sport athletes, but also features amazing footage from all types of users of their products. They created a global movement that enables people to share amazing footage with other customers and followers of the company.
To connect with more millennials in 2017, think about who your customers are, what they do for fun, and how your brand fits into everything. Try to think of ways to feature your products and your customers together in real life.
Tip #14: Build an amazing customer experience team.
Millennials also expect excellent customer service from any business they buy from. They want to support companies that can answer their questions and support them when they need help. This generation loves to share customer support experiences with their friends on social media—both good AND bad—so it's essential that you hire employees who can help you create an amazing customer experience for anyone who chooses to interact with your business, no matter how big or small of a customer they might be. On social media, everyone has a voice. Treat all your customers with respect, work to delight them whenever possible, be responsive, and be human.
Tip #15: Create a partnership
If you have the budget and connections, another way you can connect with millennials is by partnering with another brand with values and a mission that aligns with yours. Product partnerships can be extremely popular among millennials, especially when the products being sold are only available for a limited time.
One great example is the partnership that exists between Filson, a high-end, U.S. made clothing outfitter established in 1897, and Shinola, a high-end U.S. made watch company established in 2011.
The two companies formed a partnership and leveraged each other's audiences to sell special edition watches that include branding from both companies.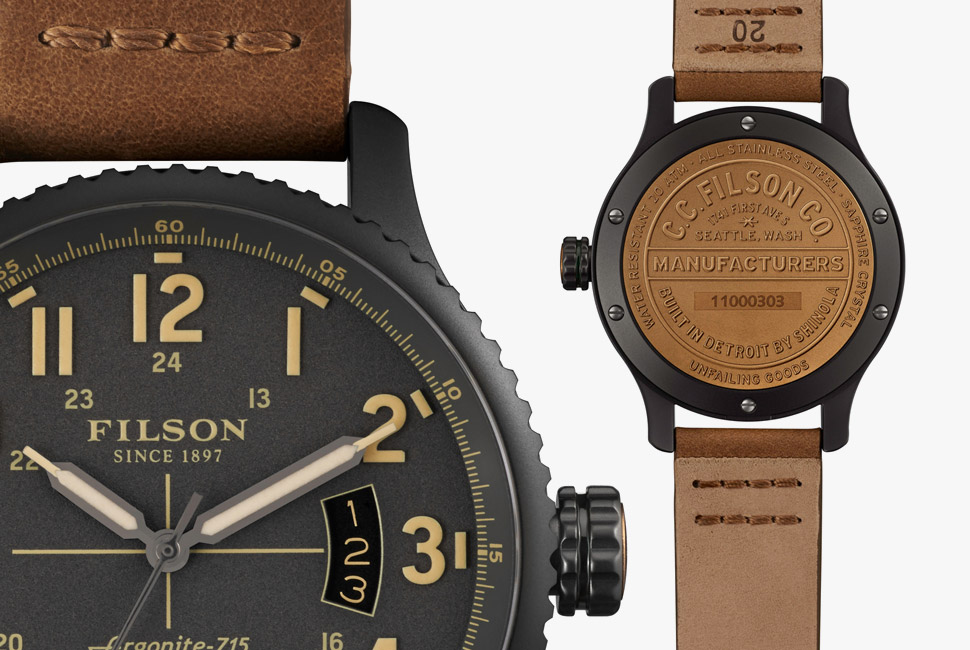 To find the right partner for your business, think about the other businesses and brands that your customers are also supporting. Find companies that sell products that would align or compliment with yours.
Wrapping Up
As the millennial generation continues to age, they amount of money they earn and can spend on products will also continue to increase. I hope you can use some of the actionable tips in this blog post to develop a strategy that works for your business.
How else are you targeting and selling to millennials? Tell me in the comments section below!