If you want to know what will shape marketing in 2018, just look where marketing technology is heading. Today, technology is much more than a dynamic arm of marketing – a sea of martech tools and resources for marketers to pick and choose from and add to their bag of tricks. Martech, the merging of the two disciplines, has become the backbone of everything we do.
What will the trends, triumphs, and the boundary-pushing marketing brilliance of 2018 look like? Here are the primary thrusts in marketing technology that offer clues as to what highlights we should expect over the next 12 months.
And if you are still trying to figure out the basics of platforms, content, conversion, and analytics, contact me here for a free consultation).
Sentiment Analysis with NLP
Natural language processing, or NLP, is being used to judge the sentiment social media users have towards a brand based on text and multimedia data found on social media platforms. When used with demographic information, these insights can lead to better segmenting, making it easier to create a more distinct picture of the 'who' in targeted marketing campaigns.
NLP has the power to distinguish those who are likely to make a purchase, abandon a brand, or simply to have a general interest, putting a spotlight on potential leads, prospects, as well as customers that may need some extra effort to maintain brand loyalty.
This type of AI is being used primarily through social media. We're likely to see marketing managers and CMOs pushing towards more sophisticated social activity – not just to engage customers but to get a clearer picture of buyer sentiment and intent with this technology.
Increasingly Complex Voice Assistants
Gregg Johnson, CEO of call intelligence company, Invoca, relates voice today to what mobile apps were to marketers a decade ago – the next big thing in the way brands communicate with consumers. Johnson predicts that the tech giants behind voice assistants are going to come out with more complex voice platforms – essentially offering not just more 'stuff,' but more complex ecosystems for users to engage with. Which means more brands are going to start finding ways to offer high-value content through this still-nascent interface.
When you have Amazon, Google, Facebook and Apple experimenting with anything, which means they're also all competing with each other, you can expect rapid tech developments around the corner. Just look at how fast Amazon's Skills have developed.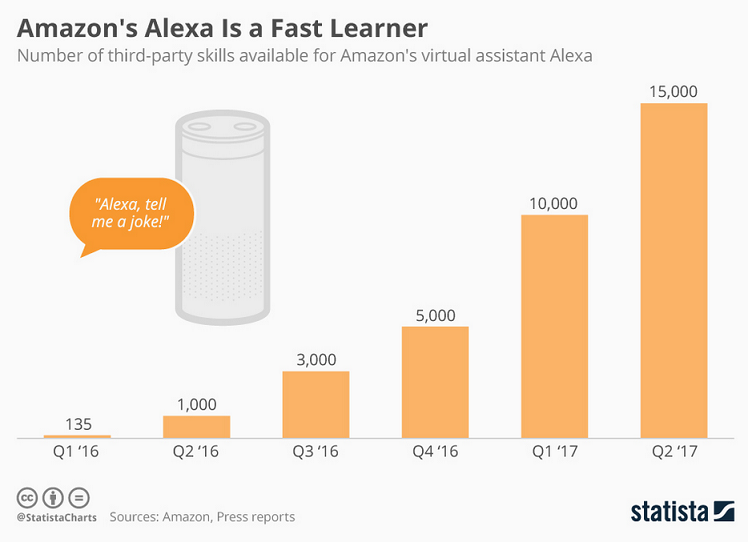 There were more than 25,000 Skills at the end of 2017. This number is going to keep going up as Amazon is making attractive changes, offering developers a new incentive with their recent announcement to offer a paid subscription model for Alexa Skills.
Geolocation with Mobile
The beauty of geolocation is that it allows for real-time engagements – bringing marketers one step closer to the right message, for the right person, at the right time. Geolocation apps allow companies to learn where their customers are when browsing or making purchases. This means, it's possible to send highly personalized content like discount codes, news, and local offers, precisely when a user enters a certain location.
This will shift marketing in different ways:
It's reopening the debate on consumer privacy – a lot of people don't want brands to know where they are. This isn't necessarily a bad thing, as it will push brands to be more sensitive to privacy issues.
It's empowering mobile marketing in profound ways. Geolocation can work on other devices, but its brilliance shines out with mobile. Smartphones, tablets and smartwatches are what people carry on their person – everywhere.
It's raising the bar on the customer experience as consumers become more used to receiving hyper-relevant content – which means content that's delivered at not quite the right time to not quite the right person is even more likely to go unnoticed.
Augmented Reality as the Norm
Where virtual reality is still a tough area for marketers (it is expensive and, as of 2018, most people aren't walking around with a VR headset on), a lot of brands are experimenting with AR. Right now this technology is being used in event marketing and by B2C marketing teams who are finding innovative ways for consumers to browse and shop. For example, IKEA's AR app, which lets customers see how an item will look in their home before they make a purchase.
As more people start seeing what augmented reality is like as more brands develop relevant uses of this technology, consumers will start expecting a more interactive experience to help with their buying decisions.
AI + IoT
AI is connecting the dots, giving marketers revolutionary insights that are helping brands connect with consumers with relevant content. Content that seamlessly seeps into their lives – push notifications, emails, social posts and more, which fit neatly within the way consumers already interact with their digital devices.
This AI martech movement is going to keep heading in the same direction in 2018, at the same exponential pace, creating a more relevant, less disruptive consumer experience. But it's also going to smash into the rise of the Internet of Things – with a predicted 75 billion connected devices by 2020, devices that are providing more data for computers to learn from – and for marketers to benefit from.
But there is an element of the unpredictable in this clash of the titans. This predicted trajectory is going to put a lot of pressure on marketers to keep pace with evolving consumer expectations. If AI offers marketers too much too quickly, it's going to give the CMOs who can put this deluge of data and automation to good use a huge advantage over those who can't handle it.
This means a marked shift in marketing teams as managers will need to bring in more computer science-based skill sets and backgrounds. It also means, every level of marketer will have to get a better grasp on the technology that's effectively set to take over the industry, and as futurists like Elon Musk and Stephen Hawking have pointed out, eventually the world. Before AI decides to "take off on its own and re-design itself at an ever-increasing rate," which could "… spell the end of the human race," we may as well make the most of it and create the best customer experience possible in 2018.