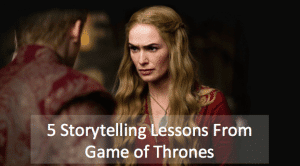 5 Brand Storytelling Lessons From Game of Thrones
If you're not a fan of HBO's The Game of Thrones, I'm not sure we can be friends. OK, maybe you're not into sci-fi, or origin stories, but like it or not, we can all learn lessons in branding from the Game of Thrones series, just like we learn storytelling from competitors' brands.
Not only is it just great programming. It's also an amazing opportunity to learn about the art of storytelling and apply that to your brand's desire to connect with your own target audience.
That's why I worked with Lauren B. Mangiaforte to share these 5 Brand Storytelling Lessons from Game of Thrones.
You can't talk about Game of Thrones without talking about storytelling: the television show, based on George R.R. Martin's epic book series, is known for its gasp-inducing plot twists, bloody murders, and well-developed characters.
In other words: if your content marketing was as gripping as this, it wouldn't even be marketing anymore. It would be storytelling, plain and simple – and that's the dream, isn't it?
It's been over a year since the finale aired and people are still talking about it – whether you liked it or not. (I was like 'meh!')
So, how do the content marketers behind Game of Thrones harness the storytelling driving the show? What can we take away from their work? Here are the major points marketers can, and should, learn from one of TV's best-run marketing strategies.
1. Don't rest on your laurels.
Thinking you're safe is about as dangerous in content marketing as it is in Westeros. Game of Thrones' social media channels are some of the most robust in television, and it's not a coincidence that the content is so engaging to rally such enormous numbers.
Game of Thrones' total social media audience on the major platforms is 17.1 million, which trumps the competition: megahits Breaking Bad and Mad Men have combined audiences of 12 million and 2.8 million respectively. The differentiator is amazing, engaging content.
| | | | |
| --- | --- | --- | --- |
| | Facebook | Twitter | Instagram |
| Game of Thrones | 14,500,000 | 2,300,000 | 393,000 |
| Breaking Bad | 10,900,000 | 1,100,000 | 21,400 |
| Mad Men | 2,600,000 | 206,000 | 47,800 |
2. Your visual game should be so strong, people think it's Valyrian steel.
Game of Thrones' content team is anything but lazy when it comes to visual content marketing. One could even go so far as to say their visuals are as captivating as a Tyrell woman's gaze, or as fierce as a baby dragon. It's no secret that beautiful, high resolution photos and quotes have a tendency to do well on social media channels, but GoT takes it to another level, combining the two for an effect that's completely, irresistibly shareable.
This emphasis on custom visual content, and its optimization, is one of the major reasons behind GoT's content marketing success, which makes sense when you consider that tweets with photos are 94% more likely to be retweeted. Mix in how passionate GoT fans are about sharing their love of all things Westeros, and you've got a recipe for virality down to the individual post level that all other brands should bow before.
3. Cover all your bases (and pages, and screens, and outdoor ads).
If you want to win hearts and minds (paging Danaerys Stormborn) in the game of content marketing, it might not be enough to focus on digital alone. Your battle strategy might be well served by some (gasp) traditional marketing.
Outdoor ads, commercials, and print are in many cases viable options – don't forget about them. GoT's dragon ad in the New York Times in 2013 was a brilliant example of native content, and one that has yet to be imitated.
via adweek.com
And who could resist (or resist posting about) a power trip in a mobile iron throne?
via campussolutions.com
4. Inform your audience, and entertain them. 
It's not enough just to show up, even when you have an enormously passionate audience to speak to from the very beginning. Incumbent brand giants could stand to take note of the way that GoT's content marketing calendar is filled with a variety of content types that keep audiences engaged even between seasons – in much the same way that brands of all sizes should keep their fans active and listening even between big seasonal sales pushes or bigger campaigns.
The below Facebook post is a great example of content that informs as well as engages. The information is simple ("one week") and the hook is entertaining – who doesn't love a  super cut of iconic GoT lines? 125,000 people seem to agree with me on that particular question, 17,000 of which passed the post on.
5. Give your audience an inside look.
We've already waxed poetic on this blog about how GE's content marketing team gives audiences what appears to be unfettered access into their production processes in a way that's truly gripping. Giving people something of value can mean different things for different brands – and incentivizing audiences with a behind-the-scenes look is one of the most cost effective ways to give something meaningful to them.
GoT folds insider and red carpet content into the mix to give fans exclusive access to what's going on in the Westeros universe in the palms of their hands – all 17 million of them. The average amount of likes on the below photos of the cast from the premiere with their miniature characters on instagram, for example, is 15K. Peter Dinklage, of course, has almost twice that amount. Now that's iron throne-worthy marketing.
It's 2015, marketers, and at this point it's clear that all men must create content. So what are you going to do to get on the level of Game of Thrones? Swear to the old gods and the new that 2020 if going to be the year you make your competitors pay!
Get a Free Consultation
for Content Marketing