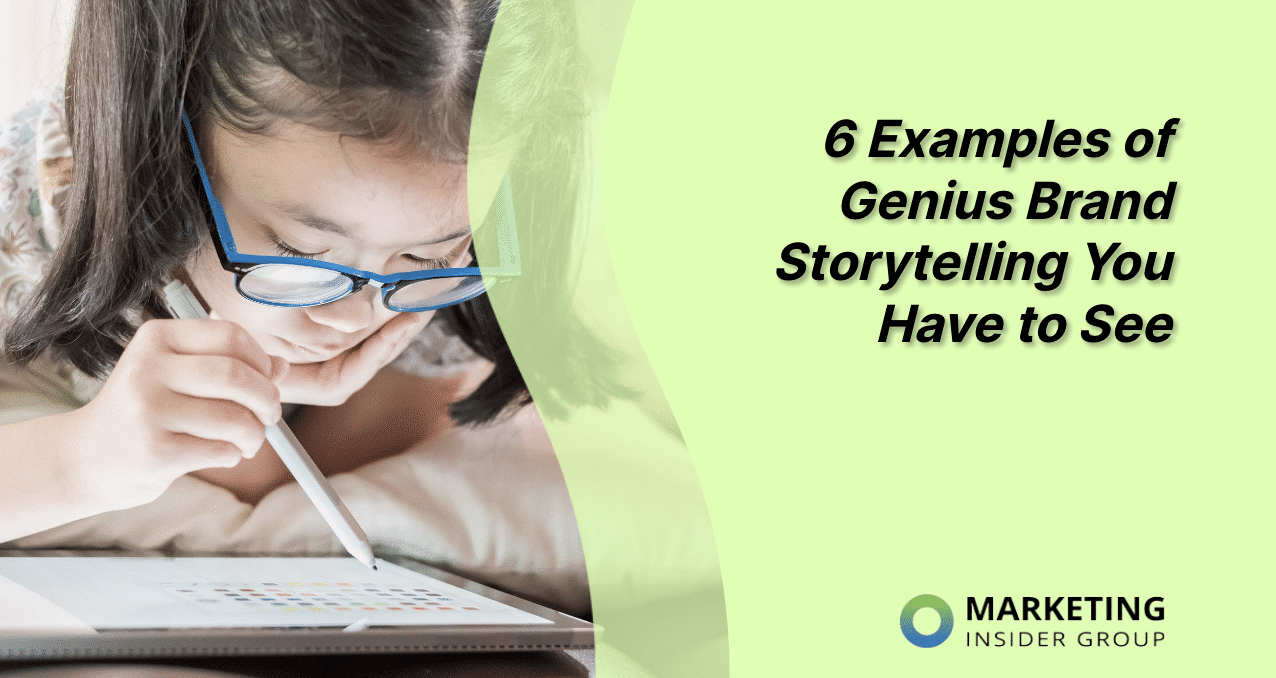 6 Examples of Genius Brand Storytelling You Have to See
If you haven't figured out how to tell your brand's story well, you're missing out on the huge revenue-boosting potential of your content marketing strategy.
The right brand narrative has the power to increase the value of your business's product or service by over 20 times.
Why does the story matter? It is what makes your brand significant. It's the inspiring copy, the well-thought-out Instagram posts and website design, and the compelling video that turns mashed peanuts into Peter Pan Peanut Butter.
What Defines Great Brand Stories?
When marketing storytelling is done well, it:
Clearly establishes what your brand is all about – its purpose, core values, and mission
Offers the consumer more than just a product or service, but rather an experience that transcends mundane reality
Motivates the reader or viewer to step into that experience. This is done by crafting content in such a way that your audience feels as though they'd risk losing access to this somehow sublime experience of being a part of your brand if they don't buy, follow, or sign up right now.
Will boost your lead generation by as much as 16 times!
Whether you are trying to convince someone they can't live without creamy peanut butter on toast or the financial advisory services that can set them up for a comfortable, vacation-filled retirement, it's through the way you tell the story of your brand and what you're selling that you make an impact. This is how you can wield the true magic of experienced content marketers.
Unleashing the Power of Brand Storytelling
The artistry behind brand storytelling extends beyond mere narrative construction. It involves weaving an authentic and compelling story that strikes a chord with your target audience, effectively spotlighting not just what your brand represents but also its unique journey and core values.
A powerful brand story has the potential to amplify perceived value for a business's product or service by over 20 times. This potent tool significantly bolsters likability and trust among consumers, contributing immensely towards building robust brand awareness.
Why is Brand Storytelling Significant?
In today's cut-throat market scenario, consumers are continually flooded with advertisements and sales pitches. Amidst this cacophony, it becomes imperative for brands to distinguish themselves in meaningful ways from their competitors.
This is where brand storytelling comes into play – offering businesses a creative approach to forge deeper connections with customers on more than just transactional terms. Effective use of stories can help companies stand out in crowded markets while nurturing long-term customer loyalty through shared experiences and mutual values.
Tapping Into Emotional Resonance Through Stories
An expertly crafted brand story does more than simply inform; it stirs emotions and fosters human connection – key ingredients when you're aiming at creating memorable social media campaigns or engaging content marketing strategies.
Drawing upon real-life challenges faced by Burt's Bees as they advocate sustainable beekeeping practices or Nike championing equality worldwide helps create emotional bonds between your company and its audience, which often leads to increased engagement rates. People tend to remember facts embedded within narratives rather than standalone ones because we're hardwired to love a good tale.
Here are the brand story examples that will show you just how powerful your content can be. Check here for more resources. And our growing list of great content marketing examples.
PS – I put together these 10 tips for optimizing your content marketing. Watch Now!
1. Marriott's #AtTheMoxy
Moxy is Marriott International's new boutique hotel brand that caters to millennial globetrotters. The brand is a trendy harmony of luxury-chic accommodation, youth hostel, and all-night bar. The marketers for Moxy have crafted a brilliantly entertaining video series, Do Not Disturb, which features the host, Taryn Southern, dishing up her best cheeky antics with social media influencers like Amy Pham and Oli White.
Every episode, uber-cool Instagram shot and even the hip black and magenta site design tell the Moxy story – and allude to expert mixologist services. What wanderlust-struck 20 or 30-something can resist?
2. Warby Parker Eyewear
Positioning themselves as the alternative to the high-priced, oligopolized eyewear industry, Warby Parker doesn't just sell quality glass frames and sunglasses. It invites its customers to become a part of the brand's movement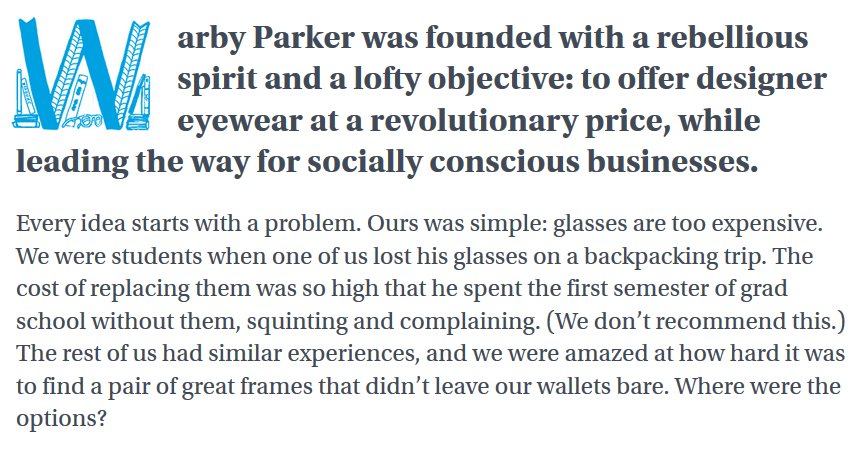 That's a story every hipster with less than 20/20 vision would appreciate – and tell their friends about. Warby Parker gets the whole storytelling thing right, providing a socially-conscious brand with a genuine vision. The company donates a portion of their monthly profits to their nonprofit partners to make basic eye care and affordable eyewear available to communities in developing countries. This huge gesture is just a part of the Warby Parker story. And one which can yield a lifetime commitment from customers.
PS – Check out our weekly blog content service to grow your website traffic and leads!
3. Zendesk Alternative
Zendesk, the makers of customer support software, created one of the most hilarious and ingenious marketing campaigns to build B2B brand equity. Their 'anti-storytelling' has the effect of making their brand extremely likable and even trustworthy as they cast a very human impression – something any small business owner would appreciate from an SaaS provider.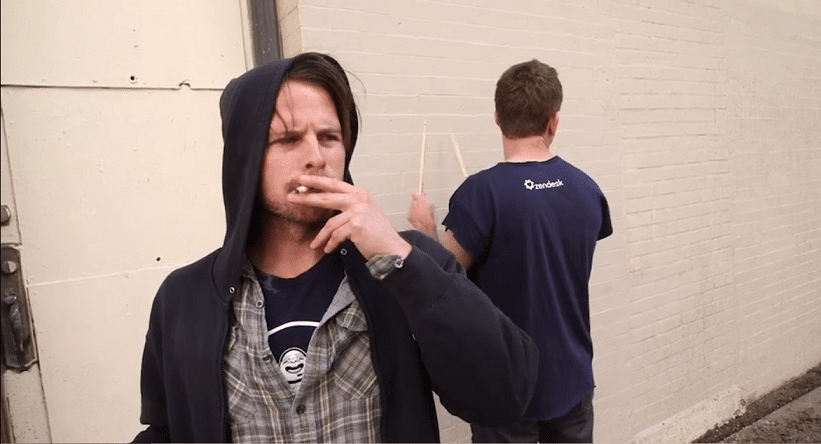 Instead of creating a video to tell the story of Zendesk, they crafted an entertaining video about Zendesk Alternative. Which happens to be a fictional indie rock band, frustrated that a customer support company 'stole' their band name, yet admitting their need for Zendesk's services to keep their careers going. To finish this masterful example off beautifully, the band writes a cheesy jingle about the importance of customer service.
4. MouthFoods
Mouth is a living, breathing anthology for some of the most passionate food and beverage makers in America. The company exists to tell the (really interesting) brand stories behind the indie creators of everything from artisanal chocolates and hand-made pastas to small-batch tequila and gourmet honey – and to sell the food and beverage products as gift packages and subscriptions on their mouth-watering e-commerce site.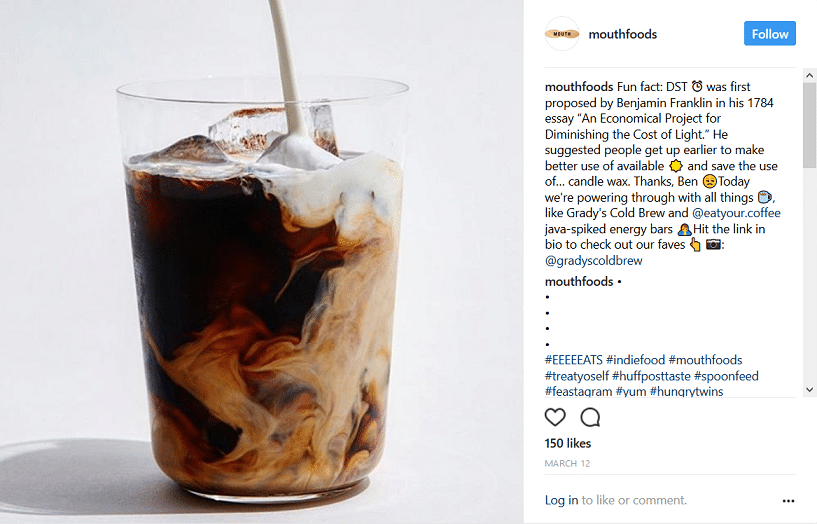 You have to admit, learning about apples, grown on a small orchard in upstate New York by people who view making cider as one of the last vestiges of true American folk culture, is pretty compelling marketing. By posting the personal stories of the small business owners who make these products, Mouth adds a whole new level of meaning and value to the items they sell.
5. Nike – Equality Campaign
Nike has always excelled at brand storytelling. One of their best campaigns is Equality. It makes a strong statement about the company as a force for positive social change, offering something more to today's athletes than just a pair of sneakers and branded workout gear.
This is an example of using brand storytelling to connect with the audience, inviting them to become a part of a collective movement by wearing Nike products, or at the very least, engaging on social media, such as sharing one of the brand's always inspiring videos.
Narrative Power: Beyond Selling Sneakers
The success behind this powerful brand story lies in its authenticity and relatability. Instead of focusing solely on athletic gear, they centered their narrative around promoting equal opportunities in sports irrespective of race or background.
By showcasing real-life examples featuring athletes who have overcome adversity due to racial discrimination or economic hardship, Nike was able to connect with audiences emotionally. This form of data storytelling goes beyond traditional advertising norms, creating meaningful human connections based on shared values and mutual respect.
Visual Storytelling: Emotive Imagery, Impactful Messages
The creative approach taken by Nike effectively combined product promotion and advocacy work, resulting in increased sales figures and positive public perception around the brand itself. They used visual techniques like emotive imagery coupled with impactful taglines to reinforce the message further, making it memorable among viewers and proving once again how effective it can be when done right.
Socially Conscious Branding: Influence Beyond Profits
A crucial aspect worth noting here is that while campaigns like these undoubtedly contribute positively to profit margins, they also hold potential far-reaching implications outside business realms too, especially led by brands with significant cultural influence.
Social media campaigns provide companies with the opportunity to make tangible differences in society on a large scale, thereby amplifying their impact well beyond the confines of balance sheets. This is becoming an increasingly popular trend amongst businesses looking to differentiate themselves in crowded marketplaces while simultaneously contributing to the greater good of the community at large.
Key Takeaway: Nike's Equality campaign is a prime example of brand storytelling, demonstrating how companies can use their influence to drive societal change. By centering the narrative around equal opportunities in sports and showcasing real-life examples of overcoming adversity, Nike created an authentic connection with audiences that extended beyond product promotion. This approach not only boosted sales but also positively impacted society at large.
PS – Check out our latest case study that shows how we helped one company double their leads!
6. SoulCycle – Find Your Soul
SoulCycle has come up with a powerful story to compel people to pay close to the price equivalent of a monthly membership at your typical gym, for one 45-minute class. While this brand does offer a high-end fitness experience, with a focus on atmosphere (there's music, the instructors are more inspirational speaker than fitness coaches, and there are candles), it's the narrative that entices people to try it out.
SoulCycle offers a tribal, transcendent experience with each workout. "Our riders share a SOUL experience. We laugh, we cry, we grow – and we do it together, as a community." There's the promise of real motivation and a sense of belonging. The high-powered workout almost becomes an afterthought to the excitement of signing up for a SoulCycle cardio party.
The Strategy Behind SoulCycle's Powerful Narrative
A deep understanding of their audience was instrumental to this success. Their customers weren't simply seeking another workout option. They were on the lookout for transformative experiences both physically and emotionally.
To cater to these needs, SoulCycle spun a compelling story centered on personal growth and self-improvement so each cycling session became part of one's journey towards becoming stronger versions of themselves.
Fostering Emotional Connections through Inclusivity
Beyond individual transformations, inclusivity is at the heart of SoulCycle's brand values. The sense of belonging fostered within its communities contributes significantly to building strong emotional connections between riders – a key ingredient when crafting powerful brand stories.
Consistency: A Key Ingredient in Successful Brand Storytelling
Maintaining consistency across all touch points further solidified SoulCycle's narrative strategy effectiveness from instructor training programs ensuring consistent messaging during classes down to visual coherence throughout marketing materials.
Inspired by SoulCycle? Here are Some Takeaways:
Dive into your audience insights: Understand what motivates or challenges them, then align your story accordingly.
Create content that fosters emotional resonance: Your story should evoke emotions among readers, which would make it more memorable.
Prioritize narrative consistency: This builds trust over time since people know exactly what to expect whenever interacting with your business.
Great brand stories may not change the world, but they will let your target market understand why your brand is worth their time and money.
As Dan McAdams, PhD, author and professor of clinical psychology at Northwestern University says, "If you want to know me, then you must know my story, for my story defines who I am."
Looking for more traffic to your website with weekly blog articles, a full year content plan, and monthly reporting? Set up a quick call, so we can get started today.
FAQs in Relation to Brand Storytelling Examples
What is your favorite example of brand storytelling?
Nike's Equality campaign is a stellar example of brand storytelling. It connected with audiences on deeper levels, promoting social change and inclusivity.
What is brand storytelling?
Brand storytelling involves crafting compelling narratives about your business to engage customers, build trust, and enhance the perceived value of your products or services.
How do you create brand storytelling?
Create effective brand stories by understanding your audience, finding your unique voice, creating relatable characters, and weaving conflict and resolution into your narrative.
What is good brand storytelling?
A good story resonates with its audience emotionally. It builds trust in the product or service while aligning with the company's core values for long-term customer loyalty.
Get a Free Consultation
for Content Marketing