Let's face it. The marketing skills gap is widening. Not because there aren't amazingly talented marketers out there but rather because the landscape of marketing technology is shifting that fast.
It's no longer the Grand Canyon-sized dilemma we faced during the digital transformation. This one – think from here to the moon. That's how far we have to leap to catch up to the AI-driven skills gap in marketing today.
And, we have to make this quantum leap quickly to catch up our human talent to the capabilities of our technologies. Otherwise, we're missing out on the opportunities that advanced AI offers. This is all while the small percentage of organizations who do make the leap are out there pushing the boundaries of what can be done even further out of reach.
We're Using AI, Just Not Well Enough
Some companies are already using artificial intelligence in their marketing applications – and they are seeing what can be done in areas like personalization and advancing the customer experience. And, in achieving business goals – marketers with real-time access to data, thanks to AI and the skills to use it, are 1.7 times more likely to exceed revenue goals.
This is great but it's a low-expectation sort of great when you understand how deep AI can really go for marketers today.
Many organizations haven't even jumped into AI yet let alone commit to evolving their data and analytical capabilities so they can keep up with the technology. This skills gap may come back to haunt us if we don't act quickly.
In the 2018 State of the CMO report, published in Australia, only 12 percent of organizations reported using AI solutions in either customer-facing or back-end applications. While 23 percent are in testing mode, another 41 percent have zero plans for integrating AI solutions into their marketing technology stack right now.
In the US, things look a little more robot powered. Forty-three percent of marketers are using AI-driven tools for things like audience targeting, product recommendations, and campaign optimization. And, 64 percent of those who are using artificial intelligence have plans to use more machine learning and other AI capabilities over the next year.
This all sounds at least mildly promising. Until you differentiate the use of more hands-off AI tools with those that require a higher level of data science skill. With the right skill level, you can work withthe algorithms to tailor them to meet your specific marketing needs and to identify golden analytical insights.
Only 6 percent of marketers today are using advanced AI solutions.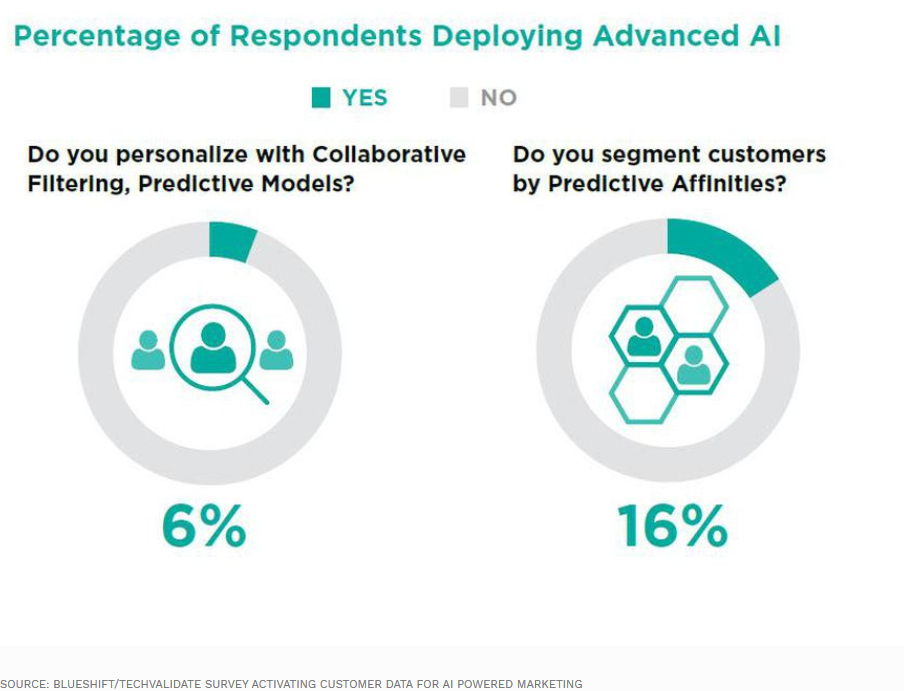 This isn't because 94 percent of marketers don't believe in advanced AI.
This is the fallout of the skills gap.
The Difference Between Starter AI Usage and Advanced AI Is Profound
When you use an algorithm to segment customers, you can tailor campaigns based on what you think (well, what your AI solution thinks) the customer is going to do next. This predictive capability is:
Only possible with AI; and
the only way to achieve sophisticated personalization.
Advanced AI using Predictive Models and Predictive Affinities allows you to tailor campaigns based on what a buyer is likely to do next, whether it is to make a purchase, shift product categories, or pore over info about your products and services until they can make a well-informed decision.
Then, you can deliver exactly what that buyer would need in order to move further along the buyer journey. You can motivate a content download or purchase, or foster a positive customer relationship because your messaging came at the perfect time, via the perfect channel. And, it was so spot on that your buyer felt like you were able to read their mind.
This is why, with advanced data access and greater analytical value, you are 2.8 times more likely to hit the mark. But this only comes from an advanced use of AI and machine learning tools – which means you need the advanced technology and the skills to harness that tech.
The Data Skills Roadblock Has to Go
But, the reality is, the vast majority of marketers don't have this advanced data access. It's often a manual process to access data. Also, a lot of marketers are still dependent on IT teams for their data insights.
Fifty-four percent of marketers say that what is holding them back from getting more out of their AI and machine learning solutions is a lack of in-depth analysis of customer data.
Marketing departments need the skills and experience on their team to easily access more customer data. The challenges today are with:
Effective integration of customer data
Being able to quickly segment data
Creating a system to record and unify data so it can be better utilized
The solution lies in placing more emphasis on the need for skills that are specifically related to the use of marketing technology. According to the State of the CMO report, 82 percent of marketers view the skills gap in data analytics and science as a major issue for 2018. A separate study found that 81 percent of marketers cite a lack of analytics and data science skills as the reasons for failing to effectively deliver what customers expect.
Even more telling, in a recent survey on the skills gap performed by Google and the Boston Consulting Group, when 1,100 digital marketers were asked to rank their own skills from zero to 100 on a Digital Capabilities Index, the average self-ranking was only 57. It's not just marketing managers and CMOs who are struggling with the skills gap – it's pretty much the entire digital marketing industry.
What's the solution?
The idea, says Raviv Turner, CEO of CaliberMind, is to cultivate "citizen marketing scientists," those who can "use and interpret machine learning and AI tools without having the background to […] create and program them."
Through recruiting more marketing technologists and prioritizing data science experience and knowledge – and through more internal training to help current employees get more out of AI-driven applications and platforms – marketing teams can narrow the skills gap. And then, finally, get more analytics value out of the AI-driven tools most of us have spent the past few years investing in and implementing. And, let's be honest, all of this advanced technology has not been a light burden on the modern marketing budget.
It's time to upskill the marketing industry and to find out just how far we can really go with marketing technology today. How else will we be ready for tomorrow?