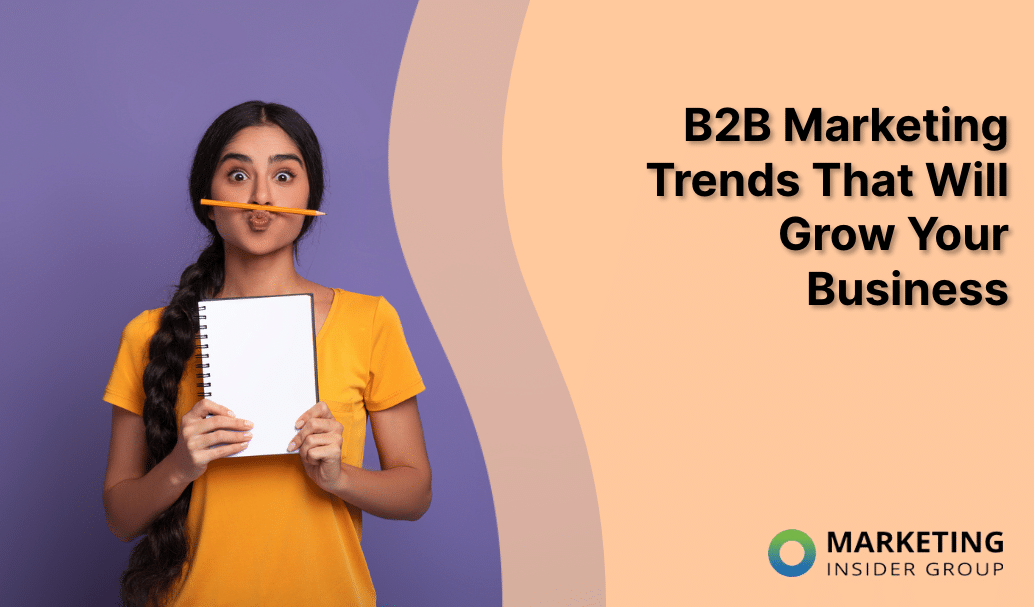 B2B Marketing Trends That Will Grow Your Business
B2B marketing trends continue to rapidly evolve as content marketing becomes more important than ever. Marketers have shifted their focus from sales to digital content marketing strategies and search engine optimization tactics to attract new customers to their business.
Keeping your business ahead of the marketing curve calls for an understanding of what's coming next. Here's our expert opinion on which B2B marketing trends your company should explore.
Key Takeaways
The number of businesses adopting artificial intelligence has grown by 270% in four years
According to Harvard Business Review, a 5% increase in customer retention can deliver up to 95% increase in profits
67% of consumers reported using a chatbox support system in the past year and expect 24/7 customer service
Spending $4,000 – $8,000 per month on content marketing will earn your business a predictable Marketing ROI
Make the most of your marketing efforts and positively impact the growth of your business by focusing on the most important B2B marketing trends in 2023.
7 B2B Marketing Trends
Marketing trends are important to understand. But B2B is a little different. Core content marketing principles of the past still apply – sharing high-quality content is always key to boosting your credibility and revenue.
Although, every new year brings new ways to accomplish your marketing goals. Here's 7 B2B marketing trends we're expecting to see next year.
1. AI on the Rise
We don't expect to see AI's popularity slowing down anytime soon. In fact, the number of businesses adopting artificial intelligence has grown by 270% in four years.
Image Source: Oberlo
Last year, there has been an increasing amount of tools available to provide some form of artificial intelligence to B2Bs. Automating, curating, personalizing and optimizing your strategy is effortless with the help of AI.
Now, every business can benefit from artificial intelligence to streamline its efforts towards growth. Even digitizing data and automating email sequences can be done with the help of machine learning to avoid potential manual mistakes.
Not only will artificial intelligence give marketers helpful insight, but it will also boost their business's performance. While AI can't replace your human employees, it can help enhance the efficiency of your content marketing strategy.
2. Retention Marketing
A bird in the hand is worth 2 in the bush, right? Well, what's it worth to then keep that bird happy and healthy for a long time? That's retention marketing.
Retention marketing has been around since the time the first person sold something to someone else. Why? Because the seller eventually realized that it's easier and more efficient to sell to existing customers than it is to find new customers.
In short, retention marketing is the set of activities that seek to maintain customer relationships resulting in higher marketing ROI through continued sales at a lower cost per sale.
Retention marketing can increase both the amount of time a customer continues buying from you, as well as how much they buy. We often call this cross-sell and upsell. We want to sell more products and services to existing customers and also at higher prices and profit.
How much profit? According to Harvard Business Review, a 5% increase in customer retention can deliver up to 95% increase in profits.
B2B Marketers love to talk about acquiring new customers. But the bottom line is that Retention Marketing might be a better place to start in 2021. Especially if budgets are limited.
What are some of the best ways to retain customers?
Onboarding & Education
Customer Training
Constant Communication
Ongoing customer support
Surveys & testimonials
Customer appreciation
Image Source: Rise Strategic
3. Content Marketing
Go big or go home! Two tears ago, only committed brands are going to win in content marketing. I hear it all the time from brand marketers who aren't committed to content marketing. "There's so much noise out there! How can I break through?"
Based on that argument you have 3 choices. 1) Give up and just let your marketing people start cold calling (trust me, I've literally been asked to do this!) 2) Advertise your way to growth. 3) Or commit to the long-term strategic ROI of content marketing.
And there are amazing examples of brands who have grown massive audiences from scratch in just the last 18 months.
What did they do differently? They published consistently based on keyword research. They mixed in long form and short form content. They profiled customers, executives, and partners. They focused on building subscribers. They put paid promotion on their top performing content.
How much do they spend? $4,000 – $8,000 per month is all the marketing budget you need for a predictable Marketing ROI. Less than the cost of a Director of Marketing salary!
4. Interactive Content
In order to increase consumer interactions and engagements, businesses need to make their content more interactive. Your business can do this by encouraging followers to share your posts on social media, creating interesting quizzes, filming videos, and implementing infographics.
Honda released an interactive short-story video, in which viewers had the opportunity to control the main character's reality. According to Honda's data, visitors spent an average of 3 minutes engaging with the video, far above their standard page interactions. Honda's site visits doubled the start of their campaign.
Video Source: Honda
Interactive content can help increase customers' attention spans by encouraging them subtly to engage more with your content and marketing material. As consumers' habits and tastes move closer towards interactive content, storytelling becomes an essential feature for business success.
5. Chatbots
Chatbots are an essential part of web design and will continue to act as an important business feature in 2021. Globally, 67% of consumers reported using a chatbox support system in the past year. Many clients are beginning to expect quick replies to questions and 24/7 customer service representatives on call. This can be a hard task to manage without the help of chatbots which will be programmed to match human behavior and offer similar services.
This tool is used by many industries to answer clients' questions and help them navigate through a company's website. Chatbots can help your business provide faster, improved online experiences.  As a result of this digital feature, businesses will see an increase in consumer engagements, business connections and overall client satisfaction.
6. Nostalgia Marketing
Nostalgia marketing can help B2B marketers relate their products and services to the world. Your company can start to participate in nostalgic marketing strategies by being authentic, capitalizing on cultural trends and reintroducing a product or service that was discontinued.
As the world navigates these unprecedented times, nostalgia marketing has become an even more valuable tool. Nostalgia is familiar, safe and comforting, which is exactly what our world needs now and in the future of 2021.
7. Voice Marketing
Voice search and digital assistant utilization will only increase with every passing day. When voice devices were originally created, they were used for grocery store lists and notes. However, consumers are now using voice searches to play favorite songs, ask questions, get directions, turn up the temperature, and whatnot.
Marketers see great opportunities in this tool as it gives us more information about our consumers and their needs. Alexa and Google Home have created a huge increase in the usage of voice search. It is extremely important to make sure your company is ready and has the tools needed to successfully compete with other businesses using this advanced technology tool.
Start Marketing Your Content Today
Understanding B2B marketing trends will help you focus your marketing strategy towards driving traffic, reaching your audience and maximizing revenue.
The most effective content marketing strategies prioritize consistently publishing high-quality content. Grow your business today with Marketing Insider Group's team of experts and deliver optimized, ready-to-publish content every week.
Check out our SEO Blog Writing Service today or schedule a quick consultation now to learn more!
Get a Free Consultation
for Content Marketing