Most CMOs know exactly what they are looking for when hiring marketers. Creative problem solving. Original vision. Leadership, perseverance, some grit. A mind brimming with brilliance. And, of course, skills and experience in the area you are hiring for.
Great. What you want is clear. But, as every marketing manager and CMO knows, actually finding those talented marketers isn't easy. Those who have that coveted combination of passion, a growth mindset and skill are usually already hard at work for another organization and highly valued.
Or are they?
The assumption that the right talent isn't out there is limiting – and unrealistic. Talented marketers are hardly needles in a haystack. If you want them on your team, you have to know where to find them.
Let the search begin.
Your Current Team
Step one to finding talented marketers is to make an honest assessment as to the potential of your current team. You may have more talent at your disposal than you realize. You only need to invest more in training and developing your staff.
When addressing the lack of talent problem a few years ago, Peter Cappelli, the director of The Wharton School's Center for Human Resources noted, "… many companies simply don't believe their own workers have the necessary skills to take on new roles. But… many workers could step into those jobs with a bit of training."
What can CMOs start doing to help upskill their current marketers?
Create a mentor program – establish what training and upskilling goals are important and then match mentors with mentees to reach those goals. A simple two or three hours a week, bi-monthly or once a month of mentoring/training – within your organization – is a cost-effective, fruitful way of helping your current marketers grow and thrive professionally.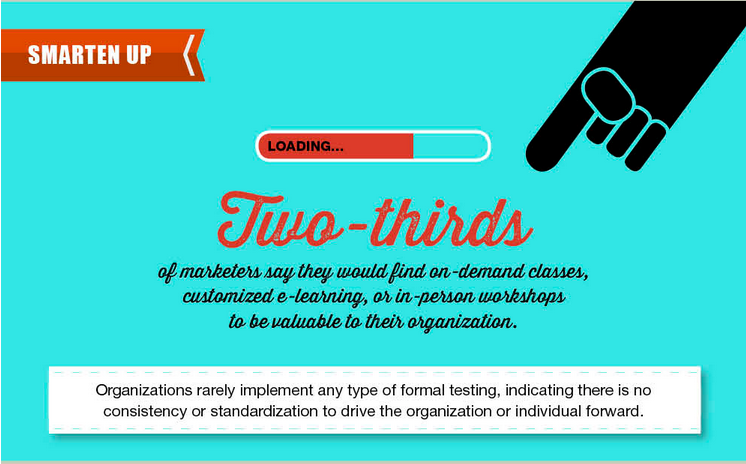 Invest in training programs for your employees to help them get the skills you need on your team. This will cost much less than recruiting and onboarding new employees.
Send individuals to marketing conferences for in-depth sessions on specific areas of marketing and to keep your team up-to-date on best practices and trends. And to motivate. See how inspired your marketers are after returning from one of the top conferences.
Set up 'growth' meetings with staff. Talk to your employees about what areas they want to improve and what their goals are to improve their marketing skills. Then work together to find a solution, whether it's a training session, an online course or putting them on a particular project. This type of interaction will also help to keep your team more engaged.
More importantly, it gives you a clearer idea of each individual's innate talents. The better you understand these, the more equipped you are to put those talents to good use and to cultivate the ultimate marketing dream team.
Off the Beaten Path
Talent expert, mentor and business coach Leslie Bradshaw knows what to look for on the time-honored search for top talent. One thing she recommends is to look outside of the box. The right schools, the right work history, memberships at the right clubs and associations can sometimes translate into the most mediocre of marketers.
While the unwavering, dependable, independent thinker – the person who eats challenge for breakfast – can be found somewhere else.
Don't overlook potential hires who may have gone to a state school, have never worked for a large organization or who maybe even have a dynamic, but not purely marketing, background (like…computer science). If they have a fine work ethic and vision, they may just have the recipe for supreme marketing talent that most CMOs only dream of.
Bradshaw says, "…zip codes and name brands (limit) the ability of employers to hire truly talented employees. When you venture beyond densely populated cities, blue-chip brands, and top 10 schools, you can discover pockets of highly capable – and diverse – talent ready to loyally contribute."
Your Network
Even as a CMO, networking is still a critical part of the long-term professional success game. You may not be looking for a new job at this point, but your network can be a fantastic source of potential talent.
Connect with marketers you admire. These people may either end up on your team someday, or when you have a position open, they may be able to connect you with the ideal hire. After all, who better to serve as a resource for brilliant marketers, than a brilliant marketer?
Use online resources like LinkedIn. Professional social networks can be used to learn about potential hires and for making connections that may be useful in the future.
Scout at marketing events. Even if you aren't actively hiring, you should always be open to connecting with driven individuals. If you have an attractive organizational culture, they may contact you in the future for a job.
Which brings us to our final step in finding marketing talent.
Attract Them
The best way to find highly skilled, motivated marketers is to provide an organizational culture they can't resist.
What are marketers looking for in an employer?
Meaningful work. It's not just millennials who want purpose in their work. Everybody does, always has and always will. It's a human thing.
Make sure your organization has a clear, transparent and authentic vision and mission. Consider the ways your organization gives back to society – this doesn't have to be the conventional ways, like community service. But rather: how does your organization's marketing impact society?
The answer to this question can make or break your ability to attract and retain talent. As an example, Jonathan Becher, former CMO and Chief Digital Officer of SAP, used the concepts of engaging with people instead of customers and using marketing as a growth enabler to engage (and inspire) 1200 marketers in 50 countries.
Opportunity for growth. This goes beyond offering opportunities for training and promotion. Marketers want to be able to grow professionally. They want to work with other people who are driven and talented to learn from them. Most want feedback and support so they have the chance to improve and can feel confident that they work for an organization that is behind their growth 100 percent – just like they are behind the growth of the organization. It's reciprocal. Just like the need for…
Respect. A positive organizational culture provides avenues to reward and respect hard work, vision and dedication. But it also provides leadership that is worthy of their respect. What's more motivating than working for someone you admire? Don't underestimate the importance of continually demonstrating the ethic, resilience and ingenuity that put you into the role of CMO in the first place, to inspire – and retain – your talented marketers.