Don't you love it when brands seem to be talking directly to you? Feeling that they "get" you makes a difference.
While content personalization isn't easy, there are lots of opportunities to delight your customers with it.
To provide content marketers with some guidance, we've gathered some great personalization strategies you'll want to try.
Quick Takeaways:
Content personalization is a way to build trust and loyalty with customers.
Customers appreciate, and in some cases, have a high demand for content personalization.
Executing personalization strategies can have a significant impact on conversions and revenue.
Content Personalization Pays Dividends
If you're wondering if it's worth it to invest in personalization initiatives, it's good to look at what the data says. In Monetate's 2019 Personalization Development study, 93 percent of responding companies said that advanced personalization led to revenue growth! Others with less sophisticated strategies still experienced revenue increases, as well.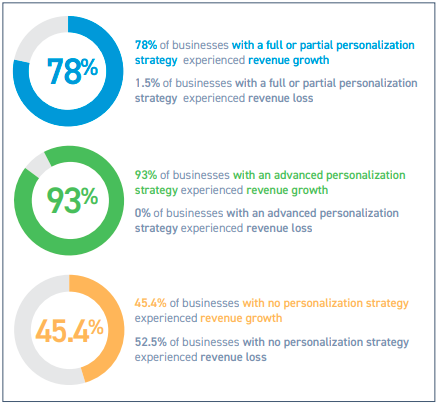 The study also looked at the goals of companies that use personalization, revealing that's it's typically long-term nurturing objectives they want to achieve.
What About Customer Expectations?
In the world of recommendations (think Netflix and eCommerce), buyers expect personalization. When they receive it, this has an impact on their behaviors. Customers actually become frustrated with brands that don't personalize. One study broke down the types of frustration they feel and what companies do to trigger it.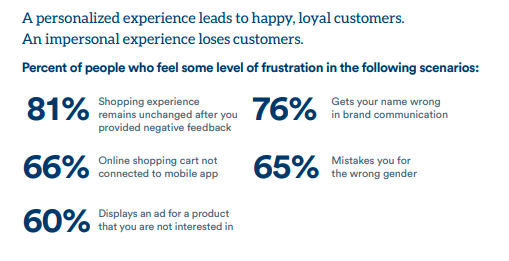 Customer frustration can lead them to your competitors, so it's imperative to develop personalization strategies to retain and nurture buyers.
Now that we know the consequences of personalizing or not personalizing in your content strategy, it's time to talk strategy.
Persona-Based Personalization
In this type of personalization, you are using your buyer personas as the standard. Buyer personas include demographics but, more importantly, preferences, motivations, and behaviors. Check out the video below for a primer on buyer personas.
Personalizing on personas is challenging. It requires a data-driven approach. You must track and monitor your personas, collecting as much data as possible to ensure you are aligning with what matters to them. You will need an infrastructure for this and a marketing automation platform that cookies your visitors while also connecting activity with that specific content.
It can take a while to perfect this, but you should see nice returns when it starts working. For example, if you have a persona group that meets a lead score because of specific actions—downloading content, opening emails, attending a webinar, or other steps—you can personalize how you present content to them, so that it's relevant.
Personalization Based on Channels
A second personalization strategy is to let the channel dictate the content. Audiences have many ways to interact with your brand. There are your owned media like your website and email; then there are the third-party channels like social media and anything else that you don't have direct control over.
Your audience will have preferences here, and the channel they choose says a lot about the content they want. For example, a buyer engaging with you on social media may lean toward content that demonstrates social proof of your brand's credibility, like case studies or testimonial videos. Those who prefer your website may be looking for content that speaks to their challenges and overcoming them.
By far, the most personalized channel is email marketing. This isn't just because you can insert tags like name or other unique identifiers. It's a conversation, a personal interaction. The emails you send must be relevant and valuable, and you have a lot of control over what and how you send them.
Thinking in these terms can help you better map out the content you place in channels so that it feels more personal.
Link-Based Personalization
Dynamic linking is another smart personalization strategy to consider. You can use special links that personalize where the clicker lands. It works by creating a link through a tool like Rebrandly. You can program that link to route customers to different places based on their behaviors.
Check out the video below to see how it works:
Geo-Specific Personalization
Where your customers are matters in determining what content they should see. If you are a global company, there will undoubtedly be differences in the products you offer, the phrases you use, and other geo-specific attributes.
Even if you're only U.S.-based, location is still essential for many reasons. You may guide customers to your local offices in their city or provide different solutions based on that state's laws or regulations. A good example of this is the background screening industry. Providers of employment background screening look at each state differently. Each state has its own requirements, so that's one part. The other part is that pricing varies because it's cheaper to do a background check in some states than others.
In these cases, based on your user's IP address, location is discernible, and visitors could see different messaging that aligns with their needs. Doing this from the beginning creates a really great customer experience and could win you their business.
Customer Journey Personalization
The customer journey isn't always easy to map out, as so many things can impact purchasing decisions. However, it's important to have content that addresses each stage, which allows you to provide content that meets customers where they are on the journey and hopefully nudges them forward.
Think about post-click landing pages. If a new lead downloads an awareness stage eBook, they are still in the early stages, figuring out what they need. It doesn't make sense for the thank-you page to ask them to book a demo or consultation immediately. They aren't ready.
Instead, offer them more great content that's on the same topic as the eBook. You can push them back to your blog, and hopefully, they'll stick around and learn more about your brand.
Content Personalization Strategies Are Powerful Ways to Engage Audiences
Content personalization is all about making your customer feel special and that you understand their needs specifically. It can be a difference-maker and a competitive advantage in your content marketing. Of course, you'll need regular and consistent content to make it possible. That's where we can help!
If you are ready to get more traffic to your site with quality content published consistently, check out our Content Builder Service.
Set up a quick consultation, and I'll send you a free PDF version of my books. Get started today and generate more traffic and leads for your business.