In a world where Instagram posters are cultural icons and more kids are watching YouTube videos than cable TV, the influencers – the individuals who have won over legions of fans through their blogs or social media channels – have become a powerful bunch.
They speak, post, and tweet. People listen, like, follow and share. It's that simple.
The online influencers have triggered one of the most fascinating shifts in marketing – the move to embrace the online voices, including the most unconventional and out-of-this-world – in lieu of the traditional star athlete, musician, artist, or other celebrity.
According to SmartInsights, 84% of marketers plan on launching at least one campaign involving an influencer in the next 12 months. Who can resist the lure?
Influencer marketing has been shown to generate as much as 11X the ROI of traditional banner ads. More than 80% of marketers have found that influencer marketing is effective for increasing engagement and awareness.
Are you making plans for your next influencer campaign? Join the rest of the online marketing universe! There are great advantages for those creative marketing minds that can do it right. But, do so with a shred of caution. There is a flaw to influencer marketing that you need to be aware of before you pour your budget into being associated with a so-called social media darling.
Learning from One Very Controversial Influencer
So what's the problem? The influencers!
We may be expecting too much from them. What happens if they can't maintain their popularity and likability?
Even worse – what if they switch gears, and suddenly you find your marketing efforts intertwined with someone who doesn't fit your brand image any longer?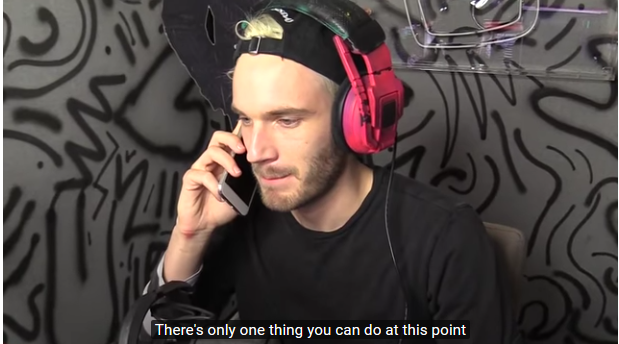 Take the case of PewDiePie, something we all should try and learn from. Felix Kjellberg, whose online identity is PewDiePie, is a controversial Swedish vlogger with (brace yourself) 53 million subscribers. He became one of YouTube's biggest celebrities because of his quirky, button-pushing style.
Kjellberg has always included plenty of content that many would consider to be, let's just say, not politically correct. Any brand aligning with PewDiePie, either through banner advertising or influencer marketing using inbound techniques, was already stepping into a potential minefield.
It's easy to push away your audience with offensive material, just as much as controversy is what drives so much attention in the first place.
It took PewDiePie's disgusting videos with anti-Semitic messages to drive Disney and YouTube away – and to push Kjellberg's alter ego into the mainstream media's lens with an article by the Wall Street Journal, announcing his downfall. YouTube canceled the second season of his show and Disney's Maker Studios ended the relationship.
The Influencers Are the Crack
The case of PewDiePie may have been an extreme case, a ticking bomb just waiting to go off, but it still holds many lessons for marketers.
Influencers are human, fallible, and in many cases, less polished than the traditional celebrities that have been used by brands to win over consumers in the past.
Wielding so much influence, depending on their own personality and motivations, they may or may not contradict your branding message by shifting their own messaging over time.
This could happen as they struggle to get more followers or to keep their content fresh, interesting, and worthy of their audience's unwavering support.
James Nord, CEO for influencer-marketing platform Fohr Card, makes a good point, "It's hard to be that popular and that relevant for a long time. Every TV show you've ever loved turned crappy eventually."
Influencers have to face the same challenge at some point, and may, like with PewDiePie, turn from offensive to just plain over the edge. Or they may simply switch gears as they find that a different message works for their brand, which may or may not work for you.
Another problem may be the influencer marketing movement itself. How much will influencer marketing change the influencers? Will they lose some of their authenticity – which is exactly what has made them so appealing in the first place – as they partner with brands. Will they be lured away from their core messaging by the financial opportunities that come with forming partnerships?
How to Do Influencer Marketing Right
Influencer marketing is still a valuable marketing tool – we marketers just have to get the star dust out of our eyes and be smarter.
Increase our vetting process. Devon Wijesinghe, CEO of InsightPool says the "standard of vetting should only be getting higher." He also recommends monitoring post-campaign to ensure that the messaging is still consistent.
Focus on quality influencers. The magic of influencer marketing isn't just about numbers, but the power of being associated with a specific voice within a niche that your buyers are in. Good influencer marketing isn't so much about connecting with the biggest names on Instagram and YouTube, but about partnering with those whose message fits your buyer personas like a glove.
And finally – the goal should be a partnership. Leslie Fines, Manager of Social Strategy at Digitas LBi, explains that it is only through partnership that it is possible to create an authentic experience for the consumer. "Influencer and brand relationships are most powerful when they are not one-off programs, but instead, longer-term relationships in which an influencer goes from liking the brand to being an organic advocate for the brand … When influencer marketing works, the consumer isn't surprised that they're seeing an influencer they follow on Instagram post about a certain brand."
There's no denying that influencer marketing is powerful. As with anything that holds so much potential impact, it's important to tread wisely. Take the time to vet potential candidates to ensure that you form a strategic partnership with a name that is seamlessly aligned with your brand. If someone doesn't work, or if their messaging changes and no longer fits, it may be time to move on.
Also, don't be afraid to start slow, track the impact of your influencer branding efforts, and allow a partnership to evolve with plenty of space and creative freedom. Brian Zuercher of Snapfluence suggests that as marketers start to truly understand what can be done with influencer marketing, they will move towards giving influencers the freedom to be themselves and to do what they want, without having to worry about what a brand they have partnered with will think.
A lasting, authentic, well-suited relationship between your brand and your influencer may take time to cultivate, but can also lead to long-lasting, sustainable benefits for your brand.
Image Credit
pixabay