The 1-2-3 Guide to Creating Video Content Marketing
Now is the time to become an expert on creating video content. Not only are 91% of businesses already using video as a marketing tool in 2023, but 96% of marketers are placing ad spend on video.
That's because nowadays, consumers are spending an increasing amount of time on social media platforms like Instagram, YouTube, TikTok, LinkedIn, etc. With all of the benefits that come along with creating video content, like building your brand identity and increasing your SEO, there's no reason why your company should miss out.
If you haven't already, this is your sign to hop on the video content bandwagon. And lucky for you, we're giving our readers the scoop on creating video content that generates conversions. In this post, we're taking a look at how to create video content that will benefit both you and your audience.
Quick Takeaways
94% of marketers say that creating video content has increased their audience's understanding of products and services 
83% of professional marketers believe that creating video content is more important now than ever
Creating video content will maximize your ROI, educate your audience, and increase your SEO
Sharing explainer videos, product demonstrations, company culture videos, and customer testimonials are some of the most effective forms of video content
A video content marketing strategy will help maximize your ROI and scale your marketing efforts
In a world so heavily saturated with video consumption, creating video content is one of the most effective ways to reach and convert your audience.
What Exactly Does "Creating Video Content" Mean?
According to a recent report, 83% of professional marketers believe that creating video content is more important now than ever. But what exactly qualifies as video content?
Video content marketing is exactly what it sounds like – companies creating and sharing videos to promote their products and services, educate their audiences, and encourage engagement, with an ultimate goal to increase conversions.
But why such a rise in popularity? For starters, social media consumption in the US was boosted by 215% during the 2020 pandemic. By 2022, audiences were spending an average of 19 hours per week consuming video content. To put it into perspective, that's just a few hours short of an entire day spent watching videos online.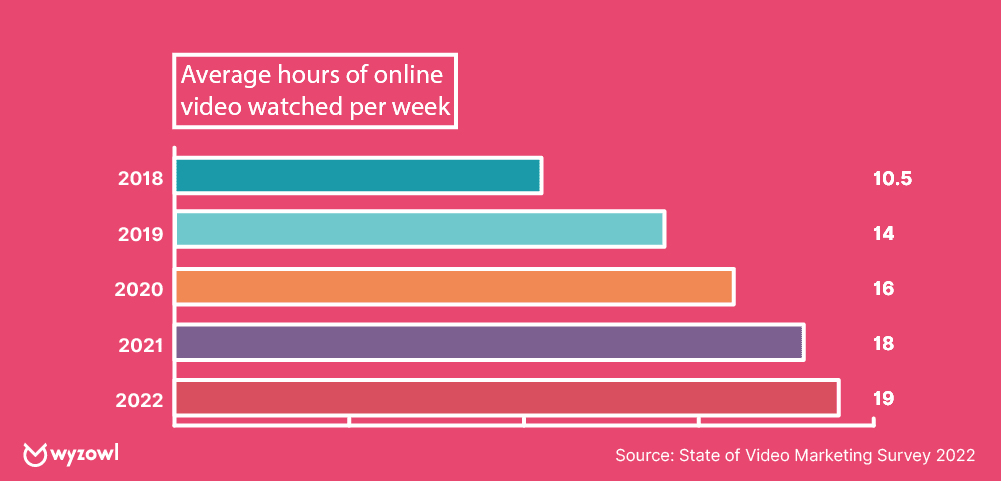 Image Source: Wyzowl
If you haven't started creating video content yet, you're missing out on a major opportunity to connect with your audience. But reaching potential customers isn't the only reason why you should start creating video content.
4 Reasons To Start Creating Video Content
In 2023, there's no question that sharing video content is the most powerful way for brands to engage their audiences. It doesn't matter whether you're a B2C or B2B company, or even if you have decent video editing skills. There's 4 main reasons why you should start creating video content ASAP.
1. Video Content Is A Great Way To Educate Your Audience
Want to help potential customers learn about why your product is the best? Create an explainer video that clearly explains how your products and services work.
According to Wyzowl, 94% of marketers say that creating video content has increased their audience's understanding of products and services. As a professional marketer, you already know that customers will only buy your product if they know how it works and what benefits it offers.
2. Videos Have Great ROI
In 2023, industry professionals have reported that creating video content has significantly increased:
Brand awareness
Traffic
Sales
Dwell time
And the real beauty of creating video content: it doesn't have to be expensive or time-consuming. Nowadays, you can record a great video in a matter of seconds on your handy-dandy smartphone. Spending less on production means maximizing your ROI.
3. When It Comes To Creating Video Content, You Have Options
If you've been in the business for some time, you might think of YouTube as soon as you hear the word "video". But in today's industry, you have a number of video sharing options:
Social Media. Post stories that will eventually disappear on channels like Facebook, Snapchat, Instagram, etc. Not only is it quick and easy, but it's a great way to speak directly to your audience.
Live Videos. According to Facebook, live streams get 6x as many interactions as regular video posts.
Webinars. Share webinar content to establish authority by answering your audience's questions and teaching them about trending topics in your industry.
The list goes on and on. Figure out which channels make the most sense for your business, and keep posting video content consistently to maximize your ROI.
4. You Can Amp Up Your SEO By Creating Video Content
Have you ever noticed that Google often features YouTube videos at the top of Page 1? By using keywords and consistently creating content that targets commonly searched topics, the chances of your content landing in Google's top results are high.
Image Source: Google
Add in the exposure you'll get on YouTube when people search for your topics, and you can expect a pretty significant increase in traffic.
6 Types of Video Content You Should Create
Now that you're convinced of the power of creating video content, you're probably wondering what kind of videos successful companies are creating. We've got you covered.
1. Explainer Videos
Remember, explainer videos are a great way to educate your audience. When customers understand the magic behind your products and services, they're much more likely to make a purchase.
Video Source: Consumer Reports
Explainer videos can be animated, time lapses of illustrations, live recordings, or really any method you find appropriate for your brand, as long as you effectively get the message across.
2. Product Demonstrations
Show off your products and services with product demonstrations. These are different from explainer videos because you'll be flaunting your product's special features and benefits.
Video Source: The Gorilla Glue Company
Find yourself a charismatic host to speak passionately about your product, and brainstorm creative ways to engage your audience during the demonstration.
3. Company Culture Videos
Brand storytelling can be one of the most effective ways to make an emotional connection with your audience. Create video content that highlights your company values to draw attention from both potential customers and employees.
Video Source: PSIA-AASI
You'd be surprised at how many new customers and employees you can attract by sharing the "why" behind your brand's offerings.
4. Behind-The-Scenes
Who doesn't want an inside look at the process behind delivering your products and services? Don't be afraid to show off the craftsmanship that goes into creating your company's goods.
Video Source: Evening Standard
You'll really want to capitalize on this type of video content if your brand specializes in personalized products or specialized sourcing of materials. The more involved your viewers feel in the process, the more interested they'll be in making a purchase.
5. Customer Testimonials
Word-of-mouth marketing is the oldest trick in the book. By posting customer testimonials, you won't have to rely on customers sharing your success stories.
Video Source: The Gorilla Glue Company
Ask an existing customer to share on video why they love your company's products and services. When prospects see how passionate customers are about your product, they'll likely want to try it out for themselves.
6. Employee Portraits
Give customers an inside look at the heart and soul of your company by sharing employee portrait videos. A short video showing the day-to-day actions of a passionate employee can help your audience better understand your business and the community it serves.
Video Source: Life And Thyme
If you're a small business wanting to engage with or expand your community, this is a great way to show new audience members what you're made of.
6 Steps To Creating A Video Content Marketing Strategy
You're just a few steps away from reaping the benefits of creating video content – but every great marketer knows that your content is nothing without a solid content marketing strategy. Here's 6 easy steps to maximizing your video content's ROI and scaling your marketing efforts.
1. Why
Before you start churning out video content, you need to clarify the purpose behind it.
Are you a small business that wants to show off the face behind your brand? Do you want to demonstrate how your business helps create positive change? Are you offering an innovative product that needs an educational "how-to" video?
Regardless of your reasoning, determining the "why" behind your video content will help make sure you can effectively get your point across to viewers.
2. Who
There's no question that your target audience lives at the center of your success. Make sure your video content's purpose aligns with your buyer personas to guarantee a positive reaction.
Video content is a great way to create an emotional connection with your customers, so creating the right emotions and telling the right story is key.
3. What
You may already have an idea of what kinds of video content you'll create after reading about some of your options above. But before nailing down your video style, make sure it's relevant to the needs and wants of your audience. Remember, answering your audience's questions via video content is one of the best ways to establish credibility in your industry.
4. Where
It's important to decide what your final product will look like before figuring out where you'll share your company's videos. Short videos for entertainment are ideal for platforms like TikTok, but longer, educational videos should be shared on a channel like YouTube.
Here's some options to help you decide which channels are optimal for your videos' length:
YouTube: up to 15 minutes for unverified accounts, up to 12 hours for verified accounts
Facebook: up to 15 minutes long
Instagram: IGTV can be up to 1 hour long, Reels can only be 15 seconds long
LinkedIn: anywhere between 3 seconds and 30 minutes
TikTok: up to 10 minutes long
Twitter: anywhere between 20 seconds and 2 minutes
Websites: it's your call, but keep in mind that shorter videos are better received
Most importantly, don't forget your audience when making a decision. Where do they spend most of their time consuming video content? Choosing the right channel will optimize your chances of reaching new potential customers.
5. When
The key to success is consistency. When customers see that your brand is consistent, they know you can be trusted.
Create a content calendar that outlines what, when and where you'll post your video content to stay organized and consistent. This way, you won't have to think too hard about what content you're going to post.
6. Measure Your Success
There's no way to know if your hard work was worth it without measuring your success. Taking a look at key performance indicators, or KPIs, will help you assess how effective your strategy is:
Views: the total number of people who watched your video
Impressions: the total number of times your video was displayed on a user's screen
View-through rate: the total number of times your video was watched in its entirety over the number of initial impressions (completed views / impressions = view-through rate)
Watch time: the total amount of time viewers spent watching your video
Clicks: The total number of times viewers clicked on your video
Brand lift: the impact your video made on viewers' perceptions and behaviors (calculated via survey)
Taking a close look at the metrics above will help you figure out what types of content worked best. After measuring your strategy's success, you can start making changes to your content calendar to maximize your ROI.
Start Creating Your Video Content Marketing Strategy Today
In the world of content marketing, creating video content is one of the most effective ways to engage, reach, and convert your audience. Not only that, but it can also be one of the least expensive, time-consuming methods to maximizing your ROI.
Ready to start reaping the benefits of quality video content marketing? Marketing Insider Group can help. Get started today by checking out our weekly blog content service, or schedule a free consultation now to learn more!
Get a Free Consultation
for Content Marketing