You can't buy your customers. Promotional offers, special discounts, and giveaways may motivate more sales – during the promotional period. They may gain some brand favor while the free sample is being used or the discounted subscription pricing is in effect. Even loyalty programs have an appeal, but they do nothing to establish brand authenticity. When the honeymoon is over, you're left to face the reality of who everyone in the relationship truly is.
Brand and customer, til' customer dissatisfaction or brilliant competitor marketing, do you part.

Trying to improve your customer retention numbers with short-term savings, deals and other offers is a short-term solution. This tactic doesn't, however, impact who your brand is in the eyes of your target buyers, nor does it influence who your customers are in relationship to your brand.
Extremely satisfied customer arm in arm with industry leader with a killer customer service department.
Your product/service-will-do-for-now, dancing with qualified brand that is unable to express its UVP effectively.
Uncertain buyer agrees to drinks and dinner (it's free, why not?) with new business with a great social media presence, but really nothing to back it up with.
Which relationship is going to last?
To earn customer loyalty, the real thing, you need a long-term strategy, not a short-term 20 percent off all products solution. These types of customer loyalty tactics are fleeting and aren't effective at retaining customers.
If you want your customers to stick around, even when you have to increase your prices or your order arrives a few days late, you have to be the brand they want to do business with. How do you become 'the one'?
Establish Trust
Trust has taken on a whole new meaning for the consumer-business relationship in the past 20 or 30 years. This isn't just because consumerism has changed but rather because the world has catapulted into a new era – it's a digital, post-internet, waxing smartphones-waning coral reefs world.
Organizations have to convince customers to trust them with their personal data
Consumers have easy access to more information and as such demand a higher level of transparency
Brands are expected to give back to the global community and align with their buyers' personal values
Cultivating trust isn't something that happens overnight. This is because it takes years to build up a solid reputation.
Brick, by brick, every piece of content you publish can be used to establish your brand as a trusted industry leader. Transparency should be a priority – this means publicly admitting mistakes and making your business's stance on privacy and data sharing clear.
Genuinely giving back in some way, is another important factor for becoming a trustworthy brand. Think of brands like Newman's Own – a company that has given away more than $495 million to nonprofits. Who doesn't feel good about buying Newman's Own pasta sauce? A Nielsen study found that, worldwide, 73 percent of millennials and 66 percent of consumers of all age groups are willing to pay more for sustainable brands.
If you want long-term commitment, trust, transparency, and responsibility are powerful tools for convincing customers to be loyal – not to mention these values foster a more positive workplace environment and a more fulfilling job for you.
Provide Social Proof as Subtle, Yet Powerful Magnetism
Don't stop with being an authentic, trustworthy brand. To earn your customers' loyalty, you'll also have to demonstrate that other people already believe in the business. Customer testimonials, positive online reviews, customer recommendations on social media. They all put out those subtle messages that what your product or service offers is worth it.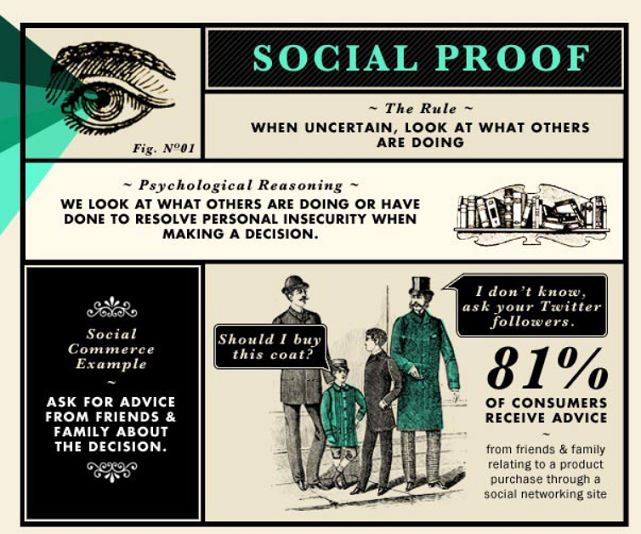 image source
Social proof is an important part of expressing the value of your brand to your consumers. Nothing says, 'I'm worth it' like, 'they think I'm worth it, you don't want to miss out'. Call it herd mentality, self-determination theory or implicit egotism, it doesn't matter. Part of the human experience is feeling connected to our families, friends, community, and the whole of humanity. Social proof plays off this essential concept of how the human psyche operates.
Respond to Customer Feedback
Who wants to have a relationship with someone who doesn't listen to their needs? This is an essential part of successful marketing for customer relationship building: becoming a better listener.
Are you researching what your market is saying about your industry, your product, and your competitors on social media sites, blog comments, and community forums?
How quickly and consistently does your brand respond to feedback (online reviews, social posts, customer emails), both publicly and privately?
How much is your messaging influenced by customer feedback channels?
It's one thing to answer all customer complaints, respond to feedback, and allow for an open dialogue. But, to take your customer relationship building to the next level, try being responsive to what you hear. Complaints about your milkshake recipe? What can you do to make it better? Chatter on Facebook about how expensive your industry's services are? Highlight your efficient, flexible pricing more in your marketing and plan a series of blog posts helping viewers get more value out of the service you provide.
Never Stop Improving
Real customer loyalty is forever. That's a long time. Don't expect to offer the same Pepsi for 50 years and keep people interested in your brand. The most successful businesses understand this concept and are always finding ways to become better. For marketers, this means always finding ways to stay relevant with fresh content, original ideas, and an ability to leverage the latest technologies available to improve the customer experience.
You don't need to have Apple's R&D department or Netflix's uncanny ability to predict consumer trends. It's simply a matter of always striving to do more.
Are the people on your marketing contact list actually reading your email newsletters? If not, how could you make them more interesting and useful?
Would your customers benefit from a branded app?
Have you made a personal outreach to any existing customers this week?
How are you going to make next year's marketing event better?
When was the last time your marketing video went viral?
How will you leverage owned, earned and paid media to reach more customers?
To encourage loyalty, show them their favorite brand isn't ever going to go stale. Pay attention to trends and evolving customer expectations so you are always in a position to offer both the brand identity and consistency they count on, as well as that something 'more' they are longing for (and may genuinely need to suit their changing business or personal needs).
Customer Loyalty Is a Long-Term Game
You can buy a few customers in the short-term with a great deal. You'll attract business with those punch cards and loyalty programs. But real customer loyalty is something brands have to earn. By infusing trust and responsiveness into your marketing strategies. By demonstrating genuine value through both the feedback of other customers and an ability to evolve, you'll become a difficult brand to ever walk away from.