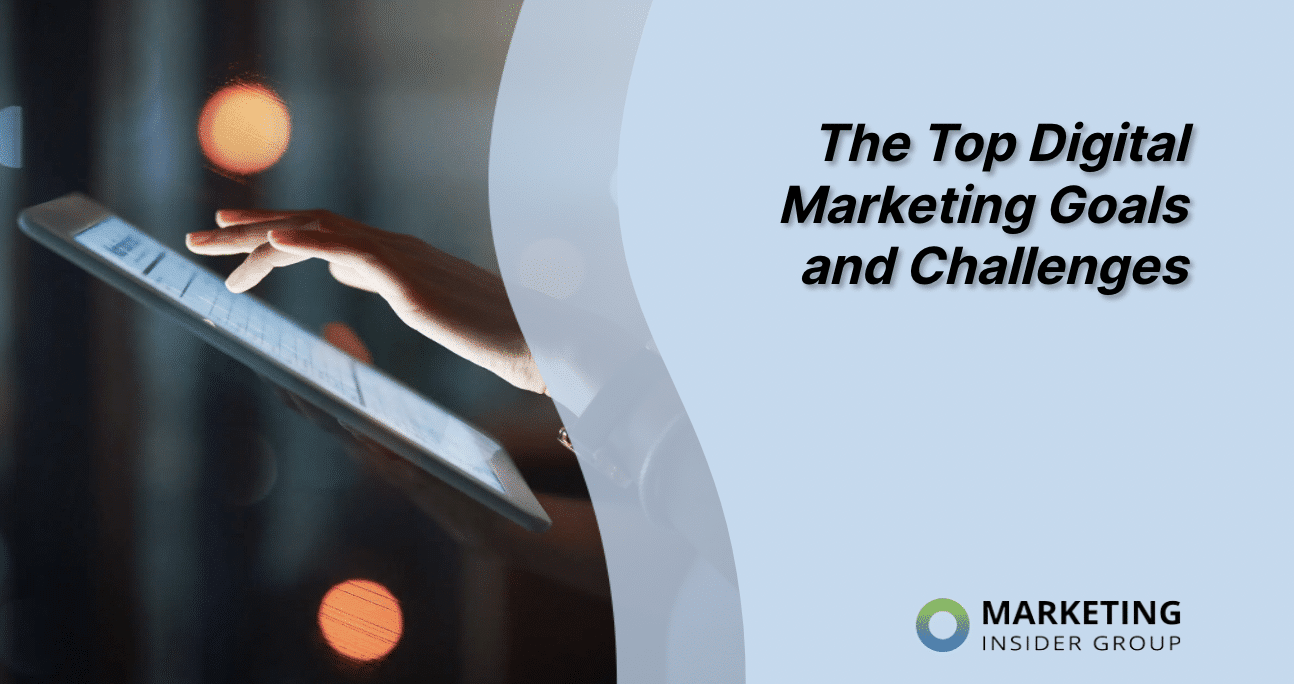 Digital Marketing – What Are The Top Goals And Challenges?
Digital marketing goals and challenges – every business has them. Meeting those goals and overcoming those challenges is critical to achieving ROI from your efforts.
The goals we've set for our Digital Marketing programs also change constantly, depending on internal and external factors. Flexibility around these is critical to navigating your way and driving results.
Key Takeaways
Digital marketing goals often focus on new customer acquisition, better leads, and brand awareness.
Defining goals depends on your company's objectives.
For goals to be achievable, they should be specific and measurable.
Digital marketing challenges are both internal and external.
Digital marketers have the most concern over talent, technology, scaling, and innovating.
Digital Marketing Goals: What Should They Be, and How Can You Meet Them?
Setting goals for your digital marketing efforts is a key part of your strategy. They will change as your overall company's objectives do. You want to align the two.
So, which goals are the right ones for your organization? And how can you drive a path toward realizing them?
PS – Check out our weekly blog content service that includes social media support!
What Are Digital Marketers Saying?
In the 2021 Digital Marketing Survey from Gartner, CMOs and marketing leaders shared their thoughts.
The top goals were to improve lead quality, drive increased sales among identified leads, increase general brand awareness, and acquire new customers.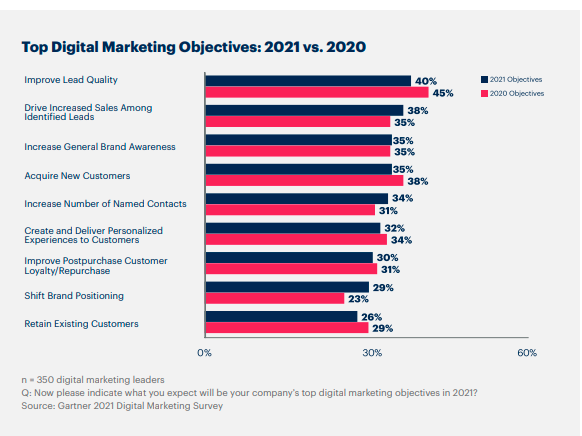 Image: Gartner
As you can see, the focus is on new customer acquisition, and there's been little change in importance among organizations.
You'll notice that retaining existing customers is at the bottom, which seems counterintuitive. First, it can cost 5x more to acquire new customers versus keeping them. Second, the success rate of selling to existing customers is much higher than new ones.
Another survey published on MarketingCharts.com from Prophet shows similar results. The priorities included acquiring new customers, increasing the share of spend and revenues, launching new products, developing brand reputation, and increasing brand awareness.
Image: MarketingCharts.com
In this survey, businesses prioritize acquisition and upselling, indicating their awareness of the revenue possibilities from retention.
PS – Check out our latest case study that shows how we helped one company double their leads!
What About More Granular Digital Marketing Goals?
The Gartner survey focuses on big picture goals across the marketing organization. However, you might find it easier to attain goals if they are more specific.
Again, those goals need to align with your company's overall plans and objectives. If you're not launching new products, then that doesn't matter. But you might be trying to move into other markets.
You'll find that much of your objectives center around content marketing goals because you need content to achieve just about anything!
Defining goals into very actionable items could include:
Improving SEO rankings, which can lead to more website traffic and conversions
Increasing your followers on social media, which may introduce your brand to others that don't know about it
Creating thought leadership content to assert your company as credible, trustworthy, and an expert
Producing more content in multiple formats, which is necessary for ranking higher and for extending content marketing reach
Enhancing customer satisfaction (i.e., improving your net promoter score) to ensure long-term viability
Whatever you want to achieve, you need to define it and measure it.
Achieving Digital Marketing Goals
To carve out the path to achievement, you'll need to define your goals further. Many use the SMART method, and that's always a helpful concept.
Once you have your list of priorities (the what), the work begins on realizing them. That needs to include:
Who
Determine who is accountable for each goal. It won't be just one person. It's a team.
For example, if you want to improve SEO rankings by creating more content and optimizing your website, an SEO specialist, content creator, and webmaster are critical roles.
How
What are the steps to reach the goal? Is it long-term or short-term?
Back to the example of SEO rankings, the process may look like this:
Identifying keyword opportunities
Producing a certain throughput of new content
Auditing your website for optimization gaps
Distributing content through multiple channels
When
How long should it take?
At what intervals will you check the pulse and pivot as necessary?
Measuring Your Goals
If you don't measure it, you'll never know if you're successful. Luckily, digital marketing goals are all measurable.
Digital marketing KPIs are commonplace. As long as you have all the right plug-ins and codes, you can see everything you need to about SEO, content performance, website traffic, social media engagement, and much more.
Check out the video below that gives you a quick primer on measuring.
How Often Should You Revisit Digital Marketing Goals?
There's no perfect time window for goal resets. Most do it during annual marketing planning, but there may be times you need to do this more often.
If something major happens in your company or industry, you'll want to revisit those goals.
For example, if your competitor releases a new product that mimics yours, that's a time to reevaluate. They'll be going after your customers or prospects. So, you may need to change course to ensure this encroachment on market share doesn't happen.
PS – Check out our weekly blog content service to grow your website traffic and leads!
The Other Side: Digital Marketing Challenges
So, now that we've discussed goals, it's time to frame out what may keep you from meeting them – challenges.
What Are Digital Marketers Saying?
Challenges are both unique to every organization and somewhat universal. The Gartner survey revealed that digital marketing leaders believe internal concerns about building and maintaining cross-functional teams will be the biggest challenge.
That's an interesting perspective. Your team is your most valuable asset, so the challenge to achieve goals may be having the right people and retaining them.
Looking at the Prophet report data, the top challenges identified were:
Purchasing or integrating the right technology
Hiring the right marketing talent
Scaling marketing best practices
Continuing to innovate
What's the Best Path to Curtail These Internal Challenges?
Tech Stack
Technology is more important now in digital marketing than ever. Most digital marketing teams have various tools, such as a content marketing platform, automation system, CRM, and SEO solution.
Integrating these and effectively using them drive insights and provide performance data. It can be cumbersome if you have too many, or you can't integrate them. Plan your marketing stack to be nimble and meet your needs.
Talent
Finding the right people that have the skills and fit your culture is never an easy endeavor. First, you should concentrate on retaining your top performers – it will cost much more to replace them. Second, work on strategic recruiting, which may include internships that could become permanent roles.
Another option is to outsource some aspects if you don't have internal experts. The CMI (Content Marketing Institute) Content Marketing Survey found that 49% of companies outsource. Content creation is at the top of that list.
That could be a route you take, as it's really competitive to land the best people right now.
Scaling
Whether you are a big enterprise or an SMB, scaling is tricky. It's dependent not only on technology but also on the adoption of that by the team. You want to be able to replicate campaigns across your products or channels.
Beyond technology, you need to make sure you have a documented strategy and processes. For example, templates for campaigns ensure consistency.
Innovating
Innovating is hard to quantify and can mean many different things. For you, it could mean moving to new channels your brand hasn't played in before. It could also mean focusing on personalization to engage prospects better.
These challenges again represent internal processes. Digital marketers seem to be less concerned about things outside their control.
However, there are looming external factors that signify change.
External Challenges
Google will move forward with blocking 3rd party cookies in 2023. If you're dependent on this for data capture, you'll need to focus on 1st party data collection.
Check out the video below on 3rd party vs. 1st party data.
Another big challenge will be executing an omnichannel digital marketing strategy. No matter your industry, your buyers are using many devices and platforms to engage with your brand. To overcome this, you will need a technology platform that addresses this.
Google's algorithm changes and the drive toward the E-A-T principle are yet another challenge that digital marketers face. Google likes to keep us on our toes and rarely reveals what's behind the curtain.
Stay on top of this by continuing to monitor your SEO performance and what Google is doing.
Digital Marketing Challenges Recap
Purchasing and integrating technology
Hiring the right talent
Scaling best practices across digital marketing initiatives
Continuing to innovate
Third-party cookie elimination
Creating an omnichannel digital marketing strategy
Staying on top of Google SEO changes
Ready to Achieve Digital Marketing Goals and Overcome Digital Marketing Challenges?
Digital marketing goals and challenges sit on two sides of the equation. To reach goals, you likely have to resolve challenges. That's never an easy obstacle, but we can help!
If you are ready to get more traffic to your site with quality content published consistently, check out our Content Builder Service.
Set up a quick consultation, and I'll send you a free PDF version of my books. Get started today and generate more traffic and leads for your business.
Get a Free Consultation
for Content Marketing