Luke Kintigh, Intel's Global Content and Media Strategist, is a triple threat in the content marketing industry: part content creator, part data analyst, and part distribution genius. He also happens to be one of the speakers at next week's #ThinkContent Summit.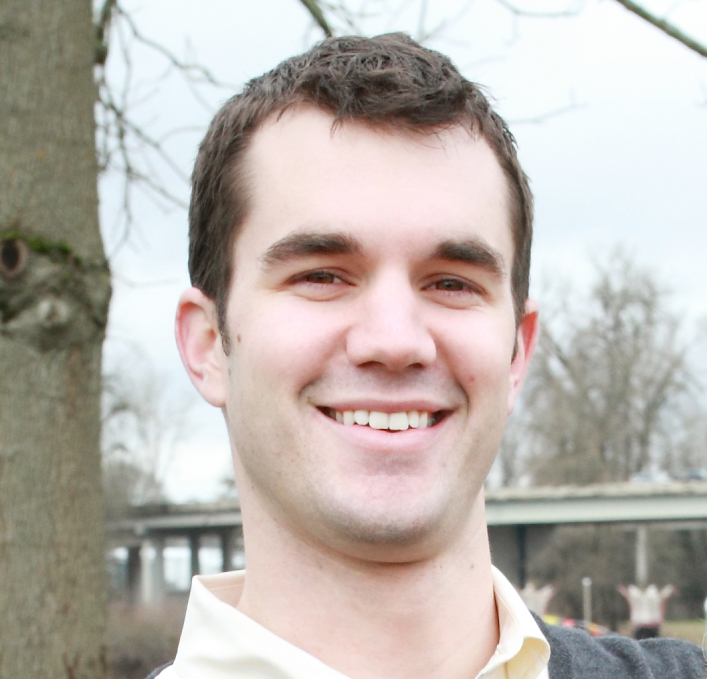 Formerly the managing editor and man behind iQ, Intel's tech culture magazine, Kintigh certainly has his share of insights, and success stories. Under his leadership, the site's readership reached staggering heights. "We just wrapped up our best month ever in March with 2.2 million unique visitors," he reports. "And if you incorporate those numbers with what we do in Europe – versions of iQ in 20 countries and in 15 different languages – we're close to 3 million."
Impressive, no doubt, but Kintigh knows that clicks and visits only tell half the story – if that. Read on to learn how he's steered iQ towards so much success.
You oversaw iQ's growth to a million monthly visitors within the span of two years, and now you've more than doubled that. Can you share some reflections and key takeaways on this period of enormous growth?
We have this mentality in content marketing that content is king, but in reality, it doesn't matter how good your content is if you don't have a strategy that's distributing it to the right audience – which involves figuring out the very complicated ecosystem of channels and platforms that exist today.
Audiences are more and more fragmented and their attention spans are getting shorter and shorter. You really have to have a sophisticated way to distribute your content, which doesn't just mean having a pay budget; it means understanding distribution from the onset of ideation to baking it into how you produce content and leveraging paid media platforms. Distribution is absolutely critical.
Was distribution a key focus in your strategy from the get-go?
It's kind of funny to look back at when we launched iQ in 2012 and the KPIs we had then, which were mainly around content volume. We thought if we could just produce 20 pieces of content per month, we'd be good to go. But we realized that this "Field of Dreams" content strategy was pretty flawed and that we had to start thinking abut distribution.
I tried to get smart with it, spending more and more of my time trying to figure it out, playing around with paid platforms and native platforms until I gradually moved into this space where I was spending most of my time on distribution. We were able to acquire a couple more editors and resources for editorial so I decided to move to distribution full-time.
How did your role change as you transitioned from iQ Managing Editor to Intel's Global Content and Media Strategist?
In the role I have now I'm technically on the paid media team, so I'm managing all of our relationships with native platforms, like Sharethrough, Outbrain, Taboola, etc. That's where our 10/90 strategy lives; we've developed this process around amplifying iQ content through native platforms and through social, and that's where we're using our investment dollars really wisely and shifting our budget to that 10% that we see always begin to take off and really perform for us.
I'm still working with our editorial team constantly to loop in insights and to make sure that everything, from the topics we cover to the formats we're discovering, is aligned to what's working with the audience. I'm a bit of an audience development strategist as well, since I'm really trying to figure out what those insights are and make sure they're looped back to the editorial team. It's helpful because I used to be in that chair, so I can understand what they need to create stories and how to think about developing content.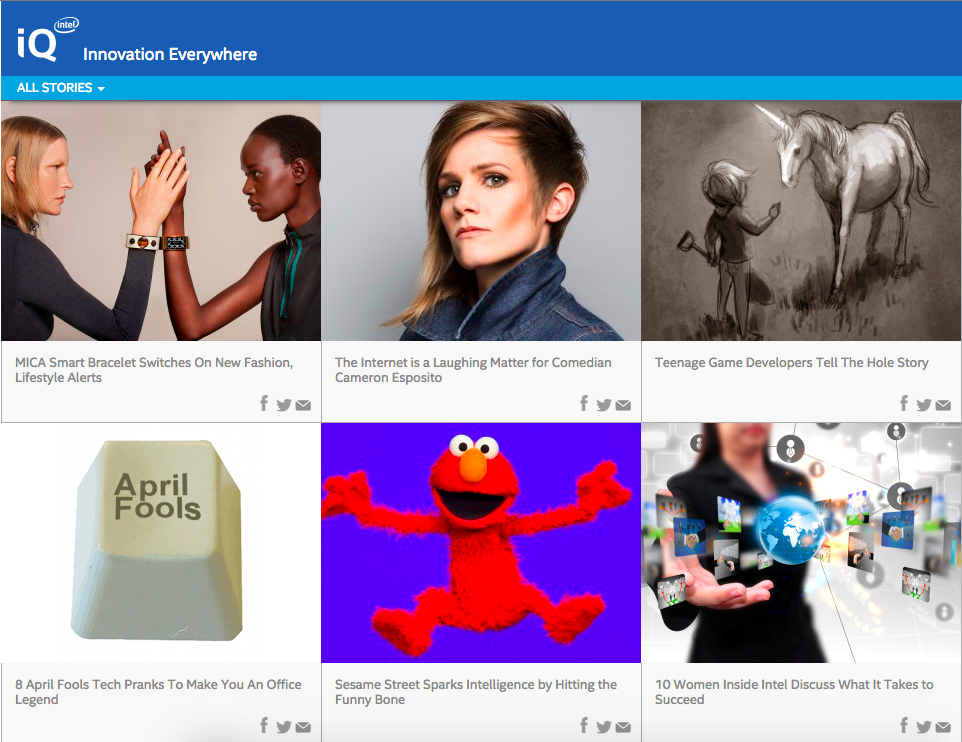 How can content marketers strive to replicate iQ's success?
You have to be obsessed with your audience and what makes them tick, and when you're coming from a marketing platform that can be hard to do because you're usually coming from a content and marketing strategy from the product side, making sure to incorporate certain product specs and tag lines, when the reality is that no one really cares about that.
First you have to think about how to get the audience's attention – taking off your marketing hat and putting on your journalist's hat and thinking how can I make this content interesting so someone will actually read it. Now with so many platforms and the availability of data you can really use a lot of that to inform your insights and your direction. You have to put the product in the back seat and really focus on your audience if you actually want your content strategy to succeed.
There also needs to be a balance between acquisition and retention. If you're too focused on new customers, you're losing out on a lot of value with your current customers. We can celebrate our viral hits and 2m monthly visitors, but then we need to move into the mindset of how we can retain this audience and get them to come back next month. That's where we're deploying a lot of tactics on the paid side, around retargeting, content sequencing, and trying to figure out how can we get someone to come back with more personalized content.
What makes for the most engaging content, in your opinion?
The definition of premium content is pretty simple: it's content you can't find anywhere else.We've become really critical about what we cover and try to make sure we're not out there chasing the latest viral story just because everybody's talking about the dress being blue or gold and basically replicating that story and putting a logo on it.
On the editorial side, you have to be careful with data. It's great to have the ability to look at trends and listen in on Twitter and figure out what the conversations are around the topics you may be covering or what your brand focus is. But we've learned to not over-rely on data, because it's also about figuring out a unique point of view that you can bring to that conversation.
Unless you can find that white space, the sweet spot where your brand message intersects with those conversations, you just start to sound like everyone else.
What's an example of that white space on iQ?
We cover a lot of sports-related content and try to see the intersection of technology and sports. For instance, we've focused on the safety issue around football, which everyone's talking about – concussions, how safe is football really. We're actually developing technology that lives inside of helmets. It's a form of sensor that helps detect concussion systems, so we're focusing not only on football, but that issue in particular while highlighting reports and talking to our Intel sources who are actively working on this.
It's a topic that's being talked about a lot, but what there's not a lot of is talk about solutions and technology around it. There's not a lot of content in that particular niche, so that's one area where we've found success.
Can you walk us through the process of identifying a really successful piece of content and moving forward from there in the iteration wheel?
We're using Simple Reach to power all of our insights. We have a daily dashboard with all these data points at our fingertips and we prioritize what's important to us. We're trying to balance out content that's driving lots of traffic and content that's doing well in terms of engagement, sharing and time spent. It's easy to get caught up with focusing on just views, which can seem like a really efficient metric, but you're not really getting any kind of long-term benefits if you're just looking at clicks.
Ultimately, from a paid perspective, what I'm looking for is a piece of content that's given us a really efficient cost-per-click or cost-per-engagement. And I want to see post-click data like time spent and how many shares we're generating from that piece of content. It's about how to shift investment to that piece of content and how to double down on it, and it's not just paid necessarily – it's also organic. A lot of the time we'll see a piece of content take off that's been promoted on a platform or several platforms, but it's never been published to our social channels. We see it's doing really well and then make sure to activate it on our own channels to get some lifts from that, too.
At the end of the day, which metrics do you find most valuable for gauging success?
When it comes to metrics, you have to define your objectives and your brand position. If you're an e-commerce brand, and you're selling a product online that can be bought in a couple of clicks, you're looking for more conversion-based metrics, and how content can actually lead to a sale. But if you're on the B2B side, it's more about lead generation and getting signups and subscriptions.
On the consumer management global side, it's about building awareness, trust and loyalty. We're focusing more on retention and not so much conversion metrics, while still looking to reach a mass audience. What we're trying to do – and a lot of brands and platforms have developed a similar methodology – is take the top five or six data points, ones that makes sense for your brand and objectives, and try to weigh them accordingly to come up with some kind of index or score. It's a challenge, but we're moving in that direction and trying to get a better system set up that reflects our overall strategy.
I certainly don't believe in a silver bullet, the one metric you should be looking at. There will never be just one, but if you can figure out a way to index multiple data points together in one metric, that's the holy grail.