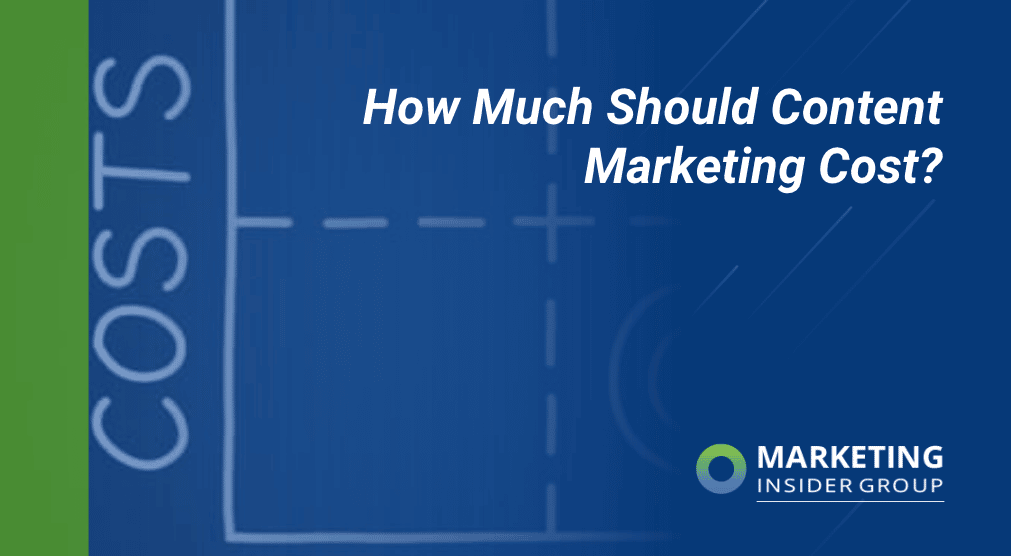 How Much Should Content Marketing Cost?
There's a lot of confusion surrounding the cost of content marketing today. That's because there are so many variables that go into pricing and overall spend. Each business's content marketing costs will depend on how developed their existing content strategy is, what the content should achieve and whether an in-house team or outsourcing is a better fit.
We also have to get granular and look at factors such as content quality, content type, and frequency.
Brands spend between $2,500 and $75,000 per month on content marketing depending on their goals, the volume of content produces, the types of content, and whether the content is promoted on social media or paid channels.
The truth is, there isn't a single answer to the question of how much content marketing should cost. But if you need to put together a budget to determine how much you should business spend on content marketing, we're here to help!
Quick Takeaways:
Content marketing costs are going to vary based on what a business needs.
Understand how you are doing vs the competition and what they are paying can help inform your content marketing budget.
Ultimately, your content marketing goals and budget will dictate the cost.
Aligning Content Costs with Business Goals
Know what you're willing to spend based on the business goals content marketing helps you achieve. For example, how much are 20 new leads a month and a 10% month-over-month increase in sales worth to your business? How much value would a 50% increase in web traffic bring to your company?
We know that content marketing is worth the cost when it brings in more leads at a cheaper cost, thus increasing Content Marketing ROI:
Then, leverage content to reach those objectives, using your budget to inform your content plan. Implement it, track your return on investment, and keep making it better to yield optimum results.
Let's take a look at the factors involved and the actual numbers. Use this information to decide what content to use to reach business goals while staying within a content marketing budget that works for your business.
1. Do You Already Have a Content Marketing Strategy?
Paying an agency for a comprehensive strategy can cost several thousand dollars for a small to medium-sized business in any vertical. For an enterprise company, the cost can reach $50,000 or more.
Why do you need a content marketing strategy? Can't I just start publishing weekly blog posts and sharing on LinkedIn or Instagram?
Without a strategy, you're probably not going to see results. And if you do, they'll be fleeting. A strategy involves developing buyer personas, audience and competitor analysis, goal-setting, and forming an actionable content plan.
It covers all the information gathering and groundwork necessary to leverage content for business goals – and to generate long-term, sustainable, and even exponential results for your business, not just a blip in traffic or a short-term sales boost.
If you want to find out why so many content marketers are strategy-obsessed, watch this phenomenal talk on strategy by the founder of the Content Marketing Institute, Joe Pulizzi.
2. What Are Your Content Goals?
The purpose of content marketing is to use content to reach business benchmarks. Clarify your goals to decide what type of content to use, how comprehensive you want your strategy to be, and how you want it to evolve over time.
Your business will likely want to achieve all of these goals with your content marketing:
Generate more leads – By offering ebooks, white papers, email newsletters, and other valuable content, a business can entice website visitors to share their contact information and become a lead. The cost of an ebook ranges from $500 at the low end of the spectrum to several thousand, and can include costs for writing, editing, and graphic design. Expect similar pricing for white papers.
Build brand awareness – Social media is used in content marketing to reach new customers and increase engagement. Include room in your budget for creating social media posts, including visual content, and managing your publishing schedule. A marketing video to post on social media can cost anywhere from $1000 for a basic video to $50,000 for a high-end one.
Keep in mind, while different types of content are helpful in reaching certain goals, with a good content marketing strategy, all of these elements and more are working together to create results.
3. In-House or Outsourcing Content – Which Costs More?
Another factor that will dictate what a business spends is whether there are enough resources to keep content marketing in-house.
You can outsource some or all of your content marketing. Usually, outsourcing content creation makes the most sense for SMBs. That stills leaves content management tasks to in-house staff unless you choose to work with a content marketing agency like ours.
In addition to content creation, someone needs to:
Create SEO-focused content plans
Create and manage the editorial calendar
Set brand tone standards and ensure they're followed
Publish content on the right channels
Measure and report content marketing ROI
Continually reevaluate the existing content strategy and refine as needed
Having an in-house team may be more practical for some companies and for some content because the amount and quality of content they need can justify paying full-time salaries. Here are some updated figures from Glassdoor:
The average salary for a copywriter is $68K
For a copy editor in the US, the average salary is $54K
An in-house social media strategist will cost about $60K per year
The average salary for a graphic designer is $55k
For most organizations, outsourcing your content marketing strategy, weekly blog publishing, and SEO reporting frees your team and budget to work on more business-intensive tasks and product content.
4. What Content Marketing Tools Will Your Business Use?
The tools your business utilizes will influence how much you spend every month on content marketing. It's worth exploring what types of technology are available.
Determine where you can use content marketing tools to automate tasks, improve outcomes, and save money. Then, invest in the platforms and apps that are worthwhile. Some will involve an upfront investment, but many useful tools for project management, email automation, SEO, and more are available under a Software as a Service (SaaS) business model, which means you'll pay a fixed monthly subscription fee.
5. How Much, How Good, How Often?
After you create a strategy with clear goals and benchmarks, you'll know what content to use to reach those goals and what tools can help you along the way. With this information, you can estimate how much you'll spend on content marketing, whether you're outsourcing or creating content in-house. This is your cost baseline.
The next step: the details. Now, decide how much content you need, how high you want the quality to be, and how often to post. Then, you can tweak your content marketing costs to fit into your budget.
The specific costs are really up to what your business wants right now. For example, you can pay a video production company to create a premium marketing video for $20k, a more basic video for $1,500, or you can invest $5k to $10k in video equipment and create videos in-house.
The Costs of Content Marketing Are Flexible – Use That to Your Advantage
The beauty of content marketing is, if you do it well and stick with it, it will drive business results. I've watched it happen with all our clients. I know it works.
It will lead to an increase in revenue. And, you will have more resources to keep investing in content marketing to get even greater results.
Start where you are right now. Use a strategy. Execute it, measure the results. Then evolve and scale your content marketing as your business grows.
If you are ready to get more traffic to your site with quality content published consistently, check out our Content Builder Service.
Set up a quick consultation, and I'll send you a free PDF version of my books. Get started today – and generate more traffic and leads for your business.
Get a Free Consultation
for Content Marketing