If you want to scale up your content marketing efforts, you need to create more content. For most businesses, that will mean investing in outsourcing. Outsourcing all or part of your content marketing is more cost-effective than employing a full-time in-house team. But, how do you make sure external agencies and freelancers produce content with a consistent brand voice?
Your brand voice is more than just the tone and style your blog posts are written in. It's the basis of your entire brand. Keeping your brand voice strong and consistent is critical to achieving success in content marketing.
But, this doesn't mean that you have to personally write all your content yourself. Many brands publish content written by different writers, but you wouldn't necessarily know it. What's their secret?
Quick Takeaways:
Outsourcing content creation doesn't mean your content will be inconsistent and lack a clear brand voice.
Brand voice and style guidelines are essential. Make sure they give a good overview of your brand to someone who is unfamiliar with your company.
You can put systems into your workflow to ensure no off-brand content slips through the net.
1. Create a Brand Style Guide
Your brand style guide is one of the most important keys to ensuring your content is consistent.
Your style guide should not only cover grammatical and formatting preferences but also offer guidelines for other writers to follow so they can emulate your brand style.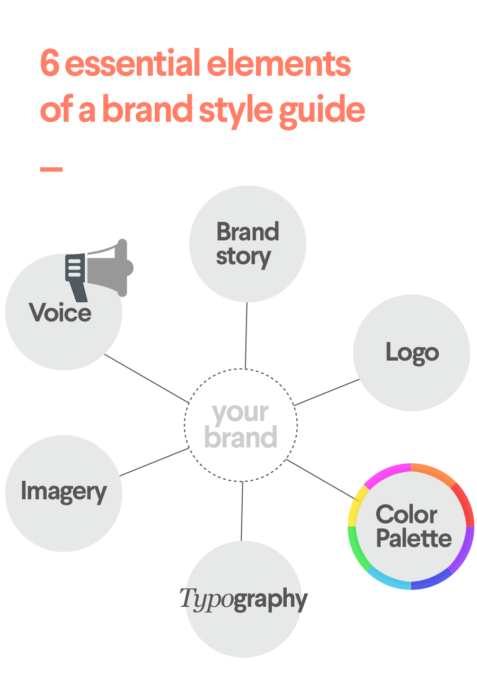 This document should include background information about your organization, including your mission, values, and business goals.
It should also include detailed information about who your audience is. Presenting this information as buyer personas can be a very helpful way for writers to create engaging content, as it enables them to have a specific reader in mind when they're creating content.
Go on to define your brand tone, voice, and personality. Do you want to come across as corporate and professional, or informal and friendly? Do you want to use humor? Is your brand serious or fun?
Complete your style guide with some examples of content that represents your brand. These examples will be very useful for writers to use as a basis for emulating your style.
2. Assign a Brand Voice Editor
The elements that go into representing your brand voice are often very subtle. You can drastically change a piece of writing by making a few small changes in terms of word choice, sentence and paragraph length, and formatting.
A good editor can be very helpful in bringing together the work of different writers and making these small changes to ensure that all your content is consistent and a good representation of your brand.
Editors can also provide valuable feedback to writers on how they can adjust their work in the future to make it more in line with your existing brand content.
Your editor doesn't necessarily have to be employed in-house, and it's certainly possible to get great results working with more than one editor. The key is that they have a thorough understanding of your brand and your content style, and are skilled at adjusting content to fit.
3. Pay Attention to Styling
Your brand voice isn't just about the words you say but also how your content appears. In fact, most good brand content is instantly recognizable without reading it at all.
Colors, images, and other formatting can all go a long way to making your content seem more consistent.
Consider adopting a particular graphics style or type of images to illustrate your written content. For example, the Optinmonster blog uses a consistent style of graphics using its brand colors and logo to ensure all its content is on-brand at a quick glance.
Creating your own graphics can be time-consuming, but even stock photography can go a long way towards representing your brand when chosen carefully. Don't want to use set up stock photos of smiling business people in corporate settings? Make sure you specify this in your brand style guidelines.
4. Put a Solid Approval Process in Place
To make sure all these different aspects of maintaining a consistent brand voice are adhered to, you need to set up an approval process to sign off on each part.
Inconsistent styling, off-brand images, or content where the tone is off can be damaging to your brand, so you want to make sure that every piece of content you produce is a good representation of your brand.
An approval process involving different stakeholders and changes can be time-consuming, particularly if content is returned for reworking at any stage.
To avoid wasting time and effort, streamline your processes with collaborative tools and use content automation wherever possible to avoid delays.
5. Make Sure Your Voice Extends to Social Media
Remember that it's also important (perhaps more important) that the content you publish to social media is consistent with your brand voice, too.
Social media is one of the most commonly outsourced marketing tasks. Over 60 percent of businesses outsource some of their social media marketing, mainly because it's time-consuming and yet very affordable – social media management services start from around $15 an hour.
But, don't make the mistake of thinking that just because social media posts are short, they're any less important than your content on other channels.
Your audience may interact with your social media content every day, so it's vital that your social posts are on-brand and have a consistent voice to get the most out of this marketing channel.
6. Consider Different Aspects of Outsourcing
Of course, there are many other aspects of content marketing you can outsource if you still want to keep the actual content creation in-house.
Distribution, promotion, and content measurement, analytics, and reporting are all important parts of the overall content marketing process that can be outsourced to a third party without risking the quality of your content.
Ready to Scale Up Your Content Marketing?
If you are ready to get more traffic to your site with quality content that's consistently published, check out our Content Builder Service. Set up a quick consultation, and I'll send you a free PDF version of my books. Get started today and generate more traffic and leads for your business.