A lot of companies miss the mark with employee activation because they only build one-way of a two-way street. The end goal should go beyond empowering employees to further brand objectives.The company behind the brand should also be empowering employees to further their own professional goals.
When your culture is set up to launch each employee to their own version of career superstardom, you've hit employee activation nirvana – a dream team of inspired, passionate experts who want their brand to succeed because their organization wants them to succeed.
This is how you get something much more powerful than advocacy.Just as with the evolution of marketing to customer-centricity, employee activation needs to be more about the employee experience.
Not only will this create a more authentic and lasting culture of engagement, it will bring back returns in more ways than the traditional employee advocacy program can. Your employees' work successes, proactive choices, and positive actions reflect well upon the brand itself, elevating both the individual and the whole.
It's a win all around with improved brand reputation, marketing cost-savings, expanded reach and awareness, better customer relationship building, and higher demand for what your brand offers. Not to mention the benefits for recruiting – it costs a lot less to bring on the best of the best when your company is the team everyone wants to be on.
So instead of working to motivate your employees to advocate for something outside of them, build an employee activation program that invites them into the heart of the brand.
Start with Your Employee Activation Goals
What do you hope to achieve by activating your employees? Before hashing out your plan, have a clear idea of your goals. Determine your marketing, business, and employee retention goals, looking at both short and long-term objectives.
For example, what's your target for page view numbers and lead generation and what do you want your social media numbers to look like in one month, three months, and six months after launching your activation initiative?
Revenue growth, customer retention, upselling numbers – how do you expect these metrics to improve after a few months, a year, and more?
What about costs of employee recruitment and rate of employee retention each year?
With crystal clear program goals, you'll have a better idea of where to focus your employee activation program, whether the priority is to build trust in your brand or to become an organizational magnet for industry experts, or both.
When determining how to measure your goals, keep in mind, you'll want to look at a combination of both quantitative and qualitative feedback – website traffic and click-through's are telling, but so are customer and employee reviews, case studies, and customer feedback surveys.
Use Social Media the Right Way
Social posts shared by your employees generate eight times more social engagement than posts shared by your brand itself. And, those leads that come in from employee social sharing? They are seven times more likely to convert.
Another benefit is with HR. Socially engaged companies are known to be 58 percent more likely to attract top talent.
Even something as simple as asking employees to share your company's social media updates can help to foster brand awareness big time. But, how sustainable is requesting social shares or even incentivizing with some type of reward program?
Instead of encouraging sharing, make it a system that employees can benefit from. When they can use branded social media accounts or other digital channels to promote their own expertise, they gain more thought leadership points as a representative of the brand and the brand gains thought leadership points by demonstrating the expertise of its staff.
Approach social media not just as a tool to expand the reach of your brand, but also as a platform to feature your internal experts.
Intel does a great job of this. The brand has a library of videos featuring Intel employees teaching Intel's innovative business concepts and sharing news updates.
You'll also find Intel employees and partnership projects featured on Intel's social media pages.
Beyond featuring employees' skills, personalities, and expertise, it's also key to train them how to use different channels for social sharing.
Dell is at the mature end of the spectrum when it comes to empowering their employees with social platforms. They have a well-developed training program, Dell's Social Media University, which teaches employees who want to be a part of the program to use branded social accounts to boost their own sales numbers. Their program includes a Governance system and available help and support.
Foster a Culture of Ownership
Let's be honest. Culture change isn't all that easy to tackle, especially if marketing only has limited influence organization-wide. However, a culture of ownership is the foundation of a successful employee activation program.
So, focus on laying what cultural groundwork you can. A common mistake with employee activation and advocacy programs is to assume culture change is a result of employee activation, rather than a driver of it.
The goal is to create an environment where employees take as much ownership for the brand as the CEO. When each employee's personal brand is intricately linked with the brand they work for, you have an aligned relationship where:
It's in employees' best interests to give it their all, to put those creative, innovative ideas out there, and to challenge themselves.
It's in leadership's best interests to support and empower, and to listen and respond to – and to value – feedback from employees.
Paul J. Zak, neuroscientist and author of Trust Factor: The Science of Creating High-Performance Companies, calls it a high-trust culture. By giving employees more opportunities to lead and make decisions, trust grows internally.
Injecting trust into your culture is a powerful little secret some of today's really progressive companies like Google and Facebook have figured out. What Zak has found is that trust triggers the release of oxytocin in the brain, which stimulates productivity and increases motivation.
Another way to motivate this sense of trust and responsibility is to launch socially responsible programs. You can do this both internally and externally with programs that give back to society. This type of work helps to frame a more meaningful brand identity, which creates a greater sense of purpose for employees, giving them a more worthwhile reason than income or personal advantage to stay engaged.
With a culture of ownership, you'll have heavy employee involvement in any activation or engagement program. Liz Brown, CEO of the Social Arts and Science Institute, calls it a synergistic environment – employees are included in the framework of an activation initiative, there is a formal training program, and the relationship between leadership and employees is collaborative.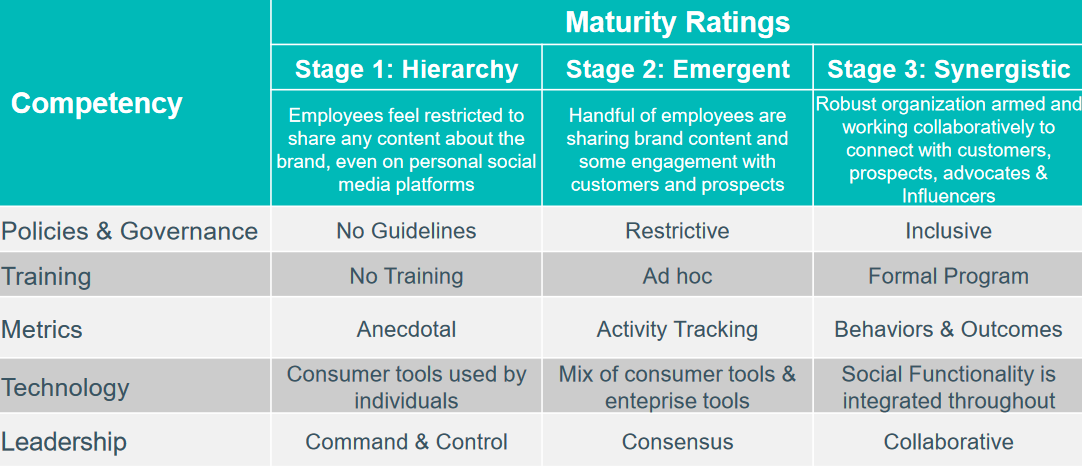 This doesn't just inspire through a culture of equity. It creates the groundwork for a robust activation program where your employees are deeply involved and continuously supported.
Keep Building Your Employees and Your Employee Activation Program
And finally, make your employee activation 'program' a way of work-life. Keep communication channels open with regular one-on-ones or small meetings that employees can count on, giving them a chance to ask questions and voice concerns.
Also, actively look for ways to support your employees' growth. What training, internal mentorship programs, and upskilling can your organization support to help your employees become better at what they do?
Building your employee activation program is really a transformative process. Start small, planting those positive, visionary seeds. Then cultivate the growth in your employees and your brand that you want to see by staying on top of your benchmarks, improving your program as needed, and staying open to taking your employees to the next level.
Sure, it may seem like a big effort … until you see how far your activated employees bring your brand.