Businesses that blog attract more leads, build brand trust, and have an easier time nailing revenue goals.
It's also what customers prefer – studies have found that about 70% of people would rather learn about a company through its articles rather than advertisements.
When you look at the value a company blog generates, not having one is one of the biggest mistakes a business can make in the digital age.
Companies that practice blogging get 97% more links to their websites. B2B marketers who blog get 67 percent more leads than those who don't. I've seen it happen with our clients time and again, as well as with our company blog.
My own business depends on creating blog content that outranks my competitors. While cultivating a winning business blog requires commitment and planning, it's not as hard as most business owners think. With a well-executed strategy, it's possible to get your blog at the top of the search engine results pages (SERPs) and compete with high-authority sites.
Quick Takeaways:
A company blog can play a key role in any business's growth strategy.
Business owners who create a blog and commit to posting regularly will see an increase in traffic, leads, and sales.
Execute a smart blogging strategy to compete with big, high-authority sites in your niche.
Here are eight tips any business owner can use to create a world-class company blog.
1. Configure Your Blog Correctly
You can have your business blog up and running in a couple of days or less – no technical ability required.
To get started, you'll need a blogging or website builder platform. I always recommend WordPress.
It's free to download yet full of functionality.
You can easily customize your blog with plug-ins and themes.
With WordPress, you can grant access to anyone if you want someone to maintain your blog for you. Because it's so universal, everyone in website maintenance and content marketing knows how to use it.
Follow these steps when setting up your blog:
Choose keyword-rich categories
Think of these as your topic area sections, similar to the "Local News," "Business," and "Sports" sections in a traditional newspaper. Your blog categories organize your content and make it easier for visitors to navigate your website.
Don't make your categories obscure or unique. They should clearly indicate what topics your blog covers. For SEO (search engine optimization) purposes, use keywords within the categories as much as possible.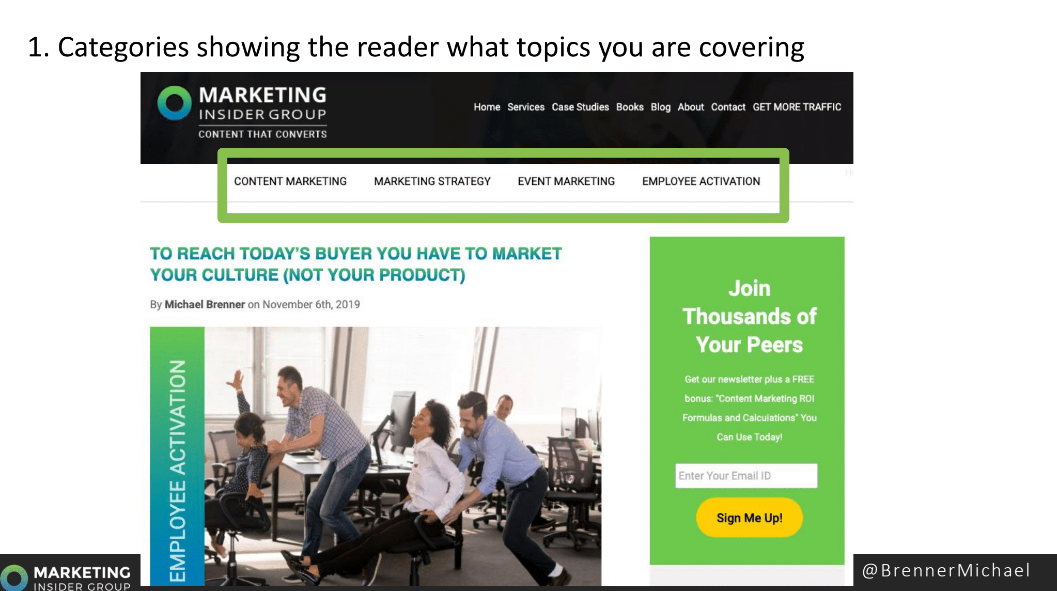 Use a clear URL structure
This step is simple, but it ensures your blog will rank better on Google. What you're doing here is creating permanent URLs for individual blog posts. The permalinks will contain custom data to identify each post, rather than the date or a generic tag.
Instead of this:
https://example.com/index.php?p=2278
Your blog post URLs will contain information that makes it crystal clear to searchers – and search engines – what your content is about:
https://example.com/content-marketing/best-content-ideas-for-tech-startups/
To configure the right URL structure in your WordPress dashboard, go to Settings>Permalink Settings. Set your blog URL structure to include the keyword or category name along with the article title.
Design an article page wireframe
To make your blog more engaging and to encourage conversions, use a standard article page wireframe by customizing your blog theme. The wireframe design should include a featured image and invite readers to take the next logical step when they read your blog. The next step could be:
Visiting another page on your website, such as your products or services page
Subscribing to your newsletter
Downloading an ebook or white paper
Reading another blog article
Sharing the content on social media
Here's an example of the article wireframe we use for Marketing Insider Group: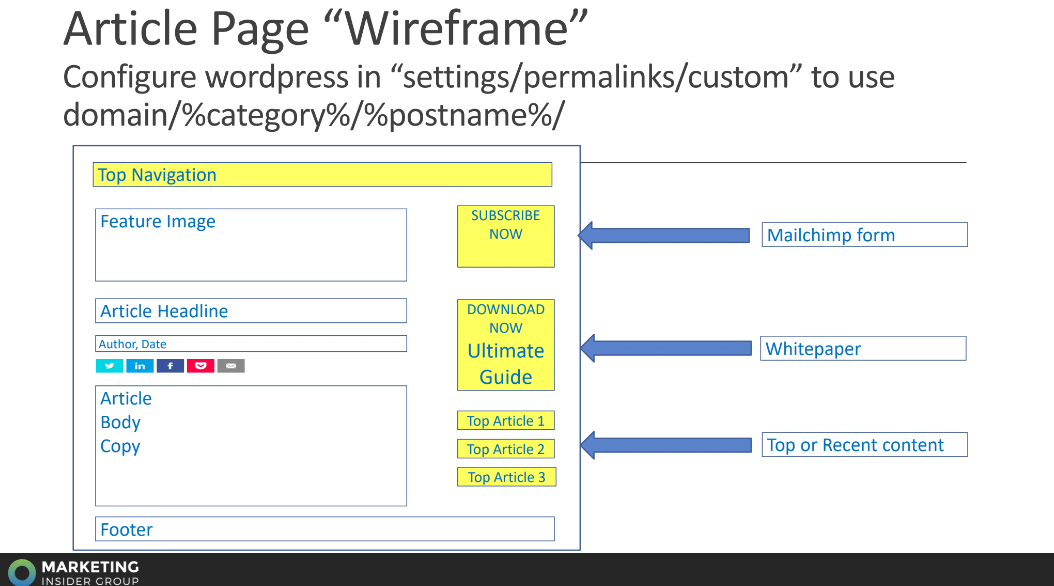 2. Publish Frequently
If you publish articles only when you have the extra time or when there's something interesting happing in your industry, you're not likely to get the results you're looking for. Posting regularly is the key to creating a successful company blog.
How often should you post?
What we've found is that posting two to four times a week will provide the best results. It's in this range that traffic steadily increases, and you'll start to see the benefits of compounding organic traffic.
HubSpot has also found similar results, with some variation based on blogging goals. For organic traffic, three to four times a week will do the trick. If your priority is to build brand awareness, you may be able to blog between one and four times a week, depending on the size of your blog.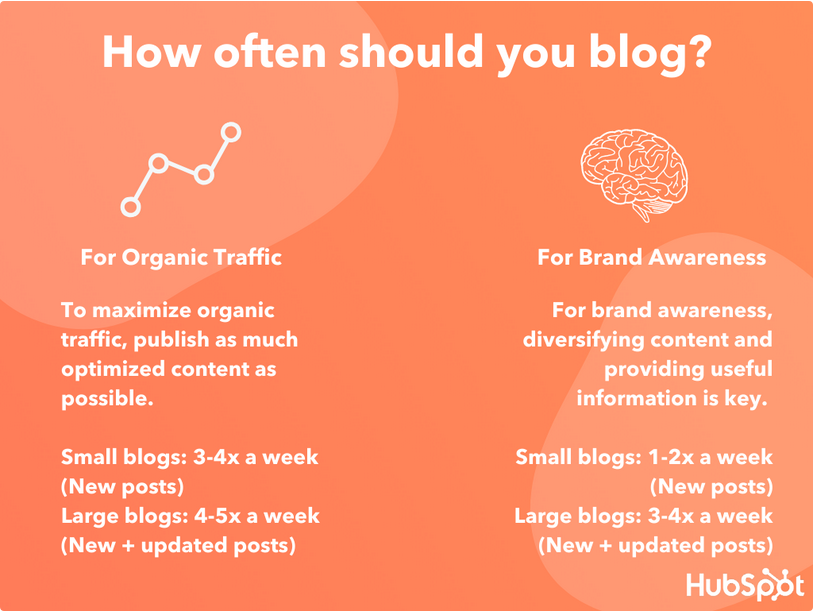 Spread your posts out throughout the week. For example, if you're publishing three times a week, post one article on Monday, Tuesday, and Thursday. Another strategy is to post twice on Monday and once on Tuesday to ride the wave of high traffic at the beginning of the workweek.
It's also a blogging best practice to publish when your audience is usually the most active. This will vary depending on your industry, audience lifestyle habits, and the time zone most of your audience lives in.
You can find out the best time for your company's blog by looking at your Google Analytics. If most of your traffic occurs mid-morning, post at 9 am or 10 am. If there's usually a spike in the late afternoon, schedule your blogs to publish around 3 pm.
3. Create a Content Calendar
To ensure your blog content is worthwhile for your readers – and worth your business's time and money – plan your content with a content calendar. A calendar will help you develop blog posts your audience actually wants to read because you are figuring out ahead of time what, when, and why to post.
Blog content should be educational and informative, helpful, or inspiring. When coming up with blog topics, every post needs to pass the customer value litmus test:
Does the content solve a problem that your target customers have?
Does it answer a question they need help with?
Does it, in some way, make their life easier, better, or more fulfilling?
Each one also needs to have a business goal:
Web traffic
Audience engagement
Brand awareness
Customer loyalty
Lead generation and nurturing
And, it should be aligned with a stage of the buyer journey:
Top-of-funnel posts are designed for target buyers in the awareness stage. These people realize they have a problem, but they don't yet know the solution for their pain point. Awareness stage content will attract customers by providing guidance, tips, and answers to the questions they're searching for online. Most blog posts focus on awareness stage content.
Example: 10 Reasons Why Great Content Matters
Middle-of-the-funnel posts are targeted at consideration stage buyers. This is where you can engage with thought leadership posts and in-depth guides. You may dive deeper into the options they have to solve their problems and entice them to learn more about how your solution will help by downloading an ebook or demoing your product.
Example: Should You Create Great Content In-House or Outsource? A Guide to the Pros and Cons
Bottom-of-the funnel content is for buyers in the decision stage. They know they have a problem. They understand the solution. At this point, the goal of the content is to motivate them to convert. You can use blog posts that feature case studies, statistics that point to the benefits of your solution, or content that helps to distinguish your brand.
Example: How a Content Agency Can Turn Your Business Around in Six Months
With a calendar, you can keep track of all of these elements and execute a well-organized blogging strategy. It will also streamline content creation – create topic ideas and plan when to publish content months in advance. This tactic has several advantages:
You can create your blog articles when you have time to and schedule each post's time and date from WordPress. This way, you'll never be scrambling to have content ready when your business is busy.
It improves the context of your blogs. For example, with a calendar, you can plan out a blog series or design your content so that each subsequent post builds off the last one.
It's easier to vary up your post topics and create a well-rounded blog. If you want to post a certain percentage of your blog topics in each category or ensure some of your blog articles contain an infographic, a video, an interview, or other enriching content, simply plan this strategy out in your content calendar.
And if you need a tool to help you, check out DivvyHQ. This is the tool we use to manage the one we use to manage all our client's content. They also just published this post on the DNA of an effective business blog.
4. Share Regularly
Integrate social media into your business blogging strategy to gain even more traction with your posts. Social media is a great channel for spreading your reach and engaging more people with your blog.
Here's how to do it:
Figure out which social media networks your audience prefers
For B2B businesses, your customers are probably on LinkedIn. Lifestyle brands should focus on Instagram. Twitter is useful for fast-paced industries such as technology, marketing, finance, and health. And, Facebook continues to be the most widely used platform and an integral part of any business marketing strategy. Sixty-eight percent of adults are Facebook users.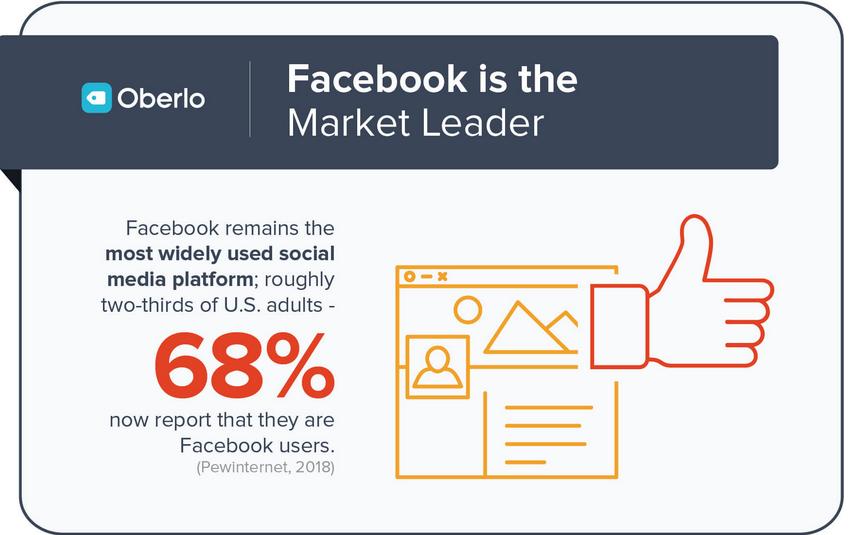 Share your blog posts
Every time you publish a blog, share it on your social networks. This will attract more traffic to your blog posts and do wonders for your brand's online presence. As a business owner, you probably don't have time to do this manually. Nor do you don't have to. Use marketing automation tools such as Hootsuite, CoSchedule, or Buffer to schedule your upcoming posts. These tools also offer alerts and analytics to help you understand your campaigns.
Share other content
Don't fill your business's social media channels with brand content alone. Share articles from other publishers, videos, and other types of content that your audience would find useful or interesting. When you do this, you're sending the message to potential customers that your business social media page is a go-to source for valuable information, not just another promotional feed.
How often should you share on social media?
Ideally, you're posting daily. Share a blog post, a video, curated content from other thought leaders in your niche, or spark a conversation on a trending topic. With marketing automation tools, it's possible to maintain a strong social media presence and a growing business.
5. Nurture Your Audience with Email
One of the benefits of posting well-written blog content is that it will persuade some readers to get more involved by signing up for your email newsletter. As you grow your email contact list, your business will have more opportunities to nurture leads and bring past readers back to your blog.
This is how things can start to really heat up for your business. You'll have more channels and interaction points for engaging customers as you build out your content strategy: more blog articles, more social media content, and more email campaigns.
Your company blog is the foundation for attracting potential customers.
Social media engages.
Use email to nurture your audience – drive leads further down the sales funnel and build loyalty with existing customers.
The people who signed up for your email newsletter from your blog are warm leads. These are the contacts who you can send promotional content, news about product updates, early-bird specials to webinar and events, and more. You should also use email to share some of your blog posts.
Here are six useful tips for email nurturing:
Remind them about your brand. Send a newsletter at the end of the week featuring your top blog posts, along with other relevant content. Friday afternoon is a good time to send out your newsletter. You may be able to create a small, second wave of traffic after your early-week peak on Monday and Tuesday.
Send relevant content in your emails. If possible, use timely blog posts that reflect current challenges your customers are facing. For example, during the COVID crisis, give them content that will help them weather the storm.
Be human. You're talking to a subset of your general audience. These are the people who follow your brand and have already verified they vibe with your business culture and ethos. So, talk to them in a more conversational, natural tone to further strengthen the connection.
Segment your email list. You can group recipients by their level of engagement. For example, customers who regularly open emails or who have downloaded an ebook or white paper would receive different email content than those who only engage occasionally or who are inactive.
Test your emails. Use A/B testing for subject lines, email content, tone, and email structure. Test one element at a time. As you learn more about what resonates the best, you can further optimize your emails.
Save time with email marketing automation. Mailchimp, Drip, Infusionsoft, and Sendinblue are all great email marketing software options. Use these to schedule emails and to track user activity.
6. Measure Performance
Maintaining a successful business blog isn't a set-it-and-forget-it marketing technique. Measure performance to ensure it's always delivering the best marketing ROI.
Tracking key performance indicators for your blog will reveal what its strengths are and where there are opportunities for improvement.
You may also find that what worked well in the past is not as effective today. There are external factors that can impact your blog's performance. Google algorithm updates, changes in audience sentiment, a new formidable competitor on the landscape – none of these factors are under your direct control. The reality is, you can create an amazing company blog and execute a killer strategy year in a year out, and still meet a few surprises along the way.
Use blog metrics to quickly spot trends. Then, instead of chugging along with what used to work, adapt, test, and keep optimizing your content.
Here are four metrics you can use to measure blog performance:
Web traffic will show how many people are visiting your blog. Dive deeper into this metric to find out where most of your audience is located and where the traffic is coming from – social media, organic search, external sites.
Conversions will give you information about the value of your brand. For B2B business blogs, track subscription signups, registrations, or demo requests. For direct sales on your site, activate ecommerce tracking in Google Analytics to find out how much revenue each page is generating.
Metrics, such as your bounce rate, average session duration, and the average number of pages per session, all track engagement. These metrics will reveal which posts you can improve to drive better engagement. They'll also show you which topics your audience is the most interested in, which can help you decide what topics to write about in the future.
SERP rankings are important to gauge how effective your SEO is. Use Google Search Console to identify the search terms your blog ranks well for. You'll also want to watch how your ranking changes over time – if your ranking declines, consider an SEO audit. It also may be that Google launched an algorithm update that had a negative impact on your blog. Do some research to find out why and learn what you can do to improve your SEO performance.
7. Write for Customers and Search Engines
To win at business blogging, you have two audiences to please – your customers and search engines. Identify the keywords that are relevant to your audience. Then, check out the top-ranking articles for a search term and make your blog posts better.
To write for customers:
Use tools like Answer the Public, SEMrush Topic Research, and Google Trends to determine what people in your market are searching for.
Research the questions your target buyers are asking and the discussions they're having – Quora, social media, comments sections, and industry forums are all excellent resources.
Analyze intent data from your web analytics and marketing automation software to better understand your customers' preferences, actions, and intent to purchase.
Structure your content with bullet lists, keyword-rich subheadings, and white space for easier scanning.
To write for search engines:
Use SEO on-page best practices and integrate long-tail and niche keywords into your content.
Place your keyword in the meta description and use it once toward the beginning of your post.
Use variations naturally throughout the content and don't practice keyword stuffing.
Refresh content periodically to signal to Google that your blog contains fresh content.
To write for both:
Create high-quality, useful content. Good content will attract links from other sites. The goal is to post content that's so worthwhile and relevant, other thought leaders in your industry link to your content within their blogs. This will give your SEO a huge boost. Meanwhile, your readers will be more engaged. Great content will motivate them to sign up for your email list, download your white paper, or bookmark your blog to come back for more.
8. Outsource to Make It Happen
If you're a business owner, you probably don't have a lot of time to write blog posts and manage your blogging strategy. And, hiring in-house staff may not fit into the budget. So, how can you create an amazing business blog that attracts traffic, generates leads, and increases sales?
Outsource. What you can't do in-house, you can do with outsourcing. In fact, by partnering with professional content creators and strategists, you can build an even more impactful blog without having to go through the time-consuming and expensive trial and error that often comes with nailing business blogging. Over 70 percent of brands outsource their content creation to specialized content agencies!
And, you'll save money. When you outsource, you can pay for the services you need and then scale up or down accordingly. You're more agile and always ready to pivot.
If you are ready to get more traffic to your site with quality content published consistently, check out our Content Builder Service or set up a quick consultation, and I'll send you a free PDF version of my books. Get started today–and generate more traffic and leads for your business!