As a marketer, you already know that content marketing is well worth your time and effort. What you put in is almost guaranteed to be returned to you many times over, and this attractive ROI combined with low costs and barriers to entry makes content marketing one of the most popular marketing strategies for businesses large and small.
However, it's not always so easy to convince management and C-suite that content represents a worthy investment. Unlike traditional advertising campaigns and other types of marketing, it can be quite some time before you see the results of your content marketing campaign.
In some cases, it might take years before you build enough momentum from your content marketing activities to see real results. But only 59% of respondents surveyed by the Content Marketing Institute agreed that leadership offered enough time to demonstrate content marketing results. So how can you get executive buy-in if you've only got a short timeframe to prove its effectiveness?
Quick Takeaways:
Why Getting Executive Buy-In for Content Marketing Can Be Challenging
There are actually several reasons why executives don't immediately see content marketing as the same amazing opportunity that marketers do.
Remember, the aims of your role in the company are fundamentally different. Marketers want to raise brand visibility and generate leads, while C-suite is concerned with the overall strategic running of the business and generating income. It may not be immediately obvious how content marketing fits into this.
The main challenges or sticking points include:
To get executive buy-in, you need to prove the worth of content marketing in facts and figures so it's not dismissed as just being the latest trendy tactic that doesn't necessarily produce results.
The Executive Business Case for Content Marketing
Click Here to download MICHAEL'S "INSIDER" SLIDE DECK
on How To Get Executive Buy-In for Content Marketing
Content Marketing By the Numbers
While you may not yet have the figures to prove the effectiveness of your own content marketing strategy, thousands of other brands and marketers have done the work for you.
Use published data and research to demonstrate how content marketing has been effective for others. Show how you will replicate this success in your own content marketing strategy.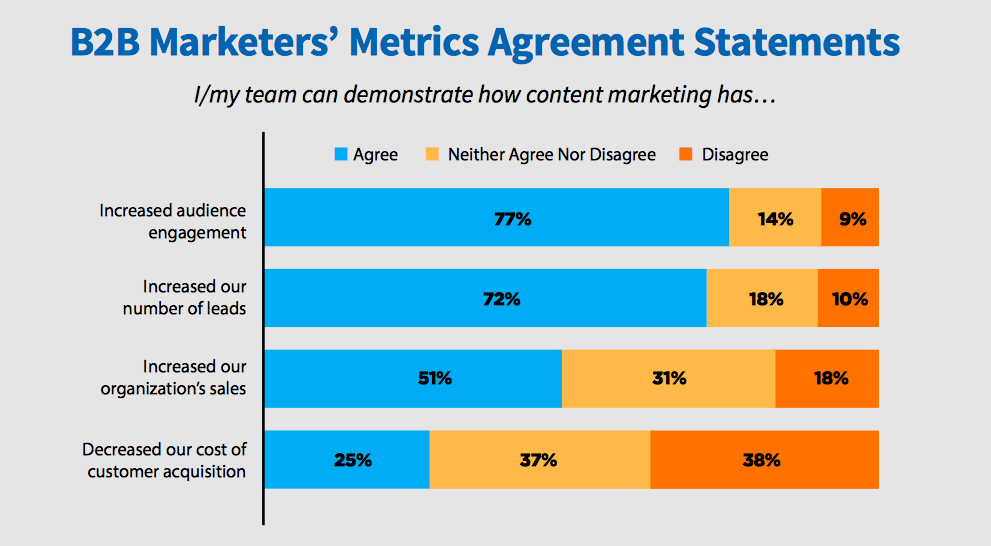 After presenting the generic figures and statistics, back up your research with case studies and examples from other companies and brands.
Developing an Effective Marketing Strategy
After demonstrating the effectiveness of content marketing in general, and the success that others have seen, it's time to set out your own strategy complete with measurable goals and a timeline for achieving them.
Your content marketing strategy is your business case for investment, so it's vital to put work into it and build a compelling case.
65% of the most successful B2B content marketers have a documented strategy, compared to only 14% of those who are not as successful. If you don't have a carefully considered strategy, C-suite has little reason to invest in your plans.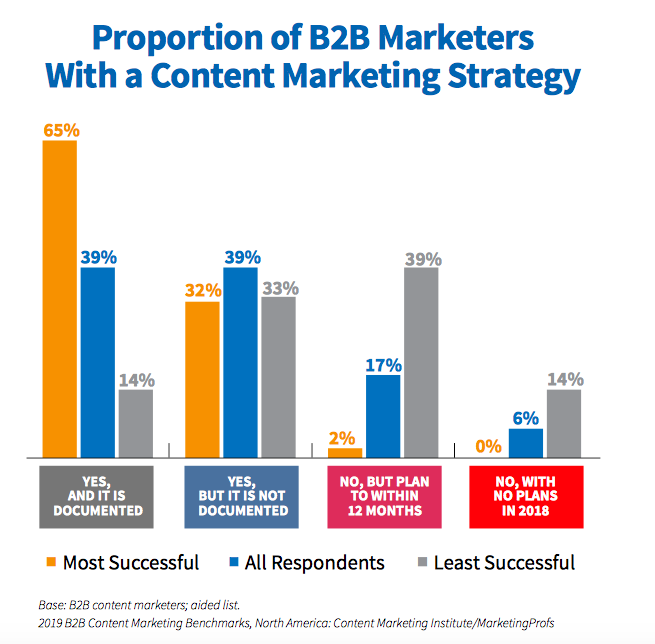 Your content marketing strategy should include:
With a detailed strategy, your proposal should be difficult to refuse. However, there is one final step to achieving total executive buy-in.
Launch a Pilot Content Marketing Plan to Demonstrate Short-Term Success
The most significant benefits of content marketing may not be seen for quite some time in the future, but you can still set achievable short-term goals to give a taster of what's to come.
Kickstart your content marketing strategy with a pilot plan over a limited time period such as six months. Agree on a budget for your pilot, set clear goals, and make sure to measure and analyze your results regularly so you can report back to senior management.
Showing short-term gains such as an increase in website traffic or more mentions on social media can help to give your management team a preview of what may be possible over a longer timescale with more resources.
If you are ready to get more traffic to your site with quality content that's consistently published, check out our Content Builder Service. Set up a quick consultation, and I'll send you a free PDF version of my books. Get started today and generate more traffic and leads for your business.