How to Interpret Web Engagement Data to Elevate Your Website
Your website is a mission-critical marketing and engagement tool for your organization, whether you're a large nonprofit seeking support for cancer research or a small retail business. This is where you create content that is useful to your target audience, house important tools that your customers or supporters can leverage, and more. And as you've likely invested a lot of time, effort, and money into the creation of your website, you want to make sure you're getting the most mileage possible out of it.
But how do you know if your website is doing its job? How can you tell that it's capturing people's interest and converting visitors to your brand? You might be able to count individual sales or add up donations made on your online giving page, but what if you want to dig deeper?
Enter: web engagement data. Web engagement data can tell your organization how your target audience is interacting with your website and engaging with the information and resources on it. You can measure and track web engagement data using a tool like Google Analytics, or your website platform may offer built-in analytics.
But more important than how you measure your engagement on your website is how well you interpret your data and use it to your organization's advantage. To help you get started, we'll walk through three key web engagement metrics and how to interpret them to elevate your website's performance:
Traffic Sources
Bounce Rate
Conversion Rates
Once you know what you're looking at when reviewing your website engagement data, you can make a game plan for how to better optimize your website. These tips can help whether you're fine-tuning your website for search engine performance or tinkering with your eCommerce store to improve the user experience.
Ready to tap into the power of engagement data? Let's go!
1. Traffic Sources
What are traffic sources?
This web engagement metric tells you where people are coming from to get to your website. There are six typical sources of web traffic:
Direct traffic, which refers to the site visitors who type your website URL directly into their browser or click a bookmark.
Organic search traffic, which is the visitors that click into your site from search engines like Google, but not through paid ads.
Paid search traffic, which is the visitors that click on a paid-for ad placed on a search engine for a specific search term.
Referral traffic, which refers to the visitors who arrive on your site through a link on another website.
Email traffic, which is the visitors who click on a link to your website in an email.
Social traffic, which refers to visitors who arrive on your website after clicking a link in a social media post or bio.
Research shows that most website traffic comes from organic search, meaning that the majority of people who visit your site will type something into Google and click on your website link because it looks like it might match what they're looking for.
How do I interpret traffic sources?
Once you start collecting information about how your website visitors are getting to your site, you can think more strategically about the best ways to increase traffic from those sources. Check out these potential examples of using this information to your advantage:
You observe that most visitors to your nonprofit's donation page are coming from Instagram. Knowing this, you decide to include more donation appeals in your Instagram posts and stories.
If you notice that most of your website's traffic is coming from organic search, you might make the flow of traffic more airtight by optimizing your most important pages for specific keywords relevant to your organization and its offerings.
Perhaps paid search traffic is your nonprofit's most prominent website traffic source. Knowing this, you might apply for the Google Ad Grant, which, according to Cornershop Creative, can help you connect with the people who want to be a part of your work but wouldn't otherwise ever know that your organization is out there.
Of course, just because you're working to increase traffic from one source doesn't mean you should give up on other sources! That would be like putting all of your eggs in one basket. Instead, spread out your efforts so that you're still generating traffic from a variety of sources, even if you're focusing more heavily on one main channel for a time.
2. Bounce Rate
What is bounce rate?
Bounce rate is a pretty simple website engagement metric. It tells you the percentage of site visitors who land on one of your web pages and then leave, or "bounce." In other words, bounce rate is the percentage of visitors who don't take a deeper dive into your website, instead only looking at one page.
Semrush provides the following information about what constitutes a good bounce rate: "A bounce rate of 56% to 70% is on the high side, although there could be a good reason for this, and 41% to 55% would be considered an average bounce rate. An optimal bounce rate would be in the 26% to 40% range."
How do I interpret bounce rate?
If you notice your bounce rate is in the higher range noted above, you should work to decrease it. After all, a high bounce rate means people aren't fully engaging with your site. Here are a few tips to catch your audience's attention and keep them looking through your site:
Create high-quality content. Your web content should make people want more. With written content especially, you should work to create content that is easy and entertaining to read. Tap into the humanizing element of content creation by leveraging your brand voice and always having empathy for your audience.
Make sure your website provides a great user experience on mobile devices. Have you ever had to "pinch-and-zoom" to look at a website on your phone or tablet? It can be a frustrating experience, especially when it's difficult to tap buttons or exit out of improperly-sized pop-ups. Ensure your website is ready for visitors using any device so that they can explore your content even when they're on-the-go.
Optimize for accessibility. To make sure that your website is meeting web accessibility standards, ensure that all of your written content has clear heading hierarchy that can help visitors who are navigating using screen readers. You should also include alt text on images and captioning or transcripts for multimedia elements. You can even add an accessibility widget to your website, empowering visitors to take actions like changing site coloring to grayscale or adjusting fonts to be more readable.
One last note on bounce rate: If your bounce rate on a particular page seems a little high, don't panic! Do a little digging to understand the context first. If your nonprofit's blog has a high bounce rate, it might be because you haven't posted in a while. Or, if your "Events" page has a high bounce rate, it might be because people are only looking for last-minute information ahead of the day of a big event. The context for high bounce rates will show you how concerned you should be about reducing the rate for individual pages.
3. Conversion Rate
What is conversion rate?
Conversion rate tells you what percentage of website visitors have completed a desired action. You can think of conversion rate as the percentage of website visitors that turn into customers or supporters of your brand or mission.
The desired action that your visitors complete could take a variety of forms. Here are a few examples:
Downloading a whitepaper
Making a donation
Purchasing a product or service
Filling out a contact form or demo request
Signing up for an email newsletter
Sharing a blog post to social media
Of course, you want your conversion rates to be as high as possible, but this is where it gets a little subjective. Conversion rate will differ based on everything from visitors' location and the year to what specific action you're looking at. However, general site-wide conversion rates will land between 2% and 5%, whereas action pages like donation pages usually have a conversion rate around 21%.
How do I interpret conversion rate?
Your conversion rate tells you if your action pages or even basic calls-to-action (CTAs) are accomplishing what you want them to. Once you've been tracking conversions for your highest-priority action pages for a while, you'll have a good sense of your page's typical performance, which can give you a starting point as you try to improve it.
To improve conversion rate on your action pages, make sure your written content is strong. For example, if you have written out CTAs, are they engaging? Do they actually make people feel compelled to act?
You should also optimize any forms that you're using to complete conversions. Make them easy to use, with minimal steps for the user and a cohesive, secure experience that will provide them peace of mind (especially if they're making a purchase or donation).
Here's an example of a nonprofit donation form that has a strong design: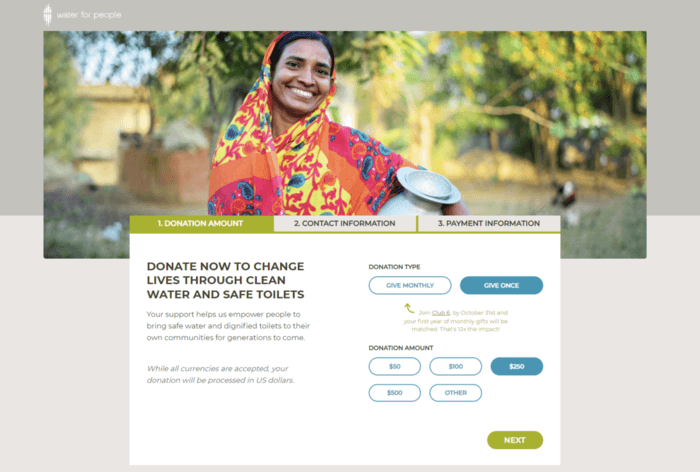 Water for People's donation form has a sleek visual design that's easy for donors to navigate. It's also user-friendly with easily-clickable buttons, making the donation process simple and convenient. Both of these characteristics make this form ideal for helping increase this organization's donation page conversion rate!
If you have a new version of an action page that you want to try out but aren't sure if it's ready yet for your website's audience, consider doing an informal A/B test. Have one group of employees at your organization use the old version of the page and another group of employees use the new version. Then, ask both groups to report back on their experience. You can then use their suggestions to strengthen your new action pages before pushing them live, giving you a better chance of raising your conversion rate right off the bat.
Understanding and being able to interpret web engagement data is the key to milking all the value you can out of your organization's website. As you continue to familiarize yourself with the three metrics we've covered here (and measure and improve them on your own website), don't be afraid to learn about and measure others, like pageviews or session duration.
The more information you're gathering about your website's performance, the better! Remember to always dig deeper to understand the context for the numbers you're seeing. Then, make intentional improvements to your website that will more fully engage your target audience when they find you online. You've got this!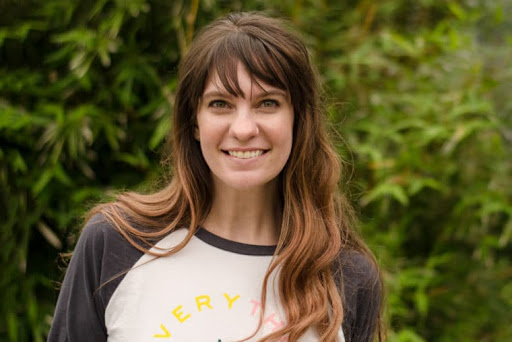 Sarah Fargusson – Director of Digital Strategy at Cornershop Creative
Self-described as a "non-profit junkie," Sarah has dedicated her career to serving the needs of the non-profit sector. Her project management experience spans a variety of non-profit management disciplines including strategic planning, community engagement, capacity building, fundraising and research. She has worked both in and for the non-profit sector at the Feminist Majority Foundation, the Sadie Nash Leadership Project, and the consulting firms The Lee Institute and The Curtis Group. With her ever expanding non-profit tool belt, Sarah joined Cornershop Creative to tap into her techie, creative side, while developing meaningful partnerships with her clients to help them more effectively achieve their goals.
Get a Free Consultation
for Content Marketing