As an email marketer, it's your job to recognize and pay attention to the needs of your subscribers. When someone signs up for your email list, it's because they expect to get something worthwhile in return from you. To succeed in email marketing, you have to live up to the promises you make to your subscribers.
Crafting the right email for your subscribers is very important. Without a solid strategy in place, you risk sending emails to your subscribers that don't meet the mark. In order to create more effective and relevant emails and a better overall experience for the subscribers on your list, you need to bridge the gap between what you want to achieve as a marketer, and what your subscribers are hoping to receive from you.
Here are the 6 questions you should consider when crafting and sending emails to subscribers:
1. Is the reply-to email validated?
Picture this scenario: your email has a "from name" and a neat subject line. But for some reason, it's not getting the open rate you expected it to get. Can you guess why? The problem may lie in the reply email address that you have listed. These days, in order to succeed with email marketing, you need to invest in personalization whenever possible. That means using first names in subject lines and the body of the email, segmenting your list, and using an email address from an actual human being as your reply email in the campaigns you send.
Imagine you are the customer. You receive an email from the brand you have subscribed to. The content makes you want to reply or ask a question. You click on reply-to, type in your email and send. As you wait by for days expecting an answer, the email has been sent to a no-reply email address. Because of this experience, you're led to believe that the brand is not customer friendly, and you unsubscribe from the list.
In this example, the reply email address you chose to use as a business left a bad taste in the mouth of your subscriber. Instead of using email marketing as an opportunity to nurture a relationship, your email has led to an increase in unsubscribes. .
How do you handle this situation?
If you don't want to receive emails on the 'from address", create an "[email protected]" email address, which is quite common. Use it in place of the no-reply addresses, and send your emails.
When your subscribers can see that your reply email address is functional or comes from an actual person, they are much more likely to reply to your emails. Worried about managing the engagement that you'll get from using a real email address as opposed to a no-reply email address? You can set an autoresponder to the emails received, which gives you some time to see the email and respond with the actual answer.
2. What's the opening line?
89% of marketers say that email is their primary channel for lead generation. With this in mind, it's vital that you send email campaigns that your subscribers actually want to open.
Subject lines play a significant role in whether or not a subscriber will open an email.
Not convinced? Consider this:
35% of email recipients open email based on subject line alone.
So as a marketer, the question you need to ask yourself is this: how can you write subject lines that drive action and persuade your subscribers to actually open the emails you send?
As it turns out, personalization is key.
Subject lines personalized with recipient's first name, can lift open rates by 20%!
Saying thanks can also help.
If you use the words 'thank you' in your email subject lines, engagement can skyrocket to 62%.
Adding emojis to your subject line can also increase the open rates for your email. With emojis, you can to say more with fewer characters.
3. Have you segmented the list yet?
To boost the effectiveness of your campaign, you should also consider taking the time to segment your list.
Your business caters to different audience types who are dwelling in various lifecycle stages. As a result, the kind of content they expect can differ. If you blast the same email to your entire list, you risk sending emails to people that aren't relevant, which can lead to an increase in unsubscribes. This is why you should segment your audience according to their preferences.
Consider this:
51% of marketers say that email list segmentation is the most effective personalization tactics (Source: Ascend2).
There are various benefits associated with segmentation of email lists — Campaign Monitor reported an up to 760% increase in email revenue from segmented campaigns.
So how can you get started with segmentation? Kick things off by choosing to segment your list based on demographics or audience behaviour. At the end of the day, you can find success by ensuring your segmentation strategy is in line with the needs, expectations, and desires of your audience.
4. Have you included the CTA?
An email is incomplete without a call-to-action. If your audience is not compelled to take any action, you may not be able to achieve your marketing goals.
There are a lot of factors that can make a CTA ineffective in an email campaign. Sometimes the button is too small or, the color is off-putting. In some cases, instead of being led to the discounts page, the subscriber mistakenly reaches the home or main page of the website. This can irk your subscriber, and drive them to engage less with the campaigns you send to them in the future.
Here are tips to create the perfect CTA for your email:
Keep it as precise, clear and straightforward as possible
Use action words to compel the audience to click on it
Use colors that ensure the CTA button stands out
Reduce friction or confusion by only including one CTA in your email (emails with a single CTA have shown to increase clicks 371% and sales 1617%)
5. When are you sending your emails?
Reaching out to the customer at the right time is crucial for the success of your email campaign. If you send an email when your subscribers are sleeping, you might lose out on a possible conversion. That's why you need to identify the right time and day to send your emails.
You might have come across studies that report things like that the best day and time to send out an email is Tuesday at 10 am.  While this time of day and day of the week does tend to be effective for a lot of business and brands, it's important to consider your specific audience and situation when deciding when to send out your campaigns.
It's also worth noting that the best time to send emails can differ depending on whether you're operating as a B2C or B2C business.
The image below gives the best time and day to email B2B and B2C subscribers: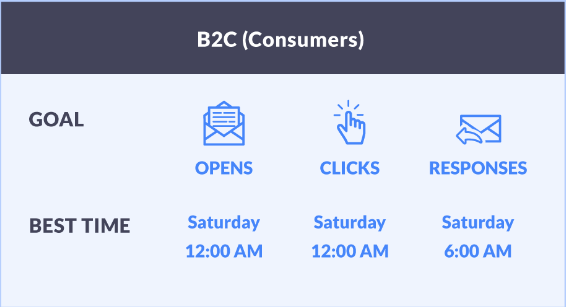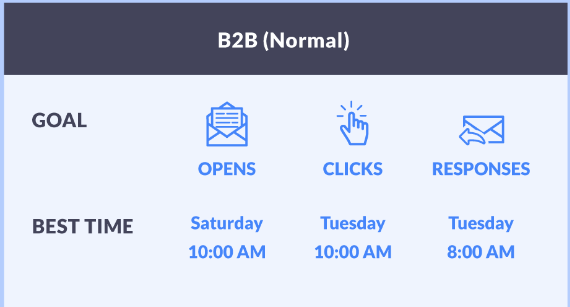 Source: Propeller
Here are a few tips to help you identify the time and day best suited to your audience:
Analyze the send and open rate data for your emails for a period of six months
Check the times and days for the following:

When subscribers opened the email
When subscribers clicked on the links in the email
When subscribers responded to the emails

Does your segmented list open the emails during holidays and weekends? What motivates them to click on your emails during these days?
With the answers to these questions, you should be able to determine the perfect send time and day for your subscriber list.
6. Have you personalized your emails?
Consider this fact about personalization in marketing:
60% of marketers struggle to personalize content in real-time, yet 77% believe real-time personalization is crucial.
You have already segmented the email list; you should now send content that you believe will prove to be useful to each individual on your list. If the email content you send is relevant, you'll have a much better chance driving more conversions for your business.
To send relevant emails, you need to invest in personalization. Here's why:
Personalized messages based on behavior are 3x better than batch and blast.
Wrapping up
If you don't give the subscriber what they are looking for at the right time, you might just lose out on a possible conversion.
As a marketer, you need to have a firm understanding of what each of your subscribers are looking for, and why they have subscribed to your email list. All this information will help put you on the right path toward building more effective email campaigns for your business, or even knowing how to use new tools, automation, and AI in email marketing.
How do you stay relevant to your subscribers? Share your ideas in the comments section below.
The post How to Make Your Emails More Relevant and Effective appeared first on the Sellbrite blog.