CMOs and marketing managers today have tough choices to make when it comes to deciding which tools to use to improve customer experience.
In 2018, there are an unprecedented number of techniques to take advantage of, from augmented reality mobile apps, to mind blowing experiential marketing with tools like 3D projection mapping and even a little VR.
Combined with the ability to make your marketing channels incredibly sophisticated thanks to the customer and market insights offered by the current caliber of marketing platforms, from AI-driven marketing automation to specialized personalization, inbound marketing, and customer retention software, and you could say we've reached modern marketing nirvana.
Or, the descent into chaos, depending on the way you look at it.
Customer experience has been a rising priority for marketers for a few years now, being named the most pressing mandate for marketers in 2014, and the driving force behind innovation spending in 2015.
By 2020, it is predicted that CX will take over price and product as key brand differentiators. Which means, a good customer experience will drive purchase decisions more than anything else.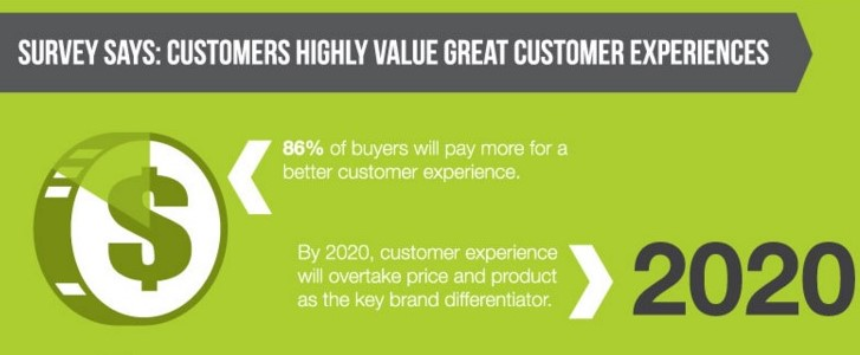 But, there's a problem.
So far, marketers have been going full steam ahead, pressured by C-suite, high customer expectations, and the daunting selection of new innovations and tech tools, to adopt and master more channels in order to reach more customers and to create a more sophisticated multi-channel explosion. I mean experience.
When do we realize we've hit the point of over-saturation? How much is too much? In 2018, the cultural zeitgeist is shifting towards the compact and minimal in everything from lifestyle to home building. It's the backlash from too much screen time, always being plugged in, and the personal device addiction.
As a result, more people are unplugging, embracing minimalism, and decluttering their life.
Where does that leave gamification and bi-weekly vlogs? Robust email marketing campaigns, live streaming videos and Facebook contests?
There will always be room for trying out different marketing techniques to establish the most effective marketing channels for engaging with your audience. There will always be value in innovation, and creative application of new marketing tactics. However, right now, taking a less is more approach to the customer experience may be the best thing you can do for your marketing strategy in 2018.
Less Overwhelming Is In
If your customers are simplifying and downsizing their lives, would your marketing messaging come off as more appealing if it was presented in a cleaner, simpler box?
The week Cal Newport's article on deplugging was published, it was the most popular read on Instapaper. The author of Deep Work wrote, "It (digital minimalism) is motivated by the belief that intentionally and aggressively clearing away low-value digital noise, and optimizing your use of the tools that really matter, can significantly improve your life."
One of the tenets of good marketing is listening to society's trends in order to keep brand messaging one step ahead of cultural shifts. Taking a more scaled back approach, rather than trying to do more with a multi-multi-channel CX, may be more appealing to your audience.
This can be done through simplifying your brand's digital presence:
Giving your digital assets – website, any apps, social media profiles – a minimalist makeover.
Editing the messaging on your landing pages for complexity – making unique value propositions front and center (and concise), and get right to the point with CTAs.
Giving your content a cleaner aesthetic by making sure every element, from images to video to text, has a purpose.
Evaluating your channels – are you using too many? You don't need five social profiles, a blog, vlog, podcast to reach your customers. You need to publish content that matters to your audience. That's it.
My good friend Joe Pulizzi, founder of the Content Marketing Institute, discussed the dangers of over saturation at a conference last year, saying, "Somewhere along the line, we marketers became infatuated with the tools and less concerned about what we put inside them. This, my friends, has got to change."
Customer Experience Requires an Authentic Relationship
Creating a more minimalist – and purposeful – customer experience can also be approached through paying more attention to your brand's voice. Because we can learn so much about our customers with our massive data sets, marketers have been able to create more personalized marketing messaging with segmenting and really dynamic buyer personas.
But, marketing is a relationship. This means focusing on not just the customer persona but the brand persona is also essential. This is the brand story – why does it exist, what are your organization's goals? What role does it play in society and how does it impact its customers? These answers should be clear in the way your marketing speaks to your audience. It's the tone of voice, the words chosen, the focus of your content. Even how your brand reacts to customer challenges, business challenges and society's challenges.
The power in identifying and using a more streamlined brand persona, is that what you are doing is better differentiating your brand. In an age of information overload, a generic perception is every marketer's worst enemy.
Less Excess Can Empower Your Essential Content
What happens when you have to spend less money on that dynamic influencer campaign and you are no longer worried about paying for a massive library of video content to bombard your target audience with?
You have more marketing budget left. What happens when you direct that budget towards fewer, but higher quality content pieces?
For example, instead of creating 20 marketing videos a month to keep your social media channels active and your brand relevant, what if you created 2 really amazing videos that are more likely to go viral. Better quality video, better quality content. Or what if you put the same time and financial resources into creating a 3–part instructional video series, which would help your customers learn how to achieve their goals, while also marking your brand as an industry thought leader?
Quality has always been important. It's going to become increasingly so over the next few years as marketers have to work even harder to differentiate their content and convince consumers that there is value in entering the brand-customer relationship.
Through laser focusing on the channels that get you the biggest impact and that resonate with your customers the most, such as the live event you host every September that your customers love, or the well-researched white papers you make available twice a year, you can put more money, time, and creative energy into making the channels that matter, even better.
2018 doesn't have to be the year you adopt every new marketing innovation. That's not what will give your customers the best experience. Pay attention to what people are begging for – it's space and simplicity. That doesn't mean your customers want to be ignored, far from it. But they want to focus on what matters, so make your brand fit into their idea of what's essential.