CMOs have a lot to wrangle within the next two years. Facilitating transformation initiatives – which entails guiding and empowering teams. And, continuing to push for a better alignment of marketing with overall business strategy.
Within this matrix of monumental tasks, exists one central, gleaming thread that global CMOs will need to follow if they want to differentiate their brands from the competition and achieve growth. It is the shift to customer-centric marketing.
According to the new 2017 Global CMO Study by Sirius Decisions, it is customer experiences, aligning with customer needs and a focus on acquiring new customers that will dominate marketing strategy for the next two years.
16 percent more CMOs rank customer experience as the top priority in 2017 than was the case last year
24.2 percent ranked new buyers as the number one growth strategy, another big change from 2016, which saw new markets as the foundational growth strategy
One of the biggest reported challenges to implementing these priorities? Developing content that satisfies buyer needs.
This isn't just a trend for CMOs for the next few years. This is a paradigm shift that will continue to evolve the landscape of marketing so that in five or six years, we won't even be using words like customer-centric and audience-centric. Customer-centricity will be a given rather than an option. The idea of developing a marketing strategy based on product offerings isn't going to fit in this new landscape.
What Does 'More' Customer-Centric Look Like?
The customer-centric marketing model is nothing new. Nor is it surprising that it is so effective at engaging customers and driving growth – what customer wouldn't enjoy getting more from the brands they engage with, and as a result, gravitating towards those brands? Customer-focused companies are known to be 60 percent more profitable than those that aren't.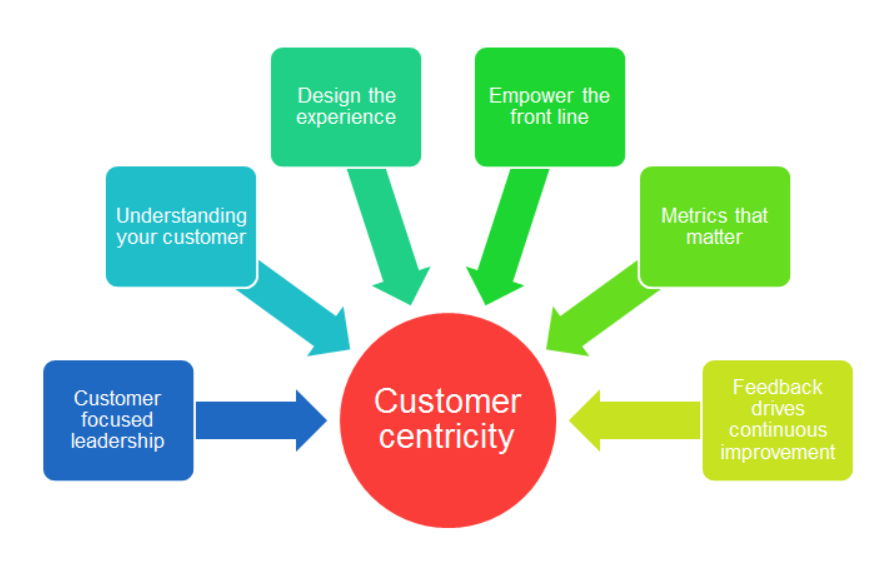 Think about it, today we take for granted the information we get from our CRM and the ease with which we can connect with our target markets via multiple platforms. Segmented email campaigns, user-generated social media content, brand ambassadors who truly want to be a part of our brand communities and invite others onboard.
These things weren't part of mainstream modern marketing until recently.
CMOs putting a priority on being more customer-focused is part of the shift that the industry is going through. With better marketing technology and the insights gained from digital empowerment, marketers can do more. This priority shift is the part in the process where the customer focus, and subsequent experience, gets more dynamic. Where before, the strategy was to offer content in a couple places to attract and maintain interest, such as a blog and email newsletter, now the strategy is to provide content at every touch point – and it has to be content with character.
What's the CMO Plan for Greater Customer-Centricity?
CMOs have a few tricks planned for the next couple years to make this happen. When SiriusDecisions asked global CMOs what marketing trends they plan on using, here's what they said: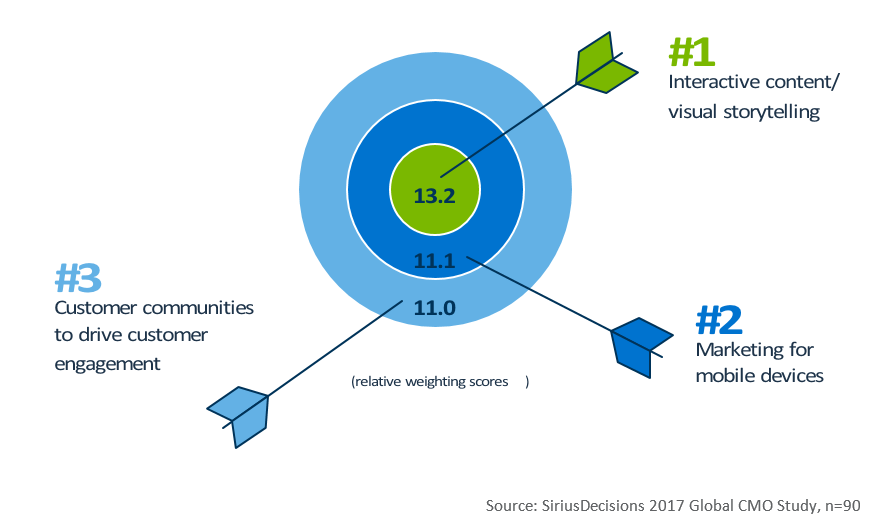 1. Interactive content – Preferably the tech-driven, augmented reality, 360-degree video kind.
2. Visual storytelling – There are two choices for CMOs going forward. Marketing teams with resource-packed in-house video production teams or working relationships with a video production agency. Video and other types of visual content are playing a bigger role, but they are also getting more imaginative, futuristic and high-tech.
3. Mobile marketing – This isn't just mobile-responsive websites. It also encompasses dealing with the consumer shift to smaller mobile: smartwatches. This will change the way we engage with customers at different touch points. We'll have to adopt SEO strategies that are better aligned with voice search and start veering towards better quality audio content.
4. Customer communities – This is a big one. It is being able to invite customers into an experience – a brand 'world.' It will include everything from more sophisticated online forums and content libraries to more social media interaction and in-person events.
What Are the Main Challenges CMOs Will Have to Deal With?
If there weren't any obstacles to achieving customer-centricity, the role of the CMO or marketing manager wouldn't be any fun. The biggest barriers cited by global CMOs are insufficient organizational readiness and not enough data.
Of the 300 B2B marketing leaders surveyed, 79 percent did say their organizations are somewhat empowering regarding culture transformation. Somewhat is, however, not enough for dealing with the challenge of poor processes and the need for skills training and professional development. Marketing teams may also need new roles created to offer content that isn't just strategic, but brilliant, such as more creatives and expert content producers. That is what will give brands a competitive edge.
Most marketing leaders do not have an established role to identify B2B marketing competencies and to create the solutions for lack of skills and training. What does the typical global brand spend on upskilling their marketers? 67 percent only spend $1,500 a year, or less.
A lack of data was also cited as a major challenge for being able to create the type of customer experiences that many consumers are coming to expect. There are plenty of metrics being used and analyzed today, cost per lead, web traffic, net promoter score, lead quality score, social engagement. But, they aren't insightful enough.
Part of this dilemma is the fact that metrics can only offer so much accurate information about individual customers. Too many numbers will likely drive marketers away from the goal of better understanding human beings. The other side of this issue is that more sophisticated metrics and analysis are necessary to convince C-suite to jump on board with marketing campaigns.
Marketers will have to work with what they have while software providers create more sophisticated resources to make it easier to gain a better understanding and make well-informed decisions. Using an agile approach, which makes room for fast adjustments as decisions work or fail, is one of the best ways to gradually keep improving the customer-centric strategy, edging ever closer to customer experience nirvana. Which, perhaps, is something we shouldn't expect to attain in the first place. Maybe focusing on the process, rather than an unattainable end, is the most fruitful growth strategy of all.