Compelling content sells. That's great for those marketing for the so-called sexy industries like food, travel and leisure, and skydiving.
For insurance brokerages, accounting firms, and plumbing repair services, getting people excited about your brand isn't as simple. Yet, with creativity and some thinking outside-of-the-box, you can make any industry interesting, engaging, and worthy of being shared on your audience's social media sites.
With the unstoppable power of inbound marketing today, you have to be able to come up with riveting content in order to get people interested in your blog and talking about your brand. Otherwise, there's no way you'll stand out from the competition.
What will make your visitors share your content?
In a survey of random internet users, when asked what drives them to share, the number one response is to entertain. There's your answer – produce content that is entertaining. While 44% of survey participants listed entertainment, another 25% share to educate their social media friends and followers. 20% share content to express their identity. And, another 10% want to show support for a cause.
So if you want to build up awareness of your brand through your website and get people interested, talking, and buying, you'll need to put on a good show.
Here are the essential tips to get your compelling content marketing started.
Have an Exciting Storyline
How do you feel about the industry you are marketing for? If you believe it's lackluster, then that is going to come through with your marketing, leading to dry-as-a-bone campaigns that no one wants to pay attention to. The first step to creating content that others will love is to shift your own perceptions.
You have to know why and how your 'dull' industry is important if you are going to convince others that it is worth their time.
Here's a set of questions to ask yourself to get those inspiring juices flowing.
If your product or service was a hero – what would be its heroic tale? For example, a plumbing company saves homes from water damage – and customers from serious financial destruction. Home insurance swallows risk for breakfast, so customers can live with peace of mind.
What would life be like without your brand's product? Where in the world would we all be if locksmiths didn't exist? One word: out-in-the-cold. No waste management services? Swimming in germ-infested, putrid garbage. Yuck.
How has your brand evolved in order to become the hero? This is where you look at what sets your brand apart from others in the industry. It is the ability to change, transform, and become something more – the personal brand transformation. For example, a financial firm may have started to fill a gap in the local market, but has evolved in response to both company vision and client expectations to trail blaze with sustainable investment methods.
Think Local and Relevant
Marketing expert Joe Friedlein shared a great tip in a recent podcast on creating content that will go viral. When marketing for an air conditioning rental company, an industry dominated by spec sheets and who-cares comparisons, he suggested looking for a creative geographic angle in order to engage potential leads and to make the outreach process easier.
His team researched temperature control in the workplace throughout the UK, and came up with a really fun campaign – the 'thermostat wars'. They used their findings to get people interested in the office air conditioning rentals by demonstrating that thermostat control is a constant source of warfare in the workplace. It was humorous, engaging, and a relatable way to present a traditionally boring subject – who hasn't gotten into an argument at least once in their life about turning up/down the thermostat?
Use Entertainment to Entertain
Want to be entertaining? Then play around with popular culture in your next marketing campaign. This does take some degree of sophistication. You don't want to just throw in a few celebrity names or hitchhike with this summer's blockbuster to generate leads. The trick is to identify what your target audience is interested in and where popular culture intersects with your brand.
Arby's genius @Pharrell tweet is one of the best examples of masterful use of pop culture in marketing. It's brilliantly playful. It also doesn't feel forced. That means to use this tactic, you have to be able to recognize opportunities when they arise and use them quickly. Perfect for your social media marketing.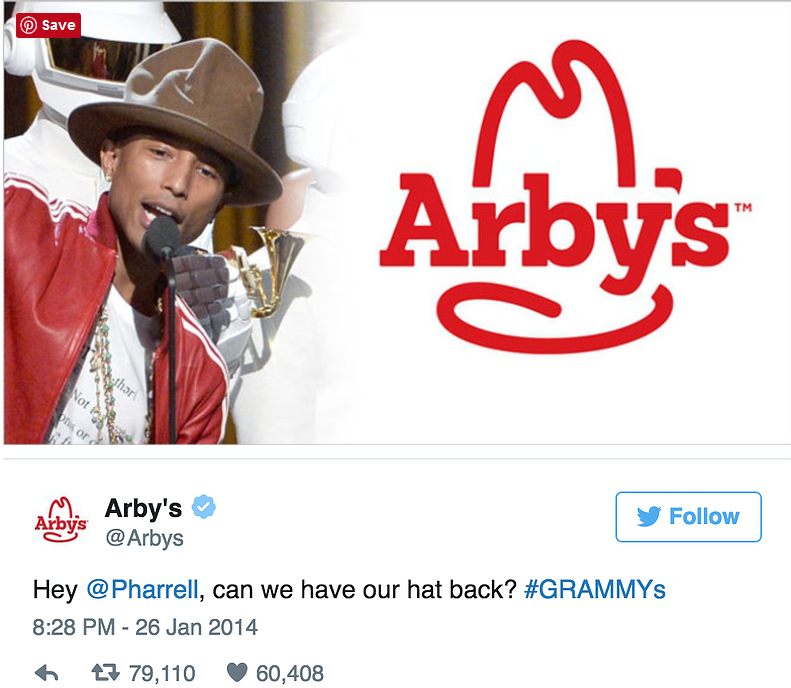 image source
Give Your Audience a Way to Interact
It doesn't matter how 'boring' your industry is. If you have a cool app that will help people to track something relatable to your market, an interactive video, or a game or contest, then you'll get the attention that you want. Of course, that attention will be short-lived if your interactive media doesn't strike a balance between entertaining and being truly useful for your audience.
A small, Texas-based oil and gas drilling company, Payson Petroleum, found a creative way to establish themselves as an industry leader to potential independent oil investors. They developed a branded app that doesn't just bridge potential investors with their brand, but with the entire industry, providing market updates, investment calculations and expert commodity predictions.
The app, which is regularly updated and comes with a professional look along with its wealth of insights, adheres well to the company's ethos – setting themselves apart by prioritizing 'transparency, honesty, and integrity'. Their stated focus is in building relationships with their clients. Unlike countless other brands that make this claim, Payson Petroleum has delivered on their promise with an app. Nice touch for a traditionally unremarkable industry.
Think Outside Your Industry
And finally, get out of your brand's box. Just because you are marketing for a laundry detergent, doesn't mean you just have to talk about laundry. Spread your net over the entire home lifestyle industry, covering topics ranging from interior decorating to fashion and always tying back to keeping your laundry, from throw pillows to evening wear, sparkling clean.
You can expand your topics, yet still be useful to your audience with any seemingly bland industry, such as wellness topics for life insurance, productivity and career advice for office supplies. Marketing with tributary topics also gives your brand a way to express more character through the visually appealing, educational, value-driven content on your blog.
Make it informative as well as fun to digest and imbue with plenty of personality to help your audience define their own, and you have the winning formula for creating engaging, totally share-worthy content, even if you are marketing for a sewage company.
Image Credit: Pixabay