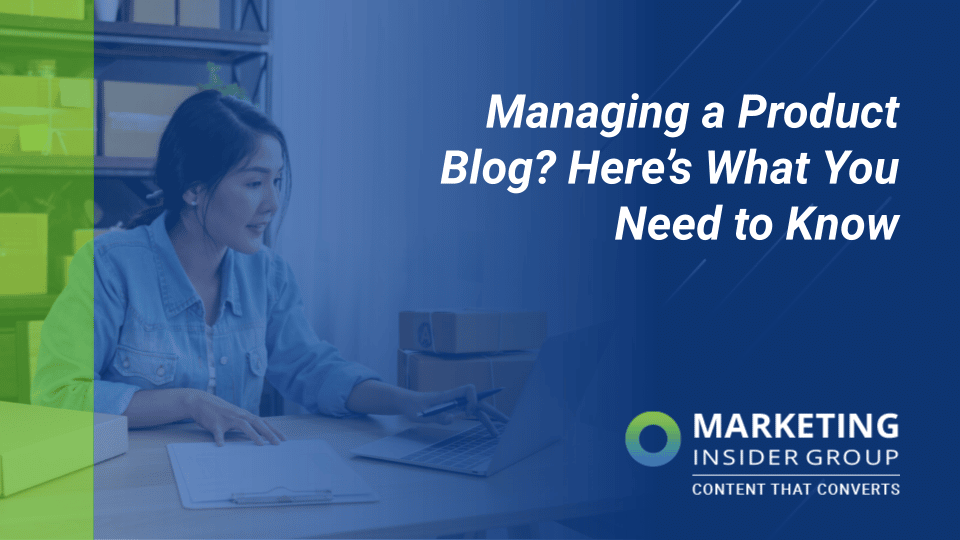 Managing a Product Blog? Here's What You Need to Know
Managing a product blog is a unique challenge for marketers. After all, the product is the focus, but we know better than to simply promote it in every blog article.
Buyers today see right through advertising messages in most cases. They want authenticity — and they want to know exactly how your product will be valuable to them in real life.
So how do you meet the challenge? How do you use your product blog to support sales without actually, well — selling?
It requires a balanced approach for sure, and it's different for every brand. To help you get started, we'll dive deeper into product blogging best practices in the sections that follow. Then, we'll go through a list of 6 awesome product blog examples to get you feeling inspired!
Quick Takeaways
Product blogs publish content with product offerings as the central focus.
Product blog content supports sales by creatively demonstrating value to the customer.
Visual content can help readers envision your products in their own lives.
Emotion-evoking content makes readers feel connected to your products (and more likely to make a purchase).
Educational content about industry topics establishes expertise and provides high value to readers.
Product blog articles that showcase real-world use cases of your product build trust with your audience.
What is a product blog?
A product blog is built around a product (or products) as the central focus. Topics, titles, and blog posts all relate back to the products a brand is trying to sell to their customers.
Brands use product blogs to demonstrate how their products can make the reader's life better — how they add value. Blog content resonates much more authentically with modern consumers than ads or promotional messages, so product blogs are an effective way to build a better connection with potential customers.
Through storytelling and other creative approaches to product blog articles, brands can help consumers envision using the products they sell in their own lives (and likely decide to make a purchase).
Managing a Product Blog: How to Strike the Right Balance
While product blogs aren't the vehicle for making a hard sell, their purpose is ultimately to help increase sales of a product.
They can include things like links to and photos of products, mentions of products throughout the articles, customer testimonials and more. How can brands incorporate these components without making their blog too salesy?
It requires striking a balance for sure. The thing to keep in mind here is that product blogs don't just tell customers about products — they show them why a product is important. Identify the topics your audience is interested in, write about them, and find ways to incorporate products into the articles. Much of the time this will be by direct mention, but sometimes it's just by writing with your brand voice consistently in your articles.
Let's consider a simple example. Say I'm selling apples. I have a product blog all about my apples. My goal is to make people want to buy more of them. It would not benefit me to write article after article talking about all the things that make my apples so great.
What would be better is to come up with apple-related topics my audience would care about, then incorporate my apples naturally throughout those articles. So, some article titles might be "10 Health Benefits of Eating an Apple a Day" or "Apple Recipes You Need to Try this Autumn" (you get the picture).
Throughout those articles, I could link to product pages, add photos of my apples as examples, and strategically place customer testimonials where my reader would notice them. Now, I'm building a connection with my readers by helping them in ways beyond selling my apples (like sharing health benefits and recipes) while also keeping my apples in their minds.
Okay — enough about my (hypothetical) apples. Let's look at 6 real product blogs to see how these brands are hitting the mark (and get some inspiration for your own).
6 Examples of Great Product Blogs
Etsy Journal
Image Source: Etsy
Etsy is a well-known ecommerce platform where vendors sell handmade and vintage goods as well as craft supplies. Etsy's blog, called Etsy Journal, has become a popular destination for lovers of their site as it does a great job of showcasing top products and recommending ways to use them.
Etsy has more than 60 million products being sold on its platform at any given time. To feature as many as possible, they create tons of list posts that recommend products for various occasions (holiday gifts, seasonal vacation gear, home decor, and more). Their list posts succeed because they're timely and aesthetically pleasing (it's hard to resist products shown using gorgeous photography in beautiful settings). They're also legitimately helpful to the reader (who hasn't needed gift ideas in a pinch?!).
The Etsy lesson: Publish list posts to share a lot of information in one, organized place on your product blog! They're easy to write, fun to read, and give your audience many ideas for how to use your products.
Adobe Blog
Image Source: Adobe
Adobe may be a software company, but they've managed to make their blog a fun and creative space for readers with all kinds of interests. A quick browse through the Adobe Blog homepage shows articles written for designers and other creatives, music fans, corporates, healthcare professionals and more.
Adobe's blog showcases how the brand powers convenience, digital transformation, and innovation across industries. It's packed with interesting articles about real-world use cases of Adobe products.
The Adobe lesson: Create niche content! Know your target audiences and include articles on your product blog that are hyper relevant for each. Showcase the diversity of your products by demonstrating how they're used differently by different customer segments.
Parently by BuyBuyBaby
Image Source: BuyBuyBaby
Parently is baby products retailer BuyBuyBaby's blog. The blog is full of parenting advice, tips, and of course product recommendations for parents. Topics include everything from what to bring on vacation to improving sleep to child safety to nursery decor and more. Every article mentions products that align with the topic being covered.
One thing Parently does really well is pull on the heartstrings of their audience — parents with new babies and young children. No matter the topic, Parently's articles feature products that will make life better for both parents and babies, and it's hard for a parent to resist that sales pitch (no matter how subtle).
The BuyBuyBaby Lesson: Evoke emotion on your product blog whenever possible. Nothing sells products more than an emotional connection to the benefit it can provide.
BARK Post by BarkBox
Image Source: BarkBox
BARK Post is the product blog by pet subscription box retailer BarkBox. It executes on some of the previous lessons we mentioned, like publishing lots of list posts and evoking emotion in their target audience: dog owners. BARK Post is known for its humorous and quirky content.
BarkBox also does an excellent job of providing educational content for dog owners. There's a lot people need to know about raising a happy and healthy pet. BARK Post covers everything from safe toys for chewers, to avoiding your dog getting lost, to nutritional foods and more. The blog demonstrates BarkBox's expertise and builds trust with their audience that makes them more likely to purchase products.
The BarkBox lesson: Educate your audience with product content. The more someone trusts your brand expertise, the more they'll want to make a purchase from you.
Dollar Shave Club
Image Source: Dollar Shave Club
Dollar Shave Club came onto the scene about 10 years ago. They disrupted the market with their sarcastic, laugh-out-loud commercials that poked fun at traditional marketing from razor brands. They've carried their edgy tone over to their product blog, where they openly cover topics people would usually save for a private Google (see: Dealing with Ear Hair).
When it comes to featuring products, Dollar Shave Club takes a very on-brand approach — they're direct about it, and even poke fun at themselves, inserting "Shameless Plugs" that link to products on their site.
By calling themselves out for the plug, they eliminate natural feelings of resistance people feel when they recognize an indirect "sell." Instead, Dollar Shave Club's direct approach sends a message that says: yes, we are selling this product, but that's because you'll actually love it.
The Dollar Shave Club lesson: People appreciate authenticity. Don't shy away from being direct about selling your product when it makes sense.
Joybird
Image Source: Joybird
Joybird sells mid-century modern furniture. Their blog focuses on design, featuring articles about how to create spaces for your home that you'll love. They thread photos of Joybird furniture through every article, demonstrating how their products can bring your design vision to life.
Joybird does a great job of authentically incorporating their products into their blog, allowing them to sell themselves visually. It's easy to feel like the Joybird furniture you see in each photo is the best option for creating a sophisticated space of your own. As with Etsy, photography can't go unmentioned here, either — bright colors and beautiful aesthetics make you want to jump into every room you see on the blog.
The Joybird Lesson: Sell a lifestyle. Every article on Joybird's product blog invites you to not just buy their furniture, but use it to create a home and a lifestyle that will improve your life.
Over to You
Feeling inspired by these awesome product blogs? Give your own blog a boost with content that both showcases your products and resonates with your audience. The team at Marketing Insider Group can deliver you optimized, ready-to-publish content every single week for a year (or more).
Check out our SEO Blog Writing Service to learn more or schedule a quick consultation to get started.
Get a Free Consultation
for Content Marketing