Content marketing, when you peel away all the layers of techniques, trends, and possibilities, is a business opportunity. At its core, it's a tool businesses can use for growth.
Unlike other methods, there is something special that makes content marketing stand out as the golden boy of modern marketing.
It's sustainable.
When done well – with a strategy behind it and relevancy within each piece – it offers the benefit of exponential growth, building brand awareness and trust, winning over prospects and convincing leads, and endearing your customers, helping to build a loyal base of brand advocates.
Once you get your content marketing strategy going, it's that positive snowball effect in action. Your brand presence gets bigger and more impactful. It becomes easier to achieve your marketing goals with future content because you already have a foundation in place – a vast content library of written, visual, and experiential content, all designed to resonate with your target buyers.
This is in contrast to traditional marketing. Advertising, even with today's sophisticated digital ads, can create overexposure. Audiences become saturated with brand promotion that offers no genuine value to the people you're trying to build customer relationships with.
As I said a few years ago, content is, "the vehicle that can deliver us from the throes of the 'death by SPAM' illness that still persists in many marketing organizations."
It's the solution to the dwindling impact of traditional marketing techniques.
Take advantage of this business opportunity and you have a lot to gain.
The Business Advantage of Good Content Marketing
So, what exactly does a business have to gain from throwing their weight behind content marketing?
Increase in website traffic. Content marketing leaders see 7.8 times higher year-over-year growth in unique site traffic.
More leads. Content marketing garners 3 times as many leads as paid search for every dollar spent.
Thought leadership. Brands who offer relevant, useful content are viewed as thought leaders in their industry, which helps to build brand trust and authority.
Higher conversion rates. Organizations who use content marketing see 6 times higher conversion rates.
Leaner budget. According to DemandMetric, it costs 62 percent less to launch and maintain a content marketing campaign than any other type of campaign.
More attention on your brand. 20 percent of the time users are on the internet, they're consuming content.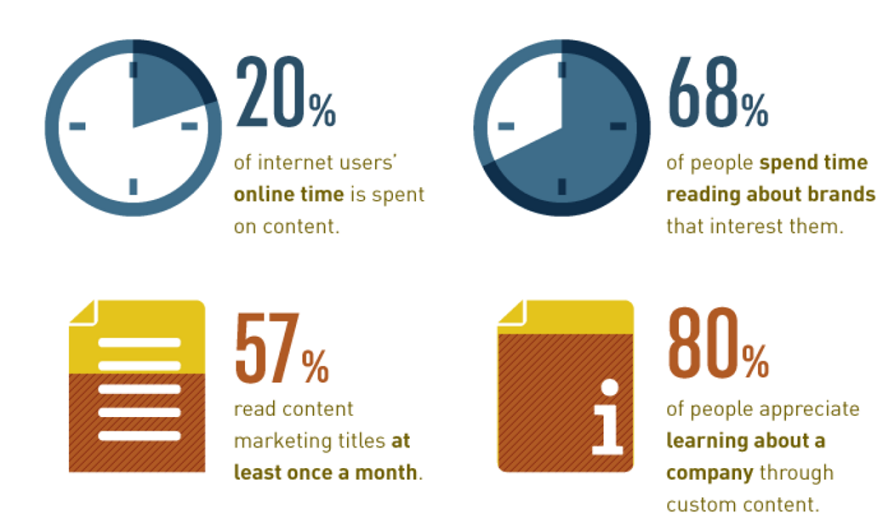 All of these advantages lead up to more sales, an increase in revenue, and more sustainable business growth. But, in order to get a competitive advantage from content marketing, you need to have a strategy. It's not just about pouring buckets of content out, on and offline. It's about using a holistic approach, using different content channels to support one another and maintaining a meaningful brand story throughout.
Take Demandbase for example. They managed $1 million in new business, not from tons and tons of content, but from a logical content bundle that included a white paper, infographic, webinar, live presentation and Slideshare. Logalis is another money-winning example. The business combined emails, a dedicated microsite and an ebook to launch a content marketing campaign aimed at building thought leadership. The result? Close to $8 million in new leads closed by their sales team.
What Content Marketing Isn't
It's important when using content marketing to understand what content marketing is, versus what it isn't.
What it is.
It's an opportunity for growth through offering quality content that offers value to target buyers. It requires a clearly defined audience and an ongoing analysis of how effective content is at reaching this audience.
It isn't is more 'stuff.'
Where a lot of brands go wrong with content is they fail to get the strategy part, unleashing content campaigns without the direction of where it should take the business to and an understanding for who the content is for.
Without strategy, you may end up with a promotional video, for example, that looks a lot more like a promo ad for your business than content. A promo video, as high-quality as the video production may be, isn't a piece of useful video content designed to resonate with a target group at a specific stage of the buyer's journey, and that is connected to the other content within your strategy.
Content marketing isn't just a business blog.
Content goes far beyond blog posts. It also goes far beyond the digital world. Content is information, but it can be delivered through myriad channels (video, graphics, live events, apps, social media posts, emails). What differentiates this information as content is that it is designed for a specific audience, for a specific purpose.
It's not meaningless.
Think about it. What problem does your Facebook ad solve? How has your company's last AdWords campaign made a positive difference for your customers? Content is supposed to solve a problem. It's this genuine intent to help your customers that offers the authenticity that consumers are so attracted to. Take this one step further, from providing value to your buyer to providing value to society, and you've landed on the future of content marketing – purpose driven brands.
It's not rented space.
Where content stands out is that a brand owns the distribution channels – the website, the in-person events, the social media profiles, the eBook series. Advertising, on the other hand, is rented space – you have to constantly purchase a media channel in order to market.
How the Experts Define Content Marketing
Joe Pulizzi's Content Marketing Institute defines content marketing as:
"Content marketing is a strategic marketing approach focused on creating and distributing valuable, relevant, and consistent content to attract and retain a clearly defined audience – and ultimately, to drive profitable customer action."
Neil Patel takes this definition a little deeper:
"[It's] a long-term strategy that focuses on building a strong relationship with your target audience by giving them high-quality content that is very relevant to them on a consistent basis."
And one of my favorites, from Rebecca Lieb at Conglomotron:
"It isn't advertising. It isn't push marketing, in which messages are sprayed out at groups of consumers. Rather, it's a pull strategy – it's the marketing of attraction. It's being there when consumers need you and seek you out with relevant, educational, helpful, compelling, engaging, and sometimes entertaining information."
And from yours truly:
It boils down to "delivering the content your audience is seeking in all the places they are searching for it." 

So, if you can weave together the endless list of possible content choices and channels, with the strategy that speaks to your audience in the voice of your brand, you know exactly what content marketing is and how to make it grow your business.