Businesses all over the world are currently facing unprecedented challenges. Being forced to shut down offices and premises and move to a remote working model is difficult enough, but the downturn in the economy also means that revenue has fallen sharply for many. So does marketing in these difficult times make any sense at all?
Some businesses have responded to this threat by reducing expenditure wherever possible. The marketing budget is often one of the first to be frozen, deemed as an "unnecessary" expense in uncertain times.
However, not all brands have frozen in fear. While a certain amount of juggling figures and adjusting budgets is inevitable, other businesses have invested in strengthening their brand position in anticipation of the more prosperous times that are certainly coming – we just can't say exactly when.
If running your business is feeling like trying to steer a rudderless ship right now, you're not alone. But in these times when your production, sales, and services may be limited, content marketing can deliver ROI in any market and set your business up for better days.
Quick Takeaways:
During difficult times, all businesses should make time and space in their budget and schedule for content marketing.
Investing in content marketing now can win the loyalty of an audience who will become customers later.
This is not the time for self-serving content: Always aim to provide as much value as possible.
Content Marketing in the Time of Coronavirus
When there's less money coming in, it's a natural reaction to hold onto what you have and not spend any more of it. But axing your marketing budget isn't always the wisest spending decision.
When the pandemic ends, your customers will still be there. But will they remember you? And more importantly, will they remember how your company acted during this time?
Now is certainly not the time for pushy advertising. Nobody likes being sold to, particularly not during a global health crisis and economic crash.
It's not the time for conferences or trade shows either. Advertising on billboards and around public transport will go unseen. Physical newspapers are being abandoned in favor of online news.
Marketing teams all over the world are finding it necessary to pivot and find new ways of attracting customers and reaching their goals.
Content marketing has always been an affordable and highly effective method of marketing for businesses of all sizes and in all industries, but it's now more important than ever.
Millions of people are confined to their homes, many with extra time on their hands as they're unable to work, and they're consuming more content online than ever before.
Pageviews for news publishers are currently up about 30 percent. While it's natural that people would be consuming more news at the current time, other content is thriving, too.
Social media networks are buzzing, YouTube views are up, and people are looking for content to comfort and uplift them, provide important information about health and finances, to learn something new, as a distraction, and as entertainment.
In short, right now is an excellent time to double down on your content marketing to reach new customers and strengthen relationships with existing ones.
Content Ideas for Lockdown
You may well be worried about the future of your business, but now is not the time for self-serving content. Companies aggressively laying off staff, forcing them to work in unsafe conditions, or profiteering from the COVID-19 crisis have been rightly criticized for their actions. Those who produce poor-quality clickbait content or thinly-veiled sales messages will face the same criticisms, and they're not likely to be forgotten in a hurry.
Now is your opportunity to really serve your audience in any way you can. The type of content that will help you to do this will depend on who they are and what industry your business is in. But, there is almost certainly an opportunity for you to produce valuable content at this time.
Addressing Customer Concerns
Almost every business has been affected in some way by the coronavirus, and it makes sense to explain to your customers exactly what changes have been put in place and how you are protecting their interests and those of your workers.
This might include explaining your distance work policy or protections, such as supplying hand sanitizer, masks, and physical distancing of employees at work.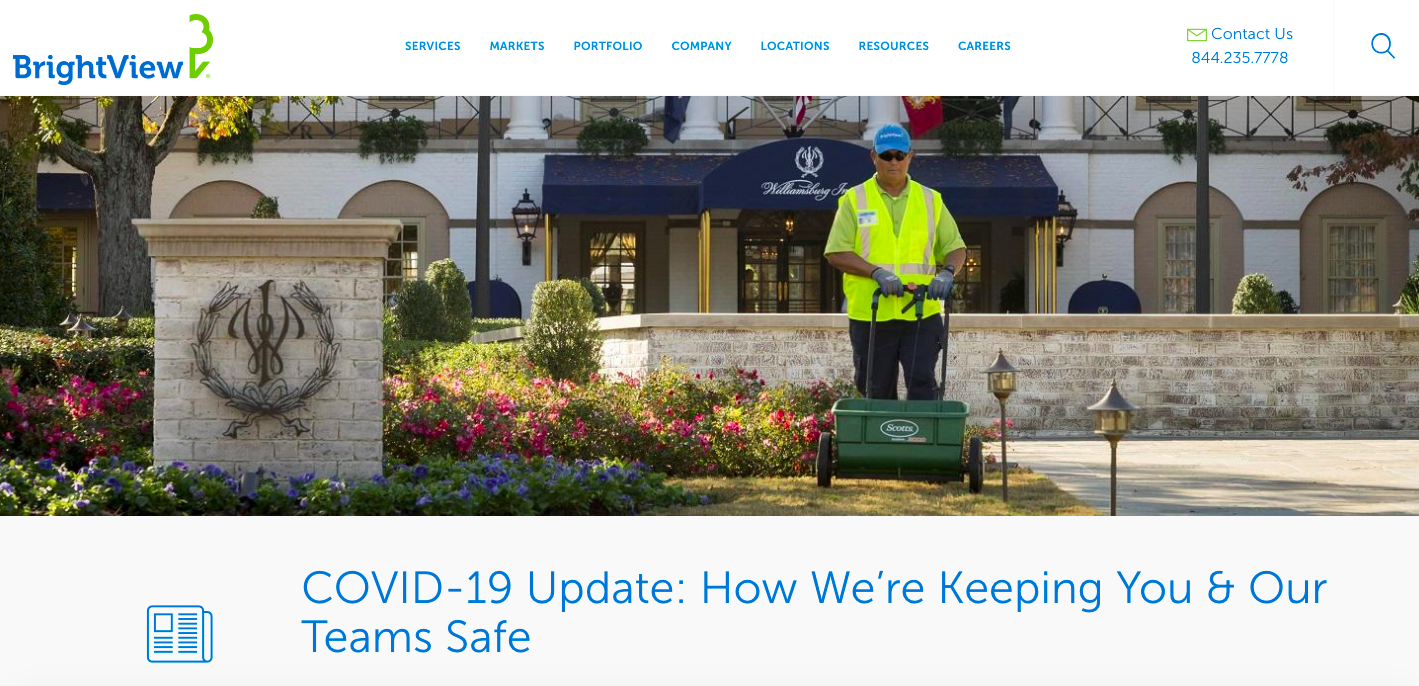 If you've had to shut down operations temporarily, explain this to your customers, with the reassurance that you'll be back up and running as soon as it is safe and possible to do so.
Showcasing Generosity
Many brands have responded to the crisis by doing good deeds, such as offering subscriptions for free or producing medical equipment to be donated to hospitals.
If your business is in the position to do something similar, this not only helps you to contribute in a positive way but also makes sure that people will remember your brand for doing good.
And these activities don't necessarily have to be 100 percent altruistic. If your business and others can both benefit, it's better for everyone. For example, a company offering a free 2-month service subscription to help other businesses struggling to manage their remote workers may well find that many choose to pay for their subscription at the end of the free period.
Whatever good deeds your company or your employees are taking part in during this difficult time, make sure that everyone knows about them. Take advantage of your blog, social media, and your email list to produce content that will improve your brand reputation and encourage sharing.
Helpful Information for Coping with the Crisis
Brands in certain industries may be able to produce content directly related to the COVID-19 pandemic for people who are searching for this information. This may include:
Information on staying healthy and strengthening your immune system
Tips and advice for working from home and managing remote teams
Advice for new homeschoolers and parents trying to juggle it all
Support and encouragement for those who are struggling
Advice for businesses facing financial problems
Offer Escapism
Not all content has to be strictly useful or educational during this time. People are also looking to be distracted and entertained. Just look at the huge success of the Netflix documentary Tiger King for a great example of this!
Me: I can't stop thinking about, talking about, or reading about the coronavirus

Netflix: let me introduce you to Joe Exotic and Carole Baskin. #TigerKing pic.twitter.com/1Oamnc2vMF

— Mary (@maryyyyrosee) March 23, 2020
Many people are growing weary of the doom and gloom of reading the news and are looking for more uplifting content and "good" news. Even the BBC created a new section on their site to meet the growing demand for uplifting stories.
There are really no rules for this type of content. As long as you can create something that people want to watch or read, keeps them entertained, or makes them smile, you're onto a winner!
If you are ready to get more traffic to your site with quality content published consistently, check out our Content Builder Service. Set up a quick consultation, and I'll send you a free PDF version of my books. Get started today–and generate more traffic and leads for your business!