The digital experience, the power of Big Data, agile marketing, compelling content strategies, marketing automation, a customer-centric approach – the core tenets of modern marketing weren't born yesterday. So, why are some marketing teams struggling to keep up? What's holding back even some really top-notch, creative, and inspired marketers?
Change isn't easy. A full-blown transformation involving an entire team of individuals can be a Mt. Everest-sized obstacle. Throw in problems with corporate management and getting the right employees, and the situation becomes even more pressurized. No wonder the CMO role is known as the most dangerous job title around.
41 percent of all marketers believe C-suite grasps the importance and potential of digital. On the employee side, 48 percent of marketing managers say that retaining good digital employees is a problem. Yet, 99.9 percent of your target audience expects more, the type of 'more' that can only be delivered via the power of digital.
Modern marketing transformation is a complete evolution in the marketing landscape. And, it's not finished evolving. In fact, it's not going to stop, slow down, or plateau, ever.
(Need help transforming your marketing organization? Contact me today.)
When you look at how comprehensive the shift has been from traditional to modern, it's no surprise that marketing teams are having trouble. We used to work in a predictable world of investing weeks, if not months, into each campaign. We'd hit the launch button and let go.
Today, it's a by-the-moment process of development, analysis, and refinement of current campaigns. It's the sparking of new ideas for what we'll work on after lunch – not after the holidays – and the ongoing learning of new skills, techniques, and methodologies.
We've gone from making a splash with each big unveil to rushing down the gurgling, effervescent river of modern marketing. We're mobile, social, and agile. Many of us have minimized our advertising – if we're even using ads at all – having already embraced the more impactful world of content marketing.
Marketing is different now. A new shape, a new mindset. From land-bound caterpillar to see-you-later butterfly. If you want this new creature to thrive, you've got to provide the right environment. Culture has to become unbounded.
Enough flowing rivers and fluttering butterflies. What does this look like in real terms? What is the right culture for a powerful, sustainable, modern marketing transformation?
What Happened When Marketing Transformed?
The biggest driver of the evolution of marketing is the consumer. Customer expectations have become more sophisticated. As a response, modern brands need to deliver what the customer wants to remain competitive.
This is true when it comes to both lead generation and customer retention. As a result, we've shifted from the marketing mix and the 7 P's to the customer mix and the 6 W's. The focus is no longer on what we're selling but rather who we are selling to.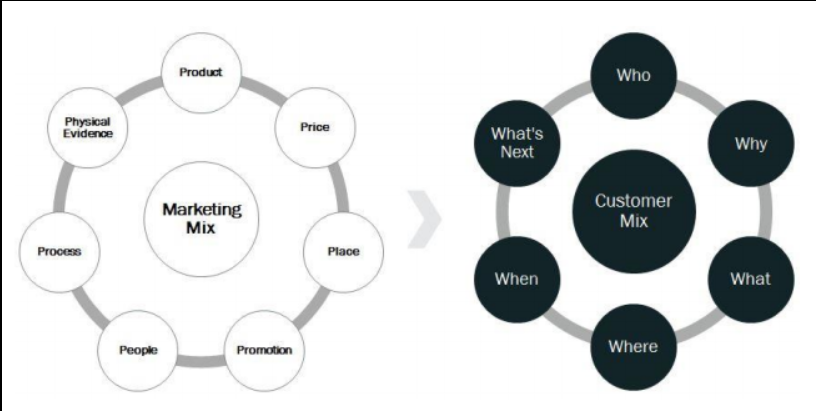 What is it that customers want?
They want to plug a search query into Google and get back an answer to their question. The brand websites that have stellar online libraries of SEO optimized content are the ones who are going to capture this search traffic and generate the most leads.
To pull out their smartphone and look up a recipe on a brand's website for the product they just bought, or watch a video on how to get the most out of a service they signed up for.
To contact a brand with a question, comment, or issue through social media, email, or better yet, real-time chat, and have the issue addressed that day.
A cohesive flow between on-site and online marketplaces.
Online brand communities where they can see what other consumers are saying about a product or service, hear inspiring stories about how another consumer improved their lives with the product they just bought or are considering, and get expert advice and guidance.
That's quite a bit more complex than a collection of products and services, along with the billboards, radio ads, online ads, and commercials plastered in as many places as possible to let consumers know those products and services exist.
Both the solution to meeting these needs (and the root cause of the customer expectation revolution) lies in digital.
Digital tools, resources, skills, and the mindset to embrace this new, still largely unchartered territory. This is the foundation of a culture that can withstand a sustainable modern marketing transformation.
Key Features of a Modern Marketing Culture
So, how can today's marketing managers facilitate this type of digital-friendly culture?
With an evolved team structure. Modern marketing will have difficulty working in a traditional hierarchical culture. When creative, innovative ideas are a marketing team's strongest asset, the most successful marketing teams are the ones that embrace input, communication, and collaboration in an environment that fosters workplace equality.
With evolved skills. The right culture will look for people who have the skills that are necessary for a strong digital marketing team. Individuals who specialize in SEO, content management, website maintenance, copywriting, social media, data analytics, event planning, mobile strategy, graphic design, and lead nurturing are all important. A lot of the next-generation marketers are proficient in several skills and are hybrid professionals. Modern marketing agencies and managers are also filling skill gaps by outsourcing. From video production to coding, today there is such a breadth of essential skills. Few marketing teams are going to have someone who is strong in every area.
With an evolved mindset. A modern marketing culture embraces an entirely different set of values. Taking initiative, asking questions, disruption, a willingness to try something, fail, and learn – these are the ingredients that go into a strong, agile marketing team that can live up to the modern consumer's evolving expectations.
Dr. Tim Sparkes, business psychologist of Hudson Talent Management explains this mindset shift well:
"With every indication that the workplace will continue to accelerate and fragment, mindset is entering center stage in defining talent for an unknown future. Of course, skills are crucial to do a job but identifying individuals with the right mindset to navigate business transformation and disruption, and to quickly learn and deploy new skills will – or already is – the key to competitive advantage in a world that is volatile, uncertain, complex and ambiguous at its heart."
All marketing teams are changing. There's not a CMO out there who denies digital or is still drumming up support for a major print ad campaign, at least without it being nothing more than a fragment of a holistic digital-traditional strategy. But not all marketers can go with the flow of the modern, digital, customer-centric reality.
If you want to get from point A to point B, from traditional to modern (and good at it), don't take a linear approach. Don't move towards point B, hitting your goal posts along the way. You'll never get there. Transform point A into point B. Change your culture. Change the way your team interacts with one another. Bring in new talent and help your current employees take on new skills. And, consciously align values and mindset with this brave new marketing world. That's how you make space for point B to evolve.
Maybe culture, innovation or the challenges of modern marketing transformation is something I can help you with?  I've helped dozens of companies, I've helped activate hundreds, even thousands of thought leaders. I've done it for numerous clients. And I can do it for you. Contact me today.