How strong is your organization's digital marketing strategy? We all know how important a well-documented strategy is – only with a clear plan mapping out the pathway to your goals can you ever hope to achieve them.
If your organization veers on the vague end of the strategic planning spectrum, you may want to take your digital planning up a notch with a digital strategy template for your marketing.
A good template will give your business the clarity it needs to reach your marketing objectives. It can make it easier to ensure all the moving parts of your digital marketing – your social media marketing, email, blog, landing pages and other digital channels – are all working together to create the right experience at each stage of the customer journey.
Whether you use a third-party template or you create your own for your business to keep your digital marketing on track now and in the future, here's what you want to look for in yours.
Your Digital Marketing Template Should Answer These Questions
Where you think about it, your digital strategy template's purpose is to provide solutions. So, what questions do you need it to answer for your organization?
What are the priority goals of your digital marketing strategy? – Identify the top three or four goals you want your strategy to focus on. Is the objective customer growth and sales? Engagement, brand awareness and trust building? Is the focus on customer retention and improving the customer experience?
What are the KPIs for each buyer stage? Your template should outline the metrics you'll use to measure the success of each stage, from awareness/exploration through to customer retention and advocacy. This will help you identify where a problem may be along your sales funnel.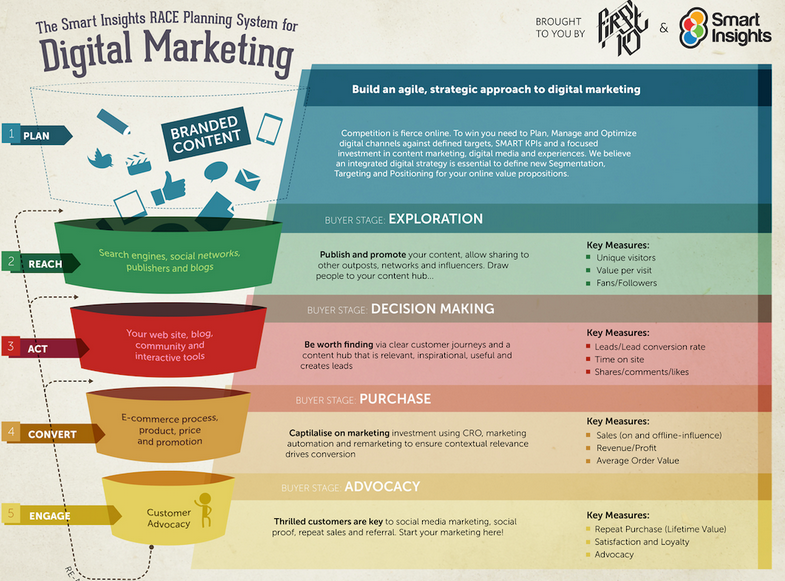 What campaigns can be used to help reach our digital marketing goals? This is where you can look at the success of past campaigns as well as industry trends. Are your competitors having a lot of success with micro-influencer campaigns? Has your organization experienced consistent impact from your social media campaigns?
Your digital marketing strategy template can include an explanation of opportunities for each type of campaign, including historical analytics. When you can go back to your template and look at where new downloadable content traditionally boosts lead generation by 15 percent or a user-generated social media campaign gives your brand authority a measureable boost, you are equipped to create even more effective strategies in the future.
What channels will be the most effective at each point and for each goal? When looking at your digital marketing channels, the key to crafting a more effective strategy template is to not just list channels, but to look at how they fit within the bigger picture and how each channel works with the others. How are you using your video production to make your content marketing more dynamic? Is your app content in sync with your website's blog content? Does your web design create a seamless flow for your email marketing subscribers so they are more likely to stay on your website once they click through from your email messages?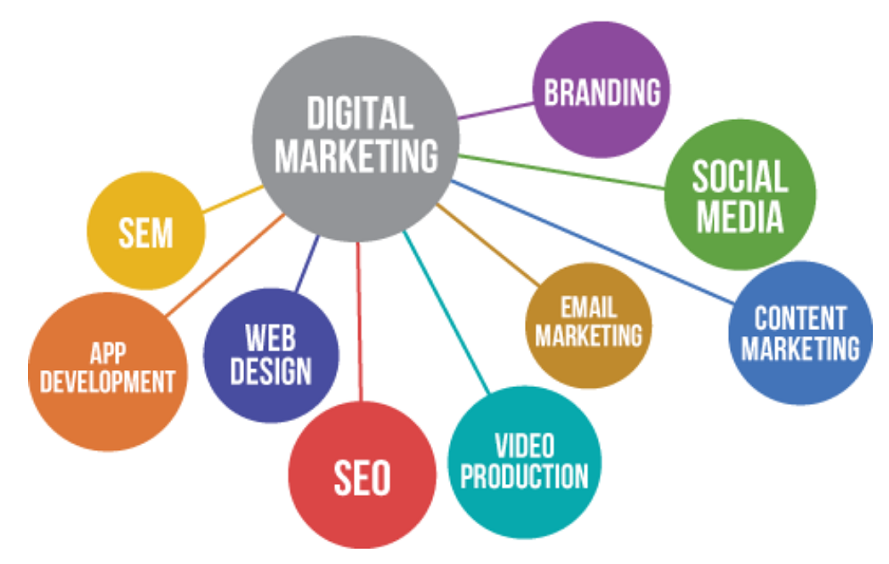 You'll want your template to include a schedule for each channel, including the frequency of posts and timing for each platforms. For example, it will outline how many posts on Facebook, how many LinkedIn articles and Instagram images, how many emails a week/month, and how many blog posts and downloadable content you offer and when.
Research for Your Digital Template
Now you know the essential structure of what you should have in your digital strategy template for your marketing. But, in order to make it as strategic as possible, you need to do some market research to make sure the campaigns and channels you use, and the plan you use to string it all together, makes the most sense for the unique needs of your business right now.
Research the Competition
It's important to stay on top of what is going on in your industry. This means, knowing what your competitors are doing with their digital marketing. Pay attention to the type and tone of content, the frequency of actions, changes and new developments.
You can follow your competitors' social channels and subscribe to their content.
Use tools like Google Trends to identify hot topics and what's being said, and Google Alerts to monitor specific keywords.
This research isn't just to see what other brands in your niche are doing. It can also be used to define and understand what's unique about your business to help further differentiate your brand.
Research Your Buyers
Your digital template also needs a detailed look at your current buyers. You probably already have created buyer personas for your marketing (if you haven't, here's a great guide for building personas).
As you work on your template, you want to make sure you are updating your personas periodically to ensure yours are an accurate reflection of your real buyers.
Keep track of changes to your current buyer and subscriber data.
Participate in and listen to industry conversations on social media and online forums to see what people are saying – this is where you'll find a lot of consumers talking about their buyer issues such as high prices, slow service, insufficient features or services, revealing what problems you should address in your marketing.
Don't underestimate the power of an email or phone call to your buyers to find out how their needs have changed.
All this research will help you get more out of your digital strategy. Just stay on top of auditing and refining your research.
You always need a documented strategy in order to get results – or at least to understand what you may be doing wrong and what you can change to then get to where you want to be with your marketing. Once you have a working template to use for your digital strategy, you can keep evolving it over time as your needs and goals change. It will also keep you on task, helping to keep your digital marketing focused on those all-important end goals.