Think you have internet usage figured out? Think again. According to the new Internet Trends Report for 2018, the way consumers, businesses, regulatory bodies, and the tech titans are interacting with or leveraging the internet is radically different than what was going on just a few years ago. And some of it's a little alarming.
About the only tried and true internet trend that doesn't have any surprises is video. No shocker here. Video consumption is still increasing and people are still spending more time watching video on both mobile devices and their laptop or desktop. So, no changes to the need to create high-quality videos as part of your content marketing strategy.
But, other than that, this internet thing is taking on a mind of its own, which is making it hard for everyone to keep up. Not just marketers. Everyone.Tim Berners-Lee, who invented the World Wide Web, describes the internet today as "a large-scale phenomenon which is anti-human."
Google and Amazon's patent applications for technology that can detect mood shifts in the human voice or Facebook's secret psychological experiments on users aside, it's up to all of us to stay aware of what we are participating in – and so are co-creators of.Here are the evolutions in internet usage that every marketing professional should know about.
Half the Planet Is Online
Roughly half the world's population is online. That's 3.6 billion internet users. This may not be so surprising. But what is, is that 3.6 billion is getting closer to critical mass.
Because the internet is already mainstream – everywhere – there's no more big market expansion. In fact, the rate of growth has decreased.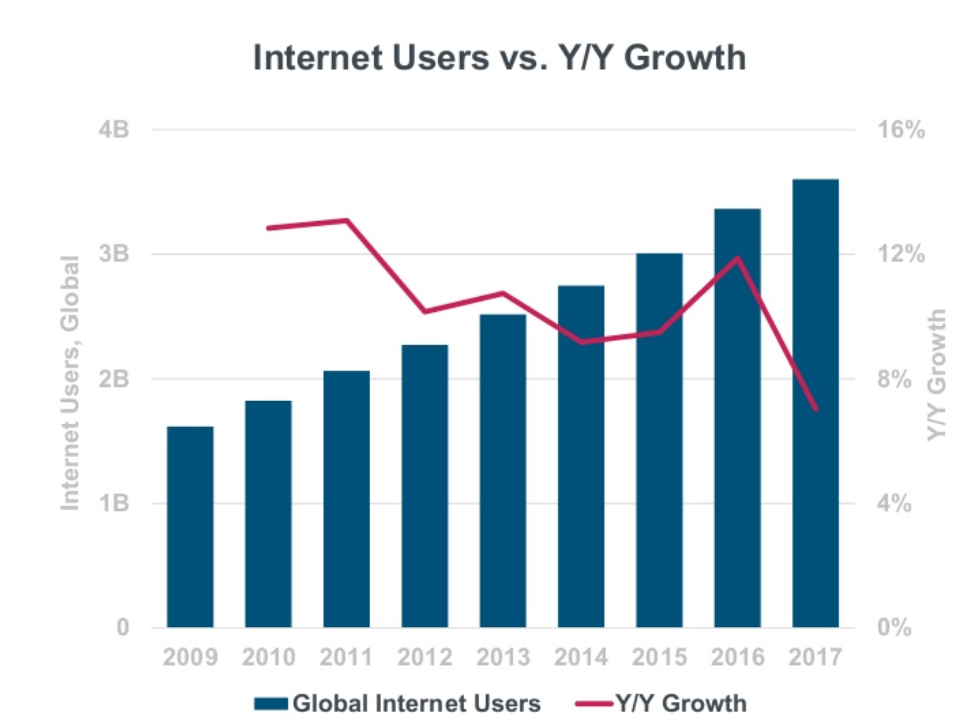 Look at it this way. In 2017, there was a 0% increase in the shipment of smartphones. Most people who would buy one already have one. That also means they are already using their favorite apps, spending time on their preferred social media platforms, and shopping with their most-loved brands online.
Brands have to one-up customers' already preferred brands and at the same time, refine their customer loyalty strategies to keep the customers they have. Competition to gain the attention of 3.6 billion users is intense.
This competition has driven marketing to shift gears in different ways in the past few years:
Marketers are focusing more on creating useful content in order to maintain brand relevancy. 91 percent of B2B marketers use content marketing today.
Consumers are opting for a next-gen level of usability with digital products, which has forced brands to create better apps.
Because it's harder (and more expensive) to acquire new customers, marketers are focusing more on customer retention.
People Spend Almost as Much Time Online as They Do Asleep
In the US at least, time online has reached an average of 5.9 hours a day. What we're looking at, aside from our screens, is that while the rate of internet usage growth has decreased, for everyone who is using it, it's becoming a bigger part of their lives.
Who needs dreams when you have YouTube?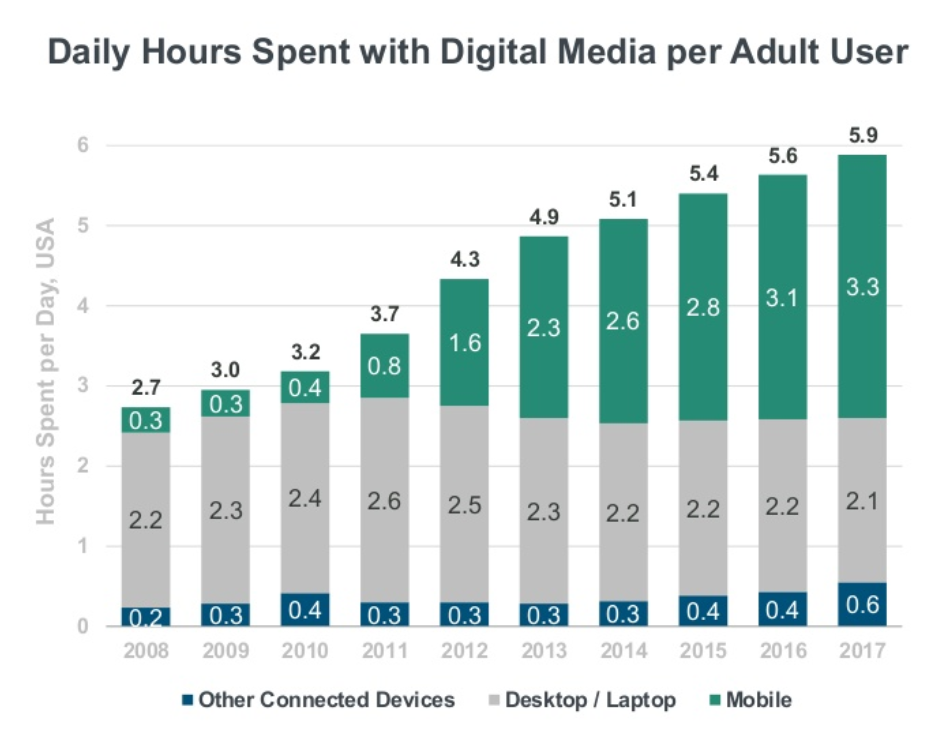 This is why digital content is so powerful today. It's what brands are using to relate to and connect with their customers. But, it has to be good. The demand for, not just educational and entertaining content, but hyper-relevant content that somehow adds value to people's lives, is going to keep going up too.
Which Brings Us to Personalization
From marketing events to marketing emails, the quest to create better customer experiences through more sophisticated personalization isn't over.
But here also lies the paradox the Internet Trends report revealed.
Customers gravitate towards more personalization …
Netflix for movies, Spotify for music, Facebook's Newsfeed for news. The curated subscription box industry has risen from $57 million in 2011 to $2.6 billion by 2016.
Personalized product recommendations drive 26 percent of revenue.
Personalized emails boost email click-through rates by 14 percent.
55 percent of users purchase a product online after a personalized social media product discovery.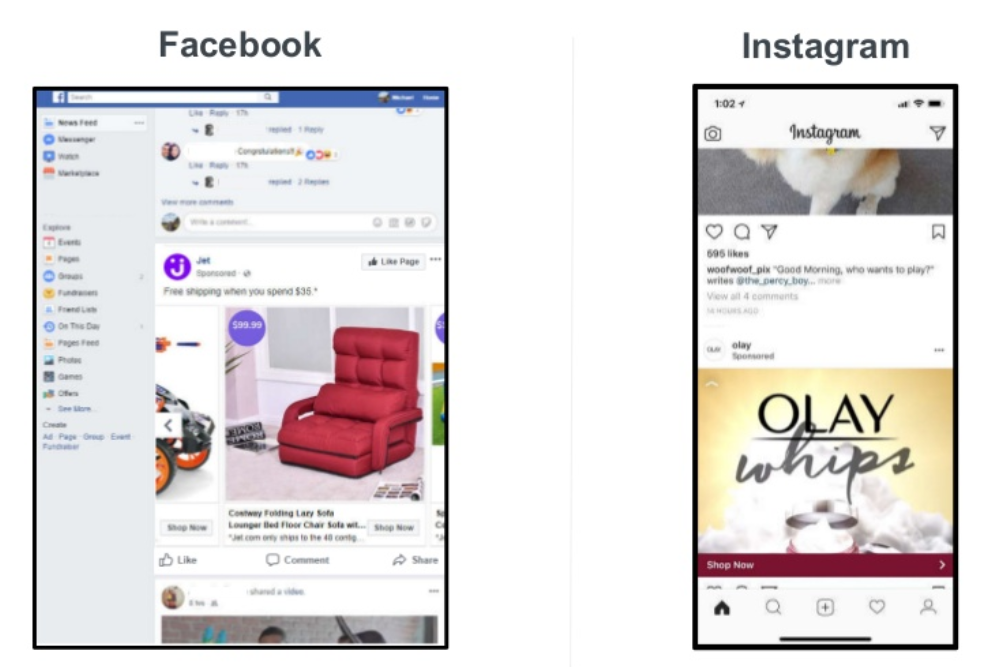 … But, that better experience is the product of more customer data.
In order to remain competitive and to give consumers what they want, companies are collecting and using more data.
This has also led to another important and very recent pivot in the internet: increased regulation.
Necessary Regulations for the Data that Drives Personalization
Data and privacy have become one of the internet's biggest problems. While Facebook didn't create this issue singlehandedly, the company's overboard actions brought attention to the problems the entire world faces due to a lack of consumer protection.
Facebook, who was bringing in on average $34 in revenue per daily user in 2017, will probably go down in history for ending the internet's age of innocence.
"We didn't focus enough on preventing abuse and thinking through how people could use these tools to do harm as well."
-Mark Zuckerberg's now infamous response to Facebook's user data debacle
The General Data Protection Regulation, or GDPR, was created to give internet users more control over their data by informing consumers and forcing consent to play a bigger role in data collection. While many US businesses have to adopt to the GDPR, US consumers aren't directly impacted.
The General Data Protection Regulation, or GDPR, was only implemented this spring. It went into effect on May 25th, 2018 so we aren't feeling its impact yet, especially in the US. But, it's going to change the way we use the internet.
Already, Google and Facebook have made global changes – Google stopped mining emails from Gmail to personalize ads and Facebook is launching a privacy dashboard. On an internet usage zeitgeist level, there's a growing level of scrutiny and concern over how companies are using the internet.
There's More: Internet Usage Is Set for Another Revolution
Where does this leave marketers?
The internet is still filled with opportunity, not just to meet marketing and business goals, but to re-write the consumer brand relationship into something more meaningful. With the internet, we've been able to connect with new audiences at scale and offer more to existing customers.
We've been forced to create more authentic, personalized, and worthwhile experiences. That's a good thing.
But, we're not done yet. There's another shift that is going to change internet usage enough to make us look back on how we use the internet today and laugh.
Voice.
While all eyes are on social media, video, and personalized content, Alexa and Google's Assistant are slowly planning world dominance.
Google's machine learning world accuracy reached 95% in 2017.
In the last quarter of 2017, the number of Amazon Echo bases installed jumped from 20 million to over 30 million.
The number of Amazon Echo Skills has increased from 10K before the start of 2017, to over 30K today.
People are increasingly searching for information, making purchases, and engaging with their voice assistants instead of their smartphones, wearables or computers, which is going to upend the way people use the internet, again.
Alexa, order some aspirin, please.