You already know how important it is to publish content that's both high in quality and sufficient in quantity. A few blog posts here and there isn't enough – you need to create a significant amount of content for it to have an effect. But quantity isn't everything. Content consistency is just as important in developing an effective content strategy, and you could argue that consistency is even more important than quantity.
Let's consider the example of a brand that's been in business for years and already has a large repository of content on the web. However, now they've become slack in their content marketing efforts and publish only sporadically, if at all. On the other side, we have a new brand that doesn't have a lot of existing content but sticks to a consistent publishing schedule of blog posts twice a week. Which one do you think will see more success due to content marketing after a year?
If you're like most people, you'll instinctively choose the second brand – the one that favors consistency over quantity, and you'd probably be right. But why is this exactly?
Quick Takeaways:
When it comes to content, consistency is just as important as quality and quantity, if not more so.
A consistent approach to content means a bigger audience, better engagement, and eventually, increased revenue.
Planning is key to a consistent content marketing strategy; technology and automation tools can help a lot.
It's relatively easy to produce a lot of content if you have the budget to do so. But being consistent with your content strategy takes a lot more effort and planning. This effort is worth it, however, for several reasons.
Consistency Is Essential for SEO
Google and other search engines love fresh content, and they'll reward websites and brands that publish content regularly with higher rankings.
A brand that invests thousands of dollars into content over the space of a few weeks or months may see some initial SEO benefits for their efforts. However, unless they can keep publishing high-quality content on a regular basis, their rankings are likely to slip in favor of other brands that are publishing more up-to-date content.
If you invest in a large quantity of content, it's a better strategy to schedule it to post regularly, rather than publishing it all at once. This is an indication to search engines that you're updating your site regularly and its content isn't out of date.
Publishing Regularly Boosts Engagement
Sticking to a consistent publishing schedule is not only attractive to search engines, but also to readers.
Online audiences thrive on consistency. The best way to keep them coming back for more is to stick to a regular publishing schedule so they know when they can expect new content from you.
It doesn't matter how great your content is, if you're publishing it sporadically, you're likely to lose your audience.
Regular Content Boosts Your Brand Reputation and Trust
Committing to regular content publication demonstrates that you value your audience and helps to build the trustworthiness and credibility of your brand.
Publishing content regularly helps you stick to a consistent voice and style. It means your brand is more visible to your audience too. This helps it to "stick" in their minds better in the same way that you remember brand messages from frequent television adverts better than you'll remember an ad you only see once or twice.
Brands that are able to be consistent in their content creation enjoy an average revenue increase of 23%.
Consistent Content Leads to High-Quality Content
Practice makes perfect, as the saying goes, and this is certainly true when it comes to content. It doesn't matter if you're writing all your blog posts yourself or outsourcing content to a team of writers; the practice of writing and editing on a consistent basis means you'll refine your approach and improve the quality of your content over time.

Being consistent with your content marketing is key to your success. If you've been pumping your budget into content production without thinking about consistency, you need to stop right now!
So how can you take a more consistent approach to your content marketing efforts?
Work From an Editorial Calendar
If you're not already utilizing an editorial calendar, you're making a huge mistake with your content marketing.
Planning out your content production and promotion on a calendar ensures you maintain a consistent approach to content marketing over the coming months and helps you to plan your content around important dates and other marketing activities.
Furthermore, sticking to a schedule means that your content publication will never slip because you've been a bit slack about writing blog posts that week or because you've run out of article ideas.
When you're developing your marketing plan for the year, you should come up with enough content ideas to populate your editorial calendar for several months in advance.
Thinking ahead in this way takes a little more effort initially, but this work in organizing your content efforts will soon pay off in the form of better brand visibility, increased traffic, higher engagement levels, and increased revenue.
Take Advantage of Automation Technology
Today's digital marketers are spoiled for choice when it comes to the sheer range of content marketing technology tools that are out there.
You can use this technology to plan out your content, but perhaps one of the most useful aspects of modern content marketing software is the ability to schedule and automate content publication and promotion.
Harnessing the power of automation means that you can schedule your blog posts, social media posts, and emails several months in advance, so if you need to take a couple of weeks off or you're busy with another project, it won't affect your content strategy.
This also means that if you get a sudden boost to your budget that you need to spend quickly (maybe because you're coming up to the end of the financial year), you can invest it in content to be drip-fed over a longer period of time.
Perhaps most important, having an editorial calendar means you won't fall into the trap of creating content but not getting around to publishing it or promoting it – a surefire way to make sure your content marketing fails. Try switching things round and allocating more time to promoting your content than you spend creating it. Some marketers even recommend using the 80:20 rule here – spend 80% of your time and efforts on promotion and only 20% on creation.
Make Content Marketing a Habit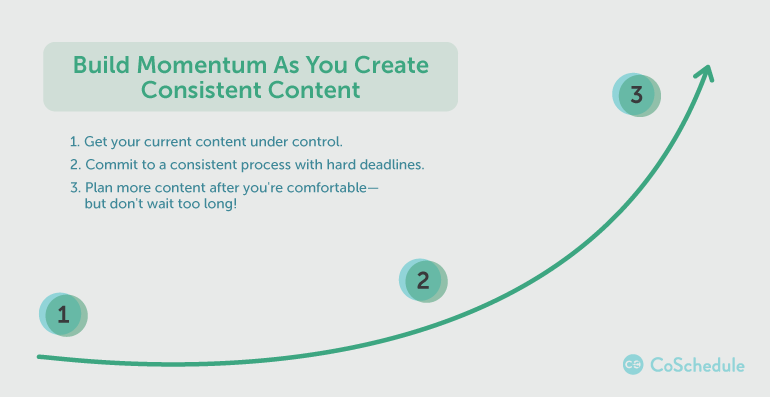 If you're a content marketing team of one and don't have a lot of staff and resources at your disposal to ramp up your content production, the easiest way to stay consistent is simply to get into the habit of producing regular content.
This might mean setting aside one day of the week for writing content, or shorter periods of time in your day for research and promotion.
It's easy to let weeks and months go by without publishing any new content when you're busy with other tasks, but if you build content marketing into your daily and weekly routine, it will soon become a habit.
Need to Get More Consistent with Your Content Marketing?
If you are ready to get more traffic to your site with quality content that's consistently published, check out our Content Builder Service. Set up a quick consultation, and I'll send you a free PDF version of my books. Get started today and generate more traffic and leads for your business.