One of my favorite shows is House Of Cards. And in my excitement for last year's Content Marketing World, I answered WTF does Kevin Spacey Know About Content Marketing.
Having just finished season 3, I thought I would share this post from NewsCred's own Director of Sales Chase Neinken.
3 Crucial Principles Of Storytelling You Can Learn From Kevin Spacey + House of Cards
It is no secret that storytelling has become the pinnacle practice of 2015. So what can content marketers learn from some of the best stories going right now? Looking ahead to Friday and a new "House of Cards" release on Netflix, I began to think about the parallels between content marketing and traditional media (in this case television). In Kevin Spacey's keynote fromContent Marketing World 2014, he told a half hour story about the importance of storytelling using his own career as a vehicle and the stories of the actors he's played along the way as the gasoline. I distinctly remember this being one of the most #meta speeches I've ever heard.
So what advice does Francis Underwood have to dish on storytelling? Spacey recommends that before you even begin, it's important to ask yourself, "What story do you want to tell?" He suggests that everything will fall in line "if you start with what the result is going to be." Once you get over the initial hurdle of determining what story you want to tell, you have to examine what elements will make this story truly engaging. Spacey goes on to propose three pillars that must be present in every good story.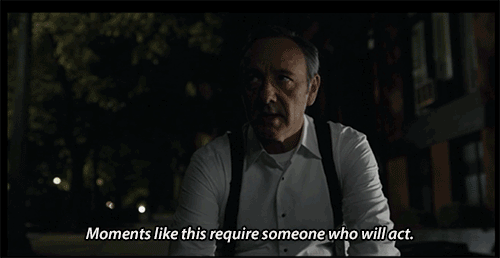 1. Conflict – "Conflict creates tension and tension keeps people engaged with your story."
How do you create conflict while trying to sell whatever your business creates? Make your customers and the leaders of your industry the heroes of your content by sharing how they overcame problems and found solutions.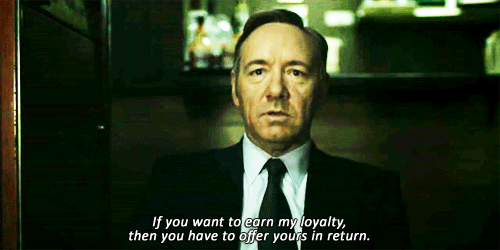 2. Authenticity – "Stay true to your brand and audiences will respond to that authenticity with enthusiasm and passion."
Spacey goes on to contend that, "It's no longer about who you know or how much you can afford but what you can do –audiences have spoken, they want stories." The content you create doesn't need to be top-of-the-line video or epically gorgeous, interactive microsites. Start small and start with what you know: answer your audience's questions with internal knowledge and be a problem solver for your customers.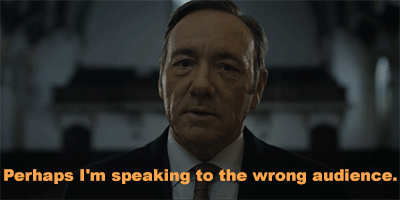 3. The Audience – "Does it matter what's behind a link if no one clicks on it?"
Don't create content for content's sake, and don't let your content exist in a vacuum. You need to work for your audience in order for them to work for you – this means creativity, distribution, measurement, and iteration. In today's content ecosystem, you can no longer throw up a blog post and walk away.
So if you can fit these three elements into your content marketing efforts you're golden right? Not exactly…
Don't Rush Your Storytelling
In his speech (see highlights below), Spacey reveals why "House of Cards" was so thrilled to go with Netflix instead of a major network. While they were shopping the series around, every single major network was interested – everyone. What was the key difference between Netflix and the other networks? Every single network except one (I'll let you guess), insisted that they shoot a pilot. Spacey explains why his team did not want to go this route: "The obligation in a pilot is to establish the characters and come up with arbitrary cliffhangers."
There you have it. The only reason that "House of Cards" isn't on Showtime or AMC is as simple as the fact that Netflix didn't ask them to film a pilot; AKA, they didn't ask them to try and squeeze all the key components of the story into a forced 45 minute segment. Instead, they allowed the creative freedom to unveil new characters and plot lines over time. This storytelling technique creates tremendous interest and makes a reader truly invested in the story as it unfolds.
Create Value In Your Brand
By green-lighting "House of Cards" without a pilot, the creative team was "not forced to compromise or water the story down." Spacey explained why he loves Netflix: "(They) valued marketing and brand as a virtue higher than ratings." Imagine the content you can create if you start valuing brand and storytelling as a virtue higher than unique visitors and CTR's. 
The parallels between traditional media and marketing do not stop there though: "This evolution in programming, comes squarely down to the fact that the creatives have more control of the story than ever before." Sound familiar? "In the old days, the power was concentrated in the hands of the few, the studios, the networks, the executives." Now the paradigm has shifted and brands have the power to influence the conversation.   
Spacey goes on to say that "House of Cards" is, "The most fun and the most creatively rewarding experience I've ever had in front of the camera." Imagine being able to say that about your marketing efforts? What if your brand had the buy-in and ability to create such a fun and creatively rewarding experience that it was the best that anyone on your team has ever had? What would you be able to accomplish then?
Your content marketing efforts should reflect this strategy! Don't try and pack every piece of pertinent information into one post because of an obligation to the brand. Start with what you want to say and figure out the most authentic, engaging way you can deliver that to an audience. Remember, you don't need to set up a pilot episode and introduce all of the characters in the first email or interaction. Listen, iterate, and alter your story based on what your audience's needs are. Your brand should earn the love of its audience, not just tell them how they will use your product.
Engage someone on a personal level through storytelling – I would go as far to suggest that you try and create one specific piece of content for one specific individual. If what you're saying is powerful enough to touch one individual on a personal level, it is likely powerful enough to touch many. You've now put your audience at the center and made them the hero of their own story – don't underestimate how powerful this can be.  
So create conflict, be authentic, and begin with the audience in mind. It was NewsCred's own Editor-in-Chief Amber van Natten who, channeling Kevin Spacey, said: "All the editorial knowledge in the world won't save you in you're not a good storyteller."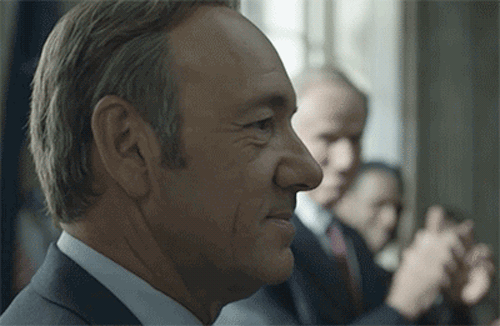 Chase Neinken is Director of Sales at NewsCred.