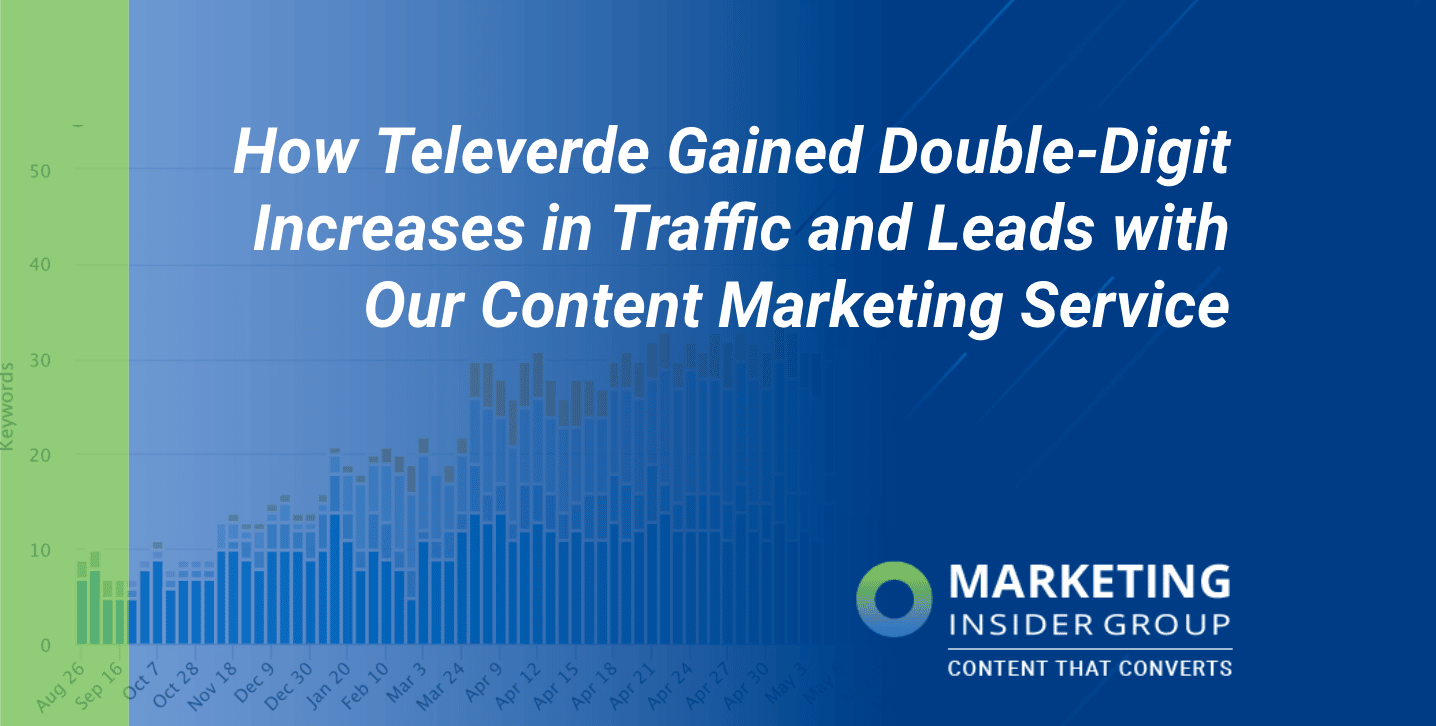 How Televerde Gained Double-Digit Increases in Traffic and Leads with Our Content Marketing Service
How can companies create content that is meaningful? It's an important question to ask, especially when content marketing is part of your strategy (and we think it should always be part of your strategy).
It's easy to fall into a trap of churning out content without stopping to assess whether or not it's really resonating with your target audience. And while consistent and high-volume content is a core part of content marketing, failing to make your content meaningful leads to overspending, low conversion rates, and time spent on developing content that fails to make an impact.
The ability to create content that is simultaneously high-quantity and high-impact lies in doing the work ahead of time and committing to continual assessment and improvement. Let's explore how our client, Televerde, hit the bullseye on doing both and saw the results to back it up.
Quick Takeaways:
High-volume content is important, but ensuring it's meaningful to your audience is also a key part of effective content marketing.
Developing impactful content requires doing the work up front to understand your audience and create a strong content strategy.
Commitment to continual improvement is key to content marketing success.
Meaningful content that resonates with your target audience means less spend, higher conversions, and an overall bigger impact for your company.
The Problem: Quantity over Quality
Televerde was already a few steps ahead when they reached out to partner with us; they're a smart company focused on helping clients optimize the sales cycle to generate demand, grow sales pipeline, and increase revenue. They understand how critical it is to connect with current and prospective clients throughout the entire customer lifecycle.
The problem? Despite a $130K per year budget for paid advertising, their social media and blog content wasn't converting clients at a high enough rate.
"We needed to connect with audiences but our content wasn't resonating," shared Chris Daniels, chief revenue officer at Televerde. "It was talking 'with' them."
Televerde's case is a prime example of why it's important to remember that  content is not the same as content marketing. The good news for companies like Televerde is that creating the content is a critical first step, and they were already doing it. Now, it was time to evaluate how to make it effective.
The Strategy: Focusing on the Connection
The first important step was to evaluate who Televerde was trying to reach as well as the tone and voice Televerde wanted to use throughout their content. We collaborated with the Televerde team on a comprehensive content assessment that listed intended audiences and a clear positioning statement.
We identified that Televerde wanted to use a tone of voice that was clear, authentic, and inspiring: one that embodies thought leadership and provides new knowledge while remaining relatable and connected.
We explored competitors, other thought leaders in the industry, content themes and pillars, and core audience personas. Once those pieces were in place, we developed an SEO strategy and content calendar to publish consistent, optimized content that would drive organic traffic to the website.
"The onboarding process went really smoothly," shared Televerde's Digital Marketing Specialist Jackie Andersen. "The MIG team brought value through their suggestions that we hadn't previously thought of, but also listened to our feedback and incorporated it into the strategy."
Jackie also emphasized the importance of consistent connection between our team and Televerde during this critical time.
"The communication from your team was always there." she recalled.
The Result: Organic Traffic Grows, Conversions Increase, The Spend Gets Smaller
With a new content strategy and calendar in place, the results showed up right away (this doesn't happen for everyone but we're thrilled when it does).
Here is an example of the SEMRush "Position Tracking" Report we setup for each client to measure increases in organic search visibility, keyword rankings and organic search traffic. For Televerde, we see a 4x increase in overall keywords ranked and a steep increase in the coveted top 3 rankings:
This is what drives organic traffic increases across the board. According to Televerde's own website analytics, website users (28%), new users (23%), and total sessions (42%) all increased between September 2020 and May 2021.
During the same September to May time period, there was a 65% increase in completion rate of their website's "Contact Us" form driven exclusively by organic traffic. Conversion rate after completion rose by 17 percent.
Here is a trended view of the conversions from organic traffic each of the first 6 months we worked with Televerde.
"We shifted our focus from the paid model to connecting with audiences and providing content they wanted, and it shows up in the numbers," Chris reflected when we talked with him recently about Televerde's success.
Reflecting: Why Did Televerde Succeed?
There is no magic wand to wave that brings content marketing success. The truth is that it takes time, commitment, consistency, and patience. We did our best to bring the content expertise, but Televerde brought the rest in spades. The results show for themselves.
I was a client of Televerde from my team leading Demand Generation at SAP. They contributed to the success of our content marketing program by helping us qualify the leads we generated.
Now, we get to return the favor by bringing them quality content, and engaged top-of-funnel visitors that convert.
Not only that, but the whole team is such a pleasure to work with. We love their story and now we get to help them grow.
According to Chris, it couldn't have come at a better time.
"The world was on fire," he recalls, referring to the tumultuous period at the start of the pandemic, when companies around the world scrambled to adjust to a new (mostly digital) normal. "I knew the single most important thing we could do was focus on digital content."
The effort is lauded as a win up and down the organization, Chris noted.
"Even our executives are sharing our content now, sharing our blogs — because it's meaningful."
Finally, Chris reflected on the critical importance of the partnership maintained by MIG and Televerde throughout the process.
"Results are great," he shared, "but partnership is also super significant. You can pay people to 'do content' but they don't always take the time to invest in the relationship as needs evolve. The partnership piece with MIG has meant so much."
Are You Looking for Results Like These?
There is no one-size-fits-all solution to content marketing, but there are best practices that we have tested and proven to work. We combine those with the specific needs of your company and audience to create a personalized strategy and calendar that will drive results.
We provide quality and frequency of content for a more affordable cost than hiring an in-house team to do the same, and with those services we bring the expertise that will maximize your ROI.
More than ever, your customers are looking to connect with you digitally. If you are ready to get more traffic to your site with quality content published consistently, check out our Content Builder Service. Set up a quick consultation and receive a free PDF version of my  book The Content Formula. Get started today–and generate more traffic and leads for your business.
Get a Free Consultation
for Content Marketing