We've got news for you, content marketers: video isn't going anywhere. By 2016, Cisco predicts that online video traffic will account for 55% of total consumer traffic on the internet. In a landscape where YouTube already boasts 1 billion monthly unique visitors, these two stats alone should be enough for serious marketers to consider a content marketing video strategy.
It's true that video production is often seen as costly and time-consuming, but we're sorry: these aren't justifiable excuses anymore, especially when YouTube videos shot on iPhone and GoPro garner millions of watches and likes – as many likes, in fact, as traditionally produced and edited brand videos. It's true that content marketing is democratizing, and video is no exception. Examples of authentic, engaging video marketing abound. Here are some of the best content marketing videos from 2015.
From these content marketing videos, you can determine best practices and how to ensure that you're getting the most out of your efforts.
B2B Content Marketing Tutorials
1. "Being a content marketing animal"
Want to get pumped about content marketing? Then watch "Being a content marketing animal" from Gary Vaynerchuk, one of the best marketers in the biz. In this video, he explains (in very colorful, NSFW language) how brands need to focus on emotional connections with their audiences, as well as hone in on emerging technologies. He talks about how the winners in the content marketing game are not scared to "waste their time" on these technologies, but instead dive first so that they're ahead of the curve.
2. "Introduction to Content Marketing with BuzzFeed"
In this video from Google Small Business, Keith Hernandez, director of brand strategy at BuzzFeed, goes into how small businesses can reach their customers through custom content. He talks about content that is inspirational, emotional, aspirational, and secures a brand's identity. Even if you're a B2C marketer at a large company, this video is worth watching. After all, BuzzFeed reaches more than 13 million people per day with their content, so they must be doing something right.
3. "Creating Demand with Content Marketing"
This webinar, created by Lynda Kate Smith of Stanford University's Innovation and Entrepreneurship Certificate program, shows you how to get customers started in your funnel with your content. This webinar contains statistics on how effective content marketing is, the types of content marketing you can do, and what makes it effective.
4. "Content Marketing for Startups"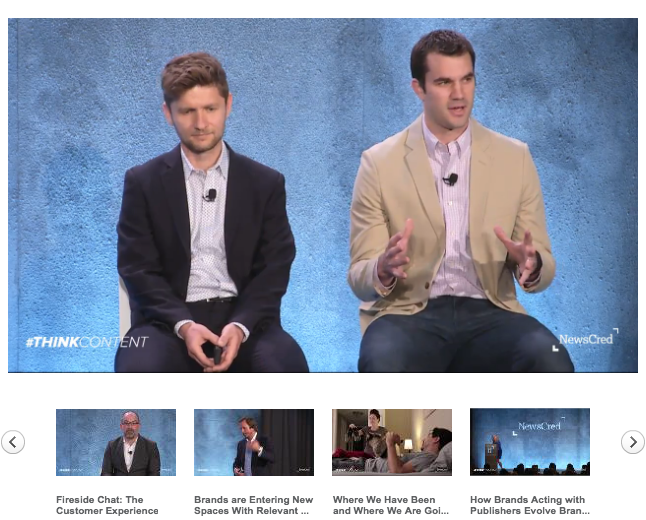 In this talk given by Lucia Moses, the senior editor of Digiday, Tomas Kellner, managing editor of General Electric, and Luke Kintigh, global content and media strategist at Intel, the three discuss measuring your content marketing initiatives. The talk took place during the 2015 NewsCred #ThinkContent Summit, and highlighted how GE and Intel prove the reach of their content. They'll measure the reach of earned media, look at retention rate on their websites, and research how many shares a piece of content received.
6. "How to Switch from a Campaign Strategy to an Always-On Content Marketing Strategy"
This Digitalk from content discovery platform Outbrain features Kohlben Vodden, the founder of StoryScience LTD, Ed Bussey, founder and CEO of Quill Content, and Alex Cheeseman, head of brand strategy in Europe for Outbrain. Vodden goes over how to create content strategies that are data driven, while Bussey discusses what kind of content to create when you're "always on." Cheeseman rounds out the session by touching upon different content distribution strategies.
7. "Epic Content Marketing" 
Joe Pulizzi of the Content Marketing Institute teaches this webinar presented by email marketing provider GetResponse. He talks about this year's content marketing updates and news, and brings up statistics and charts to support his discussion. For example, 54 percent of effective content marketers have a documented strategy, while 44 percent of ineffective ones have absolutely no strategy. Pulizzi also highlights how you should focus on subscribers instead of fans and likes, and how to start influencer initiatives and gain new subscribers.
8. "Email and Nurture: Tips and Techniques"
In this video presented by marketing automation company Marketo, you can learn not only about the content you should create for your emails, but how best to design them, nurture your subscribers, and ensure that they are compliant. The videos shows how all four aspects of email marketing can work together and keep subscribers interested in your messages.
9. "Content Marketing ROI: Measuring the Buyer's Journey and Persona Marketing"
Organic search and web presence management company Conductor released this webinar, given by its Vice President of Marketing Seth Dotterer and Senior Director, Analytics & Operations at Jibe John C. Fernandez. In the video, Conductor's statistics on ROI are given. For example, they found that 90 percent of marketers' budgets go to six percent of traffic, which is PPC and display ads. However, consumers prefer the "unpaid" content on the web that comes from social media, referrals, and organic finds. They show how you can draw out maps for customers and get them hooked into your sales funnel with your content marketing strategy.
10. "If You Want User Generated Content, Ask for It"
Jay Baer of Convince & Convert frequently posts up short videos for marketers under #JayToday on his YouTube page. In this video, he discusses why it's important for brands to get consumers to tell their stories through content. He encourages brands to nudge and remind their consumers to post content to their pages.
11. "Social Media – Aiden Carroll"
 This 2:13 video gives a quick tutorial on differentiating your brand from others in the social media space. Presented by Aiden Carroll, senior digital marketing specialist at Squared Online, as well as digital marketing coursework provider Dot Native, it shows how you need to first look at your competitors' content. What is driving conversations on their social media pages? Brands must also answer commonly asked questions, join in on social media conversations, utilize Google keywords, and talk about their industry and trends in their social content.
12. "Defining and Using the Sales Funnel in Content Marketing"
Want to learn all about the sales funnel, and how it relates to PR and content marketing? Watch this four-minute video given by marketing and PR firm Jones. Kristin Jones discusses top of the funnel techniques like offering whitepapers and e-books on your website, and getting customers to the point of making a purchase. By her calculations, 75 percent of customers are looking for information, 23 percent are comparing your company to another, and only two percent are ready to take action and buy from you.
13. "Developing an Instagram Content Marketing Strategy"
Instagram is here to stay. However, because you can't include links within your Instagram posts, marketers shy away from it. With this video by course provider Online Profit Team, you can learn about how to best optimize the content you're posting on the picture-sharing site. For instance, instead of posting links, you can put bold text over your pictures, and then write about your products in your descriptions.
14. "A Video Content Marketing Strategy for Business"
Blueprint.TV, a video production and content marketing agency, produced this fun video, which gives you a quick guide on video content marketing basics. For example, it touches upon how long your videos should be, how you can distribute them, and how to drive engagement with your target audience.
15. "Content Marketing ROI: A NewsCred & LinkedIn Case Study"
This video from LinkedIn Marketing Solutions features NewsCred's own VP of Marketing Alicianne Rand. In it, she gives a behind the scenes look at how we scale and grow our content here, and our proven methods for content marketing success. If you're looking to increase your marketing reach, you can watch this video and learn by example.
This article by Lauren B. Mangiaforte & Kylie Ora Lobell originally appeared on the NewsCred blog.