Before you get knee-deep into planning your digital marketing strategy, it's important to think about what exactly your content marketing goals are. You can get into this in as much detail as you wish, but for most businesses, it all boils down to four main business goals:
Reach
Engagement
Conversion
Retention
When you're planning out your content marketing, it's a good idea to keep these major goals in mind. Also, consider what your planned activities will do to help you achieve more specific goals in each of these three areas.
Quick Takeaways:
Unbranded Organic Search traffic is a quick and easy way to measure content success.
Reach metrics shouldn't be used in isolation.
Working on increasing engagement of existing content can offer a great return on investment.
Conversion should always be the ultimate goal of your content marketing campaigns.
Retention may provide the highest ROI for content marketing but too few of us focus here.
Reach
When we talk about reach, we're thinking about expanding the potential audience that knows about your brand, products, and services.
Content marketing can help you to reach a new pool of potential future customers who may otherwise be unaware of who you are and what your business does via other marketing methods.
But your aim in content marketing should not simply be to reach a wider audience. It should also include reaching an audience that is interested in what you have to say.
Segmenting your audience and crafting content specifically aimed at these smaller segments will not only increase the probability of these individuals engaging or converting, but also help to get your content in front of more pairs of eyes.
For example, segmented email campaigns perform over 14% higher than non-segmented campaigns.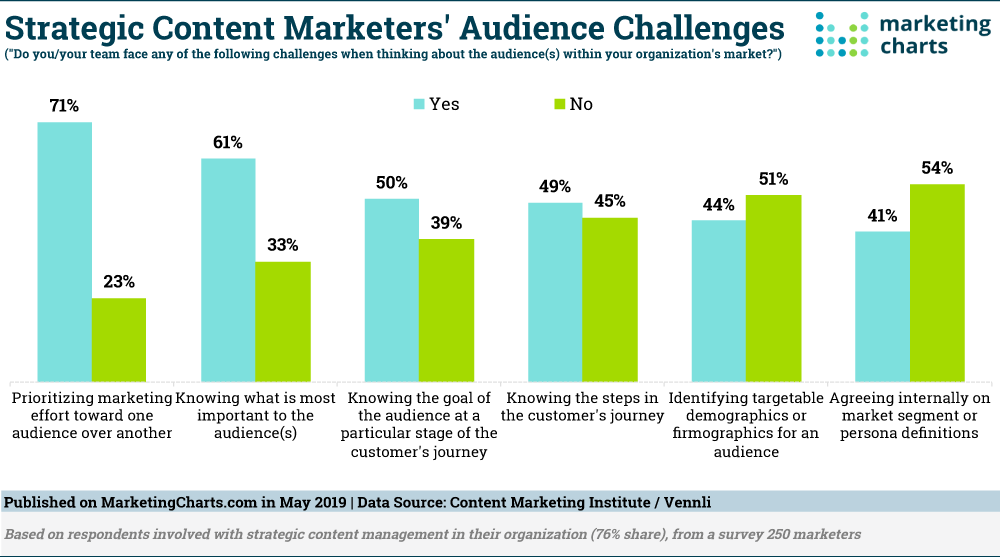 Source: https://www.marketingcharts.com/cross-media-and-traditional/content-marketing-108453
So how do you measure reach? There are several metrics you can use to track the size of your audience. These include:
Website visitors or new visitors
Page views
Social media followers (losing relevance more and more every day)
Visitors from unbranded search terms
I prefer unbranded search traffic relative to competition as the best measure of reach. Branded search is just a reflection of you talking to people who already know you!
But unbranded search is the golden nugget of reach. It provides an effective way to see how well your SEO and content marketing strategies are working, as it eliminates visitors who searched for your brand name or products.
You can maximize the reach of your content by sharing it to as many places as possible including social media channels, your email list, and content distribution channels.
You can also repurpose content into several different forms — a blog post can become an ebook, a video, and a podcast. This enables you to reach an audience that may not have seen your content in a different format.
While it's always nice to have a lot of followers on social media (maybe engagement is better) or to see an increase in your website traffic, it's important to use this information together with other metrics, to prevent them from becoming pure "vanity" metrics.
Getting extra traffic to your website doesn't mean much if those new visitors aren't actually new (unbranded)or aren't actually interacting with your content or buying anything from you.
Engagement
So this is where engagement comes in. Reaching people is only the start. You then have to make sure they're actually engaging with your content. This will only happen if your content is relevant to them in the first place.
Your content not only must be relevant, it also needs to be high-quality, informative, and interesting if you want to achieve high engagement levels.
Again, there are several different metrics for measuring engagement. The ones that are most relevant for you will depend on your goals for each particular piece of content.
For instance, if you want to simply give a short piece of informative content, you shouldn't expect time spent on-page to be very long. And that's not necessarily a bad thing. Just because a list post provides information quickly, doesn't mean it isn't engaging relative to other list posts.
However, you'd hope that watch time for an entertaining video should be longer.
Some potential engagement metrics to track include:
Pages per visit
Average time per visit
Bounce rate
Email subscribers
Traffic from organic social media shares (not likes and shares)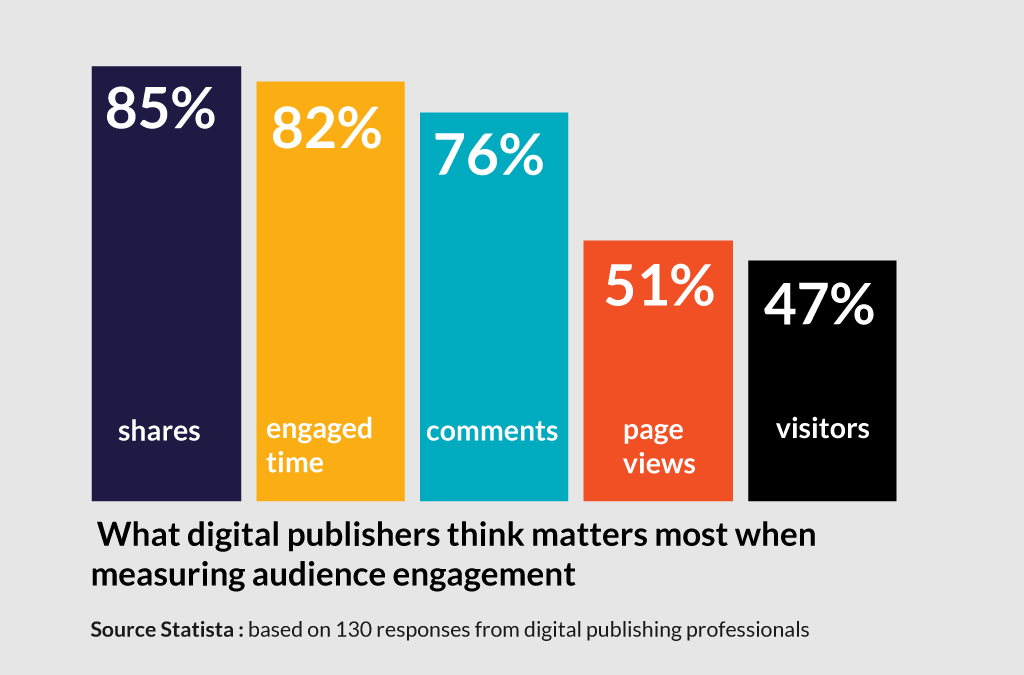 Source: https://blogstar.co.uk/measure-user-engagement-online/
As well as tracking engagement as a whole to measure your content success, aiming to optimize a piece of content by making small changes to increase engagement can help you to make the most of the traffic you already have.
This can be quite a simple and quick process — for example, research shows that just adding a video to existing text content could attract up to 300% more inbound links.
My favorite measure is email subscribers. It shows readers who not only engage. But also who take an action and invite you into their already over-crowded email inboxes.
Conversion
Conversion is a critical goal for any content marketing campaign. While some of your individual pieces of content may have the aim of increasing brand awareness or audience trust, the overall goal should be to get your content working for you. In other words, it should prompt action from at least some members of your audience.
Every piece of content may not (and should not) lead to a direct sales goal, but you should at least keep the end goal in mind when you're crafting your content. Think about how it can guide the reader through the sales funnel to the next stage in their buying decision.
Apart from direct sales, some common conversion metrics to consider include:
Newsletter subscriptions (not a lead but it is a small "conversion")
Clicks to other content and landing pages
Clicks on CTAs
Registrations to access gated content
Inquiries from a form, phone number, or email
Measuring conversion metrics is essential for calculating your content marketing ROI, which is the only true way to know if your content marketing strategy is working or not.
This image is an example of the infographic we setup when I was at SAP to track across the dimensions of reach, engagement, and conversion:
All of our testing looked to increase reach and conversion without sacrificing engagement.
For example, you could put a form in front of every article, but no one would read them. You also could remove all obstacles and links to anything and maybe increase reach and engagement. But conversion would drop to zero.
So effective content marketing requires a balance between them all. Testing site elements against this kind of balanced scorecard can really help to improve your overall user experience.
Retention
Ahh, the final frontier of marketing objectives. Too few of us measure retention on marketing. But we know it is the fastest path to ROI. We have looked at a number of companies who did care and found their referral rates sourced when they focused on retention. We have also seen companies increase their LTV and spend rate from customers who engaged with content.
How to measure this? Take your email subscribers and compare their email addresses to your customer database. Now analyze any metrics you have between those 2 cohorts.
In every instance where we have done this, the metrics are up by 300-400%:
Customer Life Time Value
Retention Rate
Revenue Per Customer
So while you are figuring our content marketing ROI, don't forget to think about retention.
What are your content marketing goals?
If you are ready to get more traffic, leads and sales from your content marketing with quality content published consistently, check out our Content Builder Service.
Or, set up a quick consultation, and I'll send you a free PDF version of my books. Get started today — and generate more traffic and leads for your business…