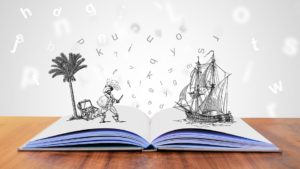 The Role of Data and Storytelling in Marketing Transformation
Today's decision makers don't want a sales pitch. They want to hear your story and how it aligns with their own. When you tell that story well it gets audiences deeply invested, increasing the value of a product or service substantially. When identity, values and experiences are core brand differentiators, storytelling becomes essential. Vital to this is data, that helps marketers understand customers and makes stories more meaningful.
The way we think about marketing transformation is changing with the rise of  content marketing and thought leadership – data and storytelling are important additional layers to enable your marketing to be more innovative and strategic.
Quick Takeaways:
Data collection and mining are key to getting the right insights that help brands create relevant stories for customers.
The purpose of a story is not just to elicit emotion; it also needs to inform the audience.
Get customers to tell your brand's story in their own words. And encourage them to share it far and wide.
So, how can your organization leverage data and storytelling?
Data Driven Storytelling
Did you know that by 2020, 1.7 megabytes of data will be created every second for each person on the planet?
As a marketer, that's data you can easily put to use to develop engaging and targeted stories that resonate. This enables your brand to attract attention with real and concrete solutions that rise above the noise.
A great example of this is the Lookback campaign from Google Trends. They collected data from the previous year and created a video to add to the narrative. This content delivered on the brand's promise of offering marketers a way to understand how to launch more effective campaigns.
Data is key to developing consumable content and telling a story that matters to your audience, especially for B2B brands. By adding a layer of data to your storytelling, your marketing can abandon throwing concepts out there and seeing what sticks, and be more strategic with every piece of content you create. The B2B buying journey is long and creating relevant, data-driven content will make your job that much easier.
Stories Aren't Just About Emotions
The heart of storytelling is an emotional connection. You want to tell stories that cause an emotional reaction, but you should also be answering questions and offering ideas to solve problems. Finding the middle ground is where you can best leverage data.
By analyzing data, you can determine what questions your audience has and what their biggest pain points are. By then addressing them in a compelling manner, it transforms your marketing from simply a sales pitch to a relationship.
You can collect data from your audience in many different ways, such as studying their interactions with your brand or directly soliciting feedback through surveys. It's up to marketers to take this data and combine it with human empathy to create stories that matter.
An excellent example is Adobe's use of content marketing. After the desktop publishing giant acquired marketing analytics company, Omniture, it needed to find new ways to connect and engage with marketing leaders. Adobe used Omniture's website CMO.com to curate content that directly targeted its recently expanded audience – providing these leaders with strategy and guidance, while continuing to gather useful insights about its customers.
Data and Storytelling in Your Media Strategies
You can also use data to develop your media strategies. By rooting them in data-driven content, you are likely to get more meaningful attention for your brand.
One of the most effective ways to achieve this is to publish a report based on survey data. A report helps them understand trends and challenges, and puts their own experiences into new context. Plus, because your brand is behind the research it lends additional credibility as a thought leader.
Customer-Led Storytelling
What could be a better story than one that stars your customer? After all, 92% of people trust their peers over traditional advertising when it comes to deciding to do business with a brand.
With user-generated content, you can expect increased engagement and expanded reach. There are many ways to involve your customers in the story. You can create videos that showcase a project with real people talking about your brand or invite customers to take over your social media platforms for a day and share their insights. Coca-Cola's #ShareACoke campaign has spawned one of the most successful hashtags ever:
https://www.instagram.com/p/BzgCpY_Hicw/
The more stories you can develop that include your customers' perspectives, the more powerful it will be. And you can include data in these stories as well, such as how much time or money the customer saved by doing business with your company.
Engaging with Immersive Storytelling
VR is a big trend in the marketing world, as more brands to use it to tell stories and connect with audiences. When you take an individual and immerse him or her into a sensory experience, you have a much better chance of being memorable and forging bonds. While immersive storytelling is fairly new to the marketing world, it falls back on the fundamental marketing concept of delivering experiences.
Data can also be interactive and part of the immersive scenario. You are fostering a culture of learning through these tactics, and data plays a huge role in that for your customers. The most important things to keep in mind are to be inventive, innovative and unique.
If your marketing is set on a path for transformation, you'll want to rely heavily on storytelling and data. With these two elements, you can elevate your message and cultivate deeper relationships with your target buyers.
The post The Role of Data and Storytelling in Marketing Transformation appeared first on the PAN Communications blog.
Get a Free Consultation
for Content Marketing