Tech companies are in somewhat of a unique position in the world of marketing. People expect them to be at the forefront of innovation and a source of high-quality news and information. At the same time, they must face the challenge of simplifying complex, technical information and making it interesting and engaging. And all of this must somehow be tied back into making sales.
These factors can make successful content marketing far from a simple task for many technology brands. Those that miss the mark risk falling behind their competitors and becoming irrelevant. But when they succeed, the results can be impressive. Technology companies (both startups and incumbents) make up about 50% of our clients. And the results they see include double-digit increases in traffic AND leads.
A LinkedIn report found that 78% of IT buyers need information and guidance to make decisions about their IT environment, and 67% are more likely to make a purchase from a vendor who educates them at each stage of the decision process. So educational, non-sales focused content is a vital part of your overall marketing strategy.
For ideas and inspiration, it makes sense to look to some of the world's biggest tech brands. By examining how they have used content marketing to carve out a position in today's increasingly competitive world, you can gain insight to feed into your own marketing strategy.
Quick Takeaways:
Technology brands face several challenges in creating effective content marketing, but they also benefit from opportunities unique to their industry.
It's common for large technology companies to be reluctant to change their marketing methods and content marketers may meet resistance. But the proof is in the figures – it works.
Understanding your audience and transitioning to a customer-centric approach is essential for success.
SAP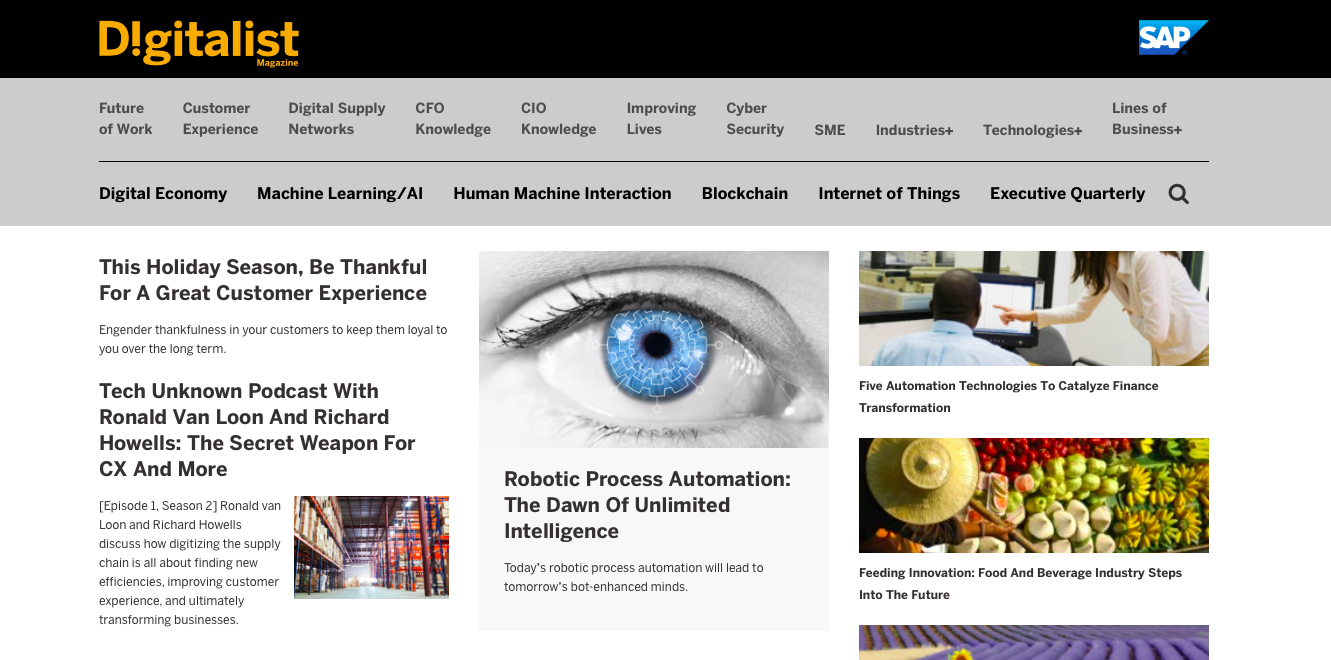 In 2011, I was appointed by SAP as their first Vice President of Content Marketing. There are always challenges when filling a newly created role, especially when the focus is a business branch that didn't really exist a few years ago.
This is the position I found myself in when I took on this role at SAP.
SAP's CEO Bill McDermott had recognized that something was missing in the company's marketing strategy. The SAP website was informative about their products but was missing the inspiring stories of innovation driven by SAP's solutions.
I was appointed to fill this gap, but although the expectations were high, I started with no team and zero budget. Another problem was that some SAP marketers were resistant to the idea of content marketing and didn't really understand how it would sell software.
When looking at SAP's web analytics, I realized that no early-stage prospects were reaching the website with questions like "what is big data?" Instead, web traffic was made up of late-stage leads that had most likely already decided to buy a SAP product.
I realized the company was missing out on a huge opportunity here. But how to address this need for content without any budget?
After discovering most of the previous years' advertising campaigns were hemorrhaging money and not converting, I struck a deal with the head of advertising: I would use half their landing page budget to create a content marketing platform that also served as a sales landing page.
The result was Digitalist – an online magazine that used the power of compelling content and storytelling to drive conversions.
By the end of the first year, our content marketing efforts had generated almost 1,000 leads, and converted into approximately $750,000 in revenue. This translated to a 7X ROI based on our first-year expenses of $100,000. In fact, this content initiative was the highest ROI of any program at SAP that year.
Digitalist continues to engage customers and drive sales for SAP to this day by publishing valuable content about the future of work, customer experience, and up-and-coming technologies.
IBM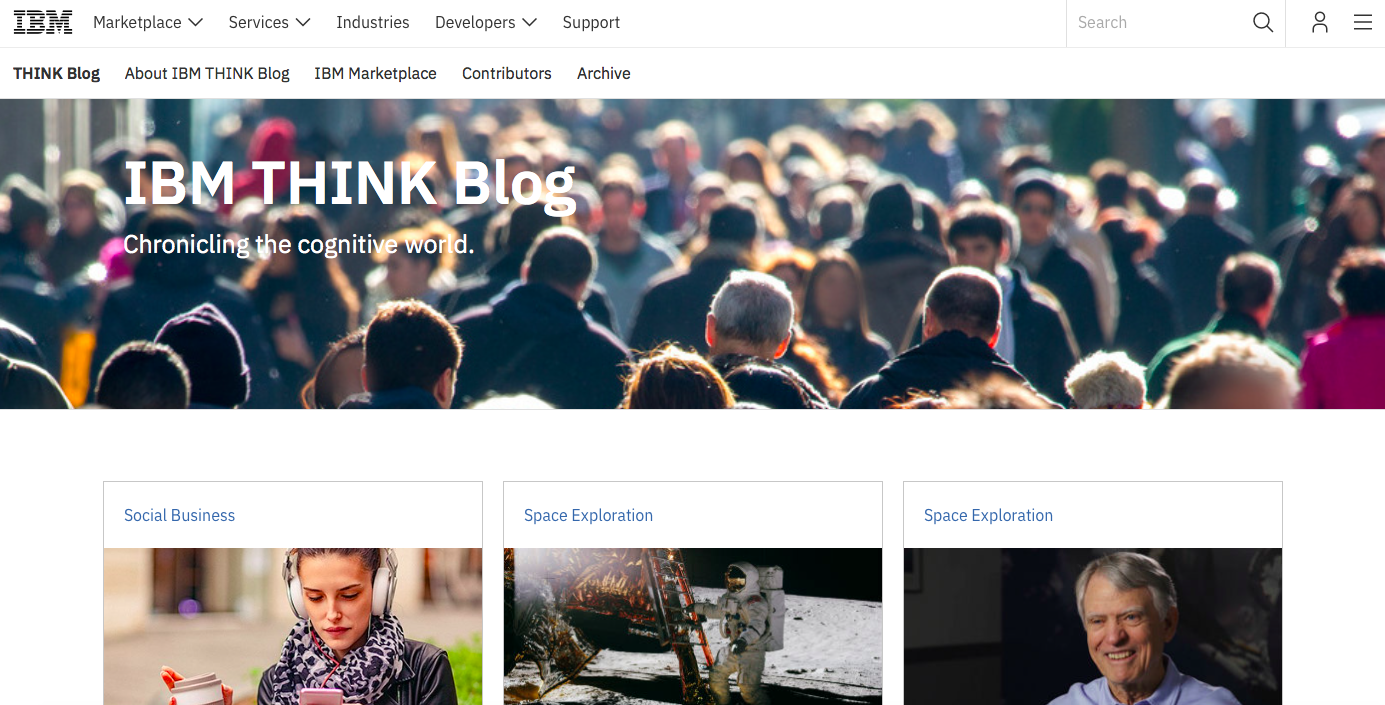 IBM is considered by many to be one of the world's most successful brands in content marketing, and it has carried out hundreds of successful content campaigns aimed at markets ranging from individual consumers to global corporations.
IBM publishes and manages several different blogs targeted at different audiences.
THINK harnesses the power of storytelling to provide insights into disruptive technologies including the cloud, Internet of Things, and blockchain, and how they are changing our world for the better.
IT Infrastructure explores how new technologies and opportunities such as big data and analytics, hybrid cloud, and AI are changing IT infrastructure to provide insights and inspiration for IT leaders.
The Internet of Things blog focuses on IoT technologies and their use in buildings, asset management, aerospace, automotive, health, and other industries.
Watson covers case studies and stories about how companies have used Watson, IBM's suite of AI tools and services for enterprises
IBM's IT Services blog covers information about the business side of using technology such as talent acquisition, data protection, automation, and customer analytics.
IBM also has a very popular YouTube channel, which they use to publish high-quality video content that does a great job of explaining complex topics in a simple way, as with this video explaining how Watson works.
The team at IBM are experts at understanding their audience and delivering targeted content platforms to educate, inspire, and communicate with current and potential future customers.
They also showcase the power of their own solutions, such as using Watson to power their own brand websites.
IBM has seen a huge payoff from all of these efforts. They're not only recognized as world-class marketers by industry leaders, but their content has also driven millions of impressions to their website, engaged millions of customers on social media, and generated millions of dollars in revenue.
Cisco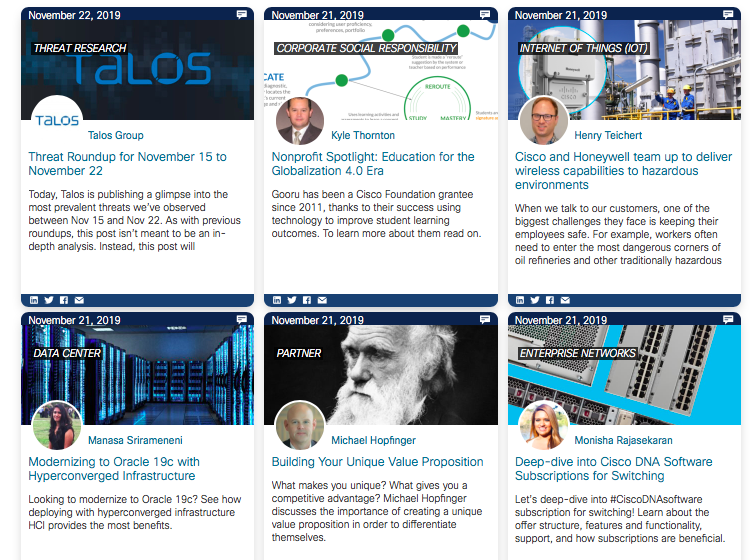 Networking conglomerate Cisco has embraced content marketing from the beginning and has been very open about its approach. In 2015 the brand announced plans to hire over 200 content marketers as part of their effort to refocus their marketing strategy around content.
But one of Cisco's most famous content marketing successes dates way back to 2008, when they decided to run an experiment by launching their new router across their three main social media channels: Facebook, Twitter, and YouTube, instead of following their standard product launch template.
The launch was a major success, in fact becoming one of the company's top five launches ever. Not only that, but the campaign cost a fraction of their usual $100,000 product launch budget.
Cisco understood from an early stage that to see real success in marketing going forward they'd need to take the focus away from products and take a customer-centric approach. By segmenting their customers into audience personas and combining creative content with marketing technology, they were able to deliver highly personalized and valuable content.
Cisco is a great example of how B2B content marketing doesn't have to be boring. By using the same features as easy-to-understand, engaging, and interesting B2C content, they've demonstrated that B2B content can be fun, innovative, and successful. A study of a single Cisco content campaign showed that they'd achieved 72% of their engagement goals in just a couple of months, driving 34,000 partner activations and 300 million social impressions.
Need Help With Your Technology Company Content Marketing?
If you are ready to get more traffic to your site with quality content that's consistently published, check out our Content Builder Service. Set up a quick consultation, and I'll send you a free PDF version of my books. Get started today and generate more traffic and leads for your business.