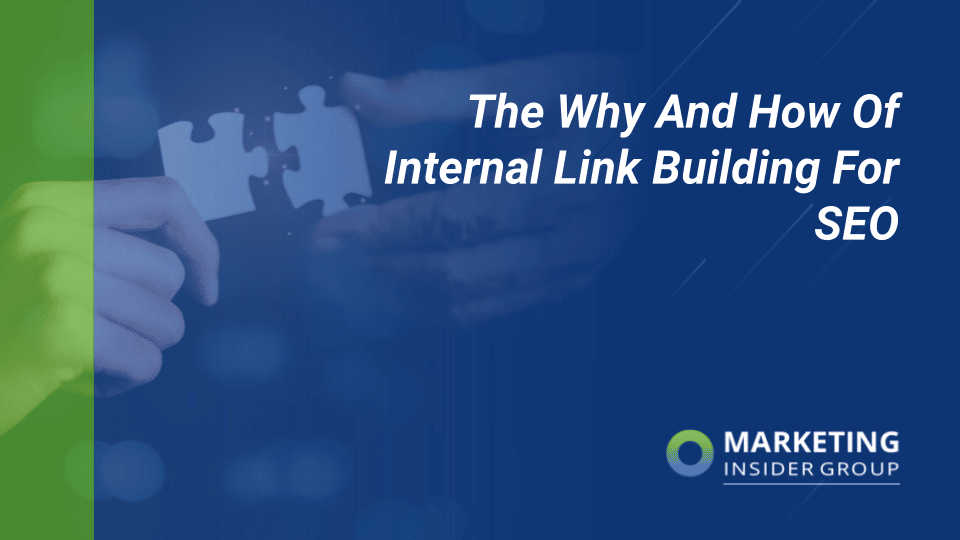 The Why and How of Internal Link Building for SEO
If you haven't started internal link building, then your SEO strategy isn't strong enough. Internal linking is crucial to optimizing your webpage for search engines and can dramatically improve your content's performance.
Although its concept is simple, the process and best practices behind internal link building are quite complex. In fact, 65% of digital marketers say that link building is the most difficult part of SEO.
But you can't let a challenge stop you from driving more traffic and generating conversions for your business. Optimizing your content is easy when you understand the why and how of internal link building.
Quick Takeaways
Internal links are hyperlinks between two pages on the same website
Since 68% of online experiences begin with a search engine, optimizing blog content with internal links is key to generating organic traffic 
Internal links reinforce pillars of SEO success, such as: website architecture, content hierarchy, context and authority
Building internal links encourages the spread of link equity, ultimately increasing the value search engines find in your content
Consistent internal linking is an essential content marketing technique that promotes more traffic, a stronger link profile and enhanced SEO.
What Is An Internal Link?
Internal links are hyperlinks that guide visitors to another page of the same website. These are not to be confused with external links, which are hyperlinks that guide visitors to a different website.
Although both are key to a thriving SEO strategy, internal links are essential to keeping visitors engaged on your site. They also reinforce essential components of SEO success:
Website architecture
Content hierarchy
Context
Image Source: Terakeet
Internal links can be found on the homepage of websites, or within published content, such as blog posts. They're most effective when anchored within text, offering readers their next destination to learn more about a specific topic or keyword.
Why Start Internal Link Building?
Internal link building generates traffic and circulates existing authority from backlinks throughout the rest of your site. It encourages site visitors to engage with your content as they're organically presented with answers to their questions.
A recent study by Zyppy found that webpages with 40-44 internal links receive an average of 8 Google Search clicks, whereas pages with 0-4 internal links only receive 2 clicks. However, clicks become unstable as the number of internal links rises above 44.
Image Source: Zyppy
Clearly, internal link building is a vital part of any SEO strategy, but it begs the question of how internal linking can be optimized for your specific site. Understanding how navigation links and anchor text variations perform will help you find the perfect balance.
Navigation Links
Navigation, or sitewide, links are internal links found in the navigation on every page of a specific website. Research shows that as the number of navigation links increase, site traffic tends to decrease.
Although, this doesn't mean that navigation links are less effective than other types of internal links. In fact, their effect often depends on the size and following of your website.
Research shows that large, high traffic sites benefit from the inclusion of many navigation links. In contrast, small and medium businesses see less success as their number of navigation links increases.
Anchor Text Variations
Anchor text refers to the specific words that make up a clickable link. Pages can have many variations of anchor text linking to them, or just a few. The most popular web pages generally have a wide variety of anchor text variations, generated from external links.
Although, research shows that pages with at least one exact match anchor, or anchor text that matches a topic or keyword exactly, is strongly correlated with more clicks.
Image Source: Zyppy
The graph above shows that web pages with exact match anchors can generate up to five times more traffic than those without. Although, simply using exact match anchors isn't always enough to see a noticeable impact on traffic. Internal linking works together with other optimization techniques to improve your site's ranking.
Benefits of Internal Links
In addition to increased traffic, internal link building comes with several other benefits. Understanding the effects of internal linking will help you optimize your SEO strategy and reach your target audience.
1. Improve Engagement
Internal linking allows you to define a journey for your audience, encouraging them to explore and engage with your site. This can help to both reduce your bounce rate and increase time spent on a specific page.
2. Enhance User Experience
Internal link building plays a key role in enhancing the user experience. It offers your audience the opportunity to dig deeper and learn more about a specific topic or keyword.
Image Source: Roaring Studios
By suggesting related reading material via anchor text, you help your audience build connections between your content. You also demonstrate expertise, increasing the perceived value of your content to both readers and search engines.
3. Drive Conversions
Internal link building improves user navigation, naturally bringing your audience deeper and deeper into your content marketing funnel. As a result, it also drives your audience towards making a purchase.
Optimizing your high quality content with internal linking offers readers a natural, direct path towards conversion at their own pace. To learn more about how content marketing funnels help drive conversions, enjoy the short video below.
Video Source: Philip VanDusen
4. Build Link Equity
Link equity is a measure of authority that links pass from one page to another. Building internal links encourages the spread of link equity, ultimately increasing the value search engines find in your content.
5. Rank Keywords
Internal link building sends a clear message to Google about your keyword and page association preferences via anchor text.
Remember, exact match anchors are strongly correlated with more clicks. This is partially because they help Google better understand the purpose of your content and how to share it with the right audience.
How To Build Internal Links
While the perfect SEO strategy remains site-specific, there are a few ways you can optimize your content with internal link building. Here's our best practices for internal linking to encourage traffic to your site.
1. Crank Out The Content
To build internal links, you need lots of internal pages with high quality content. This way, you'll have many opportunities to anchor text with internal links and lead readers towards conversion.
Build your content arsenal by establishing a content marketing calendar dedicated to consistently creating blog posts. Doing so will show Google that your content is worthy of ranking high. Since 68% of online experiences begin with a search engine, optimizing blog content with internal links is key to generating organic traffic.
2. Link High Authority Pages To New Content
Remember, internal linking encourages the spread of link equity. Link equity comes from pages with high authority.
Therefore, one of the best ways to give your new content a SEO-boost is to build internal links to high authority pages within your new content. This helps both your audience and search engines associate your new content with that of high authority.
Make a list of your pillar pages to identify high authority links. Then, internally link these pages throughout your new content to spread link equity.
3. Keep It Brief
Anchor text helps Google understand your website architecture and how your content relates to each other. Therefore, it's important to make sure your anchor text is in line with Google's preferences.
Anchor text should be kept short and sweet so users and search engines can easily understand the link's topic. Ideally, anchor text should be a maximum of five words.
4. Prioritize Relevance To Context
Enhancing the user experience with internal link building means offering valuable, relevant insight to readers during their experience.
Anchored text tells your audience that linked pages will match the context of the content they're currently reading. Linking irrelevant, out-of-context pages within content will mislead your audience and likely result in a low SEO ranking and poor authority.
5. Link Deep
Generally, it's best to avoid linking to top level pages included in your main navigation, such as your Homepage or Contact Us page. This is because these pages already generate plenty of traffic and fail to lead site visitors directly to your niche content.
Instead, link deep into the structure of your site to offer readers a natural next step towards expanding their knowledge. Blog posts with high authority are a great example of deep internal linking.
Not only does it organically educate your audience, but it also encourages them to keep engaging with your content.
6. Optimize Placement
The placement of internal links can have an impact on their effectiveness. Build your internal links towards the top of your content to reduce your bounce rate and increase time spent on your webpage.
Links at the beginning of your blog posts offer readers an immediate next step, whereas links placed towards the end of your content can be easily overlooked. Keeping your audience hooked from the start is key to increasing engagement.
Start Improving Your SEO Today
Internal link building is one of the most effective ways to improve your SEO. Not only does it increase site traffic, but it also enhances the user experience, improves engagement, and drives conversions.
Get started today and start publishing high quality content consistently with the help of Marketing Insider Group. Check out our weekly blog content service today or schedule a free consultation now!
Get a Free Consultation
for Content Marketing