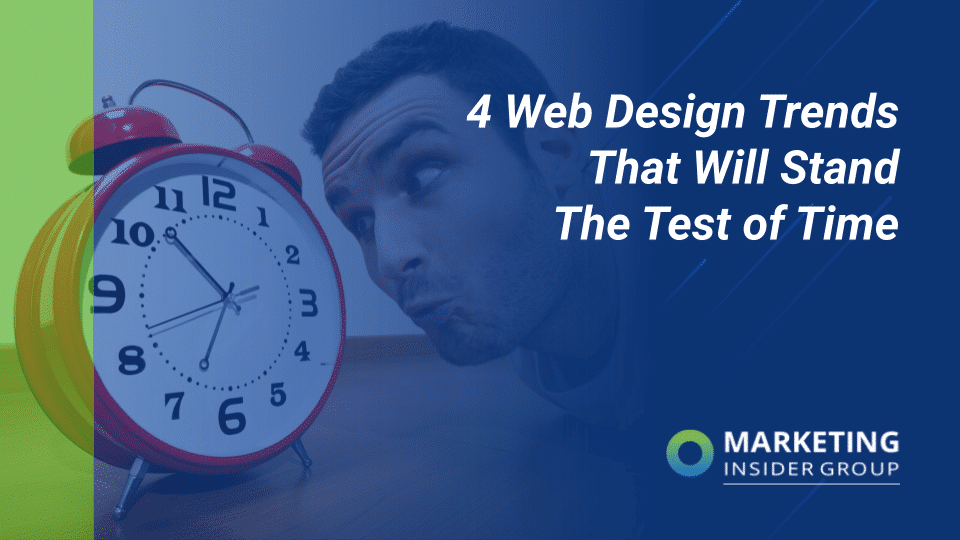 4 Web Design Trends That Will Stand The Test of Time
Design trend changes often feel like the heavy duty cycle on your washing machine. There seems to be a new– and somehow better– option at every aggressive turn!
When it comes down to it, design preferences change in the blink of an eye. But, you can't build a website without making some concrete design decisions.
If you look to famous brands for guidance you'll see conflicting answers at almost every turn. The big companies have nearly unlimited resources, so they can afford to experiment with every micro-trend that comes to light. Don't fall into their trap when they say you just have to go with ultra-minimalism while branding your website.
If you're building a website or working on a redesign, here are some features to consider incorporating so your website strikes a chord with your audience that lasts longer than the current trend cycle.
Key takeaways: 
Interactivity remains an integral part of website design, but you must avoid some popular trends that could jeopardize your rankings. 
Sans serif is out, literally anything else is in. Be bold with your typography and graphic design elements. 
If your website isn't tailored to each of your viewers specifically, they're already disappointed. Add custom viewing options to reel them in.
Content is still king, but elevated content is like the king on crack… 
1. Continued Emphasis on Interactivity
The marketing world sounds a bit like a broken record when it comes to interactivity. The trend is and has been more, more, MORE and that's not changing anytime soon.
Google has said themselves that they're looking for meaningful and intuitive user experiences while crawling pages to rank. One significant way to improve user experience is to prioritize interactivity.
The question now is how. If you look to graphic and web designers, they'll say the trend is moving towards just-for-fun animations like this one from Lazarev design agency. Their website is undeniably beautiful and fun to scroll, but it fails Google's page speed insights test for both desktop and mobile.
If you're a company looking to boost your rankings and increase lead generation, "just-for-fun" animations aren't your best bet. You'll have to incorporate more interactivity without slowing down your site overall.
Having a more interactive website doesn't have to be as hard as it sounds. Here are a few ideas:
Incorporate calendars to facilitate easy appointment booking
Service calculators to help potential customers find the right service and price point for their needs
Reliable and accurate navigation menus on each page
More stand-out buttons for email subscription, ebook downloads, social media accounts – you name it!
Provide a comment section on your blog or social pages and facilitate conversations
Create interactive content for your blog
They key: get creative with your interactivity and test different options to see which version of your page users respond to more. 
2. Creative Typography
The next big trend is the pendulum swinging back from years of big brands taking on a Sans Serif approach to their logo.
Image Source: SuperFlyMarketing
Big brands have simplified their logos over the years and users are starting to get sick of it. People have begun to adopt more creative typography in their branding, especially the nostalgic Y2K theme.
This trend hit the fashion world first, with influencers, celebrities and designers being the first to initiate the change. Case and point, velour tracksuits on Paris Hilton and her assistant in the early 2000s vs international house-hold name Kim and Khloe Kardashian in 2022.
Image Source: HerCircle
In 2023 we anticipate this trend to trickle down to all things designed, including websites. We already see examples of this in fashion and ecommerce websites, because that's where it makes the most sense now.
Of course, Y2K isn't the only theme to consider. Bolder typography is general is catching on. Take this website for example:
The Galeforce typeface is used throughout the website and services page to create a sense of branding that stand out form regular text. The GaleForce team could have easily used their body text font for this entire page. They also used a play on words by adding "force" to each of their services offered.
Consider adding out-of-the-box fonts and design to these elements on your website:
Social media posts
In-text graphics
Fonts for blog titles or webpage
Promotional material
The key: incorporate aspects of this trend throughout your website with uncommon typefaces and designs.
3. Custom Viewing Experiences
Consumers don't pay attention unless an experience is tailored to them. 71% of consumers expect personalized interactions and 76% get frustrated when they aren't provided.
Image Source: McKinsey & Company
Personalization is getting harder and harder as more consumers are less trusting in their browsing experience. 30% of web users today refuse to share their data anymore, and while we still have cookies for those that do, they will soon be a thing of the past.
Companies have to take all of this into account in almost everything they do. Web design is no different.
If you feel stuck when thinking about how to make your website more customizable, consider accessibility first. For example, alt-text throughout your website is a must. Not only does it help improve the SEO of your website, but it creates a safe space for viewers with sensory processing disabilities.
Here are a few more ways your can provide a custom viewing experience for your visitors:
Dark mode settings
Toggle's on your website to display information in multiple ways
Motion reduction settings
Create personalized blog content for your audience
Get creative with your customizations as well. Furniture stores are ahead of the game here, using 3D images and augmented reality to show their furniture in your home. Some even offer virtual room planners where you can create a replica of your space and experiment with how you want to decorate it.
Image Source: WayFair
If you're a B2B or SaaS company, consider giving a sneak peek of what services you offer tailored to your web visitors needs, or include videos demonstrating your products use in different settings.
They key: take inventory of your company and what you offer and consider how you can make a consumer's experience more individual on your website. 
4. Elevated Content Experience
Content marketing has and will continue to be a key strategy in the marketing world. The web design trends of 2023 affirm this even further, but in a slightly different way.
The idea of Web3.0 is spreading fast, and website developers are preparing for a potentially new way to browse. The gist of Web3.0 is decentralization with the utmost form of browsing privacy. Check out this crash course that explains Web1.0 to 2.0 to 3.0 and what it means for web browsers:
So what does this have to do with the way you publish content? By offering premium content, your website will appear more valuable and engaging. Gated content experiences also offer more control over your audience, giving you more insights to the type of consumers you're attracting and why. Here are a few ways this trend can manifest on your website:
More gated content on websites
Membership offers
Private content portals
That's not to say static content like regular blog posts are a thing of the past. Google ranking isn't going anywhere anytime soon, and it's still one of the most effective ways to generate leads. You'll still need that line of communication open to act as the breadcrumbs leading your audience to your elevated gated content.
The key: start creating more gated content like ebooks and whitepapers, and consider offering courses or exclusive clubs for your consumers to join. 
The Bottom Line: Prioritize User Experience
Crafting a website isn't exactly a self-fulfilling project. When you're making design decisions your first question should always be, "how will this affect my user's experience?" not "how does this make my company look?" Of course, the latter matters too, but it won't be the driving force of your success.
Whether you're building a website or looking to optimize the one you've already got, incorporating some of these trends is a sure way to make sure you create a more positive browsing experience for your viewers.
The easiest next step? Create more gated content. Start elevating your content experience now with gated ebooks, whitepapers and more.
Need help? You've found yourself in the right place… Check out our SEO Blog Writing Services or schedule a free consultation today.
Get a Free Consultation
for Content Marketing