You need effective landing pages that convert as much as you need a worthwhile product or service. Without a great landing page, all your brilliant inbound work is generating website traffic for potential future buyers to visit, poke around, and leave.
If you don't want your hard earned web traffic to slip through your fingers like grains of sand (yep, it's serious enough to use that metaphor), you need to know how to create powerful landing pages that will boost your conversion rates. After all, getting people to your brand's landing pages is only half the battle. The real magic happens when a visitor converts and transforms into a lead, buyer, or subscriber.
What Is the Overall Goal Message of Your Brand's Landing Page?
Before getting into the nuts and bolts of constructing the perfect landing page, you have to have a clear answer to this question. What message do you want to get across?
Think of it this way. You have up to 8 seconds to make an impression. When someone lands on a web page, they need to know what value they will find within the site and how it is different from what everyone else offers. Site visitors need to instantly grasp what your brand's unique value proposition is. The goal is for them to understand why they should stick around to do business with you, in less time than it takes to stir the cream into their coffee.
This means a great landing page is, above all else, crystal clear. If there are less than ten words on the page, those words better serve to distinguish your brand from your competition.
Here's an example of simple, clean, lucid messaging that spells out FreshBooks' UVP right away. Plus an actionable CTA, in a smart position at the top of the page.

Once you know the distinguishing message you want to convey, you're ready to build a landing page that converts.
6 Components of a Killer Landing Page
1. A Headline that Strikes a Chord
What makes a landing page headline compelling?
First, it should allude to what sets your brand apart, as discussed. This can either be obviously stated or conveyed through the tone and style of your headline.
Your headline must align with your prospects' needs. There must be a sense that your brand is capable of addressing their pain points.
It should stand out.
Here's an example of an upgraded headline, done by Conversion Rate Experts for SEOMoz. It's a great example of shifting to a more creative, catchy approach to grab attention, and ideally get prospects to read on and learn more through the page's other text.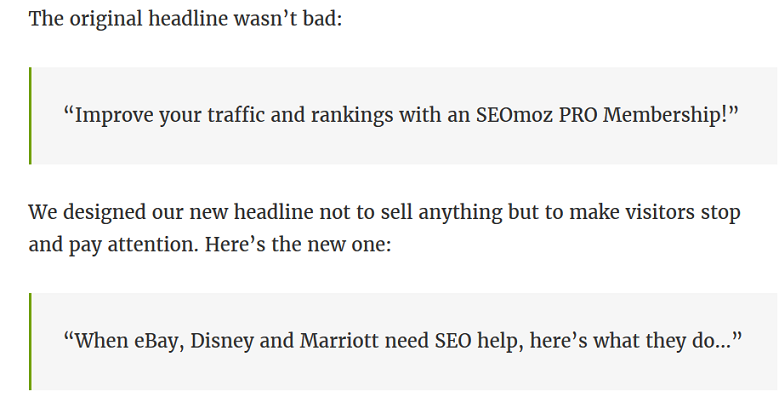 A well-constructed headline can have a sizable impact on your conversion rates. Make it good. If you're not sure or waffling between different headlines, use A/B testing to determine which headline is more effective.
2. Copy that Compels
Your text on your landing page should align with your headline. It also is where you want to address the emotional, psychological, and intellectual concerns of your prospects:
Use the text to address any anxieties a potential buyer may have, such as price, support services, or uncertainty if your product or service will make that much of a difference.
Copy text should appeal to your ideal buyers' sense of the ideal. For example, in our FreshBooks example, busy small business owners (their target) would want their accounting software to be easy-to-use, powerful, and organized.
Check out the copy when you scroll down their home page:

3. Irresistible CTAs
Call to actions need to be:
Well-placed – somewhere at the top of each landing page. Research shows that visitors will skim your web pages in an F-shape, which puts the perfect spot around the bottom of the F-pattern as the Boston Globe does here: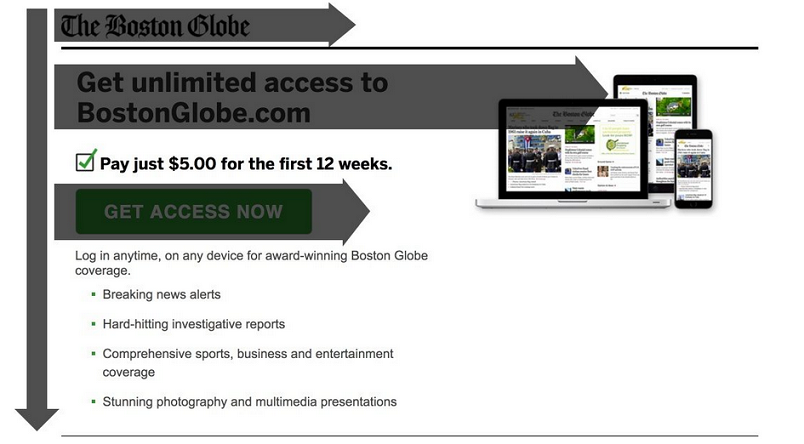 Concise and action-oriented – use a short phrase with an action verb.
Easy to see – this is where color contrast matters. Here's a great example of the use of plenty of white space to hone in on that fire-engine red CTA button.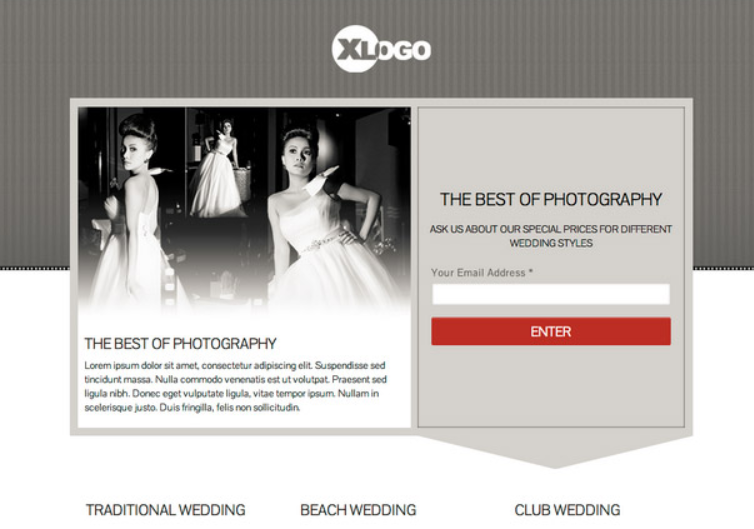 4. Those UVPs Again
While it's important to express your brand's UVP within the copy on the page, you also want to spell it out on your landing pages. Bulleted lists and accompanying icons or other visuals will make your brand's distinguishing features easy to see.
To help boost your conversions, it's also helpful to post a shortened version of your UVP on your checkout or registration page on the sidebar. This just re-emphasizes that your brand is worth it, right when someone is about to convert, rather than being a generic copy of market competitors.
5. Your Secret Weapon – Images
Your images should support what the text on your page is conveying. This helps to keep a smooth flow of information, with everything subtly directing towards your CTA. Speaking of subtle directions. If your image subject has eyes, whether a photograph or illustration, human or animal, make sure those eyes are directed towards your CTA. This is a simple yet powerful way to cue your site visitors to your call to action button.
6. Trust Builders
And finally, every great landing page has some type of trust building element. This can be in the form of photographs of actual customers, testimonials, client logos, third-party certifications, or case studies.
Once It's the Best, Make It Better
There are always ways to improve your landing page to boost conversion rates for your brand. A lot of marketers spend that initial investment setting up a good landing page, but then take a 'set it and forget it' approach, focusing instead on increasing traffic with the rest of the digital marketing arsenal.
The irony is, simply improving your headlines, changing the position of your UVP, or even swapping the color of your CTA button can have more of an effect on lead generation and sales than a month of content.
Don't neglect the features on your landing pages. Make sure they are converting well. If they are not, assess where you could improve, do your A/B testing, and create landing pages that you are confident are working for your brand.