The Ultimate Guide to Digital Marketing Tools that Won't Cost a Cent
Michael Brenner on Nov 14, 2017 in Content Marketing
From professionally produced marketing videos to influencer campaigns and automation software, staying within your digital marketing budget while still driving growth is easier said than done. While some pieces of your marketing strategy aren't exactly cost flexible, there are plenty of helpful free resources that digital marketers and small business owners can use to craft, launch, and manage far-reaching campaigns.
Use this comprehensive list of all the free digital marketing tools you can use to improve your strategy.
Google Tools
Google deserves its own section for digital resources. With a clear intent to improve the search experience, Google has made it part of its mission to provide webmasters, bloggers, influencers and digital marketers a cornucopia of free tools and resources.
Google Analytics – You're probably already using Analytics. It is, after all, the most widely used web developer tool. Google Analytics will elegantly track the following metrics for your website, giving you enough data to swim in:
Website traffic
Real time visitors
Traffic sources
Keywords used to reach your pages
Bounce rate
Device usage of your visitors
Most popular pages
Social media engagement
Conversion tracking of your AdWords campaigns
Google Keyword Planner – For attracting more traffic to your site and devising strategic keyword campaigns for your blog posts, videos and social media posts, you don't necessarily require a paid service. With Google's free Keyword Planner, you can plug in a keyword and get a generated list of related search terms, along with important search volume statistics like average monthly searches and the level of competition for each specific keyword.
Google Alerts – This resource will help you stay on top of industry news, digital marketing trends and anything else you want to keep track of. Instead of wasting time searching for the information you need every time you want to look something up, Google Alerts is a free web app you can use to better manage your marketing research.
Google Trends – Want to know what's being talked about in your industry right now? With Google Trends, you can quickly find out what the trending topics are in relation to a particular search term – pure gold for identifying prime keywords for a quick blog or social post.
Google Drive, Docs, Webmaster Tools, Trends, Sheets, Calendar, and Voice. All free, all helpful and all offer more, the more sophisticated you become with using them.
Social Media Management – HootSuite
This is an excellent free resource every small business owner trying to get their brand out there should use. HootSuite's individual plan, for up to three social profiles, is free to use. When your social media needs expand, you can upgrade to one of the other plans. HootSuite offers a range of options for entrepreneurs, businesses, and enterprise-level organizations.
For a small business, HootSuite's free plan is a time-saving tool, making it easier to manage and optimize your brand's social presence.
What do you get for $0?
3 social profiles, managed with one streamlined account
Basic analytics to track growth and identify which content your audience is engaged with
Ability to automate up to 30 posts in advance
Ability to generate lead capture contests
Resources such as an educational social media courses and a community support forum
Content Planning – BuzzSumo & AnswerthePublic.com
You can use these tools to help boost the relevancy of your content. Want to motivate more engagement and generate more leads? Give your audience the content they are actually looking for. BuzzSumo is a powerful resource for content planning. You can hone in on the keywords and topics that have already proven to garner the most interest. AnswerthePublic shows you the questions searchers are asking based on a particular keyword. Then, you provide the answers through your blog, infographics or other media. The more your content strikes a chord with your audience, the more effective your content strategy will be in helping you reach your marketing goals. Who said the best things in life weren't free?
Writing Better Headlines – CoSchedule's Headline Analyzer
From your blog titles to social posts and email subject lines, every marketer knows how important those first 6 to 12 words are. To get an idea of the potential appeal of your headlines, you can use the free Headline Analyzer offered by CoSchedule.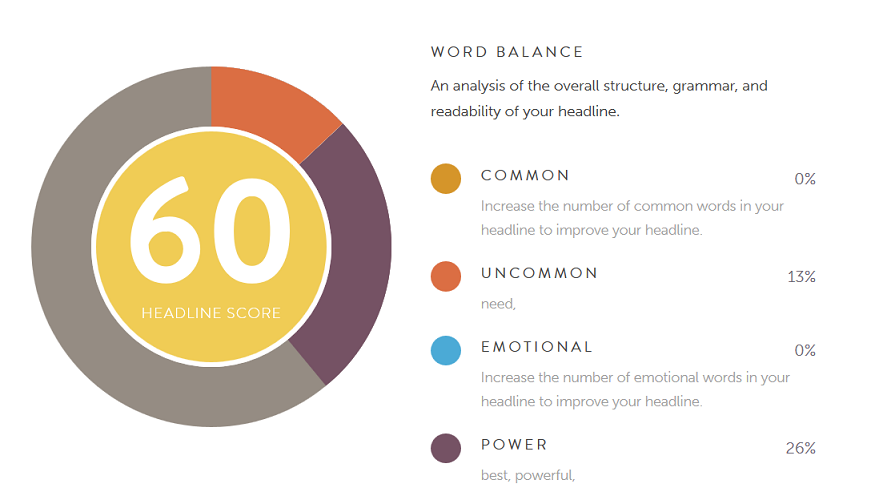 Type in your headline to test for readability, power words and emotional impact. You can also see at a glance the character and word count. Then, you can play around with your headline until you get a higher score – and a better headline.
Email Marketing – MailChimp
If you are marketing for a small business and have less than 2,000 subscribers, MailChimp is absolutely free. This means you can automate your email messaging, send timely messages, and personalize your campaigns. You also get free reports to help you track how your campaigns do over time. You basically get pro-level automation without having to spend a dime. Of course, ideally, your list will grow beyond the free plan.
Improving Your Online Presence – Hubspot's Marketing Grader
Want to know how your website stands up to your competitors and have a perspective on what and how you can improve it – without having to pay a professional to evaluate it? Try Hubspot's Marketing Grader. This tool will take a look at your website, as well as your overall digital presence, giving you feedback on your social media, blogging, lead nurturing, analytics, email, and mobile. In less than 30 seconds it will outline what steps you should take to improve and why you should take them.
Streamline Your Workflow – Evernote
Evernote is great for keeping your personal workflow organized. The Basic plan is free and lets you keep all your ideas, saved files, and important web pages in one place. It's a simple app that will save you so much time.
Improve Your Writing – Grammarly
Enjoy seamless writing with the free Grammarly app. Spelling, passive voice, comma usage and the endless struggle over it's and its will be a thing of the past with this simple, free tool. As with other free online resources for marketers, you can opt to upgrade to a paid package if you want but the free tool is definitely worth the zero investment.
Create Infographics – Canva
Visual content is a must for digital marketing today. Include visual content along with your text and people are 65 percent more likely to remember it. Easy to digest, infographics are useful for getting your point across. They can also be helpful for encouraging organic backlinks – publish a few thoughtful, well-designed infographics about what's going on in your niche and industry influencers may post a backlink to your infographic. Your audience will also appreciate your varied content on your website.

Canva has a free infographic maker you can use to create brilliant visual content, no design experience required. It's all drag and drop. You can upload photos, use the professionally designed templates and edit the text. For extra add-ons, instead of having to upgrade to a monthly service charge, all premium add-ons are guaranteed to be $1 or less. You can create other visuals including flyers, social media graphics, blog graphics and more.
Be a Better Marketer
Without using up your budget, you can improve your marketing and offer better value content to your audience. You also will gain the insights and data to help you improve your campaigns. Be a better marketer, for free.
Tired and over-worked? Just want someone to do some of this analysis for you? Contact me here and let's talk about how we can help.
I use a combination of best practice and competitive assessments, along wit a framework for success to help you achieve your marketing goals. I've done it for myself. I've done it for the companies I've worked for. I've helped activate hundreds, even thousands of thought leaders. I've done it for numerous clients. And I can do it for you.