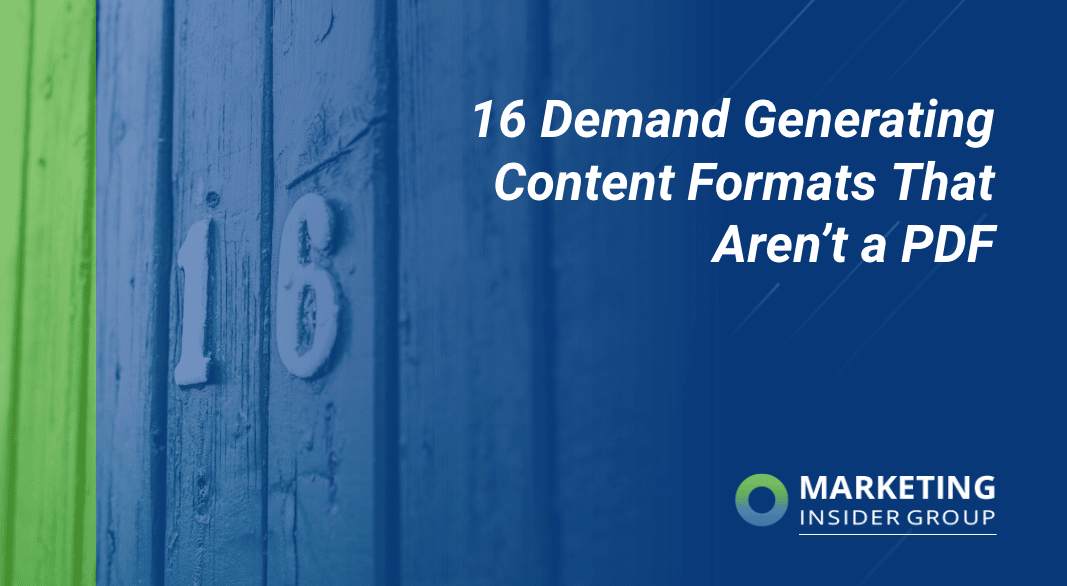 16 Demand Generating Content Formats That Aren't a PDF
PDFs have their place. They're easy to download, send, design, and skim. Over the years, they've become the unofficial default for many marketers, but times are a changing.
When it comes to building buzz, holding attention, and reaching new markets, PDFs can fall a little flat.
The good news is, there are lots of other content formats to play with and test out.
We pulled together 19 examples of more out-of-the-box content types to spur your imagination as you make plans for future demand-gen activities. There's something in here for every marketing department to consider.
So without further ado… 19 marketing examples to get you thinking creatively about your demand-gen content.
1. Multimedia Game
A multimedia game is a fun way to promote your content and interact with your audience. Chipotle decided to try its hand at a multimedia game with an animation based on the short film "A Love Story." The fast-casual restaurant chain encourages users to play and earn free food – and there's also a cute CGI film to go along with the game.
The end result of a buzz-worthy campaign like this is excited, entertained viewers who are consuming content while also enjoying themselves, a combination that can yield amazing results.
2. Microsite
A microsite is a smaller, branded site outside of a companies' main site that adds an extra element of promotion.
An impressive example of a microsite was the creation of the holiday app "elf yourself", a website that edits faces onto dancing elves. The site got tons of publicity and users had a ball applying the program to their family members and even coworkers. However, what you might not have realized is that this app is actually a microsite of Office Depot.
3. ROI Calculator
An ROI calculation is great way to show potential customers how you can help them with their goals in a data-oriented way. This tool offers a visualization that can benefit you and benefit your potential client.
4. Shoppable Virtual Tour
A shoppable virtual tour is a simulation of an existing location where you can also make online purchases.
Designer brand Gucci used this concept to launch "Gucci Live", a video shopping experience in which customers can make appointments and explore new items.
5. Interactive History Lesson
Interactive timelines give your audience a chance to explore and understand your company or brand at a deeper level. The features of the timeline will keep viewers engaged while they can learn more about who you are and what your company stands for.
6. Video
While it may not sound any more exciting than a PDF, you can get a lot more creative with video than you might think.
Check out this Netflix interactive video for some inspiration:

7. Product Picker
Even farmers can benefit from well-done interactive content. Check out how John Deere made choosing a product as easy as apple pie with their product selector.
Users can choose products in myriad ways: browsing an entire catalog, filtering by specifications, or answering questions about their situation in the "help me decide" assessment. Making the purchase process smooth and stress-free will ultimately result in better sales.
8. Webinar
Webinars continue to be high engagement drivers as well as powerful list-builders.
Some brands offer their audience two kinds of webinars in order to meet customers where they are: on-demand or real-time.
9. Blog Post
Yes, blog posts still work for demand-gen. The "trick" is to write blog posts on topics and subjects that your audience actually cares about. Interview series and even more tongue-in-cheek posts are some alternatives to the status-quo post.
10. Interactive Infographic
This interactive infographic have the potential to make rather bland subjects absolutely come to life. If applied correctly, these tools can capture and maintain your audience so that they are learning about what you have to offer while also being entertained.
Here is an example of an interactive infographic that takes a topic we would probably rather remain ignorant to, and turns it into an eye-opening experience that holds audience attention.
This is ThredUps "Fashion Footprint Calculator", a program that determines how large your personal fashion footprint is.
11. Podcast
Many marketers think they will lose swaths of their audience by investing resources in a podcast. However, that's only true if you're doing it wrong.
Sure, a podcast caters to commuters and gym-goers – people who prefer their content in audio format – but that doesn't mean you can't add content that will appeal to customers who prefer to watch or read. Consider adding a well-edited transcript to your podcast and/or offer a video version of the interview to capture these other types of content consumers.
12. Interactive Video
Take 10 minutes to explore the Universe Within interactive video from Highrise. Nothing I write here will prepare you for this remarkable experience.
If you've got the budget for it, a high-quality interactive video will get people talking about your brand fast.
13. Assessment
Assessments are fantastic for turning content into two-way conversations. As users click through and make choices, marketers learn their preferences, wants, and needs.
The result: Users feel engaged and marketers get insights they can use to make an even bigger difference for customers.
Check out this infographic that describes the 9 types of online assessments:
14. Quiz
Quizzes can be super fun for users, and have a habit of getting shared a lot. They can help boost SEO, give your brand some extra exposure, and can improve lead generation.
15. Gallery
A gallery doesn't have to be a static page of pictures. Nor does it have to be a multimedia extravaganza. You can simply make it more interactive to drive interest and create demand.
16. Bracket Challenge
A bracket challenge is a fun, competitive way to engage with your audience. It keeps your content on trend and relevant by following events that are happening. For example, the US Open used a bracket challenge to get tennis fans engaged and excited for upcoming matches.
If you are ready to get your own awesome content on your site, check out our Content Builder Service. Set up a quick consultation, and I'll send you a free PDF version of my books. Get started today–and generate more traffic and leads for your business.
Get a Free Consultation
for Content Marketing