The Essential Guide to Email Marketing for Startups
When was the last time a salesperson showed up at your front door?
It was a common sight up until the 80s. Only a few thousand door-to-door salespeople exist today, according to the Bureau of Labor Statistics – mostly for residential construction and building finishing.
For all its faults, the individual nature of door-to-door selling still offered a few benefits:
You could build a relationship with each lead and customer.
You could ask questions and learn about your target audience.
You could personalize every interaction.
You don't have to pack a bag and navigate industrial parks to promote your business anymore. Email marketing for startups delivers all these same benefits – with much less stress than knocking on doors.
Quick Takeaways:
Email marketing is a vital tool startups should use to reach customers, leads, and investors.
Amazing email marketing starts with incredible content – both throughout email and elsewhere.
Startups should create unique content for three segments: leads/prospects, current buyers, and shareholders/investors.
Why is Email Marketing Important for Startups?
Brands with sophisticated email marketing strategies report a return of $42 for every dollar spent!
The keyword here is sophisticated. Open any email in your inbox right now. I'm willing to bet it's either incredible or forgettable.
Email marketing (or any one tactic) should never be the key source of your traffic and engagement. But for startups, a comprehensive email strategy is wise:
Once a lead opens your email, you'll have their full attention.
You don't have to fight against social media algorithms.
Email can be interactive, which increases engagement.
Email marketing analytics are invaluable, and you can merge them with other tools.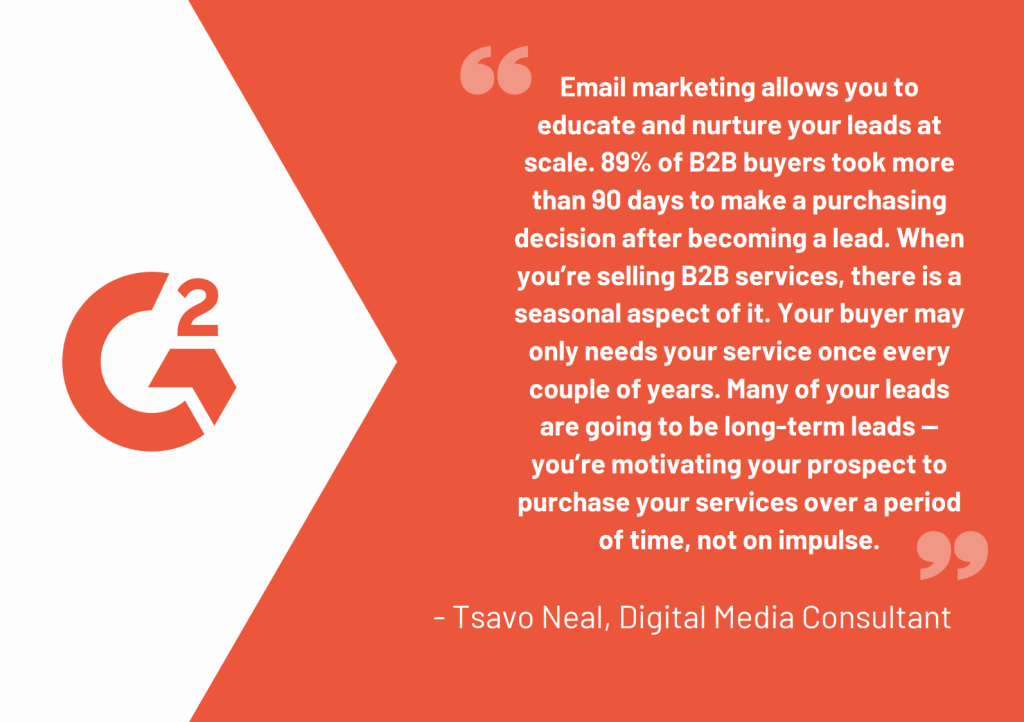 With email, you're only contacting people who genuinely want to hear from you. You didn't bribe your way into their LinkedIn feed: they gave you their email because they WANT to know what you have to say.
8 Email Marketing Tips for Startups
Startups often have better email marketing than small businesses and even large corporations. They understand what's at stake with every email they send. Plus, startups are usually tapped into the pulse of their leads, investors, and technology.
That said. While these things work in your favor, they're not a guarantee you'll deliver amazing results from email marketing. Copy, design, content, and timing are all paramount.
1. Segment Your Subscriber List
Every email you send should target a specific audience. Too many brands make a huge mistake: sending generalized email content to their entire subscriber list.
To keep your earned spot in the inbox, you must constantly send valuable and relevant content.
Start by segmenting your list into three categories:
Prospects and leads
Current customers
Investors/shareholders
These segments are the absolute bare minimum. You can take it a step further, too. Break your customers and leads segments down by firmographics like:
Company name
Job title and role
Company market share and size
Geolocation
What's easier? Getting 10 people to agree with you, or 100?
Smaller segments force you to create the most relevant content possible, instead of trying to please everyone.
2. Prioritize Quality Over Quantity
Quality over quantity logic applies to both the content you send AND your subscriber list.
While temping, buying email addresses does much more harm than good. At best, you might get one bite from hundreds of emails. At worst, you could get blacklisted for spam.
Focus on building an engaged subscriber list from people who want to consume your content.
Likewise, your emails should follow a nice cadence and offer value – every email. If you send too many emails with generic content, people WILL unsubscribe. As research from Marketing Sherpa shows:
3. Create Valuable Content Marketing
You need engaging content across all levels: website, social, blog, and email.
Blog and website content needs to show visitors why they should sign up to your email list. The average office worker receives almost 130 emails each day. Why should they add another to the mix?
You'll also need high-quality email content inside your campaigns. Email isn't like any other platform. It demands brevity and action to hold attention. Your copy should be:
Concise and get to the point quickly
Less than 200 words each
Conversational
Filled with active voice and actionable language
4. Optimize Your Subject Line and Preview Text
Your subject line is your ONE chance to encourage people to open your campaigns. As a startup, you're competing for inbox real estate with major corporations and competitor startups.
Make sure to:
Stay under 40 characters. Most smartphones will truncate after about 40.
Avoid spam words like "free" or "money."
Keep it actionable and in the active voice.
Include a number or formulate it as a question.
Avoid the word "newsletter." This reduces your open rate drastically.
Preview text also matters. Make sure your subject line, preview text, and first few lines of copy all flow nicely. Some phones might display quite a bit of copy if the user expands the notification.
5. Perfect Your Design
How do you feel when you open a website or email on your phone that isn't designed for mobile?
You probably hit the back button pretty quick. If an email's layout doesn't look right, 70% of subscribers will delete it within 3 seconds. Fifteen percent might even unsubscribe.
Fortunately, most email marketing tools make it easy to create designs that look great on every device.
Speaking of design, email is a wonderful place to reinforce branding.
Integrate your startup's colors throughout the layout. Overlay a colored filter and logo across your images.
6. Stick with a Single Topic and CTA in Each Email Campaign
We're all busy. No one has time to investigate five different CTAs to find something relevant and decide whether to click.
In fact, too many CTAs cause choice overload. It's like when a restaurant has too many choices on the menu. You feel paralyzed and unsatisfied with whatever you pick.
Instead, stick with one topic and CTA in every email. This will keep your subject line and copy focused and increase your engagement.
7. Set Up Automated Journeys for Each Segment
Email is B2B marketers' favorite channel for personalization.
Three quarters of marketers running personalization strategies say they use email.
Why? Automation potential. Your email service provider probably offers more features than you know what to do with.
You've already got your segments. Now, set up individual drip marketing campaigns for each segment. When a new lead, buyer, or investor signs up, they'll receive a personalized journey.
Include emails like:
Welcome
Your mission and values
Introduction to your products and services
Discounts and freemium bonuses
Your industry impact
Send each subscriber down a different path depending on which links they click inside your campaigns.
8. Integrate Data from CRM and Other Sources
Email is one of the most valuable tools for collecting data because it's so granular.
Every time you send a campaign, you can physically see who clicked what.
This lets you build comprehensive profiles on leads, customers, and shareholders.
And once you merge that data with CRM and Google Analytics? You have all you need to research your markets and create useful content.
How Does Your Startup Use Email Marketing?
Email marketing is an affordable technique compared to Google PPC or social media adverts. But pumping out a weekly roundup email each week isn't enough. Email marketing for startups must be relevant and valuable for multiple audiences. You have too much at stake to neglect your strategy.
Does your startup have personalized drip campaigns set up? What are some of your favorite email tools and tactics?
Need hard-hitting content for your email campaigns? Schedule a free consultation to learn about our Weekly Blog Writing  Services that make quality content seamless.
Get a Free Consultation
for Content Marketing