How to (and How Not to) Create a Buyer Persona
From where I sit, we have entered a new phase in the evolution of buyer persona maturity in marketing– or maybe this has been the phase we've been stuck in ever since the phrase "buyer persona" was first coined years ago, first in the design movements of the 90's, and later into marketing and sales.
Today, you can find over 500,000 search results on the topic, most supporting the need for buyer personas as a foundational component of effective marketing. Ask an industry thought leader, and you will hear similar validation, "personas are more important than ever" and "know your buyer first." In fact, 73% of companies currently use, or plan to use, buyer personas (ITSMA).
Think about it, your buyer personas are the building blocks of your marketing campaigns. If they're not good enough, every part of your marketing strategy will suffer.
That's why we're teaching you five easy ways to improve your buyer personas. Keep reading!
What is a Buyer Persona?
In the most basic sense of the phrase, a buyer persona (or a marketing persona or a customer persona) is a profile of your ideal customer.  These profiles are made up of existing customer data, anecdotal observations, industry research and much, much more.
Buyer personas should paint a picture of who customers are and what drives them to your product or service. These personas can inform your strategic decisions at every level of business—from marketing to sales to product development—and help drive customer engagement.
Large companies often have multiple buyer personas that span multiple industries, demographics, and product offerings. Whereas smaller companies often have fewer, less targeted buyer personas.
I actually like personas. And I know a handful of consultants who are really helping their clients create actionable insights and programs and plans based on a deeper understanding of their buyers. So, I'll start with a definition from one of those — Adelle Revella:
Buyer personas are examples of the real buyers who influence or make decisions about the products, services or solutions you market. They are a tool that builds confidence in strategies to persuade buyers to choose you rather than a competitor or the status quo.
Another great definition of personas comes from Tony Zambito, who uses this definition:
Buyer personas are research-based archetypal (modeled) representations of who buyers are, what they are trying to accomplish, what goals drive their behavior, how they think, how they buy, and why they make buying decisions.  (Today, I now include where they buy as well as when buyers decide to buy.)
And finally, I would be totally remiss if I didn't refer to Ardath Albee who says:
Personas must be focused on what the buyer is trying to achieve.
Ardath suggests personas answer must these questions:
What's important to them and what's driving the change?
What's impeding or speeding their need to change?
How do they go about change?
What do they need to know to embrace change?
Who do they turn to for advice or information?
What's the value they visualize once they make a decision?
Who do they have to sell change to in order to get it?
What could cause the need for this change to lose priority?
The reason these folks know what they are doing is that they emphasize the need for actionability from the exercise of building buyer personas.
What Does a Buyer Persona Look Like?
A very basic buyer persona looks like this: A 30 to 45-year old male, who works in software sales, at a company of 300+ employees. A more complex buyer persona extends beyond surface level details and includes other factors like common complaints, shared opinions, buying preferences, and more.
Here's a basic example from Brightspark Consulting: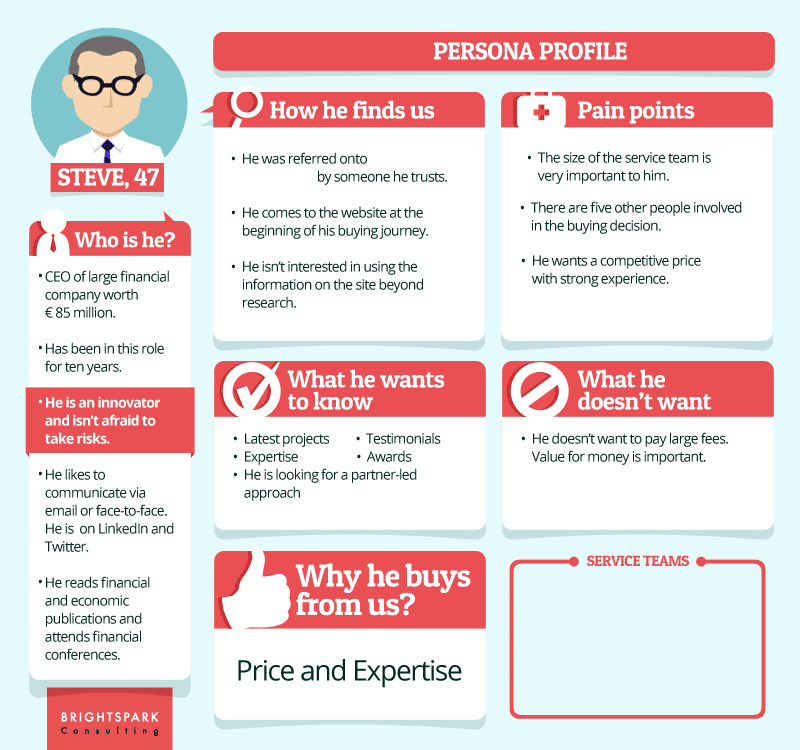 Unfortunately, the more complex your buyer persona, the longer it takes to construct. The best buyer personas are highly targeted and require a significant amount of analysis, research, and time.
Before we dive in, let us explain why buyer personas are so important.
Why Are Buyer Personas Critical to Modern Marketing?
Buyer personas are a modern marketer's best friend. When you use buyer personas to inform each and every part of your marketing strategy, you tailor your decisions to the preferences of your ideal customers. Therefore, a set of detailed buyer personas can have a massive effect on your marketing results. Consider these statistics:
Companies who exceed lead and revenue goals are four times as likely to use buyer personas for demand generation than those who missed lead and revenue goals.
56% of companies have generated higher quality leads using buyer personas.
36% of companies have created shorted sales cycles using buyer personas.
24% of companies generated more leads using buyer personas.
93% of companies who exceed lead and revenue goals segment their database by buyer persona.
Buyer personas are important because they help you both target and relate to customers. Your buyer personas will inform social advertisements that allow you to find customers based on their demographics and interests. Buyer personas will also guide your brand messaging and help you create content that will add value to customers and solve their problems.
Why Are Buyer Personas Effective?
Marketing Personas are effective because they focus and inspire marketing teams to deliver marketing content and campaigns that people actually want or need. I applaud any efforts to put customers first. Let's look at the components of why marketing personas are effective.
Personas Instill Empathy
Empathy is such an important part of modern marketing that I even wrote a whole book about it, Mean People Suck: How Empathy Leads To Bigger Profits and  Better Life.
The book was inspired by marketing that sucks, (mainly marketing) managers that sucked, and my experience on how using empathy in marketing delivers better marketing outcomes.
Empathy allows marketing people to walk a mile in their customer's shoes. It allows us to feel their pain and it instills in us the desire to want to solve their problems.
Empathy is also the first step in design thinking which is a process I am a huge fan of mainly because, (you guessed it) it requires customer-focused thinking in order to design customer-focused solutions. In marketing, empathy forces us to create content that is focused on solving customer problems.
Personas Create Curiosity
A curious marketer emerges once we start to understand the questions, challenges and concerns of your target customer. It's natural human instinct to want to solve those problems. We empathize and actually feel those pains ourselves. Self preservation kicks in and we want to "save" ourselves by solving the problem.
This curiosity often leads marketers to look at buyer intent data, try and understand the latest content marketing trends, utilize the most effective marketing research tools, and define better customer-centric solutions.
Personas Prevent You from Promoting Mindlessly
We've already shared that emotion beats promotion every time. Personas can allow us to further resist the temptation to tell the world how awesome we are and how much better our products are than our competition.
It took me a long time to understand that it is our natural instinct to want to promote our company's products. We think it is what we should do. We are told it is what our manager expects of us. But we all know that behind every bad piece of marketing is an executive who asked us to do it. (This is my favorite content marketing quote!)
Personas Inspire Creativity
Now that we have empathy for our target customer, the curiosity to solve their problem, the ability to resists our desire to promote our products, we are free to think of all the new and creative ways we can deliver on the needs of our customers. This is why actionable marketing personas work.
How Do You Create a Buyer Persona?
To create a buyer persona, you must analyze your current customer base and identify any common traits and characteristics.
Do your customers work at companies of a certain size?
Do they hold similar job titles?
Do they all work within the same industry?
Do they use the same software?
Alone, these traits may not be significant—but when combined inside a buyer persona, they give you a comprehensive view of your typical customer.
Creating a brand persona is much like following a recipe. You take your ingredients, or information, and mix them together to cook up a helpful persona. Our friends at GetCRM have broken the process down into five steps:
Understanding your target market is essential to successful marketing. An effective tool to doing this is utilizing personas to represent your target market. This takes raw data and understanding of a group of people and condenses it into a single fictional person.
Then, you use that persona to guide and inform marketing decisions. A good persona leads to making the right decisions, but a poorly crafted one can cripple a campaign.
Go Undercover with Your Market
One of the best ways to learn about your target market is to spend time with them. Go where they go, do what they do, and pretend to live their lives.
Going undercover and being where they buy stuff, enjoying what they do for fun, or simply understanding how they think can bring valuable insights to a persona.
It's easy to craft a persona based solely on data and then fill in the gaps with assumptions, but this is not the most accurate approach. By spending time with your target customers, you can create a more rounded persona that feels more like a real person that has habits, personality, and a life.
Along with spending time with them in the real world, you should make efforts to inject yourself into their online lives too. What do they post about on social media versus what they will email to a friend? What sources of information do they trust and why? Explore the sites they visit, and locate them on social media so you can follow them.
Becoming a part of your target market, even if it's briefly, can help improve your personas and help marketers come up with more creative and effective ideas.
Interview Your Customers
Gain information to build your personas straight from the source. Personas are meant to represent the market, so talking with current customers can help, since they are clearly within that target market.
Interviewing customers can be done both when creating a persona and when you are looking to improve on one later. The key to having successful interviews is to focus on their background and how it influenced them to buying your product.
This can include their standard demographics, their job title, how much money they make, and if other people influence their purchasing decisions. Find out key moments in the buyer's journey for them, how they found your business, and how they felt about the business before purchasing compared to competitors.
Then, interview more customers. Try to gain data from as many customers as you can. The more hard data you can gather, the more accurate your persona can be. At first, try to conduct your interviews in person, over the phone, or over Skype.
Meet with a variety of customers, ranging from lifelong fans to past unsatisfied people. Once you start to identify trends, then switch to sending out surveys to build up your data.
Take that data and find trends. Maybe your customers, and in turn your ideal target market, all have similar jobs, or education, or maybe even share similar hobbies. Then, use that customer data to make decisions for your marketing.
A word of caution though: just because you find a trend doesn't mean you need to include it heavily in your marketing. Take your data with a grain of salt and think if it can fit with your branding and marketing.
Maybe there is a trend that your target market has, like a majority of them enjoy football. That doesn't mean you go and rebrand your entire business to be sports themed — but you are probably safe including some sports analogies in your content.
A/B Test Your Web Pages and Other Content
In the never-ending pursuit to better optimize your site, A/B testing is a familiar friend. It's a way to test big and small elements to find what retains and converts on your pages and applying that information to the rest of the site.
Another way to utilize it, though, is with your persona. As you find different factors that improve or hurt your site's performance, find how it might apply to your persona. Dig into why a specific change was effective while other ones weren't. Do visitors respond better to a more conservative style or appreciate a daring new look?
As you see results for different A/B tests, ask why. Why did one change work? Why did a slightly tweaked page fail? As you figure out what happened, add key features to the persona. This can include design preferences, what kinds of content best attract them, and useful tips to help convert them.
Meet With Sales and Customer Support
One under-utilized tool for marketing is the departments who interact with your target market on a daily basis. For most, those are the sales and customer support departments.
Meeting with your sales team can help develop the needs of your persona. They interact with leads on a regular basis, typically at the bottom of the marketing funnel. Their responsibilities are to help potential customers overcome challenges that are stopping a purchase, and help them see that your company or product is the best choice. Common objections your sales team encounters need to be included in your persona.
That way, your marketing can address them earlier on, making the conversion process easier. Depending on how involved your sales process is, they can also bring data like common occupations or similar demographic information.
Customer support can help fill out a persona of what happens after a purchase. People come to customer support when something goes wrong, and they can inform what people use your product/service for.
If enough people request a specific feature, it shows a need your persona has that isn't being fulfilled. Find a way, both through product development and marketing, to fill that need, and make a profit doing so.
Why Do Most Buyer Personas Suck?
Unfortunately, there is a large group of consultants and agencies out there taking large sums of money from brands to produce personas that produce very little action, do not inform content planning or distribution. They tap into a well-intentioned idea in marketing to get to know and understand your buyer, without delivering on the real need: defining how to reach them with content they want or need.
So I hope you understand when I say that buyer personas are great except when they suck!
Here's a few visual examples I have seen that represent everything that is wrong with marketing personas that don't work:
In my personalized content marketing presentation, I used some fictitious examples of buyer personas that suck. While I made these examples up, I promise you that I have seen plenty of million dollar personas that look just like this:
This is "Business Decision Maker Bob." He has a wife, two kids, drives a red sports car and likes to spend his weekend playing golf.
---
This is "Technical Tom." He's very detailed-oriented. Tom doesn't like surprises and appreciates being well-informed before making a decision. An introvert, Tom has adjusted the settings on his browser.
---
Finally, we have Social Savvy Sally. She's always chatting up her friends. She is also kind of a big deal on Instagram.
---
These types of personas suck because they don't really help any brand to connect with their target audience. They suck because they lack any kind of actionability and make very generalized assumptions about consumers.
But shockingly, 60-70% of B2B marketers admit that they don't truly understand their buyers! There is a very sobering gap between the perceived value of buyer personas and the actual, realized value. This gap is what the next phase of buyer persona maturity is all about.
If you're not reaching the right audience, or your marketing results have plateaued, perhaps we can tell you why. Here are the most common reasons your buyer personas aren't as effective as they could be:
They are little more than a demographic profile
Our definition of a buyer persona may actually be the root cause for their failure.
There is a sharp difference between demographic segmentation ("CIOs and companies with over 5,000 employees in the manufacturing industry") and in-depth buyer personas that represent a comprehensive view of the characteristics, attributes, motivations, and interests of these segments.
Buyer personas should seek to understand our targets as humans – how they make decisions, what drives their actions, how they behave.
"Personas fail when they turn out to be a rehash of previously established sales intelligence, and offer little guidance on how to humanize a brand, as well as content." – Tony Zambito
They don't include technographic information
For those who aren't familiar, technographics are the tools and technologies a company uses to operate. This includes everything from social media management tools to the platform a company uses to manage their website. But, technographic data isn't just a tool or set of tools. It also includes vital information about how your prospects use and purchase technology.
Although demographic and firmographic data is essential, your buyer personas aren't complete without technographic data. Consider this—with insight into the tools your prospects use, you can target your competitor's customer base or identify important trends happening within your industry.
Here's an example from VentureBeat: A financial tech firm noticed that Eloqua marketing automation was a predictive signal for its top prospects. The company is in a completely separate vertical, so it wouldn't make sense to personalize messages about this platform.
However, it did help them deduce a few things. They recognized that companies running Eloqua tend to have a certain level of technical sophistication, and are usually big enough to be able to afford premium enterprise systems.
They are not shared
It's 10am. Do you know where your personas are?
At the recent Content2Conversion conference, Erin Provey of SiriusDecisions described the current format of buyer personas, "I've literally seen binders on desks with pages of persona insights, qualitative and quantitative insights that cost thousands of dollars to produce."
Buyer personas, in theory, are highly useful strategy documents. Why then are they so hard to find, trapped in PDFs and Powerpoints at the bottom of a desk drawer, or at best, maybe on the company intranet?
Personas should be made available throughout the business, referenced quickly and easily to guide the direction of marketing, sales, and product decisions.
They're created in a bubble
The process of creating strong personas involves three things that may terrify you:
Interviews with real buyers (gasp!)
Collaboration with other departments (say it ain't so!)
Challenges to your beliefs or deep-rooted assumptions (Nooo!)
I know. Take a deep breath. It will be okay.
There is no silver bullet for buyer personas. To get it right involves time-consuming interviews with real people, and an examination of the results with an open mind. This takes up bandwidth, may shift and pivot strategy, and – yes – calls for collaboration with other teams in the company.
A surefire way to create personas that don't work is to do so in a conference room, doors shut, without involving other departments or speaking with real buyers.
I recently heard personas were "emotionally adopted" by marketers. This rings true as the majority of B2B marketers predict their no. 1 responsibility will be understanding buyers.
But other functions of the business all have skin in this game, and should reach consensus on the format, composition and expected use of personas. After all, "the only way personas add value is if the people who use them internalize them." – Erin Provey, SiriusDecisions
When seeking to achieve buy-in, even the phrase can turn people off. "I have had clients say that we have to call it a buying center or we won't get buy-in from the rest of the teams. Or we have to call it a profile, or something else. They get stuck in the semantics of it." – Ardath Albee in a CMI interview.
They do not translate to tactics
Buyer personas that can not guide real-world strategy are fundamentally useless. They may look nice on the wall of your cubicle, but what value do they really provide? Personas should not be approached as a checklist item and filed away once completed. Instead, consider personas as "active tools" – objects that inform marketing strategy.
In our new eBook with Ardath Albee, we define what makes personas active tools.
Personas should:
Serve as a tool that can be referenced easily to help guide the development of relevant marketing programs
Point to specific topics of content as related to priorities defined as important to the persona
Reveal the circumstances of what could derail the detail (or the championing of the deal)
Be unique from all other personas to indicate a truly definable market segment
Identify a market segment that your marketing programs can reach and engage, as well as the means (channels, messages, formats) for doing so
Build a storyline across the continuum of the buying process that enables mapping content to needs and priorities at different points of decision making
Help marketers understand how emotions and empathy play in solving the specific problem or for reaching a key objective
Personas developed with this level of depth will serve as the foundation for content strategy developed to engage, create purposeful intent, and motivate them to buy. It's pretty clear that a one-page profile with a few demographic details and descriptive adjectives won't do the job.
They don't account for the buying "committee"
B2B buying decisions are made by committee – multiple individuals working together to reach consensus. IDC found that an average of 7 buyers are involved in a B2B technology purchase decision.
Your persona development should reveal the dynamic among this committee, especially what information each member needs to share with each other as it relates to different perspectives. Targeting only the elusive "decision maker" disregards the way business people actually buy – collaboratively.
They're built off of biases
As hard as we try not to, all marketers have their own biases. It's easy to forget that not everyone thinks about your products or your brand the way you do. Unfortunately, these biases can influence your buyer personas and make them unreliable.
 If you're not sure whether your own biases have influenced your buyer personas, ask yourself the following questions:
Do my personas mirror the customer journey we most commonly see?
Do I have evidence to support each and every assertion within my buyer personas?
If a customer read this profile of themselves, would they agree with it?
If my sales team read this profile of our best buyer, would they agree with it?
Do I ever overstate or overestimate the need for the product I'm trying to sell?
Do I ever overstate or overestimate the product's ability to solve my customer's problem?
Ask yourself these questions and truly try to think like your customer. If all else fails, hire an analyst, survey your customers, and ask other departments within your company to check your work.
They are not updated
Creating and updating personas takes a lot of time and resources. Knowing when and how often to update a persona can help you make sure your marketing stays on track. But chances are, if it's been longer than six months, you need to revisit them.
The million-dollar question for many marketers is, "when was the last time you updated your buyer personas?"
Unfortunately the response often comes back in the form of years.
Personas are often not refreshed until a new regime change comes in. But if this is the case, you may miss the inevitable changes in that occur within fast-moving industries, whether regulatory (new compliance laws) economic (hard times in specific industries), or demographic (new or retiring buyers).
What's worse, without refreshing personas on an ongoing basis, you may miss critical new influencers that emerge in the buying process. This information can be found in your CRM, happening in real-time in your marketing automation system, understood anecdotally in your sales pit, or revealed in primary persona interviews. 
Data changes, trends fade, and buying habits evolve as technology advances. It's important that your buyer personas take these changes into account. After initial buyer persona creation, put a recurring meeting on your calendar to review them.
Keep track of any important changes within the industry, your company, your product, technological advances, and buying motivators. When it comes time to review, make sure your personas reflect these changes. After all, your customers aren't static and neither are your buyer personas. Don't treat them as such.
A good practice is to update your persona anytime you launch a new product or start a new campaign. It's also good to refresh your persona anytime a big change in your industry happens.
If you are just continuing with your current campaigns and have nothing new planned, monitoring your analytics can be the warning system that revisiting a persona is needed. If analytics like bounce rate goes up, or your conversion rates go down, it might be time to check if your target market has changed.
You don't have enough information
If you're a small company with one product, a single buyer persona may be enough to fuel your marketing campaigns. But chances are, it won't be enough.
If you feel like your buyer personas are ineffective, it could be that they're not granular enough.
In today's marketing landscape, your customers expect all marketing communications to be tailored to their specific wants and needs. Consider these statistics:
Over 78% of consumers will only engage offers if they have been personalized to their previous engagements with the brand.
81% of consumers want brands to get to know them and understand when to approach them and when not to.
87% of consumers surveyed say that personally relevant branded content positively influences how they feel about a brand.
63% of consumers are highly annoyed by the way brands to continue to rely on the old-fashioned strategy of blasting generic ad messages repeatedly.
63% of consumers said they'd think more positively of a brand if it gave them content that was more valuable, interesting or relevant.
 Take a look at each of your personas and the campaigns you've used to target them. Is the content you're serving truly relevant to each person within that audience? Consider removing any outliers and creating a separate buyer persona for them.
They contain useless information
In a B2B environment, the fact that a persona may drive a minivan and prefer The Bachelor over Shark Tank really doesn't serve to inform a salesperson's call strategy, a marketer's email campaign, or a product manager's roadmap.
Now, B2B personas that contain these details may have been done so in an attempt to humanize the persona, the spirit of which should be celebrated!
But this type of detail is extraneous. There are better ways to humanize a buyer in a way that is relevant to our day to day job responsibilities – and it starts with empathy. Read more about this in our post "5 Signs You Don't Know Your B2B Customer"
They lack emotive context
If you only use quantitative metrics to compose your buyer personas, they likely won't perform well.
This is because your customers and prospects are people—not numbers. Some people buy products on a whim. Others take a year to consult with an entire buying committee before spending money. Something that triggers a purchase for one customer may have no effect on another customer.
To create effective buyer personas, you must consult your sales and customer service teams to gather anecdotal evidence.
Determine what motivates each of your buyers to make a purchase. Is it frustration? Is it the satisfaction of getting a good deal? Or did you just catch them at the right time?
This information is crucial. Without it, you don't truly understand your customers.
They are not actionable
I hear all the time from brand marketers who are being advised by their agencies to conduct "mood board" sessions and to brainstorm on the names of their personas.
Many of these campaign-based initiatives simply fail to identify the key components of the buyer persona that you can define your content marketing plan.
Here are some critical questions that help you define "actionable" personas:
What content do your target customers consume?
What topics are they interested in?
What types or formats of content do they like?
Which channels do they prefer?
Which stage of the buyer journey are they at?
What keywords are they using to search?
What questions are they asking at the moment?
The answers to these questions can help inform content production and delivery where the goal should be to become a destination of insights for your target personas.
I also caution brands against having more than maybe two personas and focus more on the various topics your primary persona is interested in.  Once you start publishing on the primary topics of your key persona, you can build out content that addresses the secondary ones.
A Goal-Based Framework for Buyer Personas
In nearly every walk of life, goals are a major influence on what we do, think, feel, and the actions we take on a daily basis. For example, we may decide to skip the fudge brownie desert in light of health goals we are pursuing. On a much larger scale, goals are at work influencing choices and high stake decisions such as investments in new technology or services.
One of the largest influences on the conceptual development of personas has been the body of work and research on goals. More specifically, on what is referred to as goal-directed behaviors. A major theme in the social sciences, prior to and since the introduction of personas, is attempting to understand how individuals and groups make choices. It has been predominantly found and recognized that the pursuit of a choice or choices is largely goal-directed.
When Alan Cooper first introduced the concept of personas as an archetypal representation of users, it was in the context of goal-directed design. Whereby, the focus is on goal-directed behaviors within a usage context. Zeroing in on the premise that usage behaviors are driven by a variety of either single or multiple goals. This profound concept led to the development of a very precise goal-directed methodology for design. Whereby user personas represented an archetypal representation of users and their goal-directed behaviors and choices. Which, after being introduced nearly twenty years ago, has led to growth in the field of Interaction Design.
The Pursuit of Choice
It is under this same premise that buyer personas were introduced. Primarily, focusing on the premise that choices and decisions are driven by a variety of underlying goals. In the pursuit of a choice or choices (decisions), buyers and customers are driven by as well as motivated by goals. These goals reside both on the conscious as well as the sub-conscious level.
This goal-based conceptual framework is the bedrock foundation of buyer personas. It has also led to a very precise and robust goal-directed methodology for buyer persona development. This methodology is designed to uncover goals and goal-directed buying behaviors customers and buyers exhibit in their pursuit of a choice or choices (decisions). Resulting in a modeled archetypal representation of buyers and their goal-directed behaviors leading to choices and decisions.
Goals Have Been Largely Ignored in Marketing and Sales
In the world of traditional marketing and sales, much of the focus has been on attempting to understand the "buying process", or of late, the "buyer's journey." In the modern digital world, this continued focused on process leads to some very inherent problems. Which, accounts for many of the reasons why businesses continue to struggle in connecting with buyers.
We can break down these inherent problems into several areas:
For much of the past few decades, with the focus on buying processes and journeys, the focus has been on trying to understand business decisions via comparable options. For instance, should we purchase software package A from Company A or software package B from Company B?  This comparable options perspective spawned comparable competitive analysis on product criteria, buying criteria, SWOT analysis, Key Performance Indicators, Key Success Factors, Win/Loss analysis, Objections Handling, and more. The intent on isolating and influencing decisions based upon Company A or Company B being the better option. What has largely been ignored through this approach is the powerful influence of goals on decisions.
The focus on buying process or buyer's journey presumes the buying process is static and preferences remain the same. In the modern digital age, we are seeing multiple goals and choices emerge in multiple contextual situations. These multiple contextual situations result in multiple buying paths and decisions. Companies wishing to succeed today in a fast-changing environment will need to attain deep understanding of the influence of multiple goals within multiple contextual situations pertaining to multiple decisions.
We have seen a major shift in buying behaviors due to digital technologies. Whereby, an increasing degree of how people take actions and make choices is through self-directed behaviors. Businesses have largely attempted to understand this shift in buying behavior through the lens of "process." With marketing, for instance, believing they now "take on" a higher percentage of the "process." Ignoring the shifts in underlying goals and motivations reshaping why and how choices and decisions are being arrived at.
There has been a growth of buyer profiling, miscasts and mislabeled as buyer personas, which are focused on process orientation as opposed to true understanding of specific goal-directed behaviors and choices. Most troubling to see are mislabeled buyer personas emphasizing a process-oriented focus on comparative options.  For example, still focused on product and decision criteria from a comparative sense. Missing entirely the deep value obtained when you focus on goal-directed behaviors and the narrative of buyers attempting to fulfill their goals.
Over to You
Buyer personas and the development methodology can be very powerful in informing strategies on how to best connect and market to buyers. But only if they are truly developed within the intent and context of the underlying goals that drive people to make the choices and decisions that they do.
It's important that, as a marketer, you recognize the power of buyer personas and dedicate the time and effort needed to create them.
Personas are still very much important in today's content-driven world.
But don't take my word on it. Test these ideas out. And I know you'll find that a steady, consistent and regular cadence of content is what separates the winners from those who struggle to connect with their audience.
Today's brands need to create continuous content that their target audience wants. Not only because that's how we browse the web today (the customer perspective) but also because that approach is what yields results from a business perspective.
Are you fighting against personas that suck in your organization?
This is a common roadblock we see, so you are not alone. I am happy to jump on a call with anyone at any time to help raise some of the questions that might lead to better outcomes for your business.
Get a Free Consultation
for Content Marketing