Running online and offline events can be one of the most effective ways to achieve your marketing goals. However, your event will only be successful if you can actually get people to attend in the first place. To ensure your event places are filled and you have the maximum opportunity to engage with your customers, you need to get your event marketing strategies in place first.
When individuals attend your event, they're giving up their time (and often money) to be there. Because of this, you have to give them a compelling reason to attend. And before you even start thinking about selling your event, you have to make sure people know that it's happening in the first place. This is why promoting your event can mean the difference between a huge success and a major flop.
Event marketing has come a long way from flyers and word-of-mouth. Today's digital marketing opportunities mean you can register more seats, build more buzz, and speak to a more closely targeted audience than ever before. Got an event coming up? Consider using some or all of these event marketing ideas to get the word out and attract more attendees.
Quick Takeaways:
Marketing your event before, during, and after are essential for its success and to promote your brand.
Social media marketing, email marketing, dedicated landing pages, influencer marketing, and press releases are all effective ways of marketing your event.
Make sure your messaging is consistent across all these channels.
1. Social Media Marketing
Social media can be utilized at all stages of your event planning from pre-event marketing and the use of hashtags and live posts to promote your event while it's happening, to post-event when you want to gather feedback and follow up with attendees.
Over 80% of event marketers use social media to promote events and almost 50% of event plannershave a dedicated social media team.
Social networks are valuable to marketers for several reasons:
They provide detailed data on their users, meaning you can promote to a highly targeted group of people or tailor your promotions to different target groups.
They make it easy for users to share information and make recommendations so your existing customers can do some of the promotion for you.
They have in-built analytics, making it easy to monitor the progress of your marketing campaign in real-time and after the event.
There are free and paid promotion options available. Often using a combination of both is the most successful strategy.
You can use different social networks to target different types of users or employ different types of marketing. LinkedIn is often the first choice for B2B marketing and events. Facebook wins in terms of reach, and YouTube is a must-use channel for promotional videos.
2. Email Marketing
Email marketing is still one of the most effective ways to boost attendance at your event. However, you need a carefully considered strategy to get the most out of it.
Email is a natural way to contact those who have pre-registered for your event, mail out contacts, and follow up with attendees after the event. It can also be a great way to reach a new audience that hasn't previously shown interest in your event. Here's an awesome example of how to structure your email:
You can use your regular mailing list communications as a way to build buzz before your event, and even use other people's lists to promote your event (perhaps with an affiliate scheme for ticket sales as an incentive).
To be successful with email marketing, you need to pay particular attention to timing, subject lines, content, CTAs, and personalization. Educate yourself on email optimization and be sure to analyze the success of each email so you can make ongoing improvements throughout your campaign.
3. Dedicated Landing Pages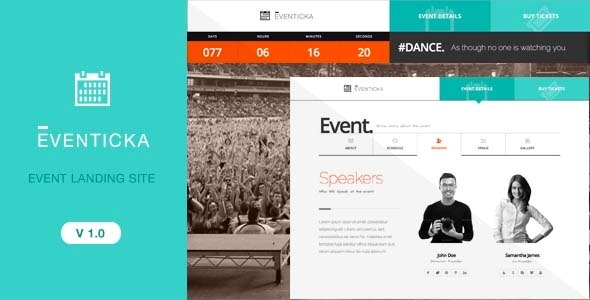 Almost 60% of marketers say that their own website is the most effective channel for marketing their event.
This simple method of online marketing is not to be overlooked. It's important to create a dedicated landing page on your website for your event and make sure it's optimized for conversions.
You can then direct your general website traffic to this page by way of your blog and other pages on your site, as well as sending traffic directly to it from social media, display ads, and pay per click advertising.
This landing page can be an effective way for people to register for your event. You can then follow up with further marketing methods such as email and posts on social media.
It's important to create a page for your event well before the event date, even if the details aren't finalized yet. This not only enables you to capture the details of people showing an early interest in attending, but it also helps you to improve SEO and build your authority in advance of your major marketing push.
4. Influencer Marketing
Piggybacking the reach of key influencers in your industry can be an effective way to both increase knowledge of your event and make it more appealing to potential attendees.
You can contact bloggers, vloggers, social media influencers, and important people in your industry or niche. These influencers can then promote the event on your behalf to their individual audiences, which may be many thousands of people more than those you could reach solely through your own marketing channels.
Another opportunity is inviting influencers to your event (free of charge, if it's a paid event, or with another incentive otherwise). This can be an effective method of promotion before, during, and after the event – particularly if you plan a regular series of events.
Influencers can be particularly effective if you're marketing to a younger audience and in certain industries such as fashion and beauty. 70% of millennials trust influencers over celebrity endorsements.
5. Press Releases
Press releases may have been around for a long time but they're still just as effective, if not more so, in today's digital world.
A press release is a great way to attract media attention for your event, particularly if you can find a unique angle or you're going to be using new and innovative ideas and technology at the event.
Press releases can also be used to promote the landing page and social media hashtags for your event, find potential influencers for further promotional opportunities, and to reach an audience outside of your normal marketing channels. A single press release may reach thousands of journalists and news outlets.
If you are ready to get more traffic to your site with quality content that's consistently published, check out our Content Builder Service. Set up a quick consultation, and I'll send you a free PDF version of my books. Get started today and generate more traffic and leads for your business.