5 Common Multi-Channel Marketing Challenges and How to Overcome Them
Every e-commerce business owner wants to see their business grow and profits increase, but no one likes experiencing the growing pains that so often go hand-in-hand with scaling operations. In e-commerce, investing in multi-channel marketing can help you quickly take your business to the next level, but it can also come with a number of challenges that you may or may not be aware of.
To overcome multi-channel marketing challenges, you have to know how you're going to address these challenges when they appear in front of you. You have to put a clear strategy in place before you necessarily need it.
Quick takeaways:
Consistency across each marketing channel is critical for a successful multi-channel marketing strategy.
Multi-channel marketing challenges can be multi-faceted, and also contain multiple avenues of possible solutions.
A strong, supportive customer experience is arguably the most important element to consider when sorting through each multi-channel marketing challenge.
Here are 5 of the most common challenges you might face as you work to spin up or scale multi-channel for your e-commerce business, and tips for overcoming those challenges:
1. Messaging & Branding
One of the biggest marketing challenges most e-commerce business owners face when it comes to multi-channel is keeping branding and messaging consistent across different channels. When you're only selling your products on one channel—usually your own website—it's much easier to control and keep track of the messages and branding you're using to compel people to buy.
But when you start investing in multi-channel, you're forced to manage messaging and branding consistent across a number of channels (Amazon, Ebay, Etsy, Jet, etc.) that all have different requirements, nuances, and best practices.
When you're presenting your products to new audiences on new channels, you have to ensure that you're creating the same first impression that people are getting when they visit your website and buy products through your own online store (or anywhere).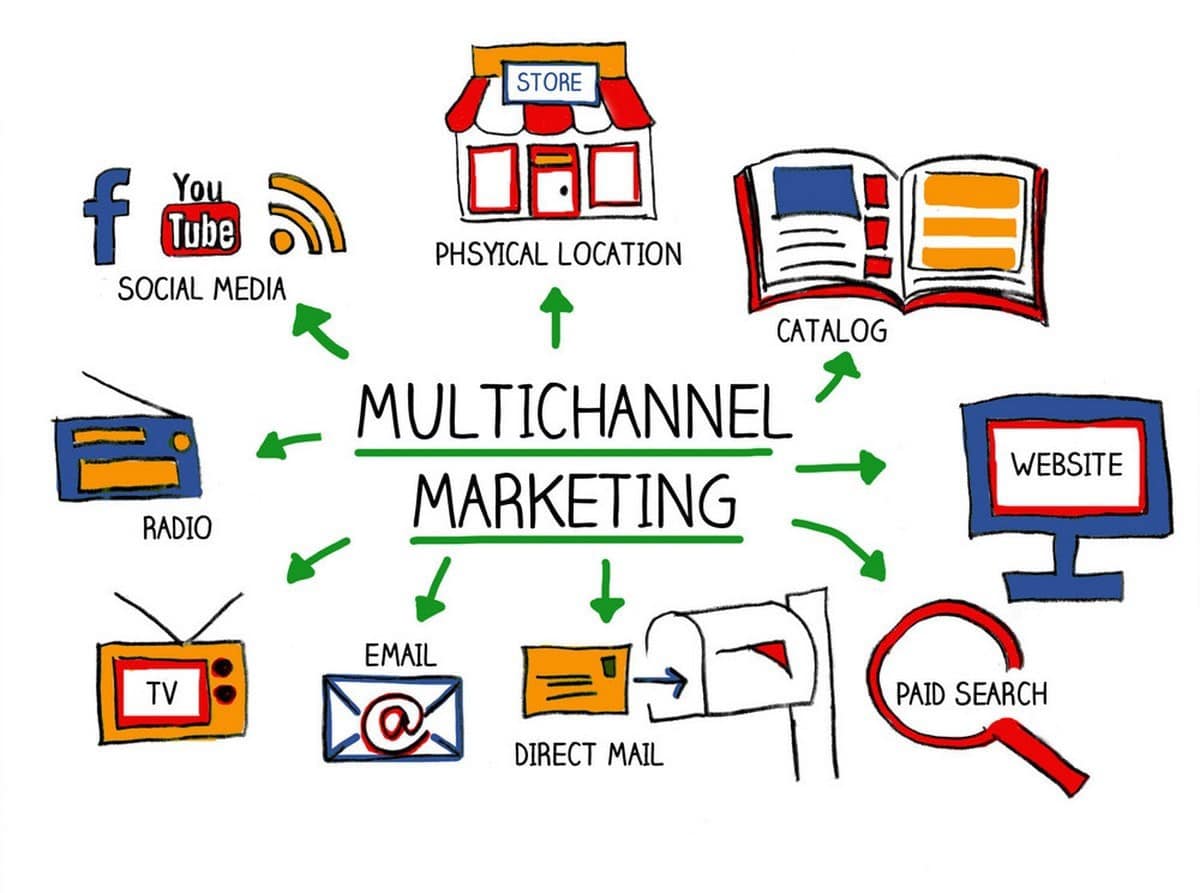 If you decide to test new product photos, graphics, or new key messaging to promote products and drive more sales on your website AND you find out those photos and messaging are more effective in boosting conversions than what you've used in the past, you need to make sure you're updating your other channels too. Otherwise you risk missing out on sales.
To ensure that you're painting the right picture on all the channels you use to sell products, keep these 3 tips in mind:
Tip #1: Know the requirements of each channel and adjust accordingly
When you start selling on more channels and marketplaces, it's important to have a firm understanding what requirements exist. Each channel will have different requirements when it comes to things like photo size, graphics best practices, word count and messaging.
For example, see this requirements and best practices document from Amazon. It helps sellers understand how to create product detail pages. Here's another example from Etsy. In this document, Etsy helps you learn all the best practices and requirements for adding images to your product listing pages.
Make an effort to read through the guidelines for each of the channels you intend to use going forward. Work with your designers and copywriters to ensure that your graphics and messaging can meet those requirements while still painting the right picture and telling the right story.
Tip #2: Keep your assets organized
As you add more marketplaces and channels to your selling strategy, make an effort to keep all your messages, graphics, and photos stored in one convenient location.
You want to be able to review messaging across all channels without having to visit each of them individually. You can do this by compiling text and links in a Google sheet, or by adding documents and screenshots to a Dropbox folder. Alternatively, you could leverage multi-channel selling software to create one centralized product catalog that can be reviewed and managed in real-time for all channels at once.
Tip #3: Update messaging and branding together
To ensure that you're not using any out-of-date messaging, branding, or product photography across your channels, make sure you have a clear strategy in place that you can implement whenever updates need to be made. Put someone from your team in charge of making and managing updates, make sure the process is clearly defined, and leverage multi-channel automation software to boost productivity.
The important thing to remember when it comes to adding more channels and marketplaces into your selling strategy is this: you only have one opportunity to make the right first impression. To be successful, keep messaging, branding, and consistency at the top of your mind when creating and updating product listing and brand pages for each channel.
2. Inventory Management
Another big topic that most e-commerce business owners must master when they start selling products on more channels is keeping up with inventory. When you're suddenly managing inventory across multiple channels, new challenges arise.
Challenge #1: Overstocking & overselling
When you're investing in multichannel, it can sometimes be difficult to manage supply demand, or estimate how much product you'll actually need to have on hand in a given month. Keeping too much inventory on hand can be expensive, but not having enough can prevent you from growing and serving new customers.
Challenge #2: Manual management that doesn't allow for scale
Manually managing and fulfilling inventory might have been easier when you were only selling from your own store and website, but it quickly becomes very ineffective once you start adding additional channels into the mix. To succeed and scale, you can no longer rely on offline spreadsheets and documents when tracking and managing inventory. You have to put tools in place that allow you to become more efficient.
Challenge #3: Lack of visibility across multiple channels & multiple warehouses
Without multi-channel software, it's not always easy to keep track of the sales and orders that come in from each channel, and how those sale and orders are impacting the inventory you have on hand. In addition, it's equally as challenging to try to keep track of orders, inventory, and relationships across all the warehouses, partners, and manufacturers you need to support all the channels you're now selling products on.
Challenge #4: Lack of insights
To succeed with multi-channel, you need to be able to track, understand, and leverage data relating to your inventory and customers. You have to know how inventory is fluctuating over time, how demand is changing over time, what demand will look like in the future, when to reorder products, when to scale back on products, and where breakdowns in your processes are happening.
So how do you overcome the challenges that exist with managing inventory across multiple channels and marketplaces? Read through this blog post. In it, we share 6 actionable inventory management tips that you can start applying to your business today.
3. Customer Support & Experience
When you're only selling products through your own website and store, creating the right experience for customers is fairly easy to manage. But supporting and nurturing relationships with customers can easily become a lot more challenging when you start selling on places like Amazon, Ebay, Etsy, Facebook, Alibaba, and other online marketplaces.
To succeed in e-commerce, you have to serve your customers above all else. That means knowing what their pain points are, providing them with value, selling them high-quality products, offering world-class support, and creating delightful unmatched experiences for them.
If you think you've got most multi-channel marketing challenges at bay, but you're neglecting customer experience, think again…
To ensure that your customers are getting the same level of attention no matter where they go to buy your products, keep the following 5 tips in mind:
Tip #1: Hire the right people
The best thing you can do to ensure that your customers are getting world-class support is to build a world-class team. To find out who exactly you should have on your team, read through this blog post on building a dedicated customer experience team for your e-commerce business.
Tip #2: Document guidelines
Know how you want and need to interact with customers on each of the channels and marketplaces you use. Take time to document guidelines that your team can leverage as they interact with customers. Include relevant examples, links, and stories to make your documentation more relevant and useful to your team.
Tip #3: Map out the customer journey
To provide an unforgettable experience for your customers, you have to know what their journey looks like. Take time to map out the journey that a typical customer takes with you—from discovery and purchase to delivery and re-ordering. Look for opportunities to delight and help you customer all along the way. To learn more about mapping the customer journey, read through this blog post from Shopify.
Tip #4: Use automation tools
There are a number of tools your support team can be using to ensure that every customer is getting the same level of interaction from your company when they reach out. If you're looking to invest in a customer support tools, many companies use apps limke Zendesk, ChannelReply, or xsellco.
Tip #5: listen to your customers
Finally, take time to listen to your customers. If you find out that people aren't having a good experience at any point along their journey, find out why, and do something to fix it. You can spend all day reading about how to optimize and improve customer experience, but if you're not taking the time to listen to your customer, you're missing out on the some of the biggest learnings you can capture for your business.
If your customers are happy, your business will grow. It's as simple as that.
4. Shipping & Returns
Shipping is another area that e-commerce business owners struggle with when they start selling products on more channels and marketplaces. Again, the big problem lies in the fact that when you are small and you're only taking and fulfilling orders through your own website and store, shopping is a lot easier to manage. When you start adding more channels into the mix, you have to be ready to scale, otherwise you risk damaging relationships with customers, ruining your brand reputation, and losing out on future sales.
Here are a handful of tips that you can use to overcome multi-channel shipping challenges:
Tip #1: Know your fulfillment options
When you're working on scaling your e-commerce business, it's important to know what your fulfillment options are. We recently published a helpful guide to product shipping that outlines 3 main options you can leverage as you dive deeper into multi-channel. Those options are: self-fulfillment, 3PL (third-party logistics), and drop-shipping. To learn more about each option and decide which one is right for you, read through the blog post here.
Tip #2: Find the best shipping partner for your needs
When it comes to shipping, it's also important to know what your shipping options are. There are a number of partners you can leverage to ship products for you, and they all have tools that can make scaling easier for you and your team. To learn more about what your options are, read this post from Shopify.
Tip #3: Hone in on pricing
To ensure that your business can remain profitable even as it scales and shipping becomes more expensive, you need to understand how to effectively price your products. To develop the right pricing strategy for your e-commerce business, products, and customers, read through this helpful post from LemonStand.
Tip #4: Make your return policies clear
Finally, make sure your customers and prospects understand what your return policies are. Be clear about what your guidelines are and what they need to know before purchasing a product from you. Include return policy messaging or links to policy pages on each the channels you're using. Doing so ahead of time will save you time and headaches as you work to scale your business and launch your products on new channels over time.
The takeaway here is don't wait until you're overwhelmed to figure out how to manage shipping for your business. Develop a strategy ahead of time, and start implementing it before you need it.
5. Growing Pains
As you scale your e-commerce business and introduce your products on new channels and marketplaces, you should expect to encounter a handful of other growing pains along the way.
To keep tabs on your growth as it relates to your goals, you could use a tool like a marketing wheel, structured by SOSTAC® to keep track of your strategies and KPIs.
Here are some additional challenges you may encounter and tips on how to approach and overcome them:
Challenge #1: You're swamped with tasks and can't focus on bigger growth initiatives
The solution here is that you need to hire more people to help you, either temporarily or permanently. To find out who you need, make a list of all the tasks and responsibilities you're currently managing, and which of those tasks could be outsourced to someone else if you had help. Then prioritize that list based on importance, impact, time spent on each task. It may also be helpful to make a list of all the things you wish you could do if you had more time. Seeing that list may help push you to make the investment in a new employee.
Challenge #2: You're concerned about keeping product quality intact
As you scale, you may have to change the way your product is manufactured in order to keep up with demand. To ensure that you don't lose out on product quality, be fiercely obsessed about it, and don't allow your partners to cut any corners. Be clear about your expectations, and cut ties with anyone who can't meet them.
Challenge #3: You're getting more website traffic
The solution here is to make sure you have the bandwidth in place to allow for more traffic. Even a few seconds of slow page speed on your website can have a significant impact on sales. To ensure that your website can handle sudden increases in traffic and activity, work with your web developer, contact your hosting provider, and leverage tools like PageSpeed Insights from Google.
To be successful with multi-channel growth, the key is to try to think about and plan for all the challenges you might face as you scale your business and operations. If you can be proactive about putting strategies in place, you're much more likely to build a sustainable, profitable business in the months and years ahead.
Conquer Your Multi-Channel Marketing Challenges
Although plentiful, multi-channel marketing challenges don't have to be crippling to your business. Get focused with your team, assign project leads to each area of your multi-channel strategy and be adaptable.
Over to You
Make the most of your multi-channel marketing strategy by publishing consistent, high-quality content. Marketing Insider Group's team of writers and SEO experts can help you deliver optimized, ready-to-publish content every week.
Check out our SEO Blog Writing Service today or schedule a quick consultation now to learn more! We'd love to hear about what other multi-channel marketing challenges you have experienced and how you've worked to overcome them.
Get a Free Consultation
for Content Marketing