Is digital transformation just a buzzword? Does it seem unattainable for your small business? SMB business owners are wrestling with these questions and seeking clarity.
B2B SMBs can achieve digital transformation; it takes work, commitment, and the right strategy.
To help you get started or keep progressing, we've designed a roadmap for B2B SMB digital transformation.
Quick Takeaways:
Digital transformation is a necessity to stay competitive and meet customer needs.
SMBs understand the value of digital transformation and are accelerating efforts, yet still struggling with challenges.
B2B SMBs can achieve digital transformation with minimal friction by adopting the right technology, committing to digital marketing, empowering employees, and delivering optimal experiences for customers.
SMBs and Digital Transformation: What Leaders Are Doing and Saying
A recent survey of 3600 SMBs found that 51% are accelerating digital transformation investments and priority. They also noted that the pandemic amplified this. The push to become more digital has value, and they know it.
The main drivers behind this rush to adopt include reducing costs, inspiring innovation, improving operations, boosting business growth, and improving productivity (see chart below):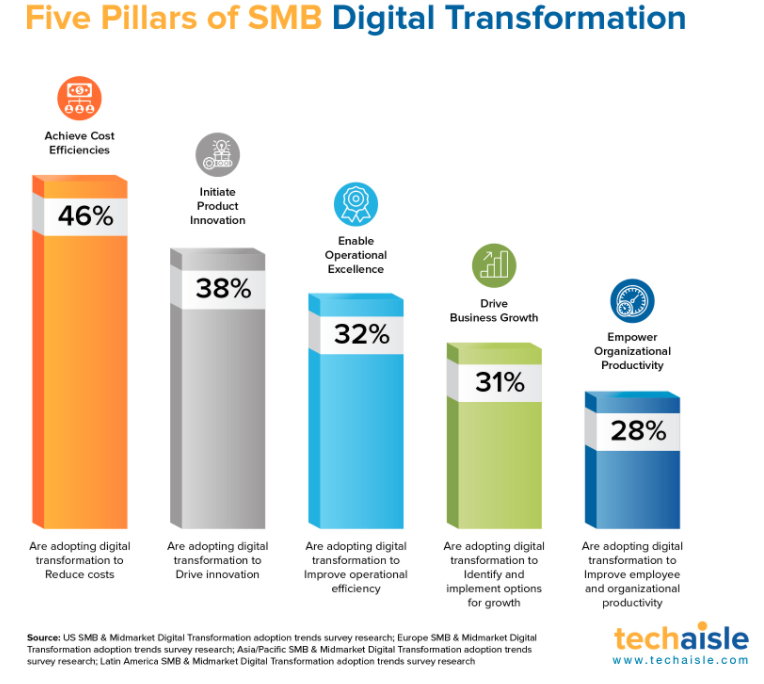 Digital Transformation Is Critical to Staying Competitive and Meeting Customer Needs
Why do B2B businesses need to change? The pandemic delivered both disruption and opportunity. People shop for services and products differently, even in the B2B realm. eCommerce is fast becoming a necessity for B2B, as Forrester predicts it will hit $1.8 trillion in the U.S. by 2023, accounting for 17% of sales.
Outside of the pandemic making it obligatory, B2B buyers are changing in other ways. Currently, around 73% of those making B2B buying decisions are millennials. They are digital natives that want easy, convenient ways to purchase.
The typical B2B buyer performs approximately 12 online searches as research, according to Google. They also seek out content, consuming up to 13 pieces before purchase. This consists of vendor and third-party content.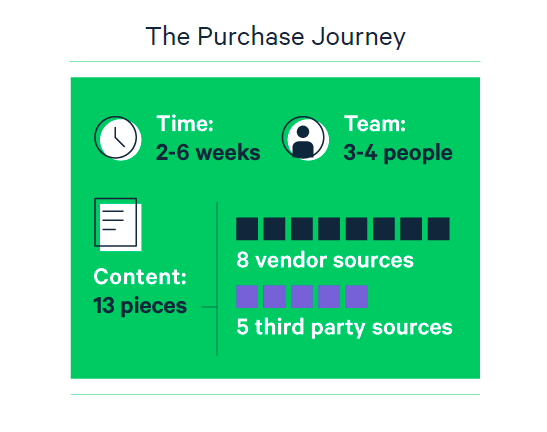 Meeting your customer where they are now requires robust digital channels. You need to attract their attention with content marketing efforts that demonstrate solutions, expertise, and thought leadership. Your content also needs to rank well to get found in those searches, which requires an investment in organic SEO.
Further, when a customer arrives at your website, it needs to be easy to navigate and find answers. You also need either an eCommerce framework to sell physical products or a self-guided experience for users so they can purchase your app or service.
The good news is that these outcomes are not out of reach for B2B SMBs. There are specific strategies to implement that will accelerate or strengthen your digital transformation.
The Roadmap to Digital Transformation: Directions Ahead!
Now, it's time to talk about the roadmap and the four pillars noted above.
Leveraging the Right Technology
Digital transformation cannot occur without technology. When considering the technology that enables digital transformation, there is no perfect stack. It should support the next three discussion areas: digital marketing, employee needs, and customer experiences.
A word of advice is to minimize the number of platforms you use. This gets complicated and expensive fast. Look at how one to two platforms can deliver what you need, such as:
Unified communications (UC) for employees: This type of platform brings communications and collaboration together—voice, video, instant messaging, file sharing, and more.
Marketing platforms that combine web, email, social, metrics, and workflows in one intuitive app.
eCommerce systems that deliver personalized recommendations, make checkout easy and secure, and gather data on customer behaviors.
Investing in Digital Marketing
Many B2B SMBs use digital marketing to generate traffic and leads. However, they also traditionally spend a substantial amount on event marketing and sales travel. Those dollars are now available for other uses. Using them to invest in key areas of digital marketing will help audiences find and buy from you.
Here's where you can put those dollars to reach digital transformation:
MarTech tools as discussed above.
Improving your digital channels, including adding eCommerce functionality or revamping your website. Website updates could involve virtual product tours, targeted personalization by visitor, and adding chatbots to answer questions fast.
Content marketing: An investment in content marketing improves your organic ranking, which leads to more website traffic. Without buyers finding you online, you can't sustain a digital ecosystem.
Data science and advanced technology: If you want to master digital channels, you need to rely on things like artificial intelligence (AI) and machine learning (ML). AI and ML produce insights via data science, either autonomously or by actual data scientists. This valuable data can help you forecast and market better.
Putting budget dollars in these areas can lead to business growth and greater profitability. Spend wisely based on your digital transformation goals.
Empowering Your Team
The next component of digital transformation is supporting your employees. For this process, the goal is to improve team productivity and agility. You're asking them to adapt at record speed. COVID-19 likely accelerated many initiatives here. To ensure your team succeeds through this change, you must empower them.
There are two ways to do this. First, they need the right technology stack to communicate and collaborate, as well as to manage processes, grow, and scale. They won't be able to reach the goals you set with disparate legacy systems.
Second, team members need to be part of the conversation. Cultural change is top-down, but it never works unless everyone's on the same page. Openly communicate to your staff about the why, how, and what of digital transformation. It will provide them insight and offers transparency, which employees appreciate.
The New Customer Experience
B2B buyers aren't new to the digital experience with brands. However, now you need to leverage digital tools to create experiences you can't have face-to-face anymore. Bridging the gap here could produce some amazing innovations.
For example, you could host virtual events with your thought leaders, customers, or others in the field with a modern small business phone system. You could also employ virtual reality (VR) or augmented reality (AR) as a sales tool (check out the video below). Other smaller-scale options include video chats or adding new features to your app (if applicable) that resolve unique challenges.
B2B SMBs Digital Transformation: Time to Keep Progressing
Digital transformation isn't a process that ever ends. New technology, market factors, and customer needs will keep reshaping the concept. Your focus should be on having intuitive tools, investing in digital marketing, supporting employees, and delivering exceptional customer experiences in the current environment.
If you are ready to get more traffic to your site with quality content published consistently, check out our Content Builder Service.
Set up a quick consultation, and I'll send you a free PDF version of my books. Get started today and generate more traffic and leads for your business.