B2B Sales in a Slow Economy: How New Business Relationships Can Fortify Your Future
There's no denying that the recent pandemic has affected many businesses, big and small. Some have experienced a slow down in sales while others, unfortunately, had to close down. 
COVID-19 has impacted the world in so many ways. It's not just people's health that's hurting. Supply chains and businesses are greatly affected too.
Just like the virus, these changes are likely to evolve in the coming months, and we can expect to see newer ways of doing business in the near future. Here are just some of the ways B2B sales will change as a result of this pandemic.
If you're part of the lucky group that was able to keep your business going. Here's how you can still maintain those new relationships you've created before this pandemic happened.
Quick Takeaways:
B2B consumers are expecting better service, speed, and transparency along with better products.
It's critical to provide a seamless buying experience to customers. This involves engaging them proactively using the right tools.
Listen carefully to customers and attempt to meet their unsaid needs.
1. Move Your Communications Online
Some of your customers may be used to making orders online but some might not. Let them know that your website is live and operational and that they don't need to visit your physical store to get their orders processed. This is especially important since you may be understaffed at the moment and there's a limit to the number of customers you can accommodate in person.
Buyers demands are changing their needs from B2B businesses. They now expect the same amount of customer service the same way personal consumers would. They mainly want three things: speed, transparency, and expertise. Suppliers who provide an excellent digital experience are twice as likely to be chosen as a primary supplier over those who gave average or poor experiences.
Buyers have asked for frequent updates on the order fulfillment. They want to be informed of how the products are handled and shipped as well as the estimated time that it will be delivered.
2. Make Sure Your Platform Meets Consumer Needs
Your website should be convenient and reliable to use otherwise, your customer might turn to your competitor to get what they need. Your platform should have relevant information, easy checkout, order tracking, and no errors.
There is now an increasing preference for making digital purchases rather than in-person. Because of this, businesses are opting to provide mobile app ordering and self-service options. Buyers cited that they strongly preferred using self-service across every stage of the buying journey.
B2B companies now believe that digital channels are twice as important as they were before. Countries like Spain and the UK rated high when evaluating its performance.
Companies have shifted most of their marketing efforts to digital selling. Studies show that a third of these companies are optimistic that this model will be just as effective in the next 12 months after COVID-19 and are planning to keep this sales model.
More businesses are opting to use live chat as a way to research and interact with suppliers. Next to that are social media, text, and mobile.
Suppliers are diligent in marking in stock and out of stock items. This is because buyers want reassurance that the items they ordered will be shipped. They also have a strong preference for suppliers that provide better resources.
3. Highlight Relevant Products at the Right Times
No one likes to be bombarded with unnecessary product ads. During this time, your customers might only want to see products and services that are relevant to them. Make it a point to highlight only the products that can actually help them get through this pandemic. This may mean providing them with customized recommendations or offering a discount if they are in financial trouble.
For example, Petit Collage launched a sale for a discounted price that was helpful to parents with kids at home who need more things to keep their mind active. Apple also did something similar in their App Store newsletter by recommending tools for learning while homeschooling, and methods of managing stress during extremely stressful times. Lowe's attempted to help out parents keep kids engaged with interactive activities for the whole family while also providing options for adults inclined towards DIY and home improvement.
There is an increasing demand for consumer and retail products, while the demand within travel, transportation, and logistics has drastically decreased. The production of products and services that are deemed non-essential will be reduced temporarily. B2B businesses are careful not to market products that are non-essential for fear of backlash.
4. Be Alert for Unmet Needs
Keep an eye on your customer's pain points because those could be great opportunities for innovative solutions. As mentioned in the previous point, what's important right now are your customer's needs. Pay attention to your interactions with them and see if you can create complementary services that fit what they are looking for.
For instance, Google Cloud has made Google Meet free to all G Suite customer globally.
5. Be Transparent About Stock and Shipping
Things are still far from going back to normal which means that your stock may be limited or you could be experiencing some delays in shipping. It's a normal inconvenience and everyone will understand why this is so. It's important to be transparent to your customers so they know what to expect from you.
Despite the grim outlook on the economy's health, a great number of businesses have actually increased their spend.  For instance, American Airlines did this to boost their stocks in the beginning of the pandemic. The increase in budget spend can be seen across sectors like pharma, medical products, media, and technology. Sectors that have maintained or even decreased their budget are the travel and global energy industries.
Some companies that increased their budgets have chosen to do so to ensure that their employees are able to work from home and still receive a salary. This means their spend has gone towards software, VPNS, and firewalls.
Revenue for eCommerce businesses have increased to nearly 30% since COVID-19 began. Countries like Brazil and Italy have seen the highest increase in B2B revenue. Brazil has seen a 46% increase while Italy has had a 36% increase in sales.
BCG reports that 80% of B2B companies have drastically decreased the quotas for their sales teams in response to COVID-19. Next to that, they have also decreased their short-term bonuses and incentives.
Companies have also decreased their spend on promotional ads. However, they have ramped up the release of educational content in the form of guides and webinars.
6. Keep Growing with Automation
If you use marketing tools to make B2B sales easier, don't try to cut costs by stopping your subscription with them. If you can afford it, you should continue using those services. They help keep your sales going and it's a great way to support businesses like yours. They too, might also be offering discounts and grace periods so take advantage of that. For instance, HubSpot made their conversational marketing tool free for use.
You can invest in growth marketing techniques to gain insight on how to best engage with your prospects and client base. In times like the pandemic lockdown, data will help you see how the tendencies of your customer base have changed and how you can best address the new dynamics. The growth marketer utilizes any and all data they have at their disposal to build demand, nurture leads, and drive sales. The process takes a lot of experimentation to determine the best approach.
AI and machine learning are changing the ways that businesses operate. It is creating an automation revolution. Gartner reports that by the end of this year, 30% of B2B businesses are expected to use some form of AI to empower some part of their sales process.
7. Look After Your Community
Your business should be more than just a means to make profit. It should also make a positive difference in people's lives. And there is no better time to do it than now. Some great ways you can support your customers include:
Offering discounts and benefits to customers who are in affected areas
Prioritizing stock for customers who are making big bulk purchases
Offering return options that are easy to do and is not complicated for the customer
Extending the deadline for payments
Offering free services to community response teams
8. Proactively Engage Your Customers
Sales may be slowing down and this is definitely not the time to just sit back and wait for customers to come to you. You'll need to work twice as hard to reach out to your customers from all possible channels whether it's phone, email, or social media. Also, don't be afraid to ask for referrals from your existing customers. If they are highly satisfied with your service, they won't hesitate to bring more sales your way.
Again, tools are useful here. The best chatbots work very subtly. Ideally, customers don't even realize that they are talking to a machine learning tool! And, they feel helped, not sold too. Thus, chatbots also have to work subtly in their aim to facilitate the sales process.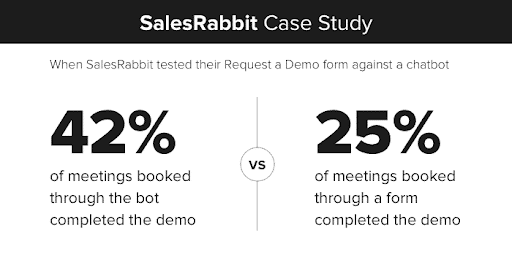 If users feel too sold to by a chatbot, it creates a negative experience. It's about providing service that helps them convert faster, rather than push sales immediately. Chatbots achieve this objective through a variety of techniques.
A good example is RapidMiner, who removed every lead capture form on their website and replaced them with chatbots. The objective was to use automated conversations to qualify leads and help direct people to the sales team that are expressly interested in RapidMiner's solution. The chatbot was responsible for 10% of all new sales and created thousands of leads for the sales team.
Analyzing and identifying funnel positions and providing results to match — Essentially, RapidMiner's chatbot was able to filter traffic based on the reason that a visitor arrived at the website, whether he or she was exploring the product for the first time, answering a technical support question or talking to someone in sales. By establishing these distinctions, the chatbot was able to segment traffic more efficiently and send only the most qualified leads to the sales team, thereby saving them the time and hassle of handling requests from unqualified persons.
In another example, Anymail finder, a SaaS email verification software startup, realized that 90% of their big buyers were using the chat function before making a decision. But, the two-person team struggled to respond to every request. Introducing a chatbot equipped with answers to the most commonly asked questions gave Anymail finder the appearance of a large support department and encouraged more purchases from this important segment.
Which of these tips do you find the most helpful for your business? Share your thoughts in the comments below.
This post was authored by Grace Frenson. Grace is a freelance writer from Philadelphia who recently graduated from Drexel University with a Bachelor's Degree in Business Administration. She has a passion for marketing and writing.
Get a Free Consultation
for Content Marketing