How to Build Deeper Customer Relationships with Automated Email Nurturing
Email automation takes tedious tasks off of your team's plate and frees up valuable time for mission-critical activities, like answering customer questions and improving your product. How? By delivering the right message to the right person at the right time — all without manual input.
"Email marketing remains one of the most effective and affordable ways to communicate with your customers, build credibility, boost your brand recognition, and increase sales." — Forbes
Here, you'll find everything you need to know about email automation, the benefits it offers, and how you can get started. But first, what is email automation?
What is Email Automation?
Marketers want to connect with their audience, and email is one of the most effective ways to do this. Email automation is a powerful strategy businesses can use to communicate with customers and prospects, teach them more about the brand's offerings, and encourage them to come back for more.
Email automation typically consists of a series of pre-written emails issued to specific individuals when they take — or don't take — a particular action. For example, a subscriber might receive an email after they sign up for your product's seven-day free trial. You can also design automated email campaigns for audience segments, targeting those that fall within a group defined by their preferences, past sales, behaviors, and other characteristics.
Email automations increase the relevancy of your messaging, which then contributes to a more personalized customer experience. Pretty much any email marketing tool does this today: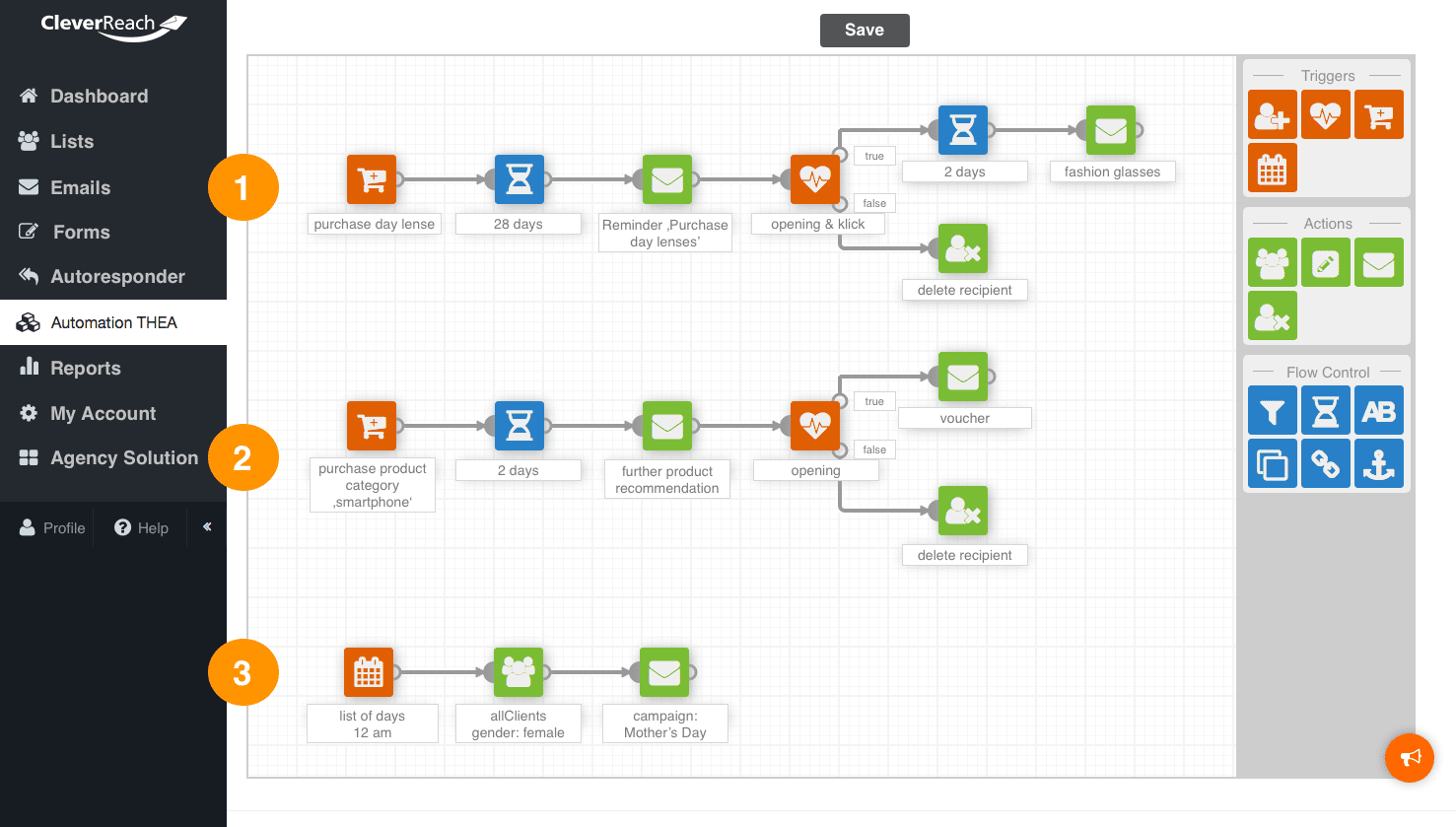 The Benefits of Email Automation
Among many others, email automation delivers the following benefits:
1. More personalized customer experience
Customers adore personalization. It's what they've come to expect. Here are a few compelling statistics that back this up:
71 percent of shoppers feel frustrated when their experience with a brand is impersonal
70 percent of millennials feel frustrated when brands send irrelevant emails
80 percent of consumers are more likely to purchase from brands that deliver personalized experiences
91 percent of consumers are more likely to shop with brands that provide relevant offers and recommendations
89 percent of digital businesses are investing resources into personalization
98 percent of marketers claim personalization advances customer relationships
Email automation is an integral part of any personalization strategy. Automated campaigns are timely and relevant — they deliver real value, and real value drives real results.
2. More time to spend on mission-critical tasks
Automation frees up your marketers' time without compromising the quality of your customers' experience. In short, with automated email marketing, more gets done.
Let's say your marketing team composes and schedules emails one at a time. What happens if your audience grows by 10 percent? Maybe that'll still be manageable. But what if it doubles or triples? Your staff could fast become overwhelmed, and the quality of service is likely to slump.
Automation makes email marketing scalable. Once you've set up an automation and configured the triggers, it's done. Every time someone takes the targeted action, they receive the relevant emails.
Getting Started with Email Automation
Ready to get started with email automation? Here are a few tips to ensure you get the most out of your marketing efforts.
1. Track engagement and responses
When you send an automated email, you have an opportunity to collect valuable information about each customer, their preferences, and their behaviors. Metrics to keep an eye on include:
Open rate
Click-through rate
Conversion rate
Whether or not the customer used an offer
Data can and should inform marketing strategy. The more information you gather and analyze, the better your marketing team will be able to optimize campaigns and craft high-performing emails.
2. Be strategic when offering discounts
Sending out coupon codes and special offers to individuals that are reluctant to make a purchase can be an effective strategy, but be careful not to overdo it. If you offer discount after discount, your customers may be less likely to purchase at full price, essentially devaluing your product or service.
3. Create drip campaigns
Sometimes, it takes several interactions with an individual to make them a customer. Several more to make them a loyal customer. Drip email campaigns allow you to automatically send relevant information about your brand or product to audience members as they move through your sales funnel.
Building Customer Relationships with Email Automation
Email automation helps businesses connect and build relationships with their customers while freeing up time so teams can focus on other valuable tasks. Email automation provides a more personalized experience for customers, whether they are brand-new to your company or familiar with your products.
This powerful marketing tool allows you to grow your business without compromising the quality of your service or losing that special human touch.
Get a Free Consultation
for Content Marketing